« "Doctor" Jill Biden is Neither a Doctor, Nor a Jill, Nor a Biden. Discuss.
|
Main
|
Thots Now Stalking Men in Gym to Shame Them; Plus, GAINZZZ »
February 03, 2023
They Actually Made "MILF Island," Except Even More Degenerate
"MILF Island" was a fake reality show on 30 Rock, intended to show just how low and base TV producers could go.
Well, now TLC has actually commissioned and begun airing MILF Island, although now it's called "MILF Manor."
And the premise of the fake reality show -- that young boys would be put into semi-sexual situations with sex-crazed MILFs -- wasn't enough for TLC.

Because on this version of MILF Island, the young men who the women can sow their wild oats with are the MILFs' own sons.
MAUREEN CALLAHAN: Welcome to MILF Manor! The most repulsive, exploitative, sordid, hate-to-hate show of all time -- where blindfolded moms rub down shirtless sons and TV finally hits rock bottom


[T]here is no weirder s**t on television right now than TLC's 'MILF Manor,' which promises 'a dating experience like no other.'

That's certainly one way to put it. The show's queasy premise: Eight older mothers and their Gen Z sons gather in one waterfront mansion -- moms and sons sharing bedrooms -- and engage in all kinds of sexually uncomfortable, vaguely incestuous scenarios.

'MILF Manor,' with its cheap production values and flat bright lighting, looks like it's operating on a soft-core porn budget, and I doubt that's accidental. We are witnessing both the apotheosis and the nadir of reality television, incest on the bubble as no longer taboo -- at least among a certain cohort of reality TV producers and very sad people desperate for any degree of fame.


'I don't think any of my sons realize I have an extremely high libido,' 59-year-old April Jayne -- even the names are porn-y -- tells us in a confessional. The only rational response to that is: Jeez lady, let's hope not. Why would any of your sons want that information? Which, of course, they now have, along with much of America.

To see mainstream media treat this show with any degree of normalcy, let alone claim this garbage is a vehicle for feminist self-actualization, is an affront to us all. People magazine: 'MILF Manor's Kelle Opens Up About That Shocking Twist: 'An Experience I Will Forever Be Grateful For.'
The one to keep your eye on, apparently, is Kelle (pictured above), who isn't that bothered that her son is on F*** Island with her. Except to the extent he "c***-blocks" her from getting laid.
Kelle, 51, goes by 'Disco Mommy' and tells us in the first episode that if her son Joey, age 20, 'continues to c**k-block me this entire time, he's going to ruin the experience.'
https://www.youtube.com/watch?v=-ClVwS82Gaw
Via HeelVsBabyface, who observes, accurately: "Society is doomed."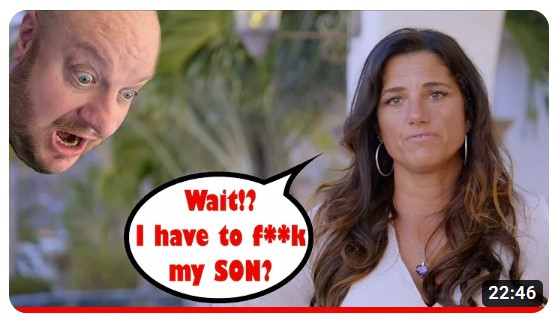 No they don't have to f*** their sons, but one senses the producers would really, really like that to happen.

Below, the unveiling of the young studs for the sexual use of the MILFs.
This isn't even the only MILF Incest Island reality show on the air right now. In "Back in the Groove," three cougars are unleashed on a dozen young men... one of whom is secretly the son of one of the MILFs.
That's by the producer of F***boy Island, so, he's highly respected in his field.
But apparently Hollywood has decided that parent-child incest is the new hotness.

'Scooby Doo' spinoff has Velma pole dance for father as series becomes worst rated animated show ever on IMDb

The HBO Max series was previously lambasted by critics and viewers for its violent and sexual content

The "Scooby Doo" spin-off series "Velma," produced by actress Mindy Kaling, continued to rile up viewers with more sexual content this week as it officially became the worst-rated animated show. The fifth and sixth episodes of the series were released on Thursday and contained the usual woke content, with one especially egregious scene.

Episode six, titled "The Sins of the Fathers and Some of the Mothers," focused primarily on the titular character attempting to reconnect with her distant father to help her locate her missing mother. They start by meeting up at an old diner they frequented to only have it revealed that it has become a strip club named "Nana's Nipples."

Various strippers pole dance around the diner, though Velma's father pays them and his daughter no attention, instead he obsesses over work. After he leaves to take a phone call, Velma decides the best way to evoke a response from her dad is to pole dance herself.







So that's where we are right now.
At least the public doesn't like Velma -- even the leftwing critics it was written to please hate it.
Since the show premiered on Jan. 12, the series endured vicious reviews from both audiences and critics. As of publication, "Velma" garnered over 46,000 one-star ratings on the Internet Movie Database (IMDb) website, with less than 2,000 giving the show a 10 out of 10. The aggregated 1.3 IMDB rating makes "Velma" the third-worst rated show and this week it was announced the series is the worst-rated animated show on the site.

Aside from the adult and sexual content, many viewers criticized the series as an insult to fans of the long-running kids' series "Scooby-Doo" with various race-swapped characters and no appearance of the title character whatsoever.


posted by Ace at
04:40 PM
|
Access Comments