« This Unhinged Attack Piece By a Bitter Media Loser on a Science Fiction Writer For Being a Mormon Illustrates Why People Hate the Filthy Degenerates of "Journalism"
|
Main
|
Even Hypochondriacs Can Get GAINZZZ »
April 14, 2023
Quick Hits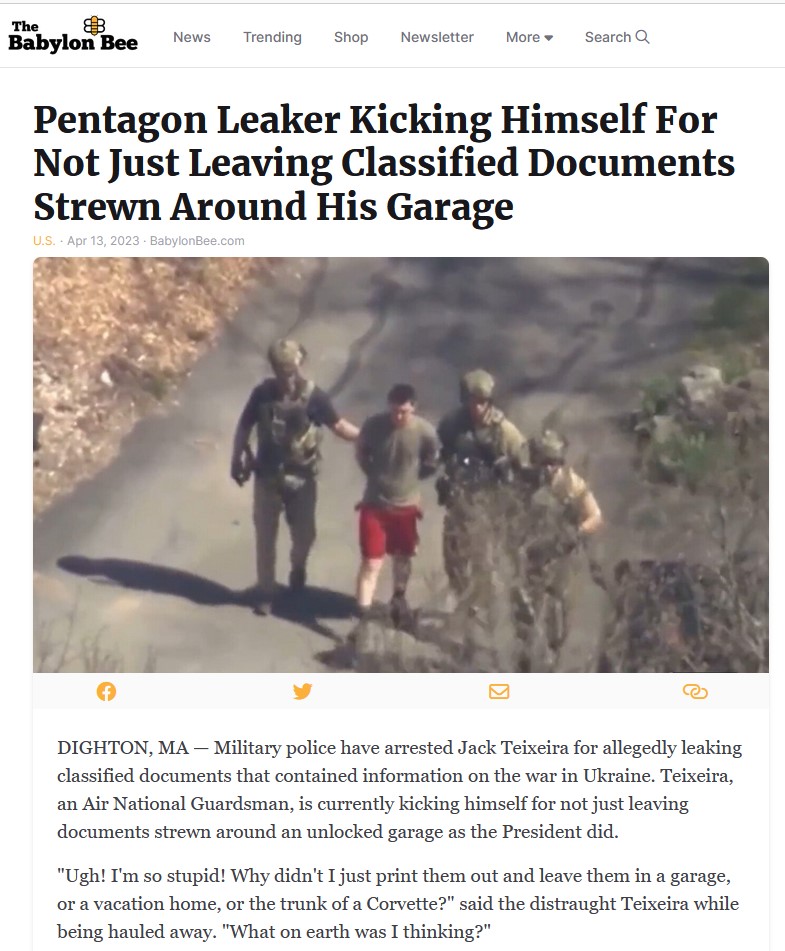 Thanks to Andycanuck.
Anheuser-Busch breaks its silence and issues an apology, but without any actual apology.
Anheuser-Busch CEO Brendan Whitworth on Friday issued a statement in response to the backlash.

"As the CEO of a company founded in America's heartland more than 165 years ago, I am responsible for ensuring every consumer feels proud of the beer we brew. We're honored to be part of the fabric of this country. Anheuser-Busch employs more than 18,000 people and our independent distributors employ an additional 47,000 valued colleagues. We have thousands of partners, millions of fans and a proud history supporting our communities, military, first responders, sports fans and hard-working Americans everywhere," Whitworth said. "We never intended to be part of a discussion that divides people. We are in the business of bringing people together over a beer."
It's like they're saying "We're sorry that you were offended," except without the "We're sorry" part. Also, without acknowledging any offense.
Basically it's a PR statement that says "I'm a veteran and I have all of these employees. You don't want to hurt veterans or employees, do you? Then drink the Trans Beer."

Tater just got hired by Vanity Fair as a Very Special Correspondent.
His beat? Well, the same beat he had at CNN for ten years: Attacking Fox News on the daily.
Former CNN Host Brian Stelter is joining Vanity Fair as a special correspondent to cover Fox News' trial against Dominion Voting Systems.

Stelter will write a weekly column and host a special version of Vanity Fair's "Inside the Hive" podcast about the case, CNN's Oliver Darcy reported. Stelter confirmed the news Monday and teased more details about his temporary role.
Stelter, who is a potato, confirmed Oliver Darcy's scoop -- as if it wasn't Stelter who gave Darcy the dubious "scoop" in the first place.
Brian Stelter @brianstelter

As always, @oliverdarcy is right! I can confirm his news in tonight's Reliable newsletter: "Brian Stelter is joining Vanity Fair as a special correspondent to cover the Fox News trial." It's going to be a busy six-or-so weeks
Tater, I already told you: Stop being so fat. It's enough already.
Alvin Bragg is bragging that he actually sent someone to prison. I guess this is supposed to rebut the fact that he is pursuing an "empty the prisons" "decarceration" strategy.
The man he sent to prison, finally, is guilty of aggravated stalking. Oh, and also: R@pe.
So wow, Alvin, it's really incredible you sent a r@pist to jail for once. I'm sure that was hard for you.
Alvin Bragg really, really doesn't want to answer questions about coordinating with the White House in the phony Trump prosecution. He's suing Jim Jordan, and demanding an emergency restraining order against Jordan to prevent him from subpoenaing him and his top prosecutors.
The judge denied the motion for an emergency injunction, but will hear the motion on a normal, non-emergency basis next week.
Manhattan District Attorney Alvin Bragg is suing House Judiciary Chairman Jim Jordan, over what the lawsuit filed Tuesday describes as a "transparent campaign to intimidate and attack" his office's case against former President Donald Trump.

The suit injects more legal drama into Bragg's investigation of Trump, which has been dogged for weeks by accusations from Republicans that the prosecutor's pursuit of the former president was purely political, with the claims being central to Jordan's own probe.

Bragg is seeking to block a subpoena for testimony from Mark Pomerantz, a former senior prosecutor in his office, as well as other demands for "confidential documents and testimony from the district attorney himself as well as his current and former employees and officials." The 50-page suit is asking a federal court to give emergency and permanent relief that would block enforcement of Jordan's subpoena for Pomerantz to testify on April 20. Pomerantz told Jordan last month that, per instructions from Bragg's office, he does not plan to cooperate with the subpoena.

US District Judge Mary Kay Vyskocil denied Bragg's request for emergency relief later Tuesday, though the court could still block the subpoena through other forms of relief. She also set a hearing on the matter for April 19.

Speaking of Alvin Bragg and his prosecutors -- did you know he recruited a bunch of Democrat Party and Obama/Biden administration heavy-hitters and made them special deputy prosecutors just for the Trump case?
Well, that's exactly what he did.
So you can see why he doesn't want to be questioned under oath about political coordination.
Manhattan D.A. Enlisted A Who's Who Of Biden Admin Buddies For Trump Takedown

By: Margot Cleveland
April 12, 2023

There's quite a pattern to the Manhattan D.A. office's unprecedented use of outside, Democrat-connected lawyers to investigate Trump.

A New York City law firm with "strong ties" to Democrats and the Biden administration, and a big-time fundraiser for both, lent the Manhattan district attorney three lawyers to help him take down Donald Trump. This cohort included former Special Assistant District Attorney Mark F. Pomerantz, whose leaked resignation letter appears responsible for the Manhattan prosecutor's decision to indict Trump.

Manhattan D.A. Alvin Bragg became the first prosecutor to bring criminal charges against a former president when he moved forward last week with the arraignment of Trump on 34 counts of falsifying business records. The pathetic, barebones indictment was quickly denounced by pundits on both sides of the political aisle. Then on Friday, the House Judiciary Committee raised additional concerns about the role Matthew Colangelo, the former No. 3 man in the Biden administration's Department of Justice, played in the targeting of Trump.

While Bragg's hiring of Colangelo to reportedly "jump-start" the investigation into Trump further indicates the indictment was politically motivated, the Manhattan D.A. office's unprecedented use of outside, Democrat-connected lawyers to investigate Trump pre-dates Colangelo's arrival by nearly a year.

A Pattern

In early to mid-February of 2021, Bragg's predecessor, District Attorney Cyrus Vance, arranged for private criminal defense attorney and former federal prosecutor Mark Pomerantz to be a special assistant district attorney for the Manhattan D.A.'s office. Pomerantz, whom The New York Times noted was to work "solely on the Trump investigation," took a temporary leave of absence from his law firm, Paul, Weiss, Rifkind, Wharton & Garrison, where he had defended former Sen. Robert Torricelli, D-N.J., against alleged campaign finance violations. But even before being sworn in as a special assistant to the Manhattan D.A., Pomerantz had reportedly "been helping with the case informally for months..."

According to the Times, "the hiring of an outsider is a highly unusual move for a prosecutor's office." One must wonder, then, how much more unusual it is for the Manhattan D.A.'s office to receive the "informal" assistance of a private criminal defense attorney. The legacy news outlet, however, justified the hiring of Pomerantz based on the "usual complexity" of "the two-and-a-half-year investigation of the former president and his family business."

A few months later, the D.A.'s office welcomed two more outsiders, Elyssa Abuhoff and Caroline Williamson, who also both took leaves of absence from the New York powerhouse Paul, Weiss to work on the Trump investigation as special assistant district attorneys.

For a law firm to lend not one but three lawyers to the Manhattan D.A.'s office seems rather magnanimous, until you consider Paul, Weiss's previous generosity to Joe Biden. During Biden's White House run, the law firm hosted a $2,800-per-plate fundraiser for about 100 guests.

The chair of the Paul, Weiss law firm, Brad Karp, also topped the list of Biden fundraisers, bundling at least $100,000 for the then-candidate. "As someone who cares passionately about preserving the rule of law, safeguarding our democracy and protecting fundamental liberties, I've been delighted to do everything I possibly can to support the Joe Biden/Kamala Harris ticket," Karp wrote in an email.
Much more from Professor Margot Cleveland at the link.

Ambercrombie & Fitch bets on transgenderism.
The DNC has cut ties with Democrat fixer Marc Elias, who acted as a money-launderer for Hillary Clinton's campaign, pretending that millions spent to purloin the fake Steele dossier was spending for "legal services," so she wouldn't be connected to the document.
That's a campaign finance violation -- a real one. Hillary Clinton and Marc Elias were not prosecuted for it, instead being fined by the FEC.
Trump, of course, is being prosecuted for something the FEC has already investigated and determined was not a crime.
That's the background. The news is that the DNC is now cutting ties with Hillary Clinton's mob lawyer.
Paul Sperry @paulsperry_

NEW: The Democratic National Committee has cut ties with Marc Elias, the party's scandal-plagued election lawyer who was behind the infamous Steele dossier that falsely accused Donald Trump's campaign of colluding with Russia.
The DNC and Elias are parting ways over "strategic disagreements," according to Punchbowl News. It is a surprising divorce for the DNC and Elias, considered one of the Democratic Party's top elections lawyers. Elias has worked for the DNC since 2009 and made over $1.9 million from the DNC this cycle alone. Elias has suffered a number of high-profile legal setbacks in recent years, most notably when a federal judge dismissed one of Elias's lawsuits as a "Hail Mary" pass meant to undermine free elections.
Here's what I think: I think he's joining Alvin Bragg's gang of corrupt prosecutors in New York.
Federal economic analysts predict that the recession that already started last year will finally take place this year.
Federal Reserve economists believe that recent banking turmoil will trigger a mild recession later this year, a potentially ominous sign for President Joe Biden as he heads into an election campaign.

Staff members at the central bank, who brief policymakers before interest rate decisions, had long expected GDP growth to slow this year in the wake of the Fed's fight against inflation. But last month they upped the odds of a downturn, according to the minutes of the Fed's March 21-22 meeting.

A detransitioner pleads: Don't encourage teenagers to cut their healthy body parts off like I was encouraged to do.
Seth W @s_e_t_h_w_

I'm going to rant on here for a second. It's my birthday and all I've done is cry. In my bones, I feel like a man. But I neither look nor sound like a normal nearly-30-year-old-man. I have the face and voice of an estrogenized teenage boy.

Trans people keep reminding me I made a mistake. YES. I know I made a mistake. I kick myself for it daily. I cry about it daily. But trans people are also the ones who told me to make this mistake when I was a vulnerable teenage boy.

When I changed my mind at 18 and tried to go back to being a gay male, they took my stories of being asked if I was a boy or girl, because I was estrogenized and androgynous, and made it out like I was MEANT to be a girl, and I believed it.

I still blame myself for that, actually. I knew it wasn't what I wanted, but I kept doing it anyway because I thought it was the path to one day being normal. That quest for normalcy resulted in removing my penis to fit in.

Now I feel like my body is in ruins. And I want to ask all these trans people: how do you know the trans teen you're encouraging isn't me? Maybe they won't be tomorrow. Give it a decade and some change, it took me that long to detransition.

I didn't know how much I would want to be the man I was born to be because I never got to be one. That was stolen from me by transition. My entire adult life has been spent transitioning. I was a boy when I started, and now I'm stuck in this weird in between.

I'm not saying this to be hateful or hurtful. I'm saying this because it's true. I hope that I can fix the changes made to my body, but I'm also starting to consider my life somewhat of a wash.

What I can do now is try to prevent others from going through what I did. From having their futures ripped away from them and tossed into the meat grinder of transition.
The usual crowd accused him of being a faker -- an "aggravator" -- so he posted video of himself.

posted by Ace at
05:00 PM
|
Access Comments