« Daily Tech News 30 January 2023
|
Main
|
Mid-Morning Art Thread »
January 30, 2023
The Morning Report — 1/30/23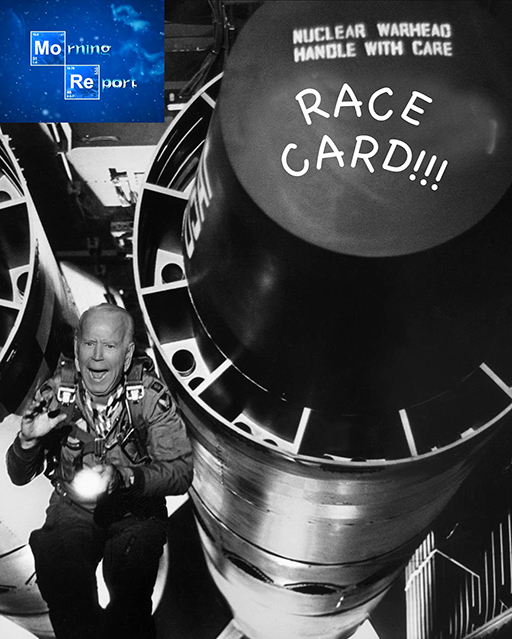 Good morning kids. I'm not claiming this to be Sefton's corollary, but it certainly seems to me that the more self-evident and obvious a thing is, the more difficult it is to prove. Even when people have cold, hard truth shoved in their face, the ability to see, hear, feel, touch and taste it shuts down and they become even more strident in their denial. To the extent that those who try and put these "true believers" as it were some knowledge are labeled as "deniers." Pick your issue. Beyond the scarlet letter "D" (and I don't mean Democrat), anyone who even attempts to voice an opinion that is contra the accepted dogma is either silenced, denounced or even attacked, to the point of physical assault.
With that I give you the situation in Memphis, Tennessee. Five black police officers evidently beat the living shit out of a black suspect, who later died of his injuries. The city, and much of inner city blue shit hole America is yet again on tenterhooks, while the usual suspects in the media, academia and government (now intertwined as the hydra of our undoing) are sensing a giant squirrel with which to distract from the disasters that they collectively have unleashed upon us since stealing one election and sabotaging another.
Why? Because, gentle reader, five black cops beating a black suspect to death is not, as any rational observer might conclude a glittering example of rank ineptitude and recklessness but – you guessed it – yet another example of institutional white supremacy oppressing colored people of color.
My unofficial corollary goes hand in hand with the axiom that "A lie goes halfway around the world before the truth even gets its pants on." Or really, a simple, big lie is much, much easier to propagate than debunk with more complex truths. The anti-American Left has had a jump on this for at least 60 years. It's why even supposedly educated individuals can also see the image of Jesus in the slice of toast. You can imagine what the masses who hang on every poisoned syllable from the festering cakeholes of Al Sharpton, Joy Reid, Mikva Waters, Spike Lee and all the rest are thinking.
This is how we get White Hispanics, or frauds like Talcum X and Fauxcahontas. It's also how we devolve into Yugoslavia 1992. LeBron James, whom I regard as a pituitary case with a pea brain, a big mouth and a "yen" for Chinese slave-labor lucre, who is usually on the wrong side of this issue did manage to Tweet out a mother of all truth nukes:
Initially, James responded to a tweet from MSNBC analyst Brittany Cunningham, which said that policing is a tool of systemic racism no matter the race of the officers.

"What's really clear about some of the reaction to the murder of #TyreNichols is that we've failed to fully understand race and its construction as a *systemic tool.* The entire system of policing sees the Black body as a problem. No matter who pulls the trigger," said Cunningham. 

"TOO FACTUAL!!!" LeBron responded. James later tweeted, WE ARE OUR OWN WORSE ENEMY!!!

The comment appeared to anger some of the basketball star's woke fans, who accused him of perpetuating white supremacist talking points.
Despite the misspelling, whether James was trying to underscore and/or agree with the initial racialist garbage that he was responding to, I can't say. My guess is he was but there are no follow on Tweets as of this morning to confirm that assumption. So, his cap-lock truth bomb stands and it is worth repeating:
Black people are indeed their own worst enemy. Look who they vote for, or at least allow their ballots to be cast for (usually in multiple), and as a result, look at the fate of black people, specifically young men, since the passage of the so-called War on Poverty and Great Society. Drug abuse, crime, bastardy, prison and an early grave, the result more often than not of violence perpetrated on them by their own.
All one has to do is look at the bodycounts from places like Baltimore, Chicago, Compton, Oakland and every other inner city dystopian hell where individuals like Maxine Waters has "represented" going on years and decades. The more horrific and hellacious these places become, the more the blame is placed on whites, white supremacy, institutional racism, Jews (oh yes indeed), slavery – which ended in 1865 – the second amendment and NRA, and on and on and on.
Here's a question that I dare not ask in mixed company: who was this "victim" Tyre Nichols and what was he doing that got him in this situation in the first place? If we've said it once, we've said it a million times: Play stupid games, win stupid prizes. Regardless of what one thinks about the police, regardless if you or they are black or white, when you are dealing with them and they say jump, your first response should be "How high? SIR?"
But no. And I'm not even going to begin to analyze or critique the response of the cops. I've learned that from what happened to P.O. Derek Chauvin up in Minneapolis. The only relevant points of this case and all the others is what was the situation leading up to the encounter and was the response from the police competent and in keeping with police procedure? In other words, local crime story.
Funny how the usual suspects are shrieking about the police being the tools of institutional oppression and yet when you bring up the Capitol Police, the FBI, Ray Epps, et al and their actions on January 6th, 2021, you get crickets. If you're lucky. Michael Byrd, a black Capitol pig shot and killed an unarmed, unthreatening Ashli Babbit and he got commendations from the Democrats and sadly, maddeningly, his colleagues got a pat on the back from people like Ted Cruz and Rand Paul.
Slavery indeed was a tragedy and a stain on the Republic, yet one that was washed away by the blood of close to 700,000 Americans in the Civil War. The greater tragedy by far is the political descendants of those who did the enslaving have committed what amounts to a genocide against blacks since the 1960s. At the same time, they've convinced those still standing that We The People are their enemies when in fact it's just the opposite.
A racist in a tablecloth suit named Dr. Umar Johnson decreed on The Breakfast Club radio show recently that the American government must carve out a full quarter of all economic activity — in perpetuity. "We get a 25% cut… every time America makes a dollar." That would amount to approximately six trillion dollars annually. He makes sure to emphasize this is a forever arrangement. . .

. . . The reparations idea would be a lot easier to entertain (although it would still be a non-starter for fundamental moral reasons) if there were some point at which the debt owed by the guilty party (white people) could ever be considered paid.
How about not one single dime? Actually, I take that back. I'm in favor of reparations for blacks so long as those who will have to pay are Democrats and Leftists. Blacks included.
Of course, with nuclear war imminent, we'll have to work all of this out somehow in Bartertown.

You are so right, LeBron, even if you don't know it.
ABOVE THE FOLD, BREAKING, NOTEWORTHY
CIVIL WAR 2.0: J-6 FBI FALSE FLAG "RIOT" & AFTERMATH, LEFTIST PERSECUTIONS, DEMOCRAT PUTSCH, AMERICAN DISSOLUTION
NOTE: The opinions expressed in the links may or may not reflect my own. I include them because of their relevance to the discussion of a particular issue.
ALSO: The Morning Report is cross-posted at CutJibNewsletter.com if you want to continue the conversation all day.
Follow us on Twitter: @CutJibNews
Follow us on Instagram: @Cutjibnewsletter

posted by J.J. Sefton at
07:46 AM
|
Access Comments