« EMT 1/29/23
|
Main
|
It's Not A Race Problem; It's A Policing Problem »
January 29, 2023
Sunday Morning Book Thread - 01-29-2023 ["Perfessor" Squirrel]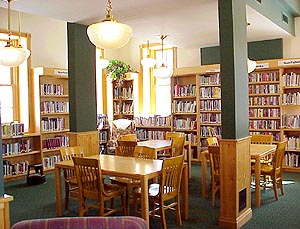 Welcome to the prestigious, internationally acclaimed, stately, and illustrious Sunday Morning Book Thread! The place where all readers are welcome, regardless of whatever guilty pleasure we feel like reading. Here is where we can discuss, argue, bicker, quibble, consider, debate, confabulate, converse, and jaw about our latest fancy in reading material, even if it's nothing more than the constitution of a not-so-secret society you formed in college. As always, pants are required, especially if you are wearing these pants...
So relax, find yourself a warm kitty (or warm puppy--I won't judge) to curl up in your lap, sip your latte, and dive into a new book. What are YOU reading this fine morning?
PIC NOTE
Today's pic is an interior view of the historic Old Rock Community Library, located in Crested Butte, Colorado, which is only a little way southwest of Aspen. It was originally a two-room schoolhouse built in 1883.
THEMATIC REVIEW - Star Wars: Legacy of the Force
Don't worry! I'm not going to bore you with the details of a Star Wars series of novels, since I know most of you don't really care about Star Wars or science fiction/space opera in general. Short version of the review -- Not great, but not terrible. Essentially a Greek tragedy of a man who completely falls into darkness and cannot be redeemed. No happy endings.
Instead, I wanted to discuss some important themes that are still covered in these books, as they do have relevance in today's society and culture. You probably have at least *some* familiarity with key characters and events of the main Star Wars saga, but don't feel like you are missing anything if you don't. The important thing is that you can still relate to the themes below.
Power corrupts - What can change the nature of a man? The main antagonist is so broken and destroyed by the horrors of war witnessed and experienced in his youth that he decides that he will use his power and influence to bring the entire galaxy under his control so that his own child will never have to go through the same horrors. He is further corrupted by his rationalization that there is no difference between the philosophies of the Jedi and Sith. Power is a tool, nothing more, and it's simply the intent that determines the outcome. It's very much a utilitarian mindset, where the ends justifies the means. As long as the galaxy is "peaceful" according to his defined standards, then everything is hunky-dory, no matter how many millions of people must suffer and die to achieve that peace. To paraphrase a certain Princess, the more Jacen Solo tightens his grasp, the more star systems slip through his fingers.
Nature of government - The external conflict in this series involves a civil war between the legitimate government of the Galactic Alliance and several factions that want to leave the Alliance for their own purposes. The actual reasons for the civil war are very murky and I'm not sure if that is on purpose or the authors didn't quite know what to do with a civil war plot. It's quickly established that all sides involved have suspicious motives at the least. The main splinter faction, the Corellians, have possession of a weapon of mass destruction, though they are unable to use it effectively. Most of the main characters are split in their loyalties to the various factions. The Galactic Alliance is modeled after a republican form of government, while the Imperial Remnant is ruled by an oligarchy of Grand Moffs. The Corellians have a sort of fascistic totalitarian government, and the Hapes Cluster is ruled by a Queen. All of these are attempting to either carve out their own niche within the larger galaxy or become the controlling power within the galaxy. In the end, a relatively benevolent despot is appointed to rule the galaxy.
Importance of family - At the of the day, this series is a tragic examination of the consequences of family versus duty. All of the main characters find themselves torn between their duty to their respective factions and their loved ones who may have different ideas. There are four main families, in increasing order of tragedy: Antilles, Fett, Skywalker, and Solo. Wedge Antilles and his daughter find themselves on opposite sides of the civil war, similar to how members of families were torn apart in the American Civil War. Boba Fett discovers he has a granddaughter who hates him for what he did to her mother. He also is torn between his desire to help the Mandalorians rebuild their society and his need to be left alone to his own devices. He resents being in charge of his people, though they are by far the most independent culture in the series. Luke Skywalker's actions as the Grandmaster of the Jedi Order have created a rift between him and his son, especially after Luke's wife Mara is killed by Jacen Solo, the main villain. Luke's son nearly succumbs to the lure of the Dark Side of the Force, but is redeemed. The son of Han and Leia Solo is not so fortunate. Of all the families, their story is by far the most tragic. They lost their younger son who performed a heroic sacrifice years earlier while he was still a teenager. Their older son has become the irredeemable villain of this story. Their daughter has become the living weapon of the Force and must also carry with her the grief of being the instrument of her twin brother's death, no matter how necessary it was.
++++++++++
++++++++++
BOOKS BY MORONS
Hans G. Schantz has an announcement:
He wanted to test the new Gender Awareness in Academia (GAIA) Act, but high-school biology teacher, Mike Andrews got more than he bargained for.

Arrested and thrown in jail for the crime of teaching the biology of sex determination and for refusing to affirm a student's gender identity, Mike faces a show trial amid a media circus.

Who can he trust?

The school superintendent who set him up?

His defense attorney who shares a secret history with the prosecutor?

His girlfriend who may not have his best interests in mind?

Her mother who is out to destroy him?

Mike will have to learn that winning the game sometimes requires writing your own rules, and success comes only to The Wise of Heart.

Check out The Wise of Heart, my modern-day retelling of the Scopes Monkey Trial where science takes on the trans agenda, with free weekly episodes on Substack and Arktoons.

Best Regards,

Hans

++++++++++
MORON RECOMMENDATIONS
I usually don't participate in the book thread and it's not because I don't read although I had slacked off for several months. I also don't read anything too heavy. Chemo brain...yeah it's a thing. So... I keep it light and easy. Just finished Lucky Dog by Dr. Sarah Boston. It's about a veterinarian who specializes in treating dogs with cancer then has to deal with her own battle with thyroid cancer. She uses a lot of humor as she tells her story. Posted by: jewells45 fuck cancer at January 22, 2023 09:10 AM (nxdel)
Comment: We all wish Jewells45 the best! Humor, I think, is an excellent way to keep one's spirits up when going through a difficult time, especially when it's health-related. I've been in and out of hospitals for a number of serious conditions and I almost always joke with my medical care team, no matter the situation. Our pets, of course, rely on us totally for their own care. I am NOT looking forward to the day when I start losing my kitties, but I know it's all part of the natural cycle of life.
+++++
The book The Road to Dune contains the novella "Spice Planet", reconstructed by Brian Herbert and Kevin J. Anderson from Frank Herbert's notes and original outline for Dune. It's a weird proto-Dune with characters that are clearly precursors to Duke Leto Atreides of Caladan (Jesse Linkham of Catalan) and his nemesis Nobleman Hoskanner (Baron Harkonnen). Linkham's beloved concubine is named Dorothy Mapes (!), but she is not Bene Gesserit. Hoskanner is tall and bony. Spice, as an element of the plot, is a highly addictive drug favored by the rich and used to dampen hunger and boredom during space travel, but it wasn't yet the space-folding mind-expander it became in the "real" Dune. It's all slightly off, simpler and not as elegant as the "real" Dune novel, but interesting to read nonetheless as a "what if". Lots of interesting stuff on the ecology of barren Arrakis. Posted by: All Hail Eris, Sans-Culottes (except for the Book Thread) at January 22, 2023 09:19 AM (Dc2NZ)
Comment: It can be interesting to see earlier versions of a finished product. Clearly, it sounds like Herbert hadn't quite worked out the details of his world yet in "Spice Planet," but there was enough there that he wanted to flesh it all out in a longer narrative. Isaac Asimov collaborated with Robert Silverberg to rework Asimov's short story "Nightfall" into a longer and more complex story that includes the aftermath of the world-shattering event of a near-total eclipse (it makes sense in context). The original short story ends just as the eclipse is beginning, leading to the end of the current cycle of civilization.
+++++
Funny that today's thread opens with a poem. I rarely read poetry, the other day I happened on a popular old Chinese folk poem. It's about a beautiful girl who picks mulberry leaves by the road. A govt official propositions her, but she rejects him, saying he's married and so is she, moreover her husband is more impressive than him. Lots of nice imagery. It's known as "Luofuxing" ("The Song of Luofu"; also called Moshangsang, "Roadside Mulberry Tree" Posted by: vmom stabby stabby stabby stabby stabamillion at January 22, 2023 09:38 AM (BtmcP)
Comment: I don't really have any commentary on this, but I thought a poem recommendation is a nice change of pace from the usual fare around here.
+++++
I have a recommendation for an old sci-fi novel that has particular relevance these days. In The Languages of Pao by Jack Vance, the planet Pao is a wealthy but placid agricultural world. However, they keep being pushed around by their neighbors and the leader wants to change that. He hires Lord Palafox of Breakness to fix the problem and the solution is to replace the passive language of Pao with three different languages, Cogitant, Technicant and Valiant, each tuned to enhance skills in different areas. Valiant is made to create a warrior class. There are lots of twists and turns and Palafox is one of the more deliciously evil characters around. Given recent efforts to impose language and ideology in modern day "education", maybe this book needs a second look.

Posted by: MichiCanuck at January 22, 2023 09:28 AM (KOrdp)

Comment: Interesting solution to the problem. Instead of just training members of the local population in the art of war, three new languages are introduced to fragment society along caste lines. Judging from the names of the languages, one caste will be the dominant ruling class, one will be responsible for maintaining things, and one will do all the fighting. Babylon 5 had a similar situation with the three castes of the Minbari - religious, worker, and warrior. One prays, one builds, and one fights. It would not surprise me if J. Michael Straczynski was inspired by Jack Vance.
More Moron-recommended reading material can be found HERE! (608 Moron-recommended books so far!)
+-----+-----+-----+-----+
WHAT I'VE ACQUIRED THIS PAST WEEK
Glitter Girl by James Y. Bartlett -- This series was promoted on the Sunday Morning Book Thread and was also recommended recently. I'm looking forward to reading it!
Star Wars: The Crystal Star by Vonda N. McIntyre
WHAT I'VE BEEN READING THIS PAST WEEK:
Still working my way through Star Wars: Legacy of the Force. Although not "great" literature, there's still a lot of interesting points that seem strangely relevant, such as one group of star systems attempting to break away from the Galactic Alliance. And lots of interference from third parties trying to stir up a hornet's nest, causing chaos throughout a galaxy far, far away...
Star Wars: Legacy of the Force 8 - Revelation by Karen "I ♥ Boba Fett" Traviss -- Jacen Solo has officially gone off the deep end.
Star Wars: Legacy of the Force 9 - Invincible by Troy Denning -- The exciting conclusion!
Riders of the Sidhe by Kenneth C. Flint -- A retelling of one of Celtic Ireland's greatest hero myths.
Champions of the Sidhe by Kenneth C. Flint -- Continuing the saga of one of Ireland's greatest heroes.
That's about all I have for this week. Thank you for all of your kind words regarding the Sunday Morning Book Thread. This is a very special place. You are very special people (in all the best ways!). The kindness, generosity, and wisdom of the Moron Horde knows no bounds. Let's keep reading!
If you have any suggestions for improvement, reading recommendations, or writing projects that you'd like to see on the Sunday Morning Book Thread, you can send them to perfessor dot squirrel at-sign gmail dot com. Your feedback is always appreciated! You can also take a virtual tour of OUR library at libib.com/u/perfessorsquirrel. Since I added sections for AoSHQ, I now consider it OUR library, rather than my own personal fiefdom...
PREVIOUS SUNDAY MORNING BOOK THREAD - 01-22-23 (NOTE: Do NOT comment on old threads!)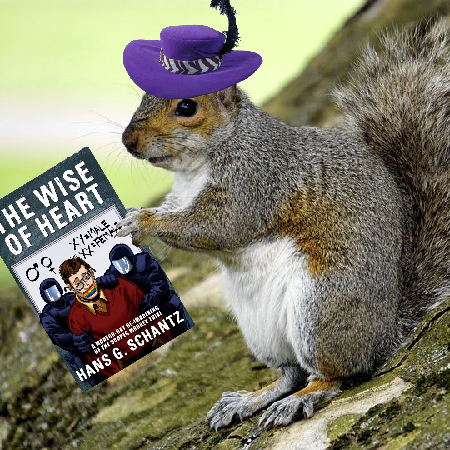 posted by Open Blogger at
09:00 AM
|
Access Comments