« Daily Tech News 27 January 2023
|
Main
|
Mid-Morning Art Thread »
January 27, 2023
The Morning Report — 1/27/23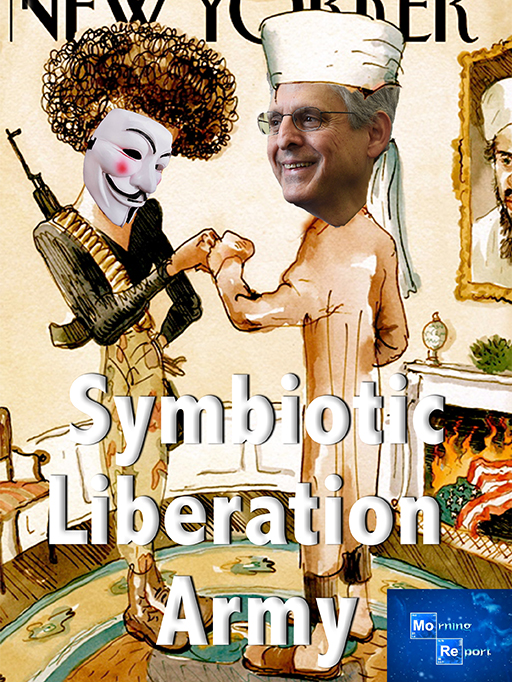 Good morning kids. On September 29th, 2020, during a debate with President Trump, candidate Joseph Towelette Biden claimed that Antifa is simply an "idea, not an organization, not militia."
As long as we're talking ideas and aphorisms, in light of the aforementioned and Biden's proclamation, "If the pen is mightier than the sword, think of all the damage you can do by using your pen to order up a shit-ton of swords!"
Thankfully, Governor Brian Kemp of Georgia, in response to the Big Guy's Big "Idea" running wild in Atlanta, has grabbed his pen and jotted a few ideas down of his own.


Gov. Brian Kemp (R) declared a temporary state of emergency in Georgia on Thursday and activated 1,000 Georgia National Guard troops in response to recent anti-police protests and destructive riots in Atlanta.

Kemp's order referenced protests and riots that occurred on Saturday, which had stemmed from ongoing demonstrations against a police training facility the city is building in a wooded area of metro Atlanta.

The riotous events on Saturday had also come in response to the death of activist Manuel "Tortuguita" Teran, who state officials say was killed by law enforcement after he shot and injured a State Patrol trooper while at the site of the planned facility. . .

. . . "Georgians respect peaceful protesters, but do not tolerate acts of violence against persons or properties," Kemp wrote in his emergency order.

The governor cited "unlawful assemblage, violence, overt threats of violence, disruption of the peace and tranquility of this state and danger existing to persons and property" as reasons for the state of emergency, which is set to expire on February 9.

Kemp has from the outset of the protests taken a tough posture against those who go beyond peacefully demonstrating.
Good for him. That said, were it me in charge, I'd declare a free fire zone for the Guardsmen and cops, then order the bulldozing of the terrorists' homes a la the IDF when mostly peaceful jihadists blow up school buses and pizzerias, freezing and seizing of bank accounts etc. etc. Unfortunately, I'm not the governor of Georgia nor does the law permit such actions. In any case, it's turning out that a number of these little "ideas" are not even residents of the state. Hmm. . .
Going back to the "mostly peaceful" Summer of Love 2: 2020 Burn Loot Murder Boogaloo, a wave of terror that incinerated scores of business districts did not just happen. It is known that Antifa, far from being merely an idea, are organized, communicate with each other, do have some sort of leadership structure and are well-funded. In fact, along with the private sector that either willingly or to avoid trouble ponies up incredible sums of extortion/protection money, your tax dollars are going directly into their coffers.
In Atlanta, small business owners are sweeping away broken glass and police have recovered explosive devices from some of the rioters. Yet the 'Atlanta Forest Defenders' are still raising money through Open Collective: a 501(c)(3) nonprofit fundraising platform that Front Page Magazine had previously exposed for providing fundraising for assorted ecoterrorists including the 'Just Stop Oil' vandals who glued themselves to 'The Girl with the Pearl Earring' painting.

That is despite the fact that Open Collective's terms of service prohibit illegal activities.

The Open Collective Foundation has received funding for digital infrastructure grants from the Ford Foundation, George Soros' Open Society and Pierre Omidyar's Omidyar Network.

Meanwhile ordinary people have been suffering through another wave of leftist terror.

In November, an elderly man passing by the area was attacked. When he stopped his truck, "these people started coming out of the woods in camouflage stuff and blocked me in."

Then they set the truck on fire. "It seemed to me like they were going to burn the truck with me in it."

Nobody's fundraising for the man who lost his truck and now suffers from a medical condition, but the IRS is continuing to enable this domestic terrorist campaign. In Atlanta, rioters had marched chanting, "If you build it, we will burn it." The riots show that they mean it. . .

. . . Members of the 'occupation' charged with domestic terrorism were ordered not to maintain "contact with Defend Atlanta Forest on social media". Despite that, neither Georgia nor the IRS, have revisited the legal status of Defend the Atlanta Forest, its fund and its fiscal host.

While the Forest Defense Justice Fund is not a nonprofit, its fiscal host, the Network For Strong Communities, is a 501(c)(3). Beyond the Atlanta Forest Defenders, Network For Strong Communities also acts as a host for Atlanta Resistance Medics. Manuel Paez, the leftist who shot at a state trooper and was killed in turn, was a member of the Atlanta Resistance Medics.

The 'medics', similar to other riot support groups, provide aid to rioters during street violence. The group's blog suggests that protesters "always be prepared to face tear gas every time you go to a protest" and advises that the "key to avoiding arrest is to always know where all the police are — and more importantly, to know where they aren't."

An article about the alleged shooter described the group's "leaderless nature, its focus on direct action, as well as its anarchist and Marxist leanings." . . .

. . . Meanwhile Georgia's Secretary of State Brad Raffensperger has yet to do anything about NSC. The organization was briefly dissolved by his office for failing to pay its fees, but is now listed as being in compliance.

The IRS, which determined that NSC, was a "public charity" has failed to revisit that finding even in the wake of the ongoing violence tearing apart Georgia.
Brad Raffensperger! What a co-inky-dink! Brian Kemp's no angel either but at least he called up the Guard. That said the rules of engagement are probably as insane as they were for our troops in Afghanistan, or Vietnam or you name the military adventure for profit that sadly has been our wont (get ready for Ukraine, boys!), but I digress.
A few things to take into consideration here. They may claim to have a "leaderless nature" but somewhere in that hive of drones is a queen bee. Their ultimate goals may or may not mesh with that of the Junta in power, but Antifa only is allowed to exist and terrorize the citizenry because the Deep State allows them to do so. For now, their seemingly inchoate, Marxist inspired aims do not conflict with that of the Deep State and in fact, the latter views their running wild in the streets as serving its aims at keeping the citizenry off balance and in check.
The word I'm looking for is symbiosis. Or as Hillary might quip, "You mean like the Symbiosis Liberation Army?" (heh, I made a funneh). If the IRS is allowing these bastards to operate tax free while at the same time denying Tea Party groups tax free status to operate, QED. That is de facto support – legally and financially – of the State for a subversive terrorist organization.
But that does not mean that the government at the federal, state and local levels in blue and perhaps even in red districts are not directly funding them, wittingly and otherwise. When you have Stimulus Bills, Continuing Resolutions, Inflation Reduction Acts, Obamacare Acts and other multi-trillion dollar insanities that are each a few thousand pages long and come up for debate only 48 hours before a vote over a long holiday break so no on can read it, somewhere in the middle in the fine print is money being allocated to some subversive organization that has a cute patriotic name like "People For the American Way."
I give you fish-eyed oaf Eric Holder, who ran what was essentially an extortion racket against the banking sector and other corporations:


In 2011 Holder's Justice Department sued 18 banks, including JP Morgan Chase & Co., for allegedly making false statements and omitting material facts when they had sold billions of dollars worth of bonds to the mortgage giants Fannie Mae and Freddie Mac between 2005 and 2007 — transactions that ultimately contributed to the financial crisis and housing-market collapse of 2007-08. In October 2013, JP Morgan and DOJ reached a tentative agreement requiring the bank to pay a $13 billion fine — the largest payout that any financial firm has ever made to the U.S. government. . .

. . . Although the funds derived from these fines were purportedly meant to be distributed to minority victims alleging that they had been charged higher interest rates and fees than white borrowers because of their race (rather than their credit-worthiness), much of the money went instead to Democrat-allied organizations with no connection whatsoever to the DOJ lawsuits. Among these groups were: ACORN, the Mutual Housing Association of New York (a spinoff of ACORN Housing), the National Community Reinvestment Coalition, the National Council of La Raza, the Neighborhood Assistance Corporation of America, NeighborWorks, and Operation Hope.
Holder was directly linked and gave cover to the New Black Panther Party in the wake of 2008, and in his college days was a big time supporter of the original, classic-variety Panthers. "Democrat-allied organizations." That covers a lot of territory, 100% of it anti-American and more than likely quite a few who follow the creed of "By Any Means Necessary," which not coincidentally is the name of one of these groups.
And that's not just rhetoric. I don't have to tell you the score, folks. These are dark days. We have a government, an illegitimate one at that, that is using its bureaucratic instrumentalities in one hand to crush all dissent and standing by as actual street thugs are allowed to use physical violence, mayhem and dictionary-definition terrorism to do the exact same thing with the other.
At some point, though, just as Ernst Roehm and the Brownshirts outlived their usefulness to you-know-who, so too will BLM and Antifa outlive its usefulness. That is, when the Deep State does indeed seize absolute power. If it hasn't done so already.
Have a good weekend and see you mañana on the hobby thread. New podcast coming later today, too. Be there, aloha.
ABOVE THE FOLD, BREAKING, NOTEWORTHY
"The intelligence community must remain subordinate to our elected officials or we no longer have a functioning democracy. The intelligence community hates this." (the nub of the essay is correct, but it still does not absolve Biden for likely treasonous acts - jjs)
Capturing the Presidency Without a Vote

Daniel Greenfield: "The Left is using equity to seize control over every American institution."
Equity is the New Communism

Richard Fernandez: "The year 2023 is shaping up to be the start of long period of destruction and renewal. The old global world is collapsing under the impact of the war in Ukraine, the effect of the [Chinese] Covid-19 pandemic, high energy prices, supply chain disruption, and a declining public confidence in authority. The coming year will see the demolition continue until perhaps the point is reached when it is simply easier to start over again."
The Real Great Reset
CIVIL WAR 2.0: J-6 FBI FALSE FLAG "RIOT" & AFTERMATH, LEFTIST PERSECUTIONS, DEMOCRAT PUTSCH, AMERICAN DISSOLUTION
NOTE: The opinions expressed in the links may or may not reflect my own. I include them because of their relevance to the discussion of a particular issue.
ALSO: The Morning Report is cross-posted at CutJibNewsletter.com if you want to continue the conversation all day.
Follow us on Twitter: @CutJibNews
Follow us on Instagram: @Cutjibnewsletter


posted by J.J. Sefton at
07:49 AM
|
Access Comments