« THE MORNING RANT: Punching Back Against ICE Vehicle Bans; Yes They're Coming for Your Gas Stove; A "Conservative" Thinker Is Perplexed By Empty Grocery Shelves
|
Main
|
Former Head of FBI Counterintelligence Division, and the Man Who Started the Russiagate Hoax Investigation Into Trump, Arrested for... Violating Russian Sanctions »
January 23, 2023
In Atlanta and Other Democrat-Controlled Cities, The "Idea" Known as Antifa Spends the Weekend Engaging in Fiery But Peaceful Domestic Terrorism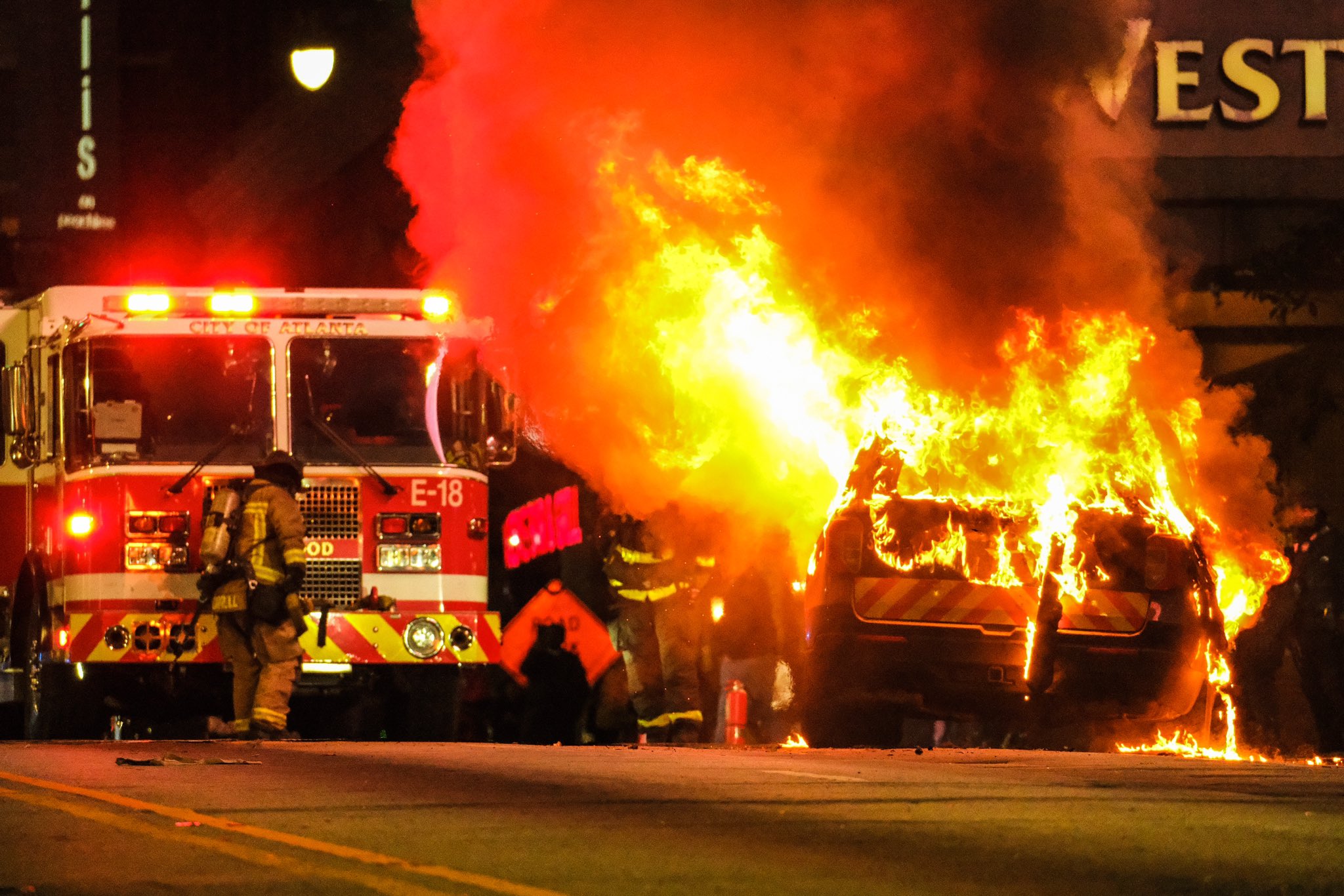 Six were arrested and charged with Mostly Peaceful Domestic Terrorism. Five of those six were from out-of-town, part of antifa's national shock troop pool, which is weird because the criminal Christopher Wray assures me this is just a local "idea" and therefore not a priority for the national FBI.
Six people were arrested on charges of domestic terrorism by Atlanta police Saturday night following violent riots carried out by Antifa activists who shattered windows, destroyed a police car, and vandalized walls with graffiti.

...

Five of the six people arrested came from out of state to cause mayhem. One of the arrested, Francis Carroll, was out on bail for domestic terrorism and is the son of a wealthy Maine family, according to investigative reporter Andy Ngo.
The mother of the punk who shot at cops vows she's coming to the US. I'm sure Biden will approve her passport to provoke more terrorism.
Terán's mother, Belkis, challenged the narrative that her son was violent and shot first. "I will go to the US to defend Manuel's memory," Belkis, who lives in Panama told The Guardian. "I'm convinced that he was assassinated in cold blood."
Teran is the one who opened fire on cops and was shot and killed in return -- he's the soldier this "idea" called antifa is avenging.
Kyle Shideler has the dossier on this anarchist terrorist.
The perpetrator was identified as 26-year-old Manuel "Tortuguita" Teran, who was shot and killed when law enforcement returned fire. A "Rest in Power" flyer put out by activists following the shooting described Teran as an "indigenous anarchist," "forest defender," and "trained medic."

A "forest defender" is a term used to describe an eco-activist who participates in illegal occupations to prevent forests from being cutdown. Techniques can include spiking trees (inserting metal spikes into trees which can injure loggers), erecting barricades, and building elaborate raised platforms within the trees to serve as literal human shields.

Teran's status as a "trained medic" is interesting. As the Center has documented, medics can play a crucial "command and control" function within anarchist black bloc activities. Antifa medics have been known to carry firearms and other weapons, which allows the exploitation of common cultural assumptions about the role of medics as being unarmed for propaganda purposes.
A CNN guest declared that none of antifa's actions over the weekend were violent, just good peaceful protesting.
CNN guest David Peisner caught flak Saturday for claiming that the only violence taking place in the fiery uproar underway in Atlanta is being instigated by police.

"I think that there's a real blurring of the lines in the use of the word violence. Is property destruction violence? To some people it certainly is. But, you know, this idea that breaking windows or other acts of property destruction are the same as actual violence against humans, it's kind of a dangerous and slippery concept,'" he told CNN's Pamela Brown Saturday on "CNN Newsroom."

"You keep using these words 'violent, violent, violent, violent'... The only acts of violence against people that I saw were actually police tackling protesters," he added.

Peisner further suggested the group of rioters was "small" and that people involved in the incident were acting apart from the "Defend the Forest" movement memorializing 26-year-old activist Manuel Esteban Paez Teran, who was killed in a gunfire exchange Wednesday after allegedly firing at Georgia state troopers.

"As the chief himself said, this is a small group," he said. "Also, within this 'Defend the Forest' movement, there are no leaders, so people kind of go off and do their own thing," he said.
They're really propagandizing the hell out of this "no leaders" bullshit. Of course they have leaders. They're an organization schooled in military-style tactics.
But this is the line that Christopher Wray gets to point to and say "They're only 'loosely controlled' so they're not an FBI priority." He never, ever explains why loosely controlled leaderless idiot white supremacists are a top priority for the FBI, but loosely controlled leaderless antifa terrorists aren't.
The answer, of course, is that he's been told by his leftwing benefactors to contrive any excuse not to target antifa and not to call them a domestic terrorist threat, but to direct the FBI's power and propaganda to smearing the right as terrorists.
And he was told that because, of course, antifa is an actual Junior League for aggressive young Democrats. A top House Democrat's son was arrested in the Boston antifa riots.
The son of House minority whip Katherine Clark (D., Mass.) was arrested in Boston for assaulting an officer and defacing a monument during an Antifa riot on Saturday night.

Clark's son, Riley Dowell, 23, was detained by Boston police for allegedly spray painting "No Cop City" and "ACAB" (All Cops are Bastards) on the Parkman Bandstand Monument in the Boston Common. Similar language was used recently by Antifa activists in Atlanta.

...

Clark released a statement Sunday afternoon confirming Dowell, who is transgender and goes by the name Riley, was arrested.

"Last night, my daughter was arrested in Boston, Massachusetts. I love Riley, and this is a very difficult time in the cycle of joy and pain in parenting," Clark tweeted. "This will be evaluated by the legal system, and I am confident in that process."
Of course.
They were of course summoned to a "Night of Rage" by Atlanta antifa, and they responded because they're totally a loosely-controlled group with no national reach.


posted by Ace at
12:06 PM
|
Access Comments