« Quick Hits 2
|
Main
|
Golden Years Cafe »
January 20, 2023
Email from Hunter's "Business" Lawyer Names Joe Biden as Being Scheduled to be on a Phone Call Discussing Sale of Natural Gas to China
Never discussed Hunter's businesses with him, not a single time, Jack!
This is the year after Biden left the Vice Presidency, when he believed he would just have a career buckraking, but wasn't fully committed to that. He was still trying to keep himself "clean," using Hunter as his frontman.
Joe Biden was named in an email found on Hunter Biden's laptop discussing a 25 million-ton gas deal with China, DailyMail.com can reveal exclusively.

In October 2017, Hunter and his uncle --Joe's brother Jim Biden -- were brokering a multi-million dollar deal to supply gas from Louisiana to the country on behalf of their business partners, Chinese energy giant CEFC.

At the time Joe Biden had finished his term as vice president and had yet to announce any plans to run for president in 2020.

A Louisiana-based lawyer on the other side of the deal wrote in an October 27, 2017 email that he had arranged 'a call from Joe Biden and Hunter Biden on Monday morning to discuss the purchase of the 5 million tons of gas.'


While it's possible the Baton Rouge lawyer, Robert Fenet, mistyped 'Joe' instead of 'Jim,' other emails and whistleblower testimony suggest Joe was involved in Hunter's business dealings with the Chinese.

The White House did not respond to DailyMail's requests for comment.
Why would they even pre-concede that spin? Make Biden lie and claim that.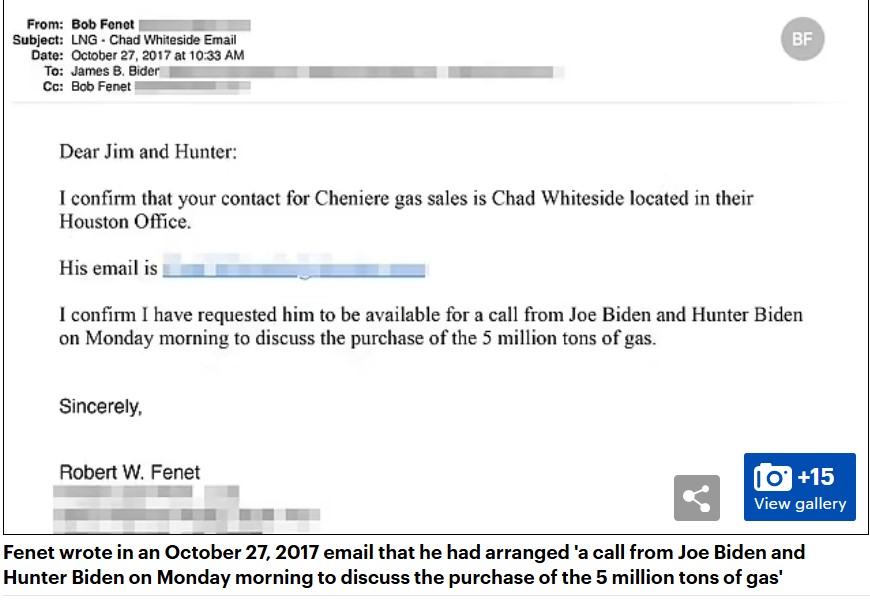 Also from the Daily Mail: Joe Biden left classified documents all over DC like Hunter Biden left his meth-teeth.
The long and winding document trail that leads classified documents from Joe Biden's vice presidential office to the Penn Biden Center for Diplomacy and Global Engagement in Washington, D.C. and now back into the hands of the government, includes yet another stopover: a temporary facility in the nation's capital, a source tells DailyMail.com.

The documents were moved in the summer of 2017 after spending about six months at a government transition office near the White House once Biden left the vice presidency.

The space, in DC's Chinatown neighborhood, was overseen by the Penn Biden Center while its prized location near the Capitol was being readied. The office had its formal opening, attended by Biden, in 2018.

...

The woman who oversaw the packing and shipping of Biden's documents in 2017 was former administrative assistant Kathy Chung, who secured the position with a well-placed recommendation from Hunter Biden, who touted her capabilities to his father.

'Hunter Biden recommended it. They had worked together at Department of Commerce years ago,' the person said. Hunter notified her of the opportunity, asked her if she was interested, and found out that she was.
The crackhead with Chinese Communist Party affiliation recommended her?
Oh okay.
Perfect.
Update: I don't know why -- he doesn't say -- but Michael Flynn has been suspicious of Kathy Chung since 2105.
Thanks to Romeo13.

posted by Ace at
06:36 PM
|
Access Comments