« Mid-Morning Art Thread [Kris]
|
Main
|
Merrick Garland: I'm Letting Biden's Hand-Picked Personal Praetorian Guard Collect The Evidence Against Him Because I Don't Want To "Complicate" the Investigation Or Something »
January 18, 2023
Wednesday Morning Rant [Joe Mannix]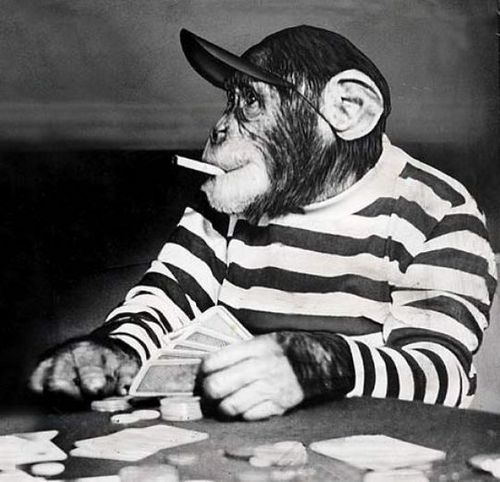 Are We Now Beyond Parody?
In its infinite wisdom, HBO has created an animated prequel/spin-off series based on Scooby Doo. The new show is called "Velma" and it is centered on that character from the original series, albeit race-swapped and ultra-woke. So ultra-woke, in face, that it has caused some people to wonder what's going on. This show is apparently so awful (I have not seen it, nor do I plan to) that it has caused some amount of confusion and anger within the progressive media space.
A few days ago, an article in Forbes had this hilarious headline:
'Velma' Is So Bad It's Spawned Psyop Conspiracy Theories
What are the "conspiracy theories?" What is the "psyop?" It's that the showrunner is a secret conservative who made a parody of progressive humor to chum the waters of the culture war. It's so awful that it
must
have been made by a secret conservative to provide ammunition for the culture warriors on Twitter and YouTube!
The article author sums it up reasonably well:
Velma is so bad in fact, that it's spawning conspiracy theories that creator Mindy Kaling made what is essentially a parody of what the right wing thinks left wing comedy is like. As in, a show that not just recast most roles with new races, but also features loads and loads of "white guys, amiright?" jokes. The idea is that Kaling is a secretly conservative force in media trying to make the left look bad by making a cringey adult cartoon full of "this rich white guy has a small dong" jokes that the right can point at as everything wrong with race-recasted, social justice-influenced media.
And this guy is sympathetic to the cause of woke reboots! It's so bad that the author takes a page from "conservative" media and tries for a "both sides" argument:
On one side, it absolutely is working to spark mockery from the right, exactly as you might imagine it would. But on the other, it's just not defensible at all by those who would normally welcome a progressive series.
But what's the cause of the "conspiracy theory" and "psyop" stuff? It isn't just that the show apparently sucks, it's that the show sucks and was made by the greatest kind of thought criminal roaming the planet today: the "transphobe." Creator Mindy Kaling is a transphobic TERF, at least according to Twitter activists. It's because Kaling isn't woke enough when it comes to transpersyns (and that, of course, means she's a "conservative" ...) that she made a show to hurt the woke cause by pretending - but only poorly - to be progressive!
This guy is confused:

This guy, however, is certain that Velma is an op, both to make money and to demoralize the progressives: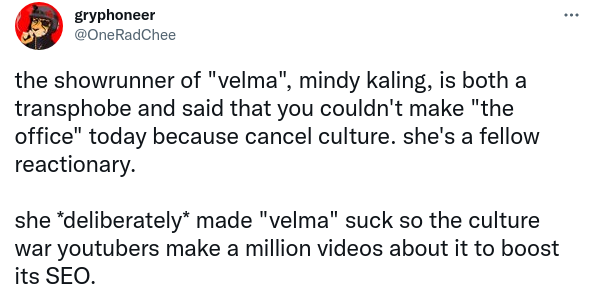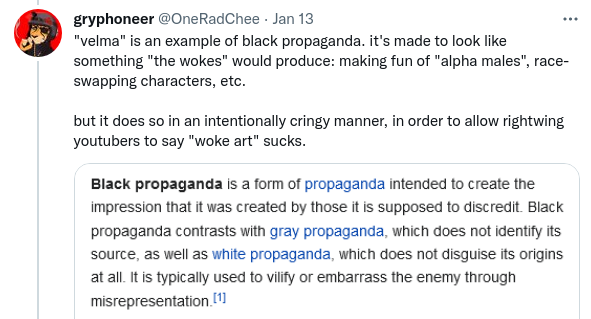 I love that last thread. As if woke media is ever something other than "cringy." Woke media can't suck on its own terms, so if it does then there must be some grand scheme at play to suck deliberately in a manner that hurts the progressive cause!
Has it finally happened? Has woke media finally been distilled to its essence and is now indistinguishable from parody? Is this the peak?
I doubt it.

posted by Open Blogger at
11:00 AM
|
Access Comments