« 2022 Box Office At 60% Of All-Time High [moviegique]
|
Main
|
Not So Quick Hits »
January 06, 2023
Bonus Book Thread - 01-04-2023 ["Perfessor" Squirrel]
HAPPY FUN BOOKS
Weasel had the right idea last night about creating a "happy fun thread" at the end of the day. Well, it's now the end of the week (more or less) and we should be looking forward to enjoying our weekend. What better way to do that than to read some "happy fun books?" Of course, that's always subjective since what I consider a "happy fun" book might not be your cup of tea. But that's why we come here to share ideas!
For me, my three absolute favorite bastions of silliness are as follows, in alphabetical order by author:
Bloom County by Berke Breathed
The Far Side by Gary Larson
Calvin and Hobbes by Bill Watterson
I grew up reading and loving these every day in the newspaper. All three started and ended within a few years of each other, so they were contemporary in many ways. All three also looked at the world in a very different way, never taking themselves at all seriously within their strips. Gary Larson's Far Side is the epitome of hilarious lunacy. Though his audience sometimes didn't get the joke ("Cow Tools?").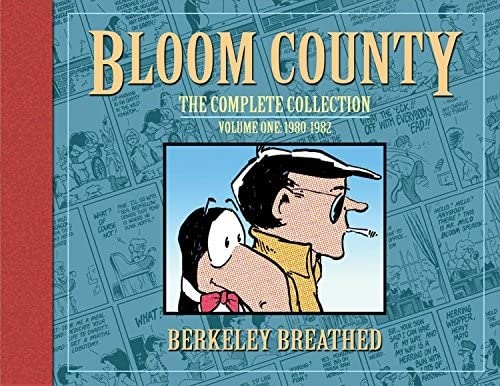 BLOOM COUNTY
"When I wrote and drew most of these, I was mostly out of my mind. Not a single one—NOT ONE, HE SAID IN BOLD CAPS—was executed during a sane and lucid hour of the day." [Emphasis in original - PS]

-- Berkeley Breathed

My favorite characters in this series have to be Steve Dallas and Opus the penguin. They have a very odd friendship. According to Breathed, Steve Dallas is based on a real person and not as much of a caricature of a preppy frat boy as you might expect. He's loud, obnoxious, unapologetically sexist, and has few redeeming traits. Opus is sweet, kind, hopelessly trying to find romance, just a loveable little goofball. Together, they are a fun odd couple.
And then you have Bill the Cat, the semi-comatose--sometimes--dead candidate for President of the United States. His campaigns for president are among my favorite strips. I used to draw a pretty good likeness of Bill the Cat when I was younger...Don't think I could do that now, though. Bill the Cat for Speaker of the House? He can't possibly be worse than Kevin McCarthy.
THE FAR SIDE
"So once you've got your characters established in the hearts and minds of your readers, it's not a good idea to run him over with a truck a few week's later. Whoa! I was not going to be good at developing a character. I was not going to be good at telling a joke in visual form. I was hit and run. My ever-changing characters got crunched, speared, shot, beheaded, eaten, stuffed, poisoned, and run over about twice a week. (Tastefully, of course.)"

-- Gary Larson

I loved The Far Side since it's inception back in 1981. I was too young to really understand the humor, but I could instinctively grasp there was something weird and funny about each panel. Larson's artistic style is very simple, yet he manages to convey a very bizarre world inhabited by crazy characters who just take it in stride. Could you imagine being one of those characters in a zany situation and just thinking it was somehow normal? Like the couple who hear a noise in the night. They come downstairs and shine a flashlight on an ugly monster. The caption reads, "See, Agnes?...It's just Kevin." The homeowners clearly know who this monster is and are not even remotely concerned. Kevin accidentally woke them up while getting a midnight snack of milk and a slice of cake.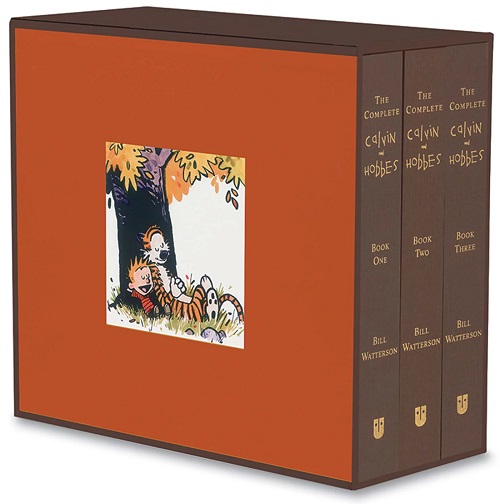 CALVIN AND HOBBES
"It's an exceedingly rare privilege to have your work read by people every day, year after year. If you're inclined to go beyond joke and say something heartfelt, honest, or thoughtful, you have a tremendous opportunity. And best of all, because the comics are generally regarded as frivolous, disposable entertainment, readers rarely have their guard up."

-- Bill Watterson

Finally, we have Bill Watterson's masterpiece, Calvin and Hobbes. Watterson struggled for years to bring his titular characters to the comics page. It truly was a labor of love. He famously fought an ugly battle with his syndicate about licensing his characters for merchandise. Watterson simply wasn't interested in running a merchandise empire. Unlike Spaceballs merchandise, you won't find the Calvin and Hobbes flamethrower at Walmart any time soon.
I love Calvin and Hobbes because I can relate to Calvin. He's the six-year-old kid inside all of us. Hobbes is our inner voice attempting to restrain our baser impulses, but still willing to cut loose and have fun when it counts.
FINAL THOUGHTS
All three of these silly cartoonists influenced me in profoundly subtle ways. A lot of my own brand of humor derives from what they created. And they themselves admit they were influenced by other cartoonists. Breathed candidly admits he plagiarized his style from Gary Trudeau's Doonesbury and the two of them were "frenemies" for quite a long time before they buried the hatchet. Larson was influenced by single-panel cartoonists like B. Kliban and Charles Addams. Watterson draws upon Charles Schultz' Peanuts and Walt Kelly's Pogo for inspiration. (NOTE: I also love Pogo!)
So, what are some of YOUR favorite silly comic strips? What characters would be featured in an Ace of Spades HQ comic strip?
The Transcredible Space Adventures of Ace and Garrett: The Search for Crocs!


posted by Open Blogger at
05:15 PM
|
Access Comments