« The Price of 7% [Joe Mannix]
|
Main
|
Wednesday Overnight Open Thread (1/4/23) H/T Edition »
January 04, 2023
On A Less Serious Note - 01/04/2023
So how was your Christmas? What was your best gift?
My wife got me some galvanized fencing wire, which was exactly what I was hoping for.
I know what you're thinking, isn't that more of an Anniversary gift than a Christmas gift? Well of course it is, but after two decades of marriage, it should be OK to exchange romantic gifts like galvanized wire at Christmas, while waiting for the anniversary for more practical gifts, such as wheelbarrows.
*****
Do any of you have a birthday in late December? I've heard it's kind of a bummer, with your birthday getting lost in the Christmas craziness.
Then of course, there's the issue of gifts. Do you get separate gifts, or just an all-inclusive Christmas/Birthday gift.
If it's any consolation, Jesus had the same problem.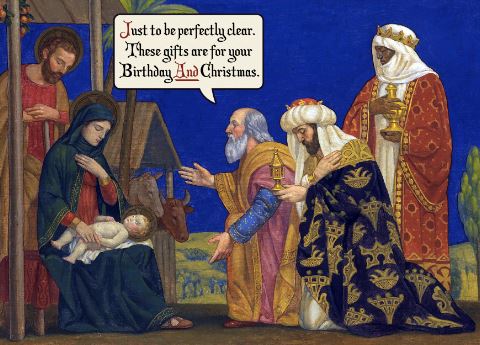 *****
Poorly Translated Made-In-China Christmas Gifts
While I'm still giddy about my galvanized Christmas wire, I'd be lying if I told you how disappointed I was when I didn't find the "Puck Slinging Game" in my Christmas stocking.
Before digital devices entertained children, this is the kind of game that parents bought to entertain their children on long road trips. I'm guessing it would provide minutes of entertainment to today's children.
The true entertainment value of this game is the Chinese-to-English translation of the instructions.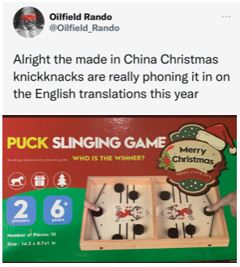 "Each player has five pieces chess."

"Use the elastic band to shoot all the balls through the small gate, to your opponent half."

"Every time you launch an ice hockey ball without going through the gate, you must pick up an opponent's ice hockey and stand aside, while reciting, "I accept my punishment. Develop childrens various abilities"

"The paint material is waterproof and eco-friend."


Going forward, whenever I fail at something or don't reach a goal, I will contritely proclaim, "I accept my punishment. Develop children's various abilities."
*****
Rudolph the Cannibal Reindeer
Don't you just love towns with Christmas-y names? Places like Bethlehem, PA; and Santa Claus, IN; and Donner Lake, CA?
Donner Lake, California?!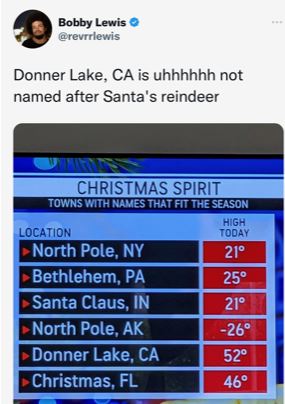 Yeah, the name "Donner" in California is more closely associated with cannibalism than with Christmas.
And speaking of cannibalism, it is being mainstreamed too, just like all the other pathologies being embraced by the left. If you want to practice "safe cannibalism," Wired magazine is here to help you out.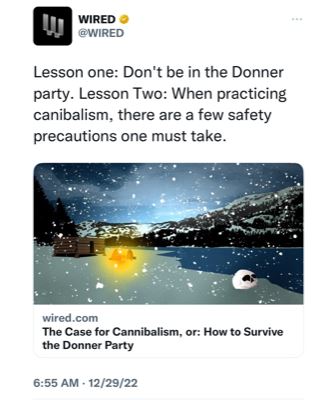 *****
The Script of Every Liberal News Outlet
I used to listen to public radio quite a lot, primarily because of the not-Top-40 music shows it offered. (Thanks to satellite and internet offerings, I no longer have to.) That also meant that I often had my car radio to tuned to NPR when I drove to work.
This is a perfect parody.
*****
That's it until the Overnight Thread gets here. I hope you've enjoyed this post. If not, I humbly apologize, and offer these words of contrition to you: "I accept my punishment. Develop children's various abilities."
(buck.throckmorton at protonmail dot com)


posted by Buck Throckmorton at
08:15 PM
|
Access Comments