« Mid-Morning Art Thread
|
Main
|
The Twitter Files: How Twitter Rigged the Covid Debate »
December 26, 2022
THE MORNING RANT: The TVA in the Biden Era – Blackouts & Rural De-Electrification
Thanks to the TVA ("Tennessee Valley Authority,") electricity had been abundant and inexpensive for Tennessee and six surrounding states for most of the past century. Coal, hydro, nuclear, and natural gas were the fuels that electrified Appalachia.
But anti-carbon leftists have infiltrated the organization, and its future is now geared toward renewables and "sustainability."
In other words, scarcity is the future of electricity in the TVA service area.
The extreme cold snap this past weekend was not common, but neither was it unprecedented. But what was unprecedented is that the TVA is no longer able to reliably provide electricity in cold snaps.
Tennessee Valley Authority Calls For Rolling Blackouts Amid Winter Freeze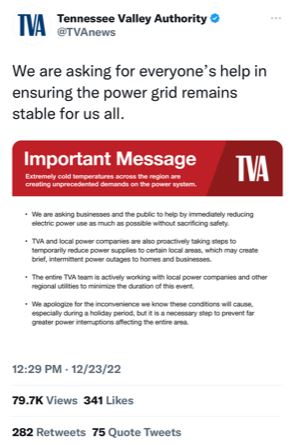 Tennesseans saw a lot of this on local TV stations the past couple of days: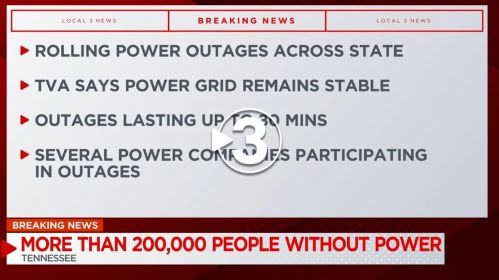 The TVA famously brought rural electrification to Appalachia in the 1930s. 90 years later, the TVA is hopelessly distracted by anti-carbon, net-zero politics, promising to reduce its carbon output 80% by 2035. Now to be fair, a massive reduction in carbon output could be achieved by replacing coal plants with natural gas and nuclear plants, but President Biden is loading the TVA board up with net-zero activists who believe that sun, wind, and unicorns can provide all the energy that people need. (By the way, they don't think you should "need" a lot of electricity anyhow, as they have determined that a spartan lifestyle is quite sufficient for you.)
So forget rural electrification. What the TVA is now delivering is de-electrification. When you really need electricity, you won't be able to rely on the TVA to provide it to you.
Who are the people that Biden is nominating to run the TVA?
Biden Nominates New Directors For TVA Board; Appointments will diversify all-white panel, add labor and green energy supporters [Chattanooga Times Free Press – 4/20/2021]
The board nominations for TVA by the Biden White House include a long-time labor leader in Chattanooga, the former chief of staff to former Vice President Al Gore, an Alabama businesswoman who was the first Black female elected chair of the Huntsville Chamber of Commerce, and the head of a nonprofit that promotes solar energy and other green power.
Yikes. Not an energy expert among them, unless you consider eco-communists with an agenda of eliminating reliable carbon-based energy to be energy experts.
Here's a more detailed biography of two of the people who Biden wants to transform the TVA.
BETH GEER: Hailing from, Nashville, Tennessee, Geer is Chief of Staff to former Vice President Al Gore and serves on Nashville's Sustainability Advisory Committee. She has sustainability and climate change policy experience and has had previous roles in the White House, Department of Labor, and Senate.
MICHELLE MOORE: Moore has roots in rural Georgia and a background as a social entrepreneur. Moore worked on sustainability in the Obama White House, and currently serves as CEO of Groundswell, a nonprofit that "builds community power through equitable community solar projects and resilience centers, clean energy programs that reduce energy burdens, and pioneering research initiatives that help light the way to clean energy futures for all.
Senate Republicans actually dragged their feet on one of the nominees, but it was not because of her radical green-energy views. Beth Geer's confirmation was held up because she insulted Republican Senator Joni Ernst.
During a Senate confirmation hearing in April, Geer was blasted by Ernst for a tweet in 2015 when she posted "hideous" after Ernst's Republican response to the State of the Union address by Obama.

"I'm not sure if you have made it a habit of calling women that you disagree with hideous," Ernst told Geer at the hearing, "but this is not Iowa nice, and I'm calling you out." Geer apologized for the tweet, which she said was not a reflection on Ernst's appearance. But Ernst said she will oppose Geer's nomination because of the lack of civility in Geer's social media post.
Ms. Geer's scientifically illiterate goal of turning the TVA into a green energy company was not an issue for Senate Republicans, they were just offended that one of their members had been disrespected.
The same article notes that "Biden wants the electricity sector to be totally carbon free by 2035 to help limit greenhouse gas emissions linked with global warming."
The White House is being urged by some environmentalists to try to force TVA, as the nation's biggest public utility, to meet the carbon-free target.

Sen. Tom Carper, D-Delaware, chairman of the Environment and Public Works Committee, said he hopes the nominees endorsed by his committee will soon be confirmed by the Senate to help TVA move forward.
Senator Carper got his way. Just before breaking for the Christmas holiday, the Senate confirmed all of Biden's radical appointees to the TVA board, including Ms. Geer. With radical net-zero zealots now in position to control the TVA board, we should expect blackouts to become the norm, and when the blackouts they impose on us occur, they will blame climate change.
Now that the TVA has shown it can't even produce enough electricity to handle a cold snap, what happens if more drivers start switching to electric vehicles?
Right now, despite all the hype about EV plants being built in Tennessee, the number of actual EVs on the road in Tennessee barely warrants an asterisk. There are about 6 million registered vehicles in Tennessee. Of those, less than 20,000 are EVs, or less than one-half of one percent. Yet, the same radical greens who plan to make the TVA carbon-free also want to get you out of your gas-powered car and into an EV.
Ryan Stanton, TVA's "Senior Project Manager for EV Evolution," has been advocating for EVs and stating that TVA is ready and able for the big increase in electricity demand resulting from a mass conversion to EVs.
Can The Grid Handle Millions Of EVs? In Tennessee, distribution systems will be 'canary in the coal mine' [Utility Dive – 5/22/2022]
Electrifying all 10 million vehicles in the Tennessee Valley Authority service territory would add 25-30% to existing load, a level the transmission system could handle, according to utility studies.

Transportation electrification is a way to fulfill TVA's core missions of energy, environment and economic development, Stanton said. If Tennessee reaches its EV adoption goal, it will result in about $200 million in annual consumer savings, he said. And over the last decade, there have been about $20 billion in EV manufacturing investments in TVA's territory, he added.

The utility believes it can handle the load associated with full electrification of the transportation system.
Spoiler alert. TVA cannot handle "full electrification of the transportation system." It is overwhelmed and already inflicting blackouts on its customers with less than 1% of the transportation system electrified.
Whatever happens with EVs, Tennessee's population is also growing rapidly, with a flood of blue-state refugees pouring in. The TVA can't even keep up with population growth, much less with demand to power EVs.
One more thing, the TVA's CEO, Jeff Lyash, is the nation's highest paid federal employee, receiving compensation of $9.8 million for the fiscal year that ended on September 30.
As I documented back in 2020, Donald Trump tried to get Lyash fired for replacing TVA staff with foreign labor.
CEO Lyash followed the True Conservative™ playbook of terminating employees, making them train their inexpensive foreign replacements, then rewarding himself with a 7 or 8-figure salary for all the labor expense he eliminated.
Lyash is apparently so busy managing the fortune that flows from TVA customers to himself, that he doesn't have time to worry about actually providing electricity to those same customers when they're at risk of freezing to death.
Going forward, energy scarcity and rolling blackouts will no longer be problems for the TVA. They'll be policy.
(buck.throckmorton at protonmail dot com)


posted by Buck Throckmorton at
11:00 AM
|
Access Comments