« Twitter Files 8: Twitter's Joint Propaganda Efforts With CENTCOM and the Pentagon
|
Main
|
Danger in the Manger Cafe »
December 20, 2022
Wi Spa Transgender Finally Arrested for Showing His Semi-Erect Wi to Underaged Girls
You remember this, um, lady, right?
She -- correct pronouns -- identifies as a woman and went into a San Francisco Los Angeles spa and paraded her semi-erect female penis in front of women and underaged girls.
Prompting this reaction from a black female customer. I note she's black because black people don't live in the Empire of Lies that white people are forced to live in, and can say things which are true like "That man just showed his dick to my little girl."
The transgender gentlelady apparently uses her status as a female with a penis to gain access to women's spaces to expose her female penis, which can't possibly be true, because I'm reliably informed that that never happens and is something only QAnon Racists would say.
John Sexton points out that the Washington Post claimed that anyone who had a problem with this was just an -ist or a -phobe, choosing only to quote a Trans Activist for commentary on the situation.
A famous spa in Los Angeles's Koreatown became the latest site in the battle over transgender rights last week, drawing attention from conservative commentators nationwide. A week after a customer confronted spa staffers about a transgender woman apparently disrobing in the spa's women's section, protests over the situation turned violent...

The initial confrontation between an upset customer and spa staff happened after a transgender woman -- who has not been publicly identified -- reportedly used the side of the spa reserved for women. In one video, a person who identifies herself as the spa's manager asks whether the transgender woman did anything specifically inappropriate, and an upset customer replies that the person's genitalia was exposed in the women's section of the spa.

"She was within the women's section, which, you know, is exactly where she should be," said Jae Red Rose, an organizer for San Diego Trans Pride.

The spa's Facebook page warns that "modesty must be checked at the door, as no clothing is worn in these gender-separated areas." Two customers said they -- and two girls who were present -- were "traumatized" after seeing the transgender woman's genitals.
Nice use of scare quotes around "traumatized." Maybe underaged girls aren't traumatized when men flash them their erect pensises -- maybe we should get rid of all these laws, huh?
Also, no word on whether the black woman and San Francisco Los Angeles resident bringing the original complaint was a "conservative commentator" or not. I'm thinking probably not, but I await the Washington Post's follow-up reportage for confirmation.
Sexton also points out that the amateur leftwing webzine Slate called the entire incident a, quote, "transphobic hoax."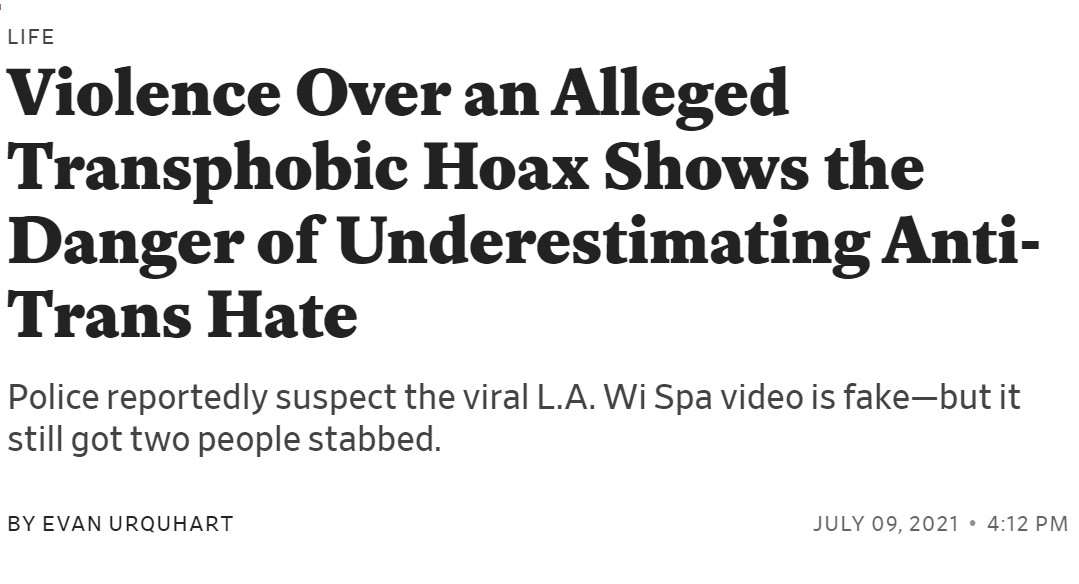 The whole video was a hoax, Slate. You got that right. The complaining woman and the other people who supported her? All "Crisis Actors."
Antifa, who are just journalists with masks, beat the shit out of Christians who were protesting the spa for allowing this person to expose her female penis to underage girls. Video and details at Sexton's link.

So it turns out that this person is a registered sex offender who, get this, likes showing his dick to women and underaged girls and is Living His Life to the Full as a Transwoman and using his new gender to do so. He was previously charged with indecent exposure for this trick, but evaded the cops.
But She has finally been arrested.
Transgender 'pervert' is arrested 15 months after she 'exposed herself to women and girls at Wi Spa in LA' triggering violent protests from Antifa goons who branded allegations a bigoted hoax

A transgender person wanted for exposing their naked, half-erect penis to women in two separate changing room incidents in Los Angeles has been arrested after more than 15 months on the run.

The suspect, 53-year-old Darren Agee Merager, had been charged with five felony counts of indecent exposure for the incidents - including an infamous altercation at Wi Spa, where Merager exposed herself to several women, including an underage girl.

Merager - a convicted sex criminal who identifies as a woman - had previously rebuffed the allegations, claiming to be a victim of transphobia.

The story was then, for months, swept under the rug by the mainstream media - with many, including the leftist radical group Antifa, defending Merager.

The incident spawned month protests - many of them violent - all while Merager's previous sex crimes continued to come to light. Eventually, Merager was unmasked as a registered sex offender, convicted for similar incidents in 2002 and 2003.

Also unearthed was a warrant for the sex pest's arrest for a separate locker room incident in December 2018, and a laundry list of offenses stretching nearly two decades, including burglary and trespass.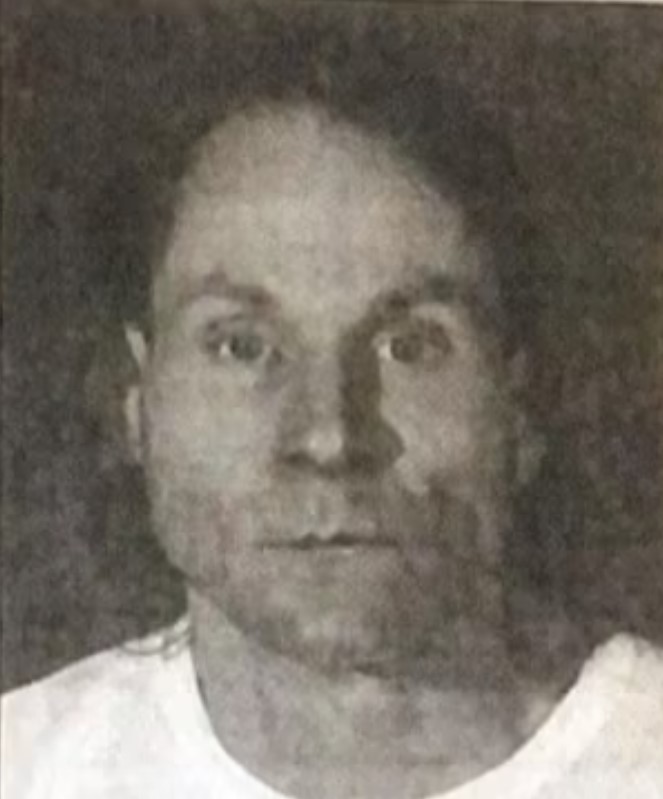 Antifa's Woman of the Year,
Darren Agee Merager

Martha Raddatz immediately ran cover for antifa and the Democrats (but I repeat myself) who had defended this pervert, pointing out that if Republicans had not pointed out that perverts could use the claim of "transgenderism" as cover for gaining entry into woman's private spaces, they never would have thought of it.


posted by Ace at
06:25 PM
|
Access Comments