« Supreme Court Orders Title 42 and Remain in Mexico Policy to be Kept In Place -- for the Moment
|
Main
|
Fifth Circuit Court of Appeals Rules That Biden's Assertion of Power to Order Federal Contractors To Get Vaccinated is Unconstitutional »
December 20, 2022
The FBI Paid Twitter Three and a Half Million Dollars to "Help" It Censor "Misinformation"
And before you say "That's not a lot of money to Twitter" -- any amount of money is a lot of money to Twitter. The company has lost money every year of its existence.
Twitter has never made a profit and, until Elon Musk, seemed to act as if profitability was a hate crime.
So yeah, the money was useful to Twitter.
Our government paid for censorship.
Buh Muh Private Corporation, huh?
Some of the revelations from yesterday, underscored by Technofog:
* The FBI continued its requests of location and VPN IP data from Twitter users, done without a warrant and without a subpoena: "would Twitter be open to sharing which service provider(s) those VPN IP addresses resolved to?" To its credit, Twitter pushed back on this request.

* In one case, the FBI requested user data for an account that was critical of BLM and the Democrats. Twitter responded by confirming "the account in question is domestic in origin."

* The US intelligence community was pushing Twitter to "share more information" and change its user privacy settings.
The FBI wanted Twitter to help it breach users' privacy.
I believe an API is an Application Programming Interface, and it is the coding that allows one a user who is on one platform on the internet to seamlessly interface with another platform or program. From context -- this is my guess -- this requires an exchange of information about the user, and the FBI wants Twitter to "open up" more about who its users are when they access other programs from Twitter, so that the FBI can identify them and spy on them.
Only if they were committing real crimes, you understand. Real crimes, like disparaging BLM or the Democrat Party.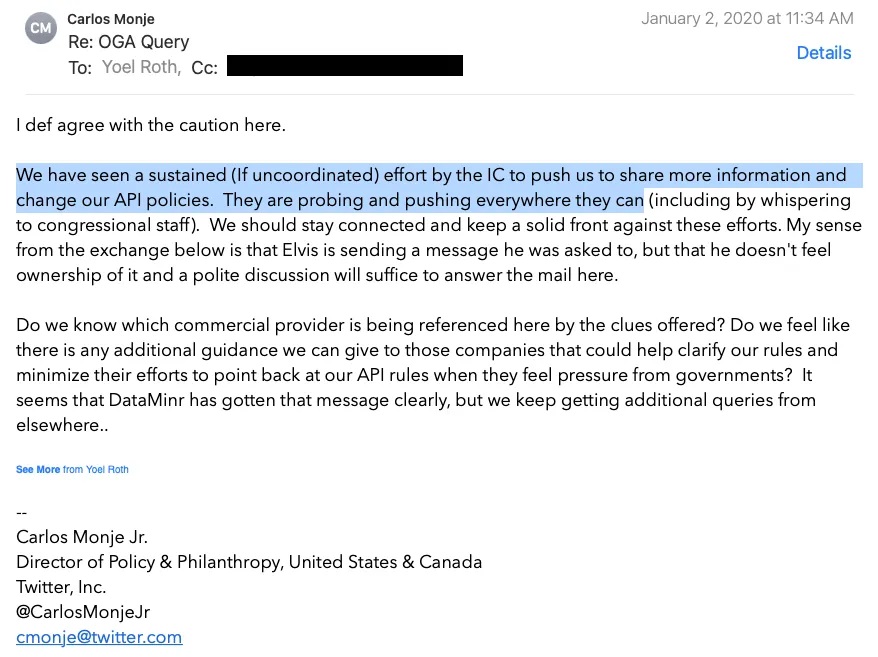 ...

Then we have one of the more remarkable pieces of information to be released from the Twitter: confirmation that Twitter was paid nearly $3.5 million for assisting the FBI with its processing requests.
"Processing requests" = censorship.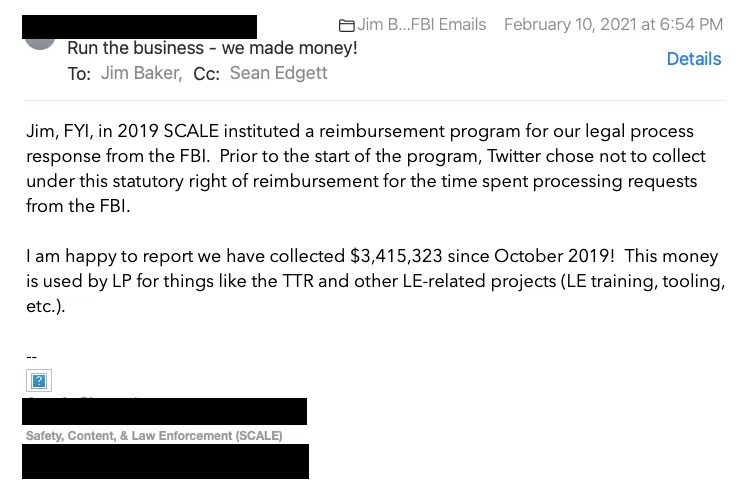 Remarkable. Twitter was essentially contracted by the FBI, to the tune of millions of dollars, to report on users and remove non-criminal content the FBI found objectionable. One can't help but think the money was effective in getting Twitter, and likely other social media companies, to do what the FBI wanted. After all, who can say no to a paying client with that much leverage?
Mollie Hemingway pointed to an extremely interesting disclosure. Technofog also highlighted this.
Remember, the FBI could not say the Hunter Biden laptop was fake or hacked by Russia, because they knew it wasn't, and they'd go to jail if they interfered in an election by stating clear falsehoods.
Their game was to insinuate it was fake and hacked, without explicitly saying so, and then when Twitter and other social media companies (and legacy media outlets) suppressed the story, they'd offer no comment on whether it was fake or not. (That's what they did when asked if Twitter was right to ban the story, they refused to say either way, even though they knew the laptop was real.)
How far did they go in this game of "priming" social media platforms to be ready to suppress the story?
Very far.
They created a wargame -- which they call a "tabletop exercise" -- which they invited Tech Monopolist employees to participate in. The wargame featured hacked documents about Hunter Biden's employment at Burisma (!!!).
The FBI then had the Tech Monopolist employees work through this wargame to see how good they were at Combatting Russian Disinformation.
Mollie @MZHemingway

Worth reading through each of the pages in the below tweet, showing an *elaborate* pre-conceived plot to condition the propaganda press and Big Tech to do exactly what they ended up doing -- murdering the release of the story about the Biden Family Business and its corruption.
Indeed, the wargame sets up Tech Monopolists to expect a "Russian hack" of documents about Hunter Biden -- and then to suppress them, because they're all either hacked or fake or both.
No wonder the Tech Monopolists were so quick to ban the Hunter Biden laptop story -- they had already been put through their paces in the "tabletop exercise." They had already banned a Hunter Biden story in the FBI's wargame.
They knew what was expected of them and just how to do it.
Note all the dates -- the dates of this wargame are in October, just before the election. Just when the FBI knew the real and authentic laptop story was likely to be published.
Also note the reference to "ATP Fancy Bear," a known Russian hacker.
In case you start to get confused, remember, this is not a timeline of what really happened in October 2020 -- this is a timeline in the "tabletop exercise" in alt-history semi-fictional events that they are wargaming out to see what they should do if this happens.
It's just that... this looks a lot like what actually happened in the real world.
So the Tech Monopolists who'd been run through this "tabletop exercise" did what the wargame taught them to do and banned the "hack and leak" Hunter Biden story.
Even though it wasn't a hack and leak story at all.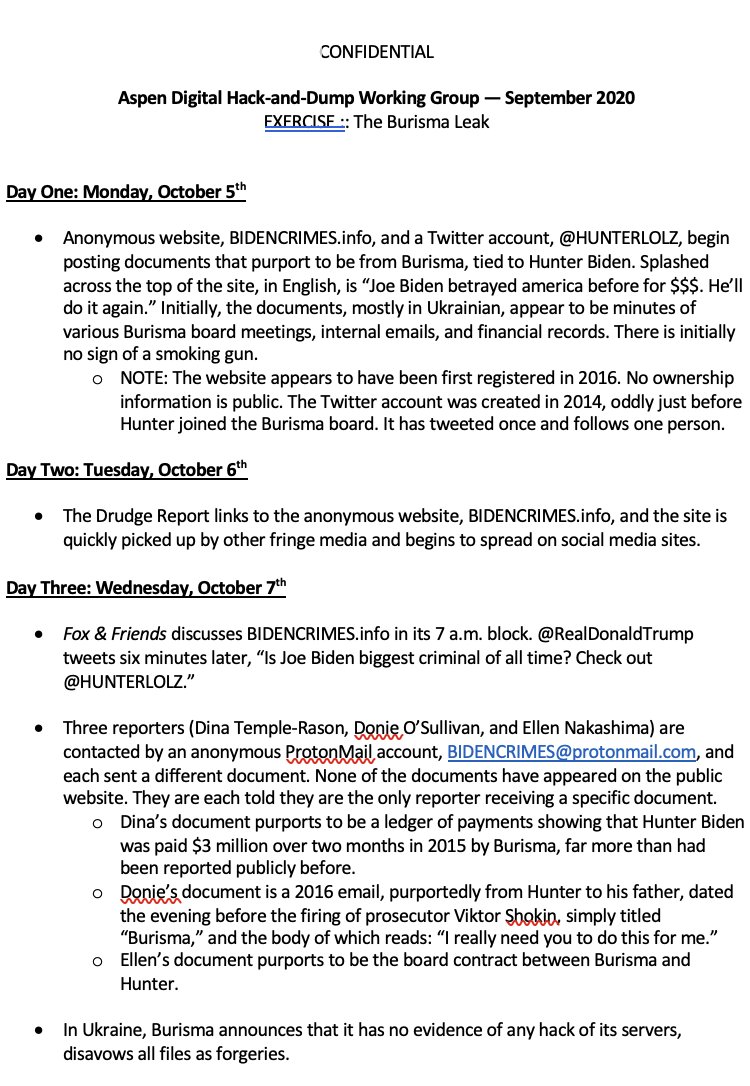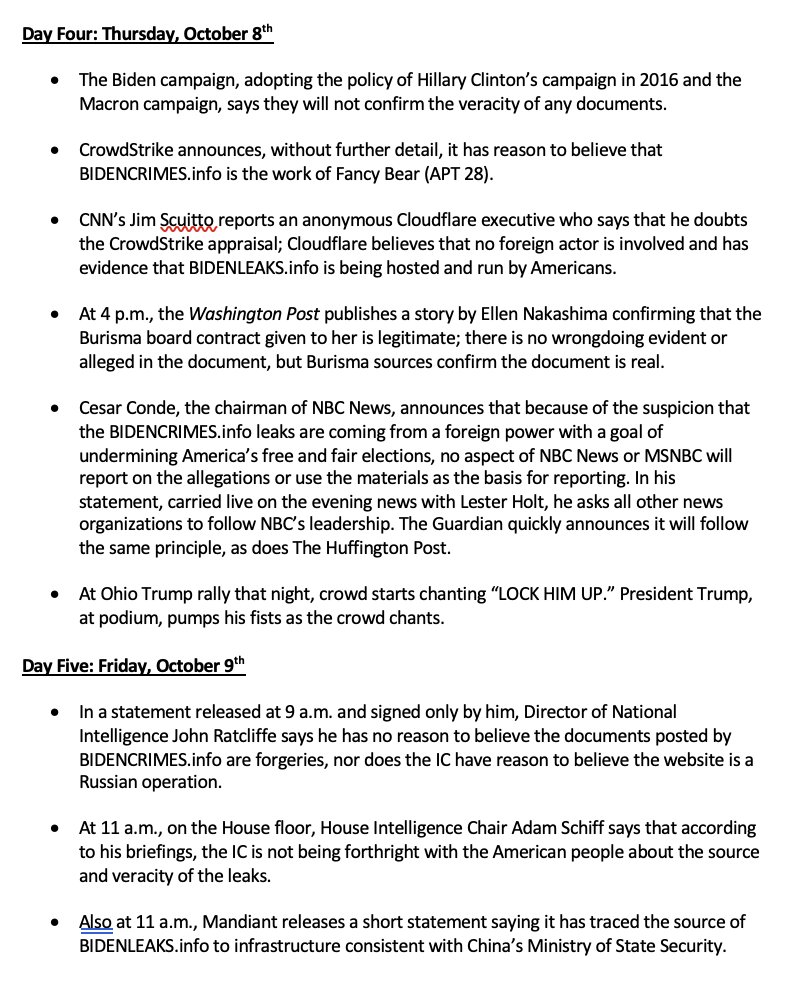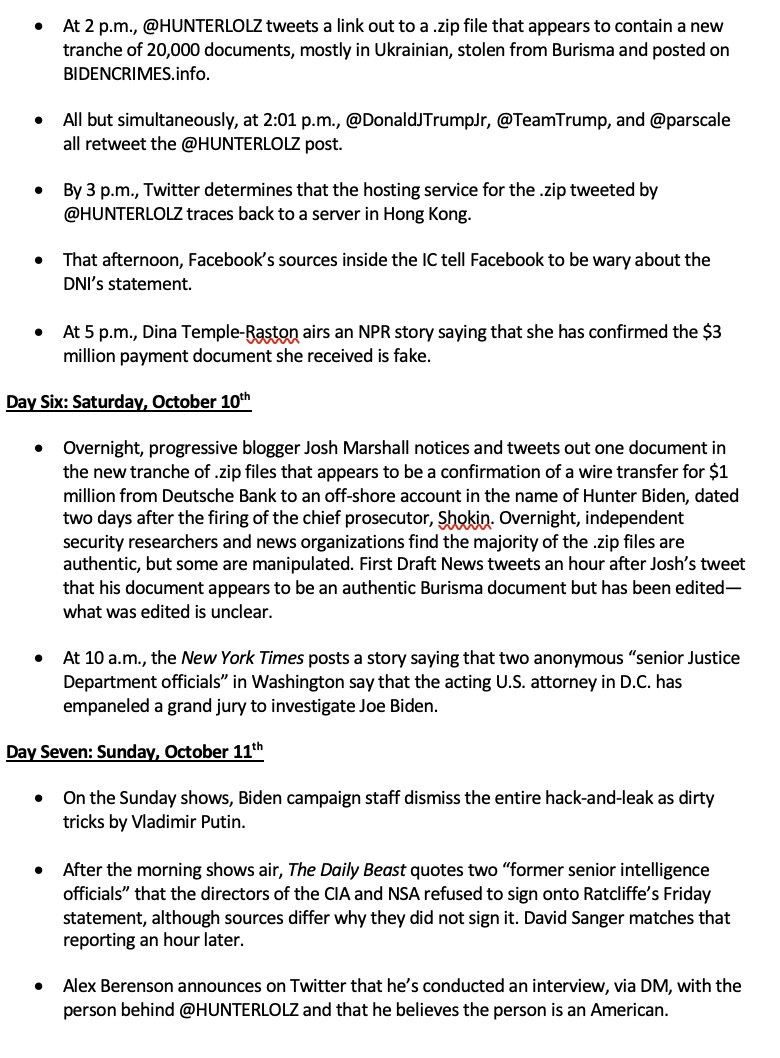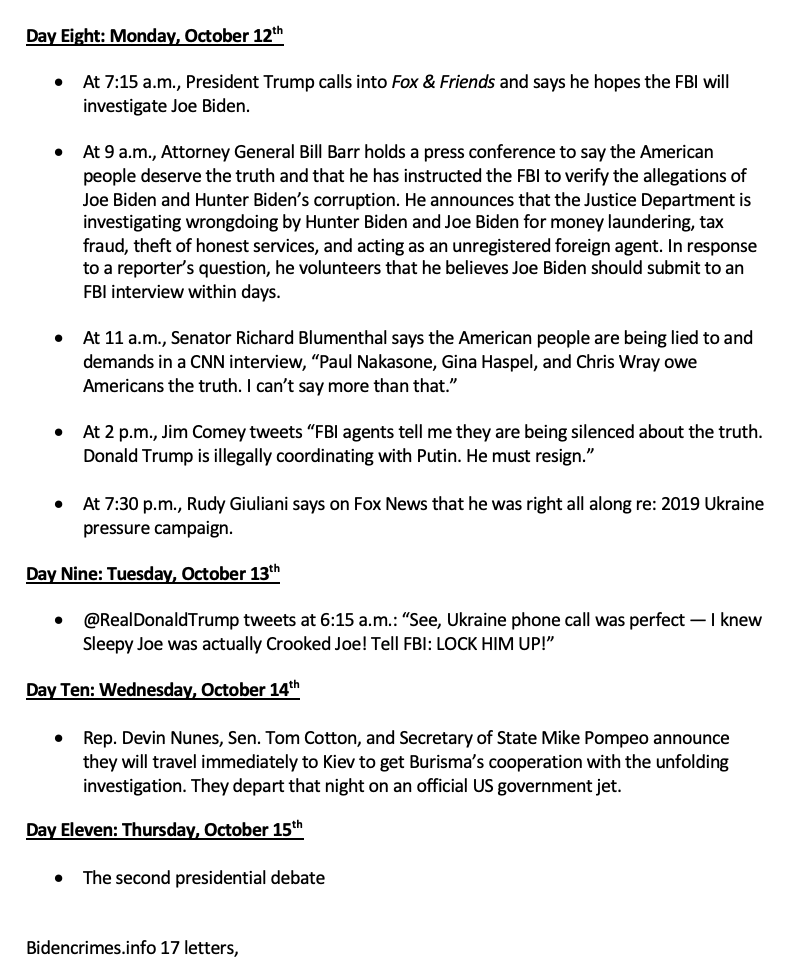 The FBI really, really, really wanted Yoel Roth and the Tech Monopolists to be thinking about the Russian hacking group ATP28 when they saw the Hunter Biden laptop story.
And that's exactly what they did think of, as Yoel Roth attests:

posted by Ace at
01:01 PM
|
Access Comments