« Mid-Morning Art Thread
|
Main
|
Superintendent of Loudoun County School District Fired After Grand Jury Report Ripping Him For Downplaying Sexual Assaults Committed By Trans Student »
December 12, 2022
THE MORNING RANT: What's the Bigger Threat to Right Whales - Lobstermen or Wind Turbines?; Also, NOAA Failed Again in its Annual Hurricane Predictions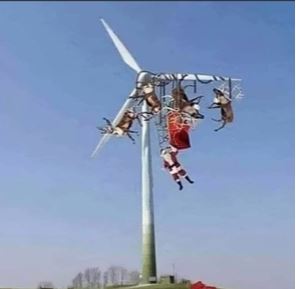 Whole Foods to Stop Buying Maine Lobster Amid Risk to Endangered Whales [NY Times – 11/28/2022]
Whole Foods has said it plans to stop buying Maine lobster, citing concerns from environmental groups that say endangered North Atlantic right whales have become entangled in fishing gear.

The decision prompted a swift response from Maine's congressional delegation and governor, who questioned the science behind it and urged Whole Foods to reverse course and resume buying the state's storied crustacean.
Maine's Congressional delegation and governor are overwhelmingly a bunch of left-wing environmental activists, so it's kind of humorous for them to have to experience how it plays out when their eco-religion starts impacting their own state.
In a joint statement, the four members of Maine's congressional delegation — Senators Susan Collins and Angus King, and Representatives Chellie Pingree and Jared Golden — along with the state's governor, Janet Mills, sharply criticized the decision to stop buying Maine lobster.
Having the lobster industry targeted by eco-extremists must feel like what those of us from petroleum-producing states feel like when eco-communists in Congress advocate for the elimination of the petroleum industry. I'm not going to publish all the links, but there are plenty of examples where King, Pingree, and Golden have embraced Net Zero, which seeks the elimination of the petroleum industry to stave off climate apocalypse.
Maybe we should see the impact of destroying a comparatively small industry like lobstering before destroying the petroleum industry.
It actually saddens me, because the lobstermen are very conservative. I know that they vote overwhelmingly against enviro-leftists.
*****
Meanwhile, the wind energy hustlers aren't content to simply kill a half million birds each year in the US, they are also willing to kill Right Whales to keep the wind energy industry growing.
It took a Freedom of Information Act request to dig up a NOAA report which showed that offshore wind farms pose a serious threat to endangered Right Whales.
Previously unseen government documents from the National Oceanic and Atmospheric Administration (NOAA) have revealed that the off-shore wind industry poses a severe threat to endangered right whales.

Sean Hayes, the chief of the protected species branch at NOAA's National Northeast Fisheries Science Center, explained the threat wind turbine construction and operation presents to the endangered mammals in a May 13 letter to officials with the federal Interior Department.

"Additional noise, vessel traffic and habitat modifications due to offshore wind development will likely cause added stress that could result in additional population consequences to a species that is already experiencing rapid decline," Hayes said in his letter, according to Bloomberg.
Each offshore wind turbine requires a couple thousand tons of concrete to be poured into the ocean floor, the ocean floor is also dredged for the connecting infrastructure, and the spinning blades put out powerful soundwaves that affect underwater creatures…such as whales.
Animal sacrifices are common in primitive religions, so I guess we shouldn't be surprised that environmentalists now embrace the killing of eagles and whales as an offering to their angry climate God.
*****
While we're discussing ocean-related stuff, let's see how NOAA did with their annual hurricane predictions. Of course, in deference to the Sustainable Organic Church of the Carbon Apocalypse, NOAA is pretty much required to predict that every year's hurricane season will be "above normal" in regards to the number of storms and their intensity.
Which they did again this year. And they got it wrong. Again.
NOAA predicts above-normal 2022 Atlantic Hurricane Season [NOAA - 5/24/2022)
NOAA still expects above-normal Atlantic hurricane season [NOAA - 8/04/2022]
Not to minimize the awfulness of Hurricane Ian, or the mess created by Hurricane Nicole, but it was a very mild year on the whole. The folks over at the Heartland Institute's "Climate Realism" provide a summary.
Despite Predictions, 2022 Atlantic Hurricane Season Fizzles Out Below 'Normal
In late May and again in early August 2022 NOAA predicted that the year 2022 Atlantic Hurricane Season would be an "above normal" season with 14-21 named storms, between 6-10 hurricanes including 3-6 major hurricanes (Category 3,4 and 5)…

The NOAA prediction was far off base regarding major hurricanes with only 2 occurring during the season versus the 3-6 predicted range and only a total of 14 storms which was at the very lowest end of their predicted 14-21 range.
The climate hoax has done so much damage to science. It is just awful that no scientific study may produce results other than those decreed acceptable by the high priests of the climate church.
*****
Songs of the Season
It Came Upon A Midnight Clear somehow fell out of favor, and it is rarely heard anymore on Christmas music channels. That's a shame, because it is a beautiful song, especially with four-part harmony.
Have a great week.
(buck.throckmorton at protonmail dot com)


posted by Buck Throckmorton at
11:00 AM
|
Access Comments