« Mid-Morning Art Thread
|
Main
|
Biden's Non-Binary Puppy Play Fetishist Sam Brinton Accused of Stealing ANOTHER Piece of Luggage, This Time in Las Vegas Airport
Plus, LGBT Nation Writer Wonders: Was Sam Brinton's "Gay Conversion" Torture Story a Con? »
December 09, 2022
THE MORNING RANT: Despite Years of Hype, Autonomous Car Revolution Is a Failure; EV Revolution Is Following Same Hype/Failure Trajectory
The autonomous vehicle storyline over the past decade and the electric vehicle storyline over the same period are different, but ultimately these two fairy tales are quite similar. Both were going to replace your traditional self-driven, gas-propelled car. The media continuously reported the replacement of your traditional car not as a goal, or even a possibility, but as an imminent certainty.
It hasn't happened. It won't happen. It can't happen.
Throughout the 2010s, there was a constant stream of breathless articles and news stories reporting that autonomous vehicles were just a couple years away, and that by the early 2020s they would be commonplace, starting to replace human-driven cars in huge numbers. It hasn't happened because it just isn't scientifically feasible at this time – or for the foreseeable future. Finally, at least, those credulous puff pieces about autonomous vehicles have pretty much gone away.
As for EVs, right now they are primarily a status symbol for the affluent, occupying the prominent, small-market-share space that luxury and exotic cars have always held. The rejection of EVs by the great mass of American consumers is not seen by politicians and the media, because they don't want to see it. They believe in EVs. Beyond that, it is scientifically not possible for EVs to replace the American vehicle fleet for a multitude of reasons, including electric generating capacity, grid capacity, availability of copper and lithium, etc.
We are still a couple of years away from the failure of the EV revolution becoming as clear as the failure of the autonomous car revolution. But it's inevitable, and I'm looking forward to covering it.
While we're on these subjects, let's look at some headlines.
*****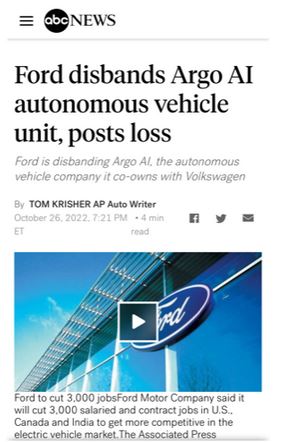 Ford Disbands Argo AI Autonomous Vehicle Unit, Posts Loss
Executives said they don't see a path to profitability on fully autonomous vehicles, and will now focus on partially automated driver-assist systems, which need to be monitored by humans.

It would take billions of dollars for Ford to put self-driving robotaxis on the streets, Lawler said, yet it wasn't clear when that would happen "in a way that would allow us to have a profitable return on that investment."
Expect a headline like this from Ford in a few years regarding EVs. Of course, by then Ford's executives may have fully driven the company out of business, with its foolish commitment to replace all of its existing customer base with EV fanboys.
*****
Now here is a hilarious Bloomberg story: The Wrong Americans Are Buying Electric Cars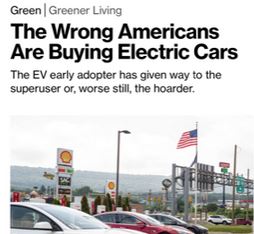 EV super-fanboys just can't get enough of their four-wheeled status symbols. But apparently if one EV makes you virtuous, a collection of EVs does not make you super-virtuous. It makes you an environmental sinner.

A large share of battery-powered cars are being bought by households that already own an EV, or two or three for that matter. The EV early adopter has given way to the superuser or, some might say, the hoarder. And despite their good intentions, these double-dippers may unwittingly be shrinking the climate benefits their cars can offer.
EV buyers are engaging in all sorts of eco-sinning. Adding an EV to your household fleet as virtuous ornamentation to your gas-powered fleet is far less eco-friendly than not buying an extra car at all.
Many Americans willing and able to pay those prices don't need to sell their current car to make the switch. And they often just keep both: U.S. households with an EV have an average of 2.7 vehicles, compared with 2.1 vehicles for the country overall.

But it presents a problematic paradox: An EV is only a decarbonizer to the extent that it offsets both gas-powered driving and the emissions needed to make it, a process that leaves a far larger carbon footprint than that for a gas-powered car. The only way for the machine to cover its carbon, so to speak, is in miles.
Will someone please advise the corps of Karens that EV owners are worsening "the climate crisis" with every EV sold? Carbon-Karen versus EV Fanboy could prove to be very entertaining.
*****
Don't forget, the EV transition is part of the overall war on reliable carbon-based energy, but EV manufacturing is energy intense, so when the dust settles, it ultimately means there will be no cars, no jobs, and no energy.
Volkswagen CEO Says Building EV Batteries In Europe 'Practically Unviable' Due to Soaring Energy Costs
"Unless we manage to reduce energy prices in Germany and Europe quickly and reliably," Thomas Schäfer wrote in a Monday LinkedIn post, "investments in energy-intensive production or new battery cell factories in Germany and the EU will be practically unviable."
VW leadership has been all in on the EV folly. I guess they're finally figuring out that by signing on to de-carbonization, they are participants in a continental suicide pact. A European economy that no longer has heavy manufacturing will also no longer have consumers that can buy VW cars – EV or otherwise - no matter where they are manufactured.
*****
Switzerland Considers EV Driving Ban and Limits During Blackouts
"The private use of electric cars is only permitted for absolutely necessary journeys (e.g. professional practice, shopping, visiting the doctor, attending religious events, attending court appointments)" in the event of a "level 3" power shortage, the draft reads…
It cannot be said enough, getting you out of your gas-powered car is not about saving the environment, it's about restricting your freedom.
*****
Just for fun, let's circle back to autonomous vehicles. How are all the autonomous vehicle start-ups doing? The answer is "very poorly," if they're still around at all.
TuSimple has apparently found out that autonomous driving is actually too complicated, as its stock price has collapsed.
Why did it collapse? TuSimple, Navistar scrap deal to develop self-driving trucks [Reuters – 12/05/2022]
Navistar, like Ford, has finally figured out that a bunch of hype from social media influencers did not mean that autonomous vehicles were actually feasible.
A great deal of venture capital and hedge fund money evaporated in investments in these companies.
Another prominent one seems to have just imploded. Autonomous Trucking Software Upstart Embark Has Quietly Gone From $5B+ To Basically Worthless [Crunchbase – 11/29/2022]
A fool and his money are soon parted, and when it comes to EVs and autonomous vehicles, the fools have been very successful in parting with their money.
*****
Songs of the Season
What Christmas songs give you the "longing for home at Christmastime" feeling, or bring back memories of those feelings from a previous chapter in your life?
Obviously, "I'll Be Home for Christmas" is one of the classics of that genre, as is "There's No Place Like Home for the Holidays."
"Christmas Time's A Coming" hit me that way when I was in my 20s, living in another state, and yearning to return home for Christmas.
Here's a great version of this classic Bill Monroe song performed by Dailey and Vincent.
Have a great weekend.
(buck.throckmorton at protonmail dot com)


posted by Buck Throckmorton at
11:00 AM
|
Access Comments