« Tom Cotton Delivers Stunning Statement to Woke CEO Which Should Stand as an Example to All GOP Senators and Represenatives
|
Main
|
LA's Soros DA George Gascon Directs His Prosecutors To Undercharge Illegal Alien Criminals To Avoid Getting Them Deported »
December 07, 2022
Jack Posobiec: Former Head FBI Laywer James Baker Was Scrubbing References to the FBI from the Twitter Files Before He Allowed Matt Taibbi and Bari Weiss to See Them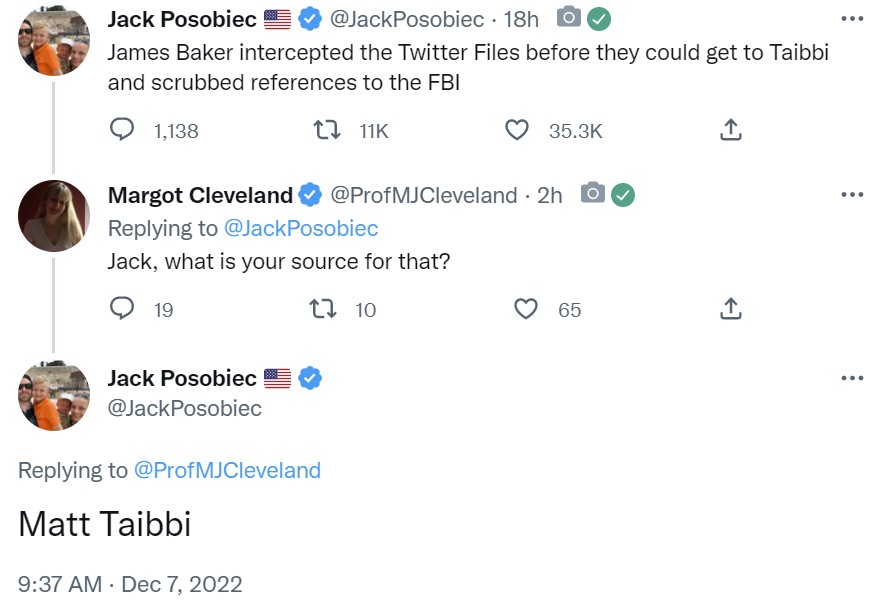 I'm not fully invested in this because Posobiec drops this casually, when it is really huge news. How clear was Taibbi in making this statement? Is there any supposition here on Posobiec's part?
We should know soon enough when Bari Weiss (who's doing the next tranche of the Twitter Files) starts posting.
This exchange between Musk and a Twitter user about Baker is interesting, but Musk is not clear about what he's talking about -- is he talking about Baker's role in the previous suppression of the Hunter Biden laptop (recommending that the company do so, in accordance with the FBI's strong, strong hints that it should) or is he referring to his recent suppression of Twitter Files material?
Unclear, alas!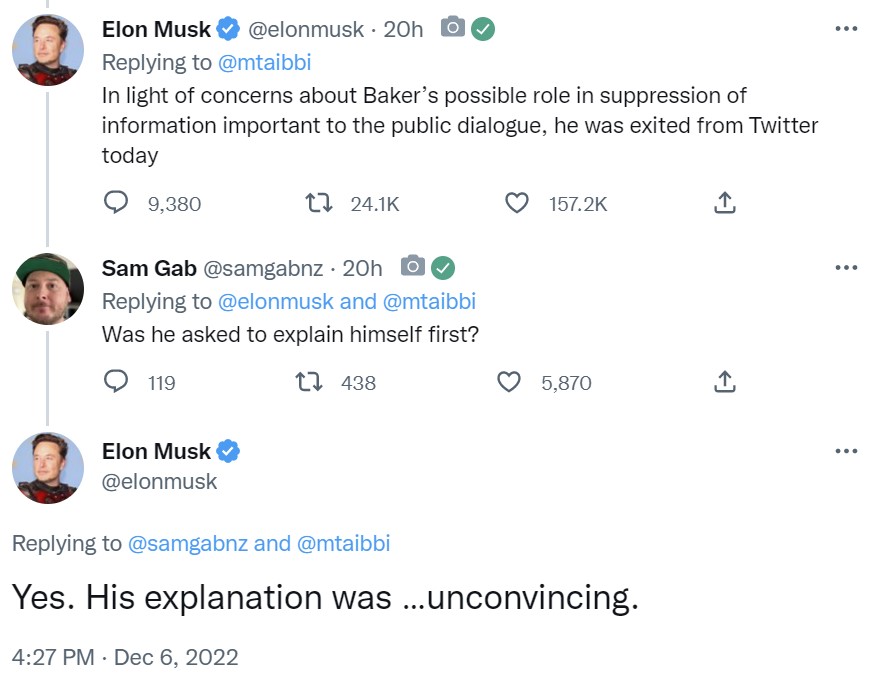 If this is true, then James Baker, a lawyer, was screwing over his client in order to protect the reputation of a vile former employer, the FBI.
Also: If he's willing to cross this very clear, painfully bright ethical line, what other scorchingly bright lines did he cross at Twitter? Like, for example: Was he acting as the FBI's back-channel to Twitter, telling them to censor the Hunter Biden laptop so that the FBI could avoid doing so itself?
And before that, what lines did he cross at the FBI? (he was Michael Sussman's contact at DOJ and was essentially a hostile witness against the prosecution, trying to bail his good leftwing friend out of a jam) and in the Kevin Clinesmith doctored FISA application.
What else did he do?
I would say he should be disbarred but we all know there's a special unwritten rule that says lawyers can always champion Regime Interests over those of their nominal employers, right?
Thanks to "Press Juan for English."

posted by Ace at
01:04 PM
|
Access Comments