« The Washington Post Is Attempting to Put the Babylon Bee Out of Business Again
|
Main
|
January 6th Committee Announces Criminal Referrals »
December 06, 2022
Disgraced Russiagate Coordinator and Regime Fixer James Baker, Who Fled to Twitter After Being Forced to Resign From the DOJ, Has Now Been Fired by Elon Musk
Russiagate Coordinator and later the Hunter Biden Laptop Suppression Coordinator James Baker has been "exited" from Twitter.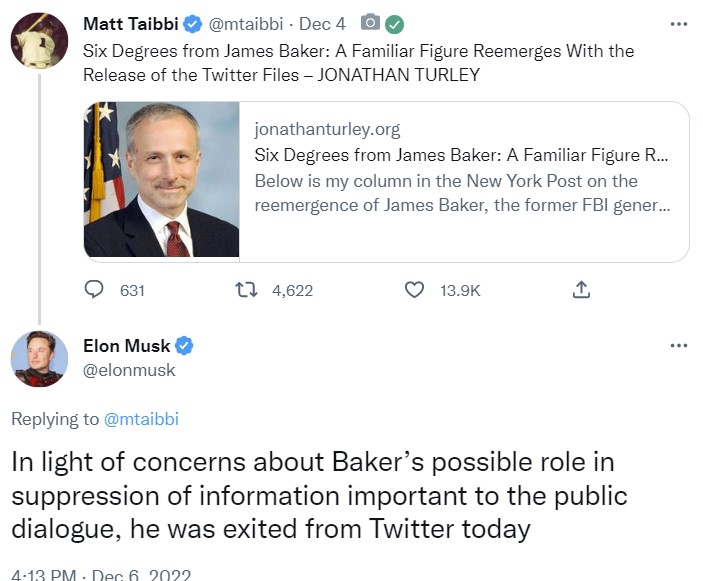 But wait -- there's more.
Matt Taibbi @mtaibbi

THREAD: Twitter Files Supplemental
Matt Taibbi
@mtaibbi


On Friday, the first installment of the Twitter files was published here. We expected to publish more over the weekend. Many wondered why there was a delay.

We can now tell you part of the reason why. On Tuesday, Twitter Deputy General Counsel (and former FBI General Counsel) Jim Baker was fired. Among the reasons? Vetting the first batch of "Twitter Files" -- without knowledge of new management.

The process for producing the "Twitter Files" involved delivery to two journalists (Bari Weiss and me) via a lawyer close to new management. However, after the initial batch, things became complicated.

Over the weekend, while we both dealt with obstacles to new searches, it was @BariWeiss who discovered that the person in charge of releasing the files was someone named Jim. When she called to ask "Jim's" last name, the answer came back: "Jim Baker."

"My jaw hit the floor," says Weiss.

The first batch of files both reporters received was marked, "Spectra Baker Emails."

Baker is a controversial figure. He has been something of a Zelig of FBI controversies dating back to 2016, from the Steele Dossier to the Alfa-Server mess. He resigned in 2018 after an investigation into leaks to the press.

The news that Baker was reviewing the "Twitter files" surprised everyone involved, to say the least. New Twitter chief Elon Musk acted quickly to "exit" Baker Tuesday.


Involved, to say the least. New Twitter chief Elon Musk acted quickly to "exit" Baker Tuesday.

Reporters resumed searches through Twitter Files material -- a lot of it -- today. The next installment of "The Twitter Files" will appear @bariweiss. Stay tuned.
What trillion dollar media corporation will be the next to give Regime Fixer James Baker his next scheduled guaranteed Regime Payoff Sinecure?
And he will have a next Guaranteed Regime Payoff Sinecure. You all know that.
You might ask, "How could this happen?"
But that might be a misinformed question. Glenn Greenwald is always pointing out that media companies particularly have filled themselves floor-to-ceiling with corrupt security state fixers -- so it's hardly a surprise that there's always a corrupt security state official two doors down to fix a problem for the Regime.
And they didn't even have to infiltrate the media companies -- the media companies begged them to subvert them.
Reporters are stupid. They are intellectually stunted. They are the least-educated and lowest-academically capable of all major educated professions.
And they know that. And yet they're supremely invested in the weird concept that Bright Makes Right -- that your virtue is directly proportioned to your IQ.
And they have this idea that spooks and CIA analysts are all real sharp operators. Definitely, they're in-the-know.
So these intellectual jock-sniffers just like having these depraved, satanically amoral Deep State c**ts on payroll. It makes them feel smarter through osmosis.
They feel like that helps them win Twitter arguments, which is the only kind of discourse they're capable of, if they can just say, "Well look, I was just talking to my very good friend and colleague James Clapper and he says you're all wet, fella!"
Right, just like in that Woody Allen movie.
They're all like Woody Allen, of course.

posted by Ace at
05:01 PM
|
Access Comments