« Another Hoax: Treasury Finds No Evidence of Political Retribution in Audits of James Comey and Andrew McCabe
|
Main
|
Florida Pulls $2 Billion from ESG/WEF Gangster Socialists BlackRock »
December 02, 2022
You Will Eat Zee Bugz, Because We Vill Literally Starve You Until There Is Nothing to Eat But Zee Bugz
Daily Caller: Despite protests, the Dutch government i proceeding with its plan to seize 3000 farms in order to stop them from producing food, because food for humans is bad for the environment.
The Dutch government is planning to buy and close down up to 3,000 farms near environmentally sensitive areas to be in compliance with EU environmental rules.

It comes after farmer protests erupted this summer following a government plan to reduce nitrogen emissions by 50% by 2030, The New York Times reported. Farmers believe the measure unfairly targeted the agricultural sector, which is responsible for the largest portion of nitrogen emissions in the Netherlands, the Times added.

The government will conduct a "compulsory purchase" of large nitrogen emitters as part of a voluntary, one-time offer, announced Nitrogen Minister Christianne van der Wal, Bloomberg reported. Farmers will be offered a deal "well over" the value of the farm, according to the government plan. She asserted "there is no better offer coming" in a Friday meeting with MPs.
It's a voluntary sale, except it's also compulsory. What they mean, I think, is: "First we make you an offer to buy your farm at a price we have set. If you don't take it, fine, but the next action we take is to make it illegal for you to farm, crushing your lands' value. So you'd better take our first and last offer in this 'voluntary' sale."
In response to the decision, Executive Director of Consumers' Research Will Hild told the Daily Caller "The Netherland's war on farmers to pursue their ESG agenda serves as a stark warning. Americans should be vigilant against efforts by both governments and big Wall Street firms like BlackRock pushing these same dangerous "net zero" carbon emissions targets here in the US. It is difficult to overstate the recklessness of undermining farmers during the greatest global food crisis in decades. This will likely exacerbate the food price inflation we are already experiencing."

...

The Netherlands has become the world's second largest exporter of agricultural products after the United States, and provides vegetables for much of western Europe, Washington Post reported. Over half of Dutch land is used for agriculture in addition to 24,000 acres worth of crops growing in greenhouses, the Post specified.

The second largest exporter after the US.
That won't have any impact on world meat prices, will it?

Germany is meanwhile stopping meat production as well.
Germany is still caught up in the demands of the climate change lobby to reduce its carbon footprint drastically in the coming years. One part of this initiative, similar to calls we've seen from activists in the United States, was a mandate to reduce all livestock on German farms by 50%. Farmers have been protesting the decision in the same way they recently did in the Netherlands this summer, but the initiative is moving forward beginning this year. Now, to the great surprise of nobody who has been paying attention, the German Meat Industry Association has reported that the country will be facing a severe meat shortage by the time spring arrives and consumers should expect prices to skyrocket, potentially doubling in some cases.
Jazz Shaw quotes from Financial Trends:
Die Welt, citing the German Meat Industry Association (VDF), reported this week that within the next four to six months Germany will face a meat shortage, and prices will skyrocket.

Hubert Kelliger, a VDF board member and head of group sales at meat seller Westfleisch said, "In four, five, six months we will have gaps on the shelves."

Pork is expected to experience the worst shortages. The issues in meat supply are due to Berlin insisting on reducing the numbers of livestock by 50% to reduce global warming emissions. Experts are warning this policy will result in mass shutdown of meat-producing companies, and that will produce a 40% rise in the price of meat.
Wow, with the price of meat skyrocketing, what will the people eat?
Don't worry, says Klaus Schwab and the Jeff Bezos' Washington Post: You vill eat zee bugz.
Or you will starve to death.
Either way, your carbon footprint is reduced.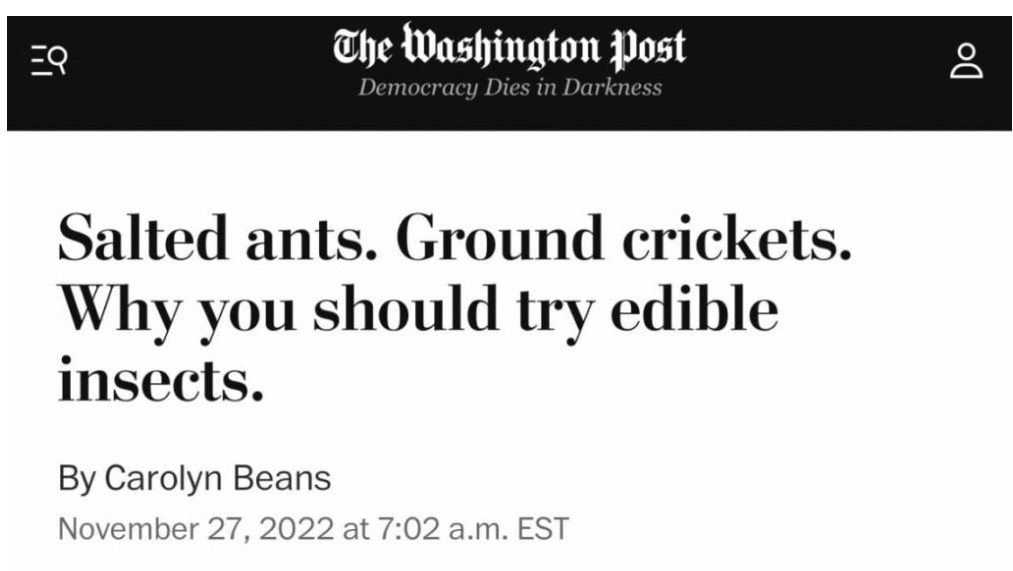 Salted ants. Ground crickets. Why you should try edible insects. By Carolyn Beans November 27, 2022 at 7:02 a.m. EST

"It kind of tastes like kettle corn!" says Adaline Welk, 6, of the mealworm she ate. (Carolyn Beans)

On a clear August morning in southeastern Pennsylvania, more than a dozen adults and children stood in a park pavilion, listening to mealworms sizzling in a hot pan. They were learning about entomophagy -- the human consumption of insects -- from Lisa Sanchez, a naturalist with the Lancaster County Department of Parks and Recreation, who has taught the practice for 25 years.

Suddenly, one mealworm sputtered out of the pan. Six-year-old Adaline Welk -- without prompting -- popped it into her mouth. The crowd cheered for the newly minted entomophagist. "It's not that bad!" she exclaimed. "It kind of tastes like kettle corn!"

Sanchez encourages people to eat insects, in part, to lighten environmental footprints. Farmed insects produce far less greenhouse gas and require much less land and water than conventional livestock. Insects also generate more biomass with less input. Crickets, for example, are 12 times more efficient than cows at converting feed into edible weight.

Already, 2 billion people eat insects, according to one estimate -- primarily in parts of Africa, Latin America and Asia. The practice dates back millennia. "I always thought, even back in the '90s, someday, maybe, [Americans] will do this," Sanchez says.

Would you eat insects to help save the planet? These companies are betting yes.

The coming years may prove her right. The edible insect industry is ramping up -- one report predicts the market will reach $9.6 billion by 2030. Consumers can already find foods like salted ants on Amazon and cricket powder protein bars in Swiss grocery stores. Recent years have seen numerous media stories extolling the virtues of insect-eating.
More from David Strom.

So I have several thoughts.
The first is that Jeff Bezos, Bill Gates, John Kerry, Klaus Schwab and the rest of the Blofeld Club should be forced to eat nothing but bugs for protein. I don't care how you do it -- there is no way the Ruling Class should be permitted to starve the lower orders into having to eat bugs, as if they were primitive tribesmen, while they continue to dine on the limited quantities of steak they've allowed to be produced.
All of the Bug-Pushers must be forced to eat bugs and only bugs.
But I expect that is about as realistic a plan as expecting these people, who are always telling us to stop driving and stop using air conditioning, to stop using air-conditioned private aircraft and private yachts all over the world to attend their Climate Mitigation Confabs.
The other thought I have is this: What has been the reaction, historically, from the masses, when their rulers cause them to starve? Some rulers have just gotten unlucky with harvests; these people are deliberately engineering a mass starvation.
Or, at best: They're rolling the dice with one, and saying "YOLO."
Two important food exporting countries, Ukraine and Russia, are at war, and the world's supply chains are still impacted by covid.
And the EU says: Shut down meat production anyway.
What happens when people can't find food for their kids?
What has been the reaction to this sort of thing, historically?

#EatTheRegime
The fun part is that they tried the "Nudge" tactic for all of a hot nanosecond before going full on dictator.

Posted by: Warai-otoko

posted by Ace at
01:50 PM
|
Access Comments