« Mid-Morning Art Thread
|
Main
|
Twitter is Banning MAP Accounts and for Some Reason Antifa is Worried »
November 25, 2022
THE MORNING RANT: If Ukraine Alone Can Repel Russia, Why Are American Troops Still Needed to Protect Germany & Western Europe? (Also, where were you when the Berlin Wall fell?)
Ukraine hasn't been my thing. The Slavic turf battle going on in eastern Ukraine is just one of the numerous tribal/regional conflicts going on around the world. All of them are awful, with unthinkable suffering, and none of them are worth spilling a single drop of American blood.
But as I've also said before, because Vladimir Putin has funded those who pose the greatest threat to my liberty (western anti-petroleum activists) he is an enemy of mine. Putin's failure to seize more than a sliver of eastern Ukrainian territory may end his days in power, which would be fine by me. My biggest fear now is that bringing the battle to an end is not the desired outcome of those who are who are most enthusiastic about the Ukrainian war, those being the "permanent war" coalition of politicians, intelligence agencies, global money launderers, and defense contractors.
But whether or not, there is a cessation of hostilities soon, this little strip of Ukraine (shown in the map below) is all that Russia has been able to conquer before starting to retreat - without any US or NATO troops.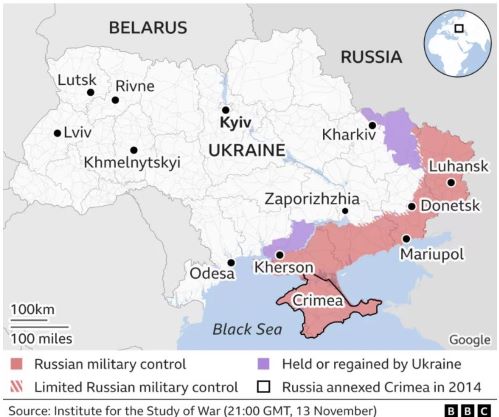 So why are 100,000 US troops still stationed in Europe?
Why is NATO even around anymore?
Russia couldn't take Kiev, and its army is already retreating from Kherson, yet Berlin is another 1,000 miles beyond Kherson. Berlin is not at risk of being overrun by Russian troops anytime soon.
NATO was created following WWII for the purpose of protecting the free countries of western Europe from the communist bloc countries under Soviet rule. Hastings Ismay is famously credited with stating that the purpose of NATO was "to keep the Soviet Union out, the Americans in, and the Germans down."
The Soviet Union's "Iron Curtain" around Eastern Europe crumbled in 1989, and the Soviet Union itself dissolved not long thereafter. The communist empire that NATO was created to repel has been gone for 33 years.
Ukrainian irregulars are apparently sufficient to keep Russia out. And Germany is keeping itself down. In fact, Germany has become so pacified that President Trump had to hector Germany to even pay its NATO dues. Meanwhile Germany has engaged in national suicide in the name of sustainable energy. Germany is a self-loathing country that couldn't produce the fuel to mount a blitzkrieg even if it were still a nation that had expansionist desires.
Germany is down, Russia is out, and neither of those countries are a military threat to western Europe.
It's been 77 years since WWII ended. Let's end the occupation and bring our troops home.
*****
Where Were You on November 9, 1989?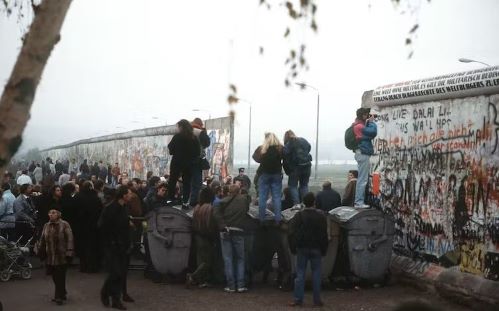 Speaking of the fall of the Iron Curtain, do the events of November 1989 still resonate with any of you as one of the epochal moments of your lifetime?
There are rare days when once-in-a-lifetime events happen - "Where were you when…" moments.
For my parents that included Pearl Harbor, VJ Day ("Victory in Japan"), the JFK assassination, and Apollo 11's moon landing.
For me (born in the mid-60s) those moments included the Challenger explosion, Black Monday (stock market lost 22% in one day), Y2K (if you're too young to remember, you cannot believe the hype and fear about the change in millennia), the levees failing in New Orleans after Katrina, and above all else, September 11, 2001.
But there was also was November 9, 1989. That was the VJ Day of my lifetime. I fully expected it to go down in history as the moment of greatest significance of the post-WWII 20th Century.
Do you remember where you were when the Berlin Wall fell, and Eastern Europe was suddenly free of Soviet tyranny?
I was not long out of college, and traveling for my job. Sitting in my motel room that night, I watched the TV in joyful disbelief, trying to fathom that this day had come. I genuinely thought I'd never see this day in my lifetime.
I pondered the immense bravery of Poland's Lech Walesa, who lit the first match of the rebellion, and from that small flame grew a citizen's revolt that guns and communists couldn't contain.
I pondered the persistence and determination of Pope John Paul II, benevolently uplifting Christians trapped behind the Iron Curtain, while subversively kicking out the table legs that supported the evil empire.
I pondered the determination of Ronald Reagan, Margaret Thatcher, and Helmut Kohl, who risked their political careers to remain resolute in challenging Soviet strength and hegemony. They rejected pressure from media and opposition parties in their own countries to back off of their battle against communism. NATO had its victory 33 years ago, and it was a triumph for humanity.
Unfortunately for the victors, communist sympathizers now control much of the West, while eastern Europe remains unified in its contempt for communists and the system that oppressed them.
Allowing NATO to exist in perpetuity, but this time as tool for western communists to advance the globalist agenda, is an insult to those who won the cold war against Soviet communism.
*****
Songs of the Season
Well, it's officially the Christmas season now that Thanksgiving is over and the leftovers are in the refrigerator.
Godspeed to those of you going shopping today.
I'll be at home putting up the Christmas tree and outdoor lights, and maybe playing a little "All I Want For Christmas Is You." And I do not mean that Mariah Carey ear worm, I'm talking about Lisa Layne's amazing vocal performance on Vince Vance & the Valiants' country / R&B classic.
Have a wonderful weekend.
(buck.throckmorton at protonmail dot com)


posted by Buck Throckmorton at
11:00 AM
|
Access Comments