« Saturday Gardening, Puttering and Adventure Thread, Nov. 26
|
Main
|
The Weekend Hobby Thread »
November 26, 2022
Ace of Spades Pet Thread, Thanksgiving Weekend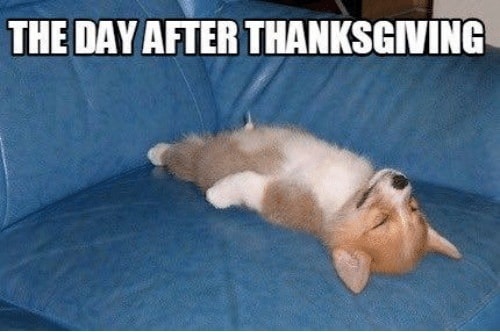 * * *
Good afternoon and welcome to the almost world famous Ace of Spades Pet Thread. Thanks for stopping by. Kick back and enjoy the world of animals.
Would you like a treat, or are you still as stuffed as the little guy above?
Let's focus on the critters and leave the world of politics and current events outside today. That can wait.
* * *
* * *
Meet The PetMorons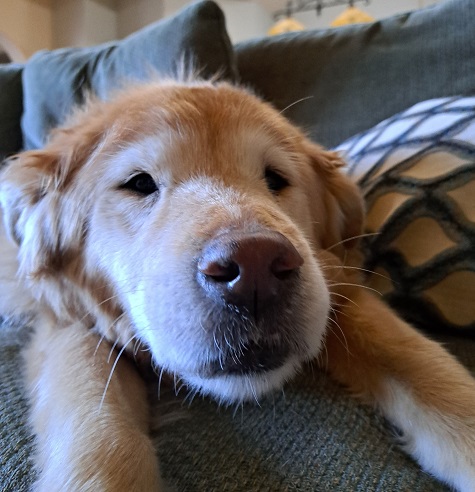 My dad is a long-time reader of your website and he often shows me pictures and videos from your pet threads. I'm a pet sitter and have been bugging him for ages to send photos of the pets I watch. He claims that he can't because they are "not our pets." Well frankly, that's a horrible excuse. So I am taking initiative and doing it myself!

Meet Sadie, she is an old rescue dog I watched for about a week. She loves defying physics and sitting on the sofa. When she was not sleeping, she was following me around or sliding all over the tile. 10/10 she is one of my favorite dogs I've watched.

-Hi Dad!
Hi, Dad! Hi, Sadie!
* * *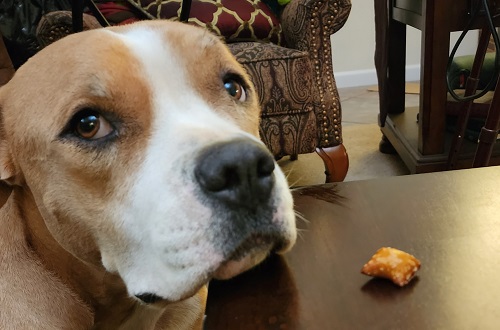 From Eric:
Here's Woodson, our 8 year old Staffordshire waiting for the green light on the peanut butter filled pretzel.

We rescued him from the county shelter where pits and pit mixes are euthanized daily. They had him slated for his rainbow bridge walk the following day had we not brought him home. He is the most peaceful, gentle, happy dog I've ever been around, and I've had many breeds including the "safe" ones. He doesn't bark unless teased with food. Truly the perfect dog. Yet because of the stupid generalizations of these breeds I had to practically beg to keep him in our rental home in Visalia, CA - paid an extra month rent, had to get a breed-specific ins policy that cost me a nice chunk as well. More of the typical societal dumb that surrounds us. But he is worth every penny and I didn't hesitate. Thanks KT.
So patient!
* * *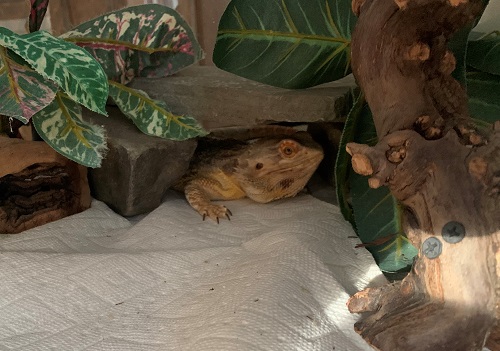 From Christopher - Someone is hiding for the winter:
You've featured our dragons several times over the years. Just thought you might get a laugh out of seeing her hiding in her little cave
Fun!


* * *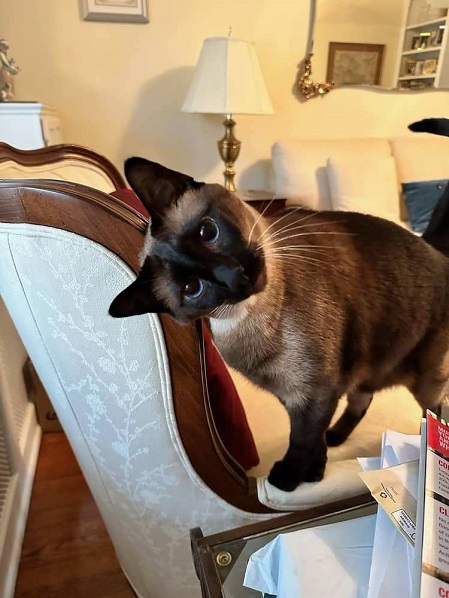 Fetching picture of our 5 year old Seal Point Siamese. But don't be fooled by the cute: she's quite obnoxious to the older, aloof Bombay. Still, she gets are treats through the power of her blue-eyed gaze.

Rick
She knows all the angles.
* * *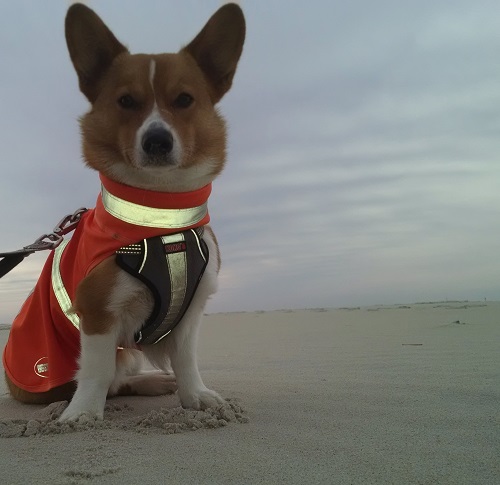 Corgis are notoriously opinionated. Here's Rinc (a Pembroke) communicating his contempt for Phil Murphy's People's Republic of NJ. He had a point. Rinc's pack decamped the Jersey Shore shortly after this photo was taken and now shuttles between Florida's First Coast and Tennessee's Cumberland Plateau. Rinc's still bossy, but his humans are freer.

Thanks to everyone at Ace of Spades HQ for all you do.

Lurker MG
Looks quite regal for a corgi in this shot, I think.
* * *

What a wonderful collection of pet stories today. Thank you each and everyone for sharing your pets with us. One left for next week.
If you would like to send pet and/or animal stories, links, etc. for the Ace of Spades Pet Thread, the address is:

petmorons at protonmail dot com

Remember to include the nic by which you wish to be known when you comment at AoSHQ, or let us know if you want to remain a lurker.
Until next Saturday, have a great week!
* * *

If you start feeling nostalgic, here a link to last week's Pet Thread, the Ace of Spades Pet Thread, November 19 Some special PetMoron stories and photos there.
I closed the comments on this post so you wouldn't get banned for commenting on a week-old post, but don't try it anyway.

posted by K.T. at
03:21 PM
|
Access Comments