« Food Thread: Turkey? Yuck! Give Me Pork Chops Or Give Me...Uh...Pecan Pie!
|
Main
|
Sunday Overnight Open Thread – 11/20/2022 »
November 20, 2022
Gun Thread: Another Sunday Edition!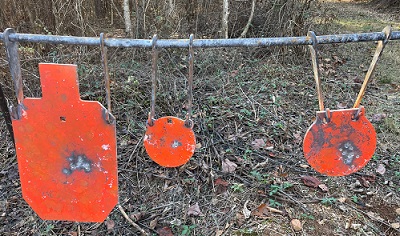 Julie's Final Exam Targets at WeaselAcres
Howdy, Y'all! Welcome to the wondrously fabulous Gun Thread! As always, I want to thank all of our regulars for being here week in and week out, and also offer a bigly Gun Thread welcome to any newcomers who may be joining us tonight. Howdy and thank you for stopping by! I hope you find our wacky conversation on the subject of guns 'n shooting both enjoyable and informative. You are always welcome to lurk in the shadows of shame, but I'd like to invite you to jump into the conversation, say howdy, and tell us what kind of shooting you like to do!
Not much to report from here, guys and gals. I am headed to the farm Friday to do some equipment maintenance chores and to get things ready for a special guest on Saturday, 2022 NoVaMoMe Dream Date with Weasel winner, and self described lurker Julie. Hopefully after this weekend, she'll have a range report to share! It's supposed to be bright and sunny but also chilly with daytime highs only around 50 degrees. Perfect shooting weather!
DDWW Update Great day of shooting at WeaselAcres on Saturday, and I'm here to tell you that Julie is a shooter! We spent most of the day on a couple of my practice rifles, a 5.56/.223 and a .308 Winchester, and finished as the sun was setting with a few magazines through an H&K MP5, courtesy of WeaselBuddy Geoff. Maybe Julie will stop by the comments tonight with a range report!
Programming Note: I will be in and out (mostly out) of the comments tonight so please don't burn the place down. Thank you!
With that, step into the dojo and let's get to the gun stuff below, shall we?

******
Guns of the Horde
Let's jump right into the madness with this submission from our pal
AlaBAMA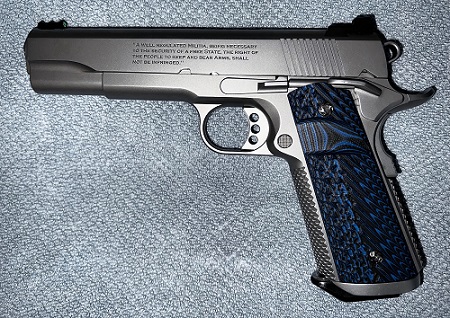 I've shot just about every handgun over my storied career as a "junior newspaper delivery boy". Just about every caliber too; well, except some of the silly ones. I like my wrists and nose unbroken!.

I had wanted a custom 1911 frame for a while and I shopped and shopped, but just couldn't get myself to pull the trigger on these new 'Ferrari-priced' custom rigs. But then, in a moment of weakness, I decided this little puppy in the window was coming home with me!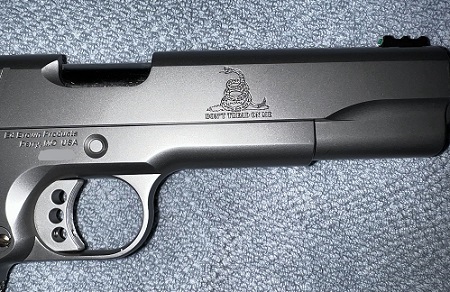 She's an Ed Brown Limited Edition, 5" Government Model Frame/Slide, chambered in 45 ACP, and weighs in at 41 ounces unloaded. It came with VZ grips which I had replaced with some custom grips in blue, and some green fiber optic sights. Her distinguishing marks are some engravings on both sides of the slide, something about "infringement" and then shoe tread or something on the other side. I don't know. I'm sure some of your readers will better understand all that!

Anyway, I mentioned shooting a lot of guns over the years. This is hands down, the best shooting handgun I have ever had the privilege to squeeze the old trigger finger on. Ed Brown is a true artist, and I couldn't be happier with his product. Stupid expensive, yes. But boy oh boy does she put holes in paper well!
Wow! Very nice AlaBAMA! Thanks for sharing!
***
Next up we have a new Shield Plus range report from our pal
Roger
.
For my birthday I purchased a new Smith and Wesson Shield Plus in 9mm. I own an original Shield 9mm, but wanted the additional capacity offered by the Shield plus. The two weapons are very similar, but the Shield plus is a much more refined product and I heartily recommend it to anyone looking for a subcompact 9mm.

During this range trip I used ammo from a Turkish manufacturer called ZSR. As you can see from the picture, one of the boxes I brought with had been damaged in shipping. Several rounds were damaged as a result of this.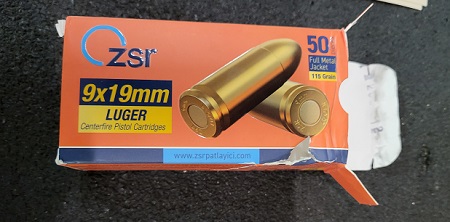 Just to remind myself how well the original Shield shot, I ran 50 rounds through it. The picture below is of the first 9 rounds, the target was set at 7 yards.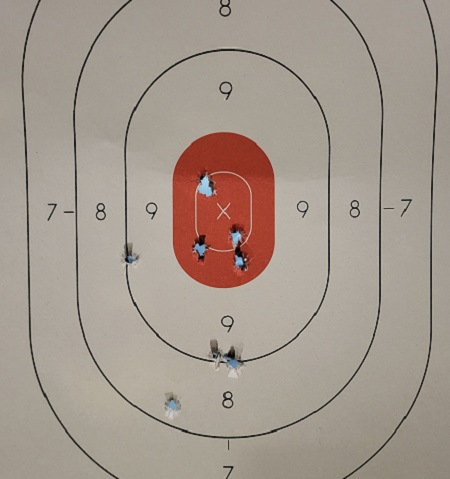 My biggest gripe about the original Shield, other than the capacity, is the trigger. The original trigger is like just about every other mass-produced semi-automatic on the market today, its ok, not great, serviceable. The shape of the trigger, with its hinged, curved face, isn't really for me either. I did like the stippling on the grip. I have psoriasis on the palms of my hands which can be seriously irritated by a too-aggressive grip texture. It kept me away from the 2.0 version of the M&P line. The Shield plus has a flat faced trigger with a blade safety embedded in the face. The stippling on the grip feels very good. Its grippy to the skin without being rough or abrasive. That flat faced trigger is excellent. The reset is tactile, audible, and consistent. You can see in the picture below the differences in the two pistols.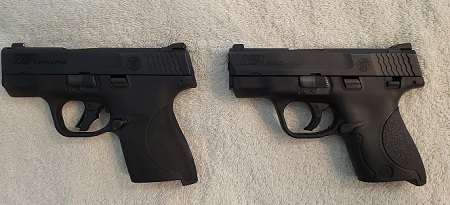 The Shield Plus (L) and original Shield (R)
Shooting the Shield Plus is a treat. Recoil is very manageable, it's not flippy in the least. They've increased the palm swell on the Plus. This accomplished two things. It decreased the pressure on the web of the hand between thumb and forefinger from the initial recoil pulse, and it fills the hand more completely, making it more comfortable to grip, even for those with larger hands.

Shield Plus (L)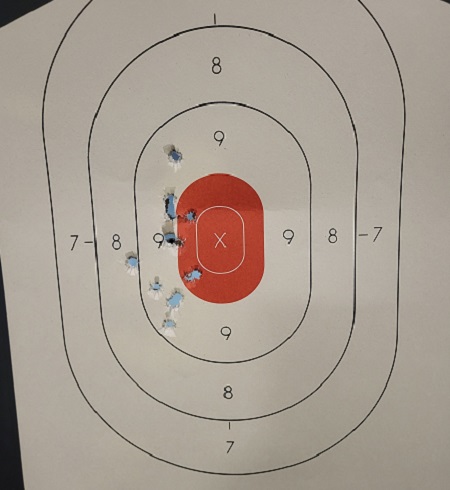 So how does the Shield Plus shoot? The picture above is the first magazine I put through it. I'm not the greatest shot, especially with small pistols. Everything goes a little left. The Shield plus comes with two magazines from the factory, a flat based 10 rnd magazine and an extended 13 rnd magazine. I bought two more extended magazines. Fortuitously, this comes to 50 rounds, or one box of ammo. I do a little meditative thing on the range one round a second, until the magazine is empty, drop the magazine and reload and continue at 1 round a second until all the magazines are empty. I always feel very relaxed when I'm done. It looks like this on the target.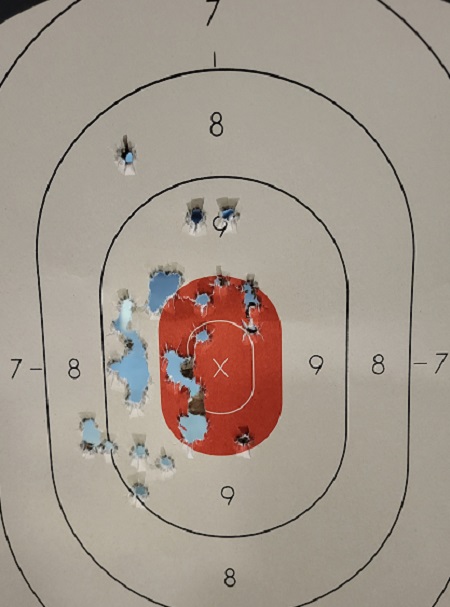 When it comes to holsters and other accouterments for the Shield Plus, thankfully it fits everything for the original Shield. Take down for cleaning and the maintenance is the same. Magazines are not interchangeable.

I did all my shooting at Elite Shooting Sports near Gainesville, Va. If you are in Northern Virginia, there is no finer indoor range. They have 24 25yd lanes, 12 50yd lanes and 8 100yd lanes. All in glorious air-conditioned comfort. There's a snack bar, equipment sales, ammo and gun sales and rentals. They have classes for all levels of experience. An hour of range time is $20. If the range isn't crowded, they aren't real sticklers about keeping to time limits which is nice. The staff is professional and courteous. The waiting areas for the various ranges are very comfortable with over stuffed chairs and couches and TVs everywhere. You can visit their website here: Elite Shooting Sports
Great report, Roger! Thank you and congratulations on the new handgun!
******
To Obsessively Clean, or Not to Obsessively Clean
I've been to the range a few times recently, but this isn't a range report. Instead, this is a serious question along the lines of, "Am I sitting on my brain?"

When I use tools or garden implements, I generally clean them off a bit before putting them away. Knock off the dirt clods from the shovel and hoe and wipe down the wrenches. I do this because I know I should. But guns? I absolutely love cleaning guns! I think I love cleaning guns as much as I enjoy shooting them. My friends, and I mean both of them, think I'm deranged, but tell me, what's better than the smell of Hoppe's bore cleaner? What roast can rival the odor of Ballistol oil? How can one compare the gleam of one's eye to the shimmering aura of a freshly shined barrel? Should I seek help, or should I seek more guns to clean?

Sign me Confused Bama Bubba
Dear Confused BB,
Man am I ever the wrong guy to ask. With the exception of my match rifles and my carry gun, I am what you would call a gun cleaning underachiever. I agree there is something good, and perhaps even a little therapeutic about cleaning guns, I just rarely do it. Since I don't think I've ever heard a report of a gun being damaged from too frequent cleaning, I say clean away!
I like Hoppes 9 and Ballistol, and recently began using Deep Creep. Here's a little video on the product from our pals at SeaFoam.
******
Even More Rare 1911s
******
Absurdities of the Atomic Age
I love these videos.
******
Musical Interlude
Rush and
Working Man
with Dave Grohl on drums.
******
Gun Basics 101
No new video from the She Equips Herself gal, so into the archives we go. This week's video is on concealed carry for Moms.
******
Cigar of the Week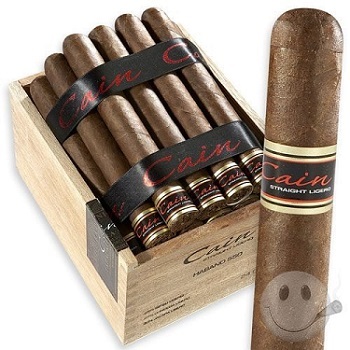 Have I featured the Cain by Olivia before? Well if I have, here it is again. About $6 each and worth every nickel.
***
Here is a Cigar Vixen Punch Fu Manchu review.
******
Here are some different online cigar vendors. You will find they not only carry different brands and different lines from those brands, but also varying selections of vitolas (sizes/shapes) of given lines. It's good to have options, especially if you're looking for a specific cigar.
Cigarsinternational.com
Cigarpage.com
Famous-smoke.com
Cigarsdaily.com
Neptunecigar.com
Smallbatchcigar.com
Bobalu Cigar Company
Cigarbid.com
A note about sources. The brick & mortar/online divide exists with cigars, as with guns, and most consumer products, with respect to price. As with guns - since both are "persecuted industries", basically - I make a conscious effort to source at least some of my cigars from my local store(s). It's a small thing, but the brick & mortar segment for both guns and tobacco are precious, and worth supporting where you can. And if you're lucky enough to have a good cigar store/lounge available, they're often a good social event with many dangerous people of the sort who own scary gunz, or read smart military blogs like this one. -rhomboid
Anyone have others to include? Perhaps a small local roller who makes a cigar you like? Send me your recommendation and a link to the site!
******
Ammo Link-O-Rama
I'm really very seriously not kidding around anymore. Buy Ammo
AmmoSeek - online ammo search tool
GunBot - online ammo search tool
SG Ammo
Palmetto State Armory
Georgia Arms
AmmoMan
Target Sports USA
Bud's Gun Shop
***Mail Bag***
This week's mailbag entry is from our pal WTM. Great one!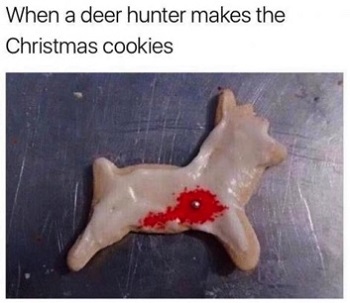 ******
Please note the new and improved protonmail account gunthread at protonmail dot com. An informal Gun Thread archive can be found HERE. Future expansion plans are in the works for the site Weasel Gun Thread. If you have a question you would like to ask Gun Thread Staff offline, just send us a note and we'll do our best to answer. If you care to share the story of your favorite firearm, send a picture with your nic and tell us what you sadly lost in the tragic canoe accident. If you would like to remain completely anonymous, just say so. Lurkers are always welcome!
That's it for this week - have you been to the range?


posted by Weasel at
07:00 PM
|
Access Comments