« EMT 11/20/22
|
Main
|
2nd Amendment Grammar...It Isn't Complicated...At All »
November 20, 2022
Sunday Morning Book Thread - 11-20-2022 ["Perfessor" Squirrel]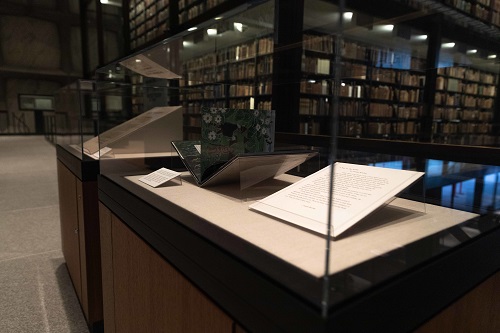 Welcome to the prestigious, internationally acclaimed, stately, and illustrious Sunday Morning Book Thread! The place where all readers are welcome, regardless of whatever guilty pleasure we feel like reading (100% EVIL FREE!). Here is where we can discuss, argue, bicker, quibble, consider, debate, confabulate, converse, and jaw about our latest fancy in reading material, even if it's nothing more than the latest issue of TV Guide. As always, pants are required, especially if you are wearing these pants...(served with a side of cranberry sauce and Stove Top stuffing...)
So relax, find yourself a warm kitty (or warm puppy--I won't judge) to curl up in your lap, continue fasting to prepare yourself for that Thanksgiving feast in four days, and crack open a new book. What are YOU reading this fine morning?
PIC NOTE
Today's pic (see larger version HERE) is from a display at the Beineke Rare Book & Manuscript Library from back in 2019. It features a pop-up display that includes a copy of the full text of George Washington's Thanksgiving Proclamation. The other major piece in the display is a book from Joseph Bruhac, a Native American storyteller, written in 1996 that explores a view of thanksgiving that goes back even further in time.
ARCHITECTS v. GARDENERS
There seem to be a couple of different types of authors out there. Two of the more prominent types are "Architects" and "Gardeners." Architects are known for the meticulous way in which they plot out their stories and characters. They may have elaborate outlines that they follow when sketching out their stories, so they know *exactly* how they will reach the ending.
By contrast, Gardeners--also known as "pantsers"--write much more organically. They write by the seat of their pants, never knowing exactly how their stories will end, but keen on exploring interesting situations through the eyes of their characters.
Of course these terms are extreme generalizations and most authors probably fall somewhere between on the spectrum between Architect and Gardener. An Architect may have a cool idea for a charaacter or storyline and just throw it in to see where it might go. And a Gardener might have a general idea of a storyline and how to resolve it, but take a meandering path to get there while the main character has exciting adventures.
Robert Jordan and Brandon Sanderson both fall into the Architect camp for the most part. Stephen King and George R.R. Martin are famously Gardeners. King in particular likes to throw characters into weird situations just to see how they will handle themselves.
The series I'm currently reading--The Chronicles of the Kencyrath by P.C. Hodgell--seems to fall into the Gardener camp. Hodgell's main character, Jame, is thrust into increasingly bizarre scenarios as the series progresses. This allows Hodgell to expand her worldbuilding through Jame's eyes. Although there are hints that there is a final resolution, after almost 40 years of writing and ten books in the series, it's hard to predict when or if the series will ever be finished. But that's OK because the series does fine as an open-ended collection of adventures of Jame of the Kencyrath.
Some genres probably work better when written by one style versus the other. For instance, romance and drama fiction can thrive in the hands of a skilled Gardener because those genres are dependent on relationships between characters more than the plots or events in the story. Epic fantasy, on the other hand, almost *requires* some level of Architect to keep track of all the different plot threads that span multiple books.
Moron Authors, in which camp would you classify yourself? How many of you lean towards Architect and how many towards Gardener?
What are some of your favorite stories from each camp?
++++++++++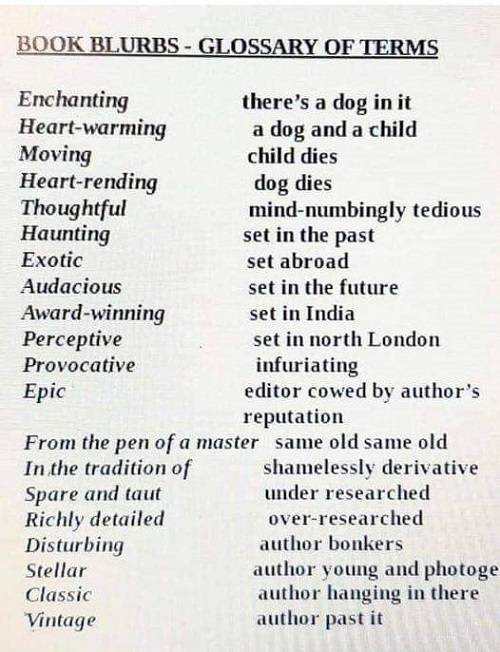 (ht: Hadrian the Seventh)
++++++++++
BLACK FRIDAY BASED BOOK SALE!
The Black Friday Based Book Sale starts Wednesday, November 23. If you are a based author who'd like to participate by offering your books for free or for $0.99, DM @aetherczar on Twitter or email aetherczar at gmail dot com.

Hans G. Schantz

++++++++++
MORON RECOMMENDATIONS
Poker and Pop Culture has a chapter about the game's presence in the Civil War. Grant played often -- even during his years at West Point, where card games were forbidden. Lee, however, tried to suppress the game among his men. For him, that was another lost cause.

As for the troops, they were known to throw away their decks as they marched to battle, out of the fear that if they were killed, they would have to explain to St. Peter why they had been carrying the devil's pasteboards. After the battle, those who could would retrieve their cards.

There were even a few instances of soldiers playing with enemy troops. Imagine losing an army at the poker table. Hmmm -- That would cut down on casualties!

Posted by: Weak Geek at November 13, 2022 09:06 AM (Om/di)

Comment: Playing cards and card games--as a representation of gambling--have long been portrayed as a sinful vice...Poker does show up quite a lot in popular culture (e.g., James Bond in Casino Royale). Skill at poker seems to be a narrative device to show a character's intelligence, nerve, and craftiness, especially if the character is able to outwit an opponent at the card table.
+++++
I'm reading Ian Keable's The Century of Deception: The Birth of the Hoax in Eighteenth-Century England. I'm familiar with most of his examples - the man who claimed he would jump into a bottle on stage, George Pszalmanazar, the pretended "Formosan," the Cock Lane Ghost, William-Henry Ireland, the Shakespeare forger - but Keable has a light touch that belies the deep research he has done. If this sounds like the sort of thing you'd like, I recommend it.

Posted by: Mary Poppins' Practically Perfect Piercing at November 13, 2022 09:14 AM (AW0uW)

Comment: Hoaxes have been around a long time--about as long as people have been willing to be taken in by conmen and mountebanks. The magician Harry Houdini, known around the world for his amazing escape attempts, was also quite keen on debunking spiritualism and mysticism, rejecting the idea of supernatural powers.
+++++
About to finish How Not to Diet. Basically a book about going vegan. What I think you all will appreciate is that the author (who is an actual MD) fills this book with evidence based research. He makes a point of telling the reader that all his proceeds go to charities (not sure which) and that the majority of studies out there are funded or co-opted by big pharma or big food industry. His approach is this--you want less cancer, less heart disease and to feel better, you gotta eat more plants and whole grain fibers. For him, meat, dairy and sugars are no-nos. And I get it--this lifestyle does not fit the Moron Way of Life. But I digress. I read the prayer list yesterday and we have a lot of morons suffering with health issues. I recommend reading the book simply for the information presented and maybe incorporating some of the aspects into your diet. He also wrote "How Not to Die" which is about all the stuff in our food industry that is killing us.

Posted by: Secret Squirrel, author of a few books on amazon at November 13, 2022 09:36 AM (O4GUi)

Comment: This book seemed to spark a rather epic debate in the comments last week about the merits of what we *should* be eating. Of course, as was pointed out, everyone's diet is different and what may work for one person may not work for everyone. I, myself, can't digest or process green leafy vegetables anymore, so I stay away from devil weeds like lettuce and cabbage. Most vegetables also taste horribly bitter to me, which is another reason I stay away from them. Though they can add a lot of flavor when cooked with other things (e.g., meat in a savory stew).
+++++
I dug out my old Nicktoons! book (the one with the clear plastic cover filled with green goo). So many great cartoons came out in the early 90's. SpongeBob, Ren and Stimpy, Invader Zim... Nickelodeon's Vanessa Coffey started up an animation department and let cartoonists pitch their wildest stuff. She was tired of cartoons being based on existing properties or toys. The creators wanted the kind of anarchic goofiness of the old Warner Bros cartoons they grew up with, not the sitcom drivel so prevalent. Luckily, the cable channels needed content to fill the void and so there was an "anything goes" atmosphere.

Posted by: All Hail Eris, Sans-Culottes (except for the Book Thread) at November 13, 2022 09:36 AM (Dc2NZ)

Comment: There were some awesome cartoons released in the 1990s. Just recently, it was announced that Kevin Conroy, who voiced Batman in Batman: The Animated Series and the Arkham Asylum video games, lost a bout to cancer. Other notable cartoons include The Simpsons (yes, I know it technically came out in the late 1980s, but that show reached its peak in the 1990s), The Tick, and Animaniacs. Only The Simpsons is still around today, though it's just a shadow of its former self. Animaniacs could never be made today as it's not woke enough (though that doesn't seem to have stopped them from trying to reboot it).
More Moron-recommended reading material can be found HERE! (493 Moron-recommended books so far!)
+-----+-----+-----+-----+
WHAT I'VE ACQUIRED THIS PAST WEEK:
So the local public library had *another* book sale this week. Naturally, I stopped by to see if they had anything new/interesting. Mostly the same stuff as the last book sale a few months ago, but there were some new things that caught my eye.
Higher Education by Charles Sheffield and Jerry Pournelle -- Both authors have well-estalibished credentials in science fiction so I expect a decent story out of this. It's about asteroid mining, which if it ever becomes a thing will no doubt be very dangerous, if lucrative.
Operation Otherworld by Poul Anderson -- I don't think I've read much of his work. From the descriptions of the two novels inside (Operation Chaos and Operation Luna) I doubt these could be written today...
A Science Fiction Argosy edited by Damon Knight -- An "argosy" is a large merchant ship, originally from Venice. Not sure what this has to do with the collection of science fiction stories inside the covers, but this word intrigued me and prompted me to purchase the book. According to the introduction, Damon Knight just wanted to compile a collection of excellent science fiction that had not yet been anthologized or was difficult to find at the time. Lots of great stuff.
Chronicles of the Lensmen (Volumes 1 and 2) by E.E. "Doc" Smith -- These are the Science Fiction Book Club editions collected in two compact volumes. This will replace my current versions of all six Lensmen books. Definitely worth the $14 for both volumes.
And lest I forget, this week marks the release of Brandon Sanderson's The Lost Metal, the most recent book in his Mistborn universe, which also arrived this week. *sigh* Now if I could just find the time to READ all these great books!
WHAT I'VE BEEN READING THIS PAST WEEK:
Honor's Paradox by P.C. Hodgell -- Jame's adventures at the Kencyr military academy continue.
The Sea of Time by P.C. Hodgell -- Jame goes south to find even more adventure and weirness in the Southern Wastes of Rathilien
The Gates of Tagmeth by P.C. Hodgell -- Jame is tasked with restoring an ancient fortress for House Knorth and discovers yet more ancient mysteries about her people.
Make It Stick: The Science of Successful Learning by Peter C. Brown, Henry L. Roediger III, and Mark A. McDaniel -- I started reading this at work and it's a good overview of learning strategies that actually work v. what the modern education establishment currently tends to push. (NOTE: The concept of "learning styles" has been thoroughly debunked, but it's still pushed in higher education and K-12 schools today.)
Towers of Midnight by Robert Jordan -- The penultimate book in The Wheel of Time series, leading up to the grand finale.... Basically the equivalent of Avengers: Infinity War, but ten times more awesome.
That's about all I have for this week. Thank you for all of your kind words regarding my Sunday Morning Book Thread. This is a very special place. You are very special people (in all the best ways!). The kindness, generosity, and wisdom of the Moron Horde knows no bounds. Let's keep reading!
If you have any suggestions for improvement, reading recommendations, or writing projects that you'd like to see on the Sunday Morning Book Thread, you can send them to perfessor dot squirrel at-sign gmail dot com. Your feedback is always appreciated! You can also take a virtual tour of OUR library at libib.com/u/perfessorsquirrel. Since I added sections for AoSHQ, I now consider it OUR library, rather than my own personal fiefdom...
PREVIOUS SUNDAY MORNING BOOK THREAD - 11-13-22 (NOTE: Do NOT comment on old threads!)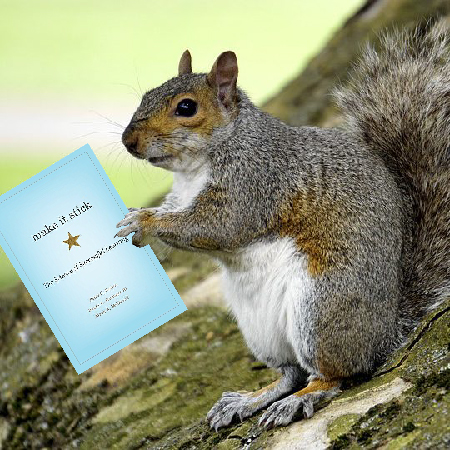 posted by Open Blogger at
09:00 AM
|
Access Comments