« Emmet Sullivan, the Judge Who Embarked on His Own Prosecution of Michael Flynn After the Government Dropped Its Charges, Issues a Halt to Title 42 Deportations
|
Main
|
African Reporter: Biden's Press Conferences Are "Rigged," Biden Has a List of Friendly Reporters He's "Supposed to Call On" And Won't Say Who Picks These Names or Why »
November 16, 2022
Tinsel Town Crier Kevin Smith Cries and Cries Again
Kevin Smith cried over the mid-credit scene of Black Panther 2: Wakanda Forever.
Then he posted a picture of himself crying on Twitter.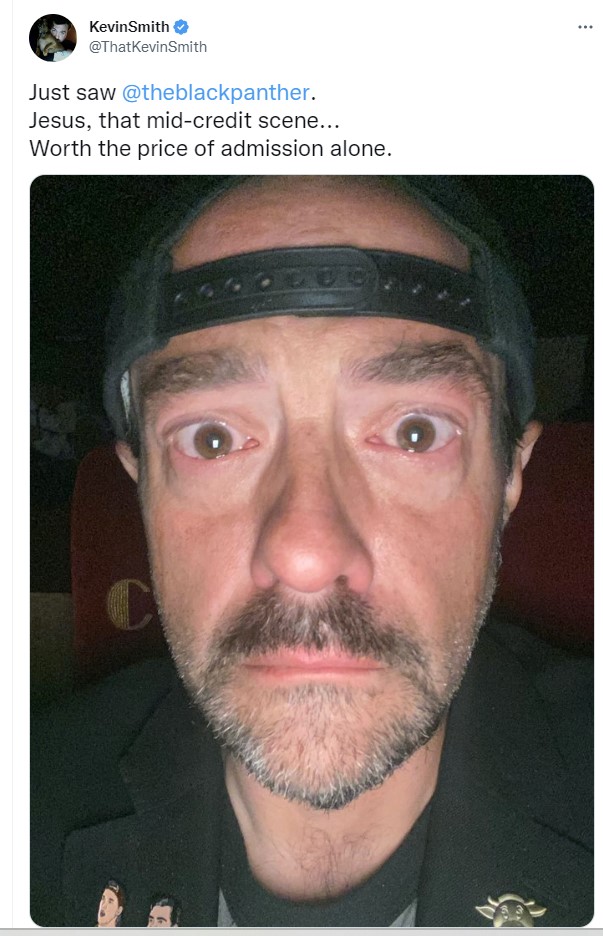 It should not surprise you that Kevin Smith cried about a superhero movie, or that he then proudly posted a picture of himself crying about it on Twitter.
He does this all the time. Kevin Smith crying on Twitter over the latest juvenile movie or tv show -- or trailer for movie or tv show -- that he's watched has become notorious.
There's even a Know Your Meme entry for it.
Why does he do this?
Could be a few things.
For one thing, he's a notorious shill. Kevin Smith doesn't have much of a career left, and so he has to sing for his supper. He shills for DC and Marvel because he has to convince them to give a crappy B-movie director a gig directing one of their terrible, terrible shows.
Some have speculated the recompense might be a bit more direct than that. Maybe this is just paid promotion. Influencers do not influence out of pure love of the products they're shilling for, after all.
A third possibility is that he is simply a zero-T pussy who has medically transitioned into a shman with a mangina not through puberty blockers but through vegetarianism, a lifelong addiction to marijuana, and an unhealthy career of sitting on the couch and watching cartoons. And therefore he is highly susceptible to emotional perturbations that actual men, and, frankly, any grounded woman older than age 15, are not susceptible to.
I know a doctor put him on the vegetarian diet due to his morbid obesity and resultant heart disease but losing the blubber has resulted in blubbering. It's a bad trade-off. Try carnivore, dude.
There are too many pictures and videos of Kevin Smith crying over superhero movies and TV shows and Disney cartoons to catalogue; I tried and got bored.
No, really, there are too many.
It has become so routine that Kevin Smith cries over superhero shit or gay shit of this nature and then cries about it and then posts a picture of himself crying about it that there's even a website dedicated to telling you if Kevin Smith is crying today.
I'll save you the click: He probably is.
Here are some, but not nearly all, of the times Kevin Smith has publicly cried over the stupidest, gayest shit imaginable.

Kevin Smith cried for the Amy Adams sci-fi movie The Arrival!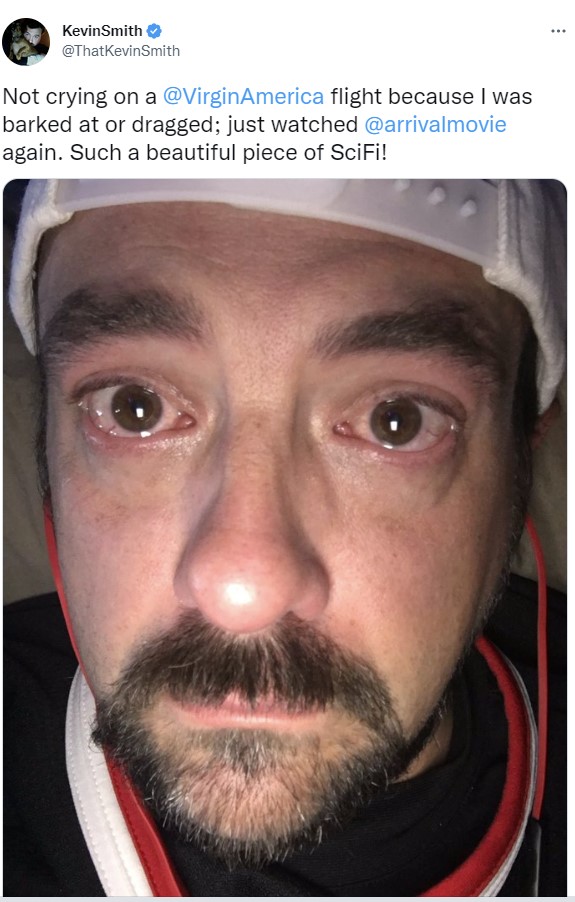 Kevin Smith cried for the Pixar/Disney "animated urban fantasy film" Onward.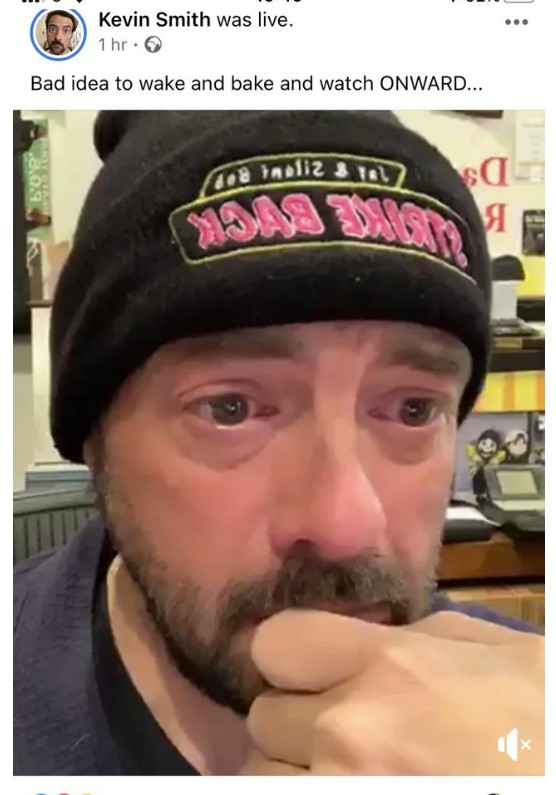 Obviously this zero-T womanman videotaped himself watching the Avengers: Endgame trailer -- and crying over it. Like a fat spergy pussy.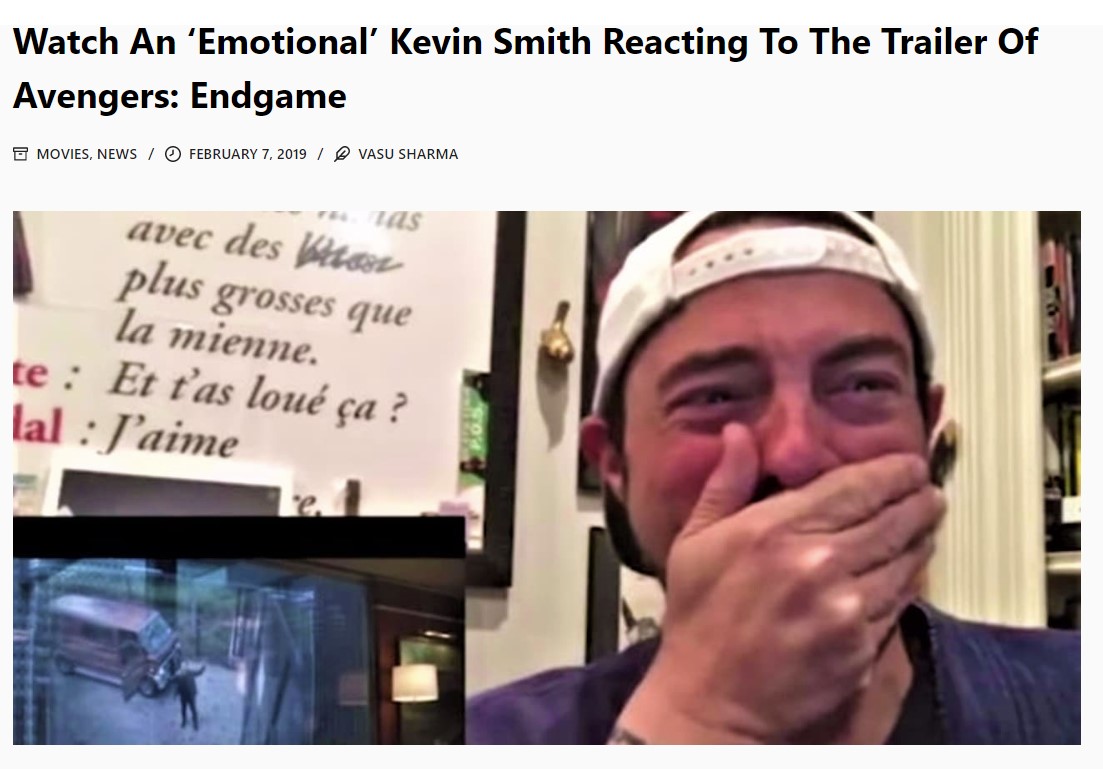 I mean, what did you expect a 50 year old adult married man to do, not cry like a glandular baby over wish-fulfilment children's entertainment?
Now I'm not going to lie, I watched the Avengers Endgame trailer a few times and I liked it. I got psyched to see the movie.
But here's what I didn't do: I didn't cry. Because I'm not an infant or a little girl.
This silly man-c*nt with a he-pussy cried for Toy Story 4 -- and then also used his tears as a Marketing Opportunity to promote one of his terrible Jay and Silent Bob pot movies.
Kevin Smith cried for Marvel's Wandavision. He was so moved! He really loved Wandavision! He wasn't just trying to ingratiate himself with Marvel so that they'd give him a job directing one of their crap tv shows!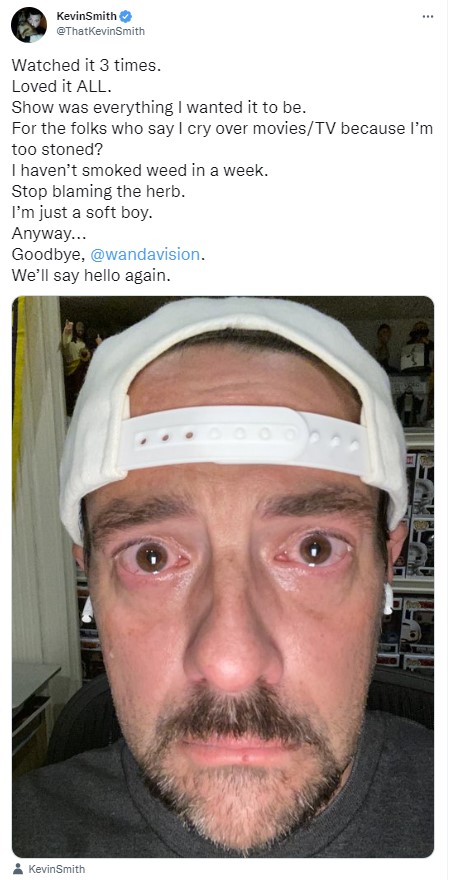 He actually posted video of himself bawling his Vagina Eyes out over the.... season 1 Flash finale.
I try not to blaspheme anymore so I'll just say, Cheese and Crepes. Cheese and Crepes, dude, you have got to be fucking kidding me here with this shit.
Get you shit together, man.
Kevin Smith's crying over supergay shit is so legendary that is now inspiring artists to great great works: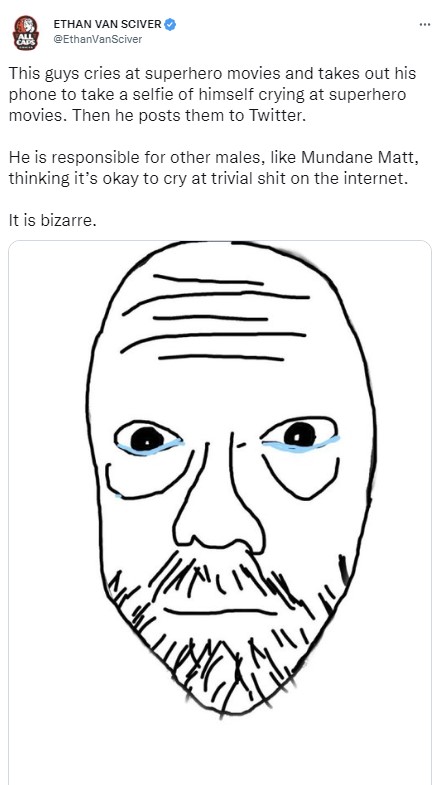 All of these crying jags are embarrassing. But maybe the most embarrassing Kevin Smith Crying Jag is when he cried over his own work, crying over the reviled, disastrous Masters of the Universe: Revelations cartoon he produced or whatever.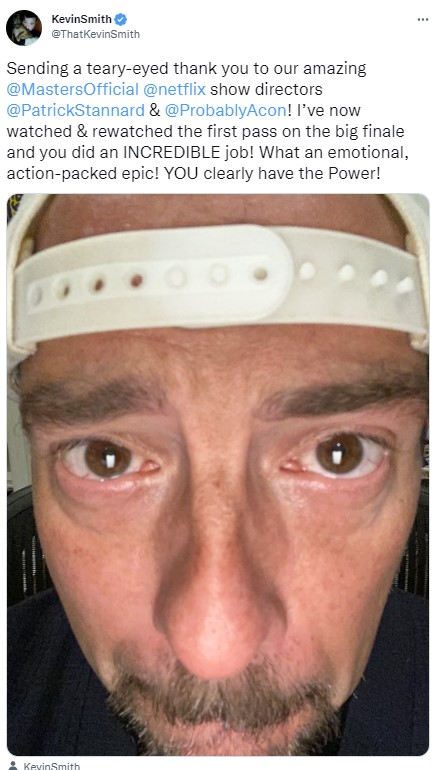 Yeah, you should be crying over that one, Kevin.
Say what you want about this dude, but he doesn't cry.

posted by Ace at
04:16 PM
|
Access Comments