« NBC "News" Suspends National Correspondent Who Reported That Paul Pelosi Walked Back Inside Towards His "Friend" David DePape After Letting Police Into His Home, Without Explaining the Grounds for the Suspension
|
Main
|
Mr. Mike's Mondo Cafe »
November 15, 2022
Quick Hits
Gisele Fetterneck -- "Madame Newark" -- is very clear that she'll be the illegal defacto Senator, posting pictures in which she is centered, and her chump-bait husband is either at the extreme edge of the picture or with his Frankendome cropped out like he's the next victim of The Omen.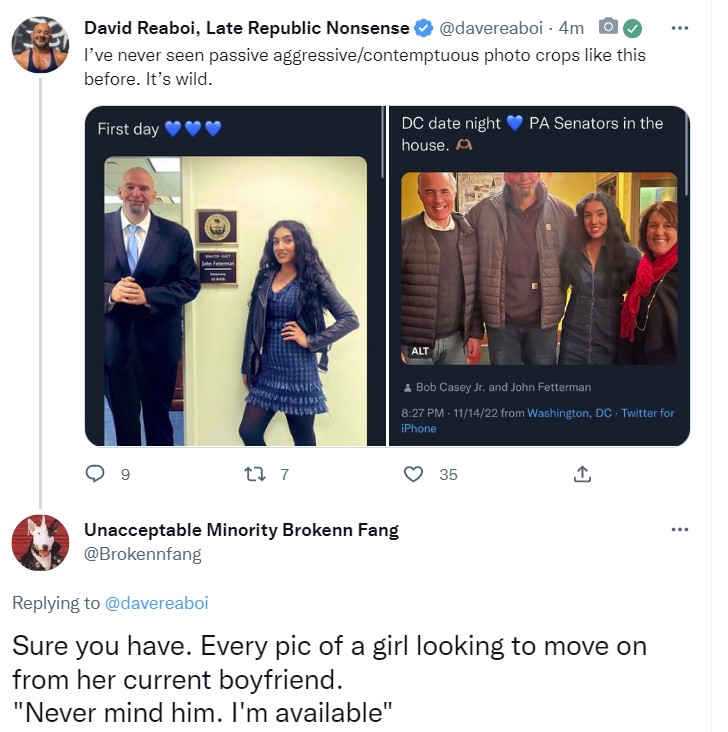 Very stable genius Steve Schmidt is threatening everyone on Twitter again, including the Daily Caller. He goes through these paroxysms periodically, threatening to sue people who say things which are true but which he doesn't want you to say, without being clear about which statements he's claiming are defamatory and in what way exactly they're untrue.
Which reminds me of another litigious leftwing grifter. I'm glad the Daily Caller is telling him to f*ck right off.
Hey Steve, we saw the Showtime show. You're scum. You're filth.
Go find a wormy hole to crawl into, you soulless, sexless big-bellied soft-handed pit of insecurity and greed abandoned-by-God.
Conservative Brief reports that Kari Lake does not intend to concede the race in Arizona.
Floyd Brown @floydbrown

Spent hours last night working with Lake team on a continuing war for Arizona. She will not go quietly into the night. She intends to stand and fight. She knew when she entered this race that it would be tough. Her opponents lack her courage. She is fighting for us.
The race may go to a recount, though a 0.8% gap is a lot to make up, and, practically speaking, if you suspect they rigged the main count, they're not going to give it away on the recount.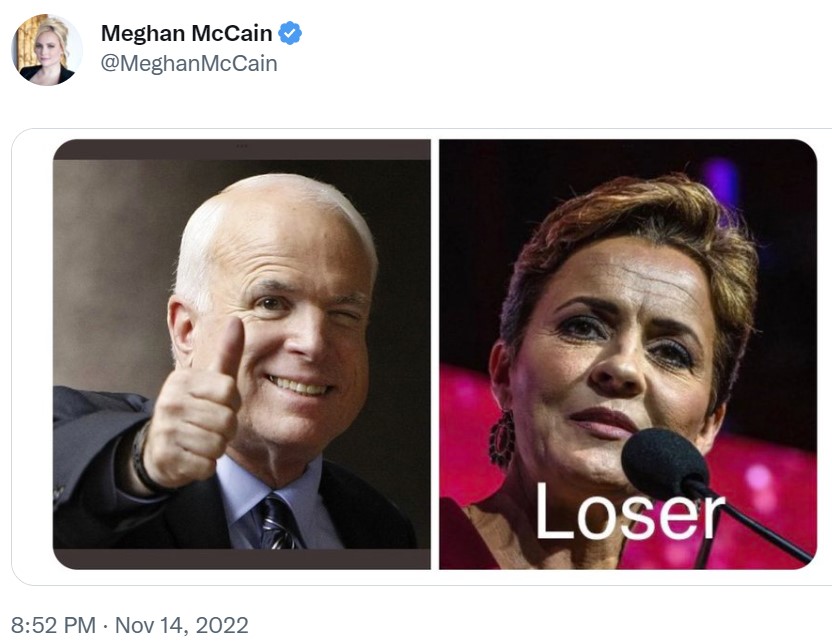 Ah, Megan. You inherited your mother's money and entitlement and your father's temperament and brains. Plus the svelte daintiness of the Arizona Cardinals' offensive line.
Justin Trudeau and Joe Biden wore Communist-era Mao jackets to honor Chairman Xi. We know love Trudeau loves playing cross-racial dress-up -- it was all he could do to resist wearing yellowface and putting on a Fu Machu mustache and beard.
We can only assume "Doctor" Jill Biden dressed Joe.

Two WWII era planes collided in an air show over Dallas on Friday.
A B-17 bomber appeared to stray into the blindspot of a P-63 Kingcorbra as the historic World War II-era planes collided in midair outside of Dallas on Saturday.

Six people are feared dead at the Wings Over Dallas event when the P-63, seemingly unable to spot the B-17 below it, crashed into the large bomber, sending debris flying and igniting a fire nearby.

Jason Evans, a Dallas Fire-Rescue spokesman, told the Dallas Morning News that the crash occurred at around 1.30pm above the Dallas Executive Airport.

Video posted online shows a P-63 Kingcobra approaching the flight path of a Boeing B17 Flying Fortress bomber. The bomber appears to fly by the P-63's blindspot and the planes collide, ripping each other to shreds.

A second video from a different angle shows how the B-17 approach the blindspot as the Kingcobra was banking right, so it would not have been able to prepare for the impending crash.

The front of the B-17 split off from its rears as its wings caught on fire and it spiraled to the ground nearby.
Six airmen are sadly confirmed dead.

More leftwing San Francisco freaks beg Elon Musk to fire them:
Here's another of the "human bloatware" working at Meta (FaceBook). I think I read that she actually survived the layoffs -- incredibly! -- and still has her job.
Probably because no one has any idea what the hell her job is.
Check out her to-do list: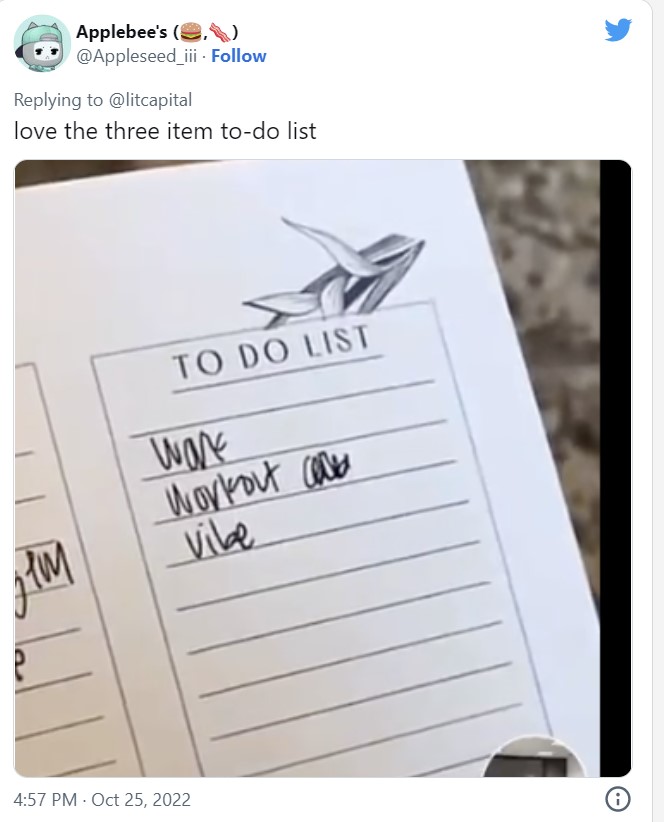 I can't be sure but I think it says:
Work

Workout

Vibe
I gotta applaud her keeping the work-life balance tilted firmly to the right side.

Do you want to eat Healthy like Lizzo (TM)? Well now you can!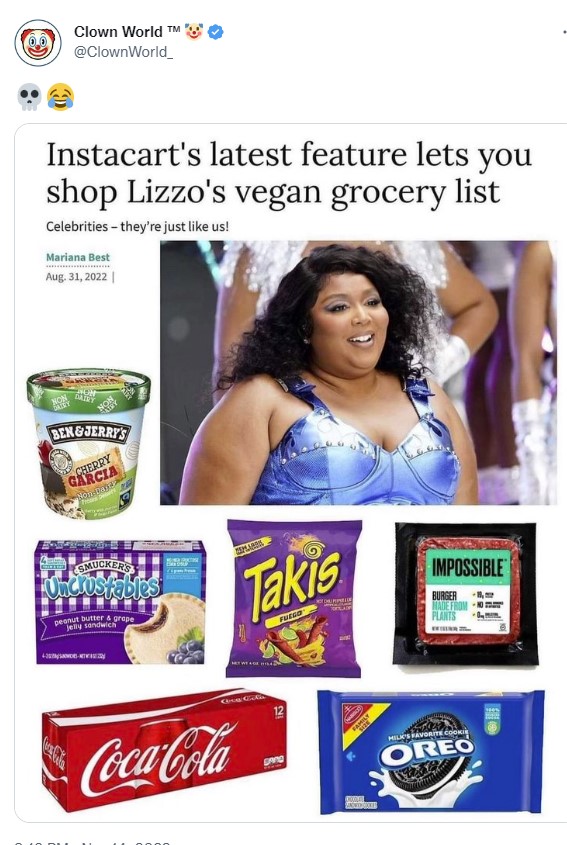 posted by Ace at
06:30 PM
|
Access Comments