« Saturday Gardening, Puttering and Adventure Thread, Nov. 19
|
Main
|
Weekend Hobby, Craft and Bodging Thread »
November 19, 2022
Ace of Spades Pet Thread, November 19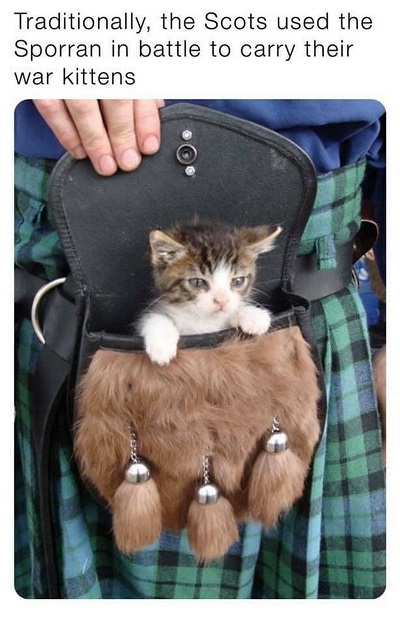 * * *
Good afternoon and welcome to the almost world famous Ace of Spades Pet Thread. Thanks for stopping by. Kick back and enjoy the world of animals.
Would you like a treat?
Let's pay some attention to the critters and leave the world of politics and current events outside today. That can wait.
* * *
This is Wendy. She saw you about to leave for work. Wanted to remind you that you shouldn't.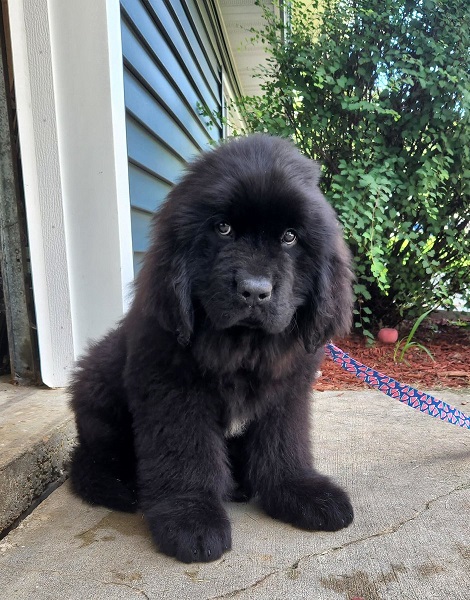 * * *
Thanksgiving for Pets
Thanksgiving foods that are safe for your pets according to the experts
Turkey - yes. Bones and skin - no.
Dogs, cat and humans getting along at Thanksgiving dinner
Meet The PetMorons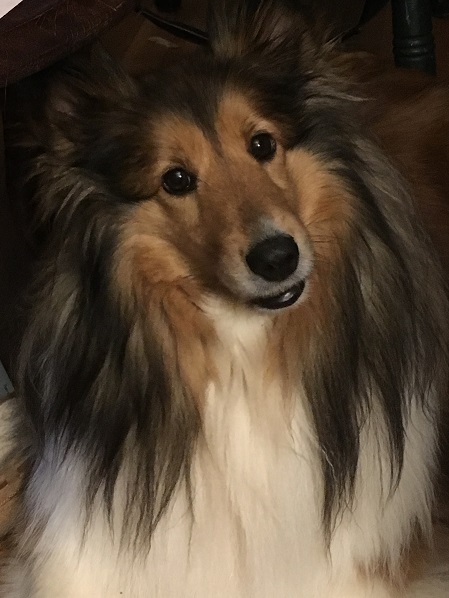 &&&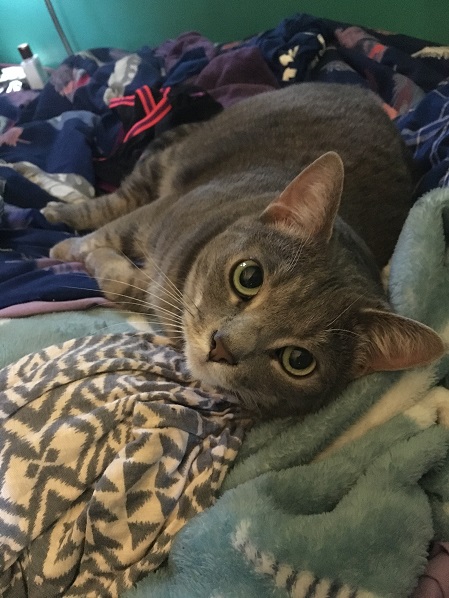 From Mary Ellen:
I wanted to share the most beautiful dog in the world--our Lexi, who passed over the Rainbow Bridge 4 years ago after a battle with kidney cancer. We got her as a puppy when the very active family (who lived in a huge house with a huge back yard) simply didn't want to take care of an active Shelty puppy. She was in a crate in the middle of a large, immaculate living room when we picked her up, and after we let her out into our rather more messy living room, she had the run of our house, our yard, and our hearts.

We miss her terribly, but I'm sure she is keeping our three cats who went before (Miko, Henley, and Saavik) company, and diligently walking the fenceline looking for squirrels.

Gracie was a stray who my sister picked up. Her druggie neighbor's daughter played really rough with her, and when my sister saw she said some strong words to the young girl, and basically took Gracie away from her. She had been hit by a car, tortured by a five year old, and some kind of raptor grabbed her and tried to fly away with her, leaving her temporarily paralyzed. After my sister nursed her back to health, we ended up with her due to my sister's asthma. She passed quietly one day, lying on my sweater, with a peaceful expression on her face.
What lovely animals. No wonder you miss Lexi and Gracie.
* * *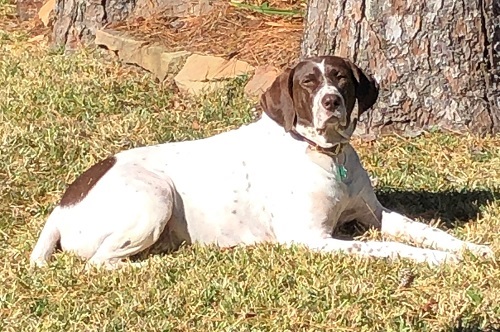 From Texas lurker:
This is Scooter in his favorite sunny spot in our yard. He almost nine in this picture taken about 9 months after we adopted him. He was a most unusual fellow for his breed, German Shorthair Pointer, first of all he was way, way to the right side of the size bell curve for GSPs at 110 pounds. But he was also a courageous dog. One night after dark we were out behind our back yard along a woods trail often used by mountain bikers. Nature came over me and I was in mid pee when I looked down the trail and saw two bright lights coming toward us, one five feet high, the other a couple feet below it, I yelled something like WTF. Scooter simply charged the unknown demon. When he got to the invader he realized it was a biker, likely someone he knew from our walks, stopped the fellow and demanded petting in return for passage. He is a year and a half gone now, and another adoptee lives with us, but I think of him almost daily. I have had dogs throughout my now long life, this old guy, adopted because we have had other GSPs and love them and at his age he was having a tough time finding a new home, really had a huge impact on me, I doubt I will ever forget him.
Of course you won't forget him.
* * *
Hi,

I comment occasionally as Surellin. I have an enormous 16-pound tabby named Tybalt (for "The Prince of Cats" in Romeo and Juliet) who is lovable but... somewhat sluggish when he's comfortable. Here's my open letter to Tybalt (or "Mr.. T," as he is usually known).

An open letter to Mr. T . . .

...who sleeps in my porch chair and pretends not to hear me when I tell him to get up.

Dear Cat,

This is my chair.

I earned the money to hire some Indonesian dude to make the chair, which was then sold to Kroger, where I picked it up. There are human financial and logistics issues far beyond your comprehension which allowed me to get my chair.

It didn't appear by magic for your comfort.

You are welcome to sleep in my chair when I am not using it. You are welcome to sit in my lap when I am using it. You are welcome to sleep in the cardboard box on the porch which I preserved for your use. You are welcome to sleep in the old dog bed in the garage, which I know you do because I've seen you. You are welcome to sleep in the new dog bed by the heater in the living room, which would be rated A+ by Comfy Cat Online, if there were such a thing. You are welcome to sprawl the width of the dining room table, which know you do because I've seen you.

There are many fine places where you can sleep.

But this is my chair.

Sincerely,

John
What are the odds that Mr. T will pay attention?
* * *
From conservative hippie:
Lost my Sam I Am in June. It's been a lonely summer. I always say, "You can never replace a pet - but your heart can expand to welcome another". My heart just stretched: Welcome Gemma, a 6 year old longhaired GS who has spent her life in and out of shelters. Just the most intelligent, grateful, lovely lady! Sam would approve.
I know Sam would approve, too.
* * *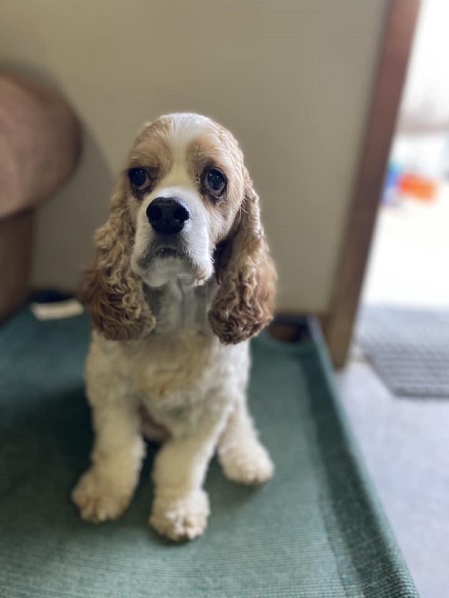 Long time lurker here. Can't start my day without checking the ONT. Also check in frequently during the day to see what else is new.

Love the pet thread so I thought I'd send a photo of my best buddy, our cocker spaniel Boomer, who is Lord of the Realm in this house.

Keep up the good work in spite of all travails!
Thanks for checking in and letting us get to know Boomer!
* * *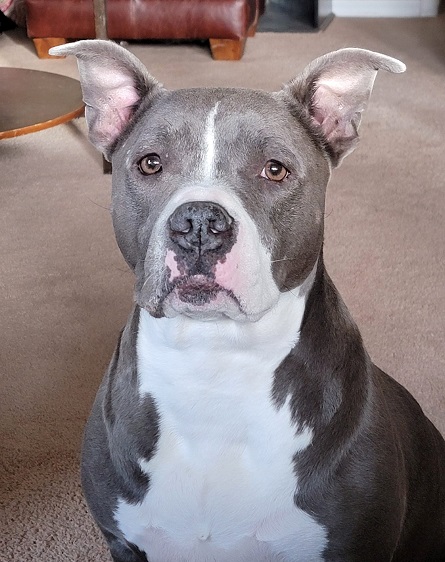 Some dog breeds are good at letting their 2-legs know when it's time for food or treat or etc. This is our Bluenose Pitt telling us "it is time to eat", even though it isn't yet. Despite the intense stare, she is a sweet girl who loves our grandkids (and anyone who will pet her).

"Lurker"

thank you
"Giving the Eye". Heh.
These pets all have their own personalities.
* * *
What a wonderful collection of pet stories and photos today. Thank you each and everyone for sharing your pets with us.
If you would like to send pet and/or animal stories, links, etc. for the Ace of Spades Pet Thread, the address is:

petmorons at protonmail dot com

Remember to include the nic by which you wish to be known when you comment at AoSHQ, or let us know if you want to remain a lurker.
Until next Saturday, have a great week!
* * *

If you start feeling nostalgic, here a link to last week's Pet Thread, the Ace of Spades Pet Thread, November 12 Some special PetMoron stories and photos there.
I closed the comments on this post so you wouldn't get banned for commenting on a week-old post, but don't try it anyway.

posted by K.T. at
03:28 PM
|
Access Comments