« Those Physicians Who Embrace Patently False And Obviously Ridiculous Theories? Their Critical Thinking Is Clearly Flawed And They Are Not Competent To Practice Medicine On Real People
|
Main
|
Food Thread: Coffee, Pecan Pie, And Shrimp! Maybe Not all together, But Still... »
November 13, 2022
First-World Problems...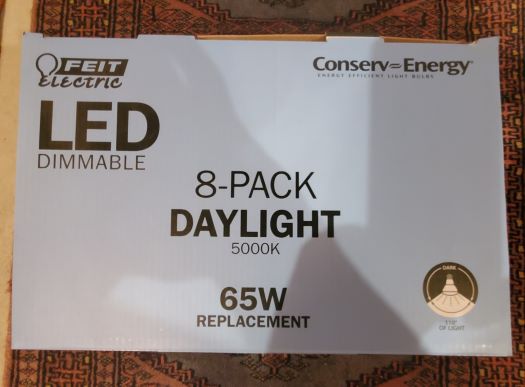 The first LED bulbs were crap. They didn't even come close to their rated life, they flickered, they buzzed, they weren't tremendously bright, and the color was...how do I say this politely?...shit.
At least they were better than the execrable compact fluorescent bulbs, which were possibly the worst thing ever created by the hand of Man.
Like many others, I bought a fair number of 100 watt incandescent bulbs just to have...mostly because I dislike being told what I can and cannot use in my home.
But those LED bulbs got much better and much less expensive and much more available. And as my conventional bulbs burn out I replace them with 2,700K or 3,000K LED bulbs, except when I buy a box of absolutely horrid-colored 5,000K bulbs by mistake because I wasn't paying attention.
Wow...what an ugly and unpleasant light! I have eight of those bulbs...what the hell am I going to do with them? Maybe put them over my work bench or in the storage end of the basement?
Or bring them to the range and shoot them?


posted by CBD at
02:00 PM
|
Access Comments