« Mid-Morning Art Thread
|
Main
|
Folks, Get Ready for a Shock: With His Last Action as a Senatorial Candidate, Evan McMullin Lied In a Preening, Narcissistic, Sanctimonious Way »
November 11, 2022
THE MORNING RANT – Republicans Have Got to Start Voting Early to Fight the Democrats' Voter Suppression
Conservative voters have got to let go of the principled insistence that we only vote on Election Day.
Sure, in our principled world there would only be voting on Election Day, in person, with voter ID, and sufficient paper ballots for every voter. However, we don't live in that world, so there is no sense trying to behave as we do. Our principles are allowing liberal election administrators in blue areas to suppress election day balloting when conservatives come out to vote.
In Maricopa County (Phoenix) Arizona, almost one third of voting machines were inoperable until mid-afternoon on Election Day. Voters were given alternatives such as waiting until the machines were fixed, or voting at another precinct, or surrendering their ballots to a third party who promised to properly cast it once the problem was resolved. How many people went to another precinct only to find another line and the same problem before giving up and not voting? How ever many it was, it is an almost statistical certainty that the number exceeded zero.
Running out of paper ballots is the most effective way of suppressing votes, and there were plenty of ballot shortages awaiting Republicans who waited to vote until Election Day.
In Luzerne County, PA "dozens of polling places ran out of printer paper for ballots. Voters had to be turned away."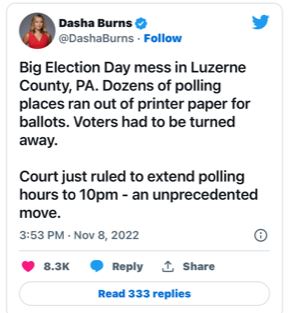 A Kingwood, TX polling place ran out of paper to print ballots. "
When supplies dwindled they asked for more. It never came."
Suffice it to say there was a number of voters greater than zero in Kingwood who tried to vote on Election Day but didn't get their ballots cast.
Harris County, Texas (Houston) was pretty much open and intentional about its efforts to suppress election day ballots in conservative precincts.
"At least 12 locations in Harris County are out of paper needed to print ballots. Some have been waiting for hours for paper and turning voters away."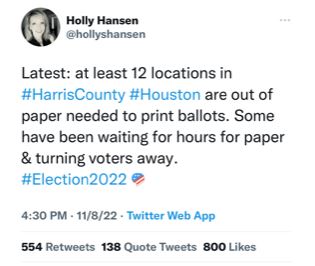 We know they will do this to us, so why do we stand on our principles and allow our votes to be suppressed?
I started voting in the 1980s in heavily-Democrat Travis County, Texas (Austin). There was no early voting then, and it was simply understood that the election administrator would do everything she possibly could to suppress votes in the Republican precincts of northwest Travis County.
It was such a relief when early, in-person voting came along, allowing me to defeat the efforts to keep me from voting. I wrote about the ballot suppression practices of Travis County in this previous Ace of Spades post.
The way the vote suppression in Travis County worked was that the county elections administrator was only required to provide enough ballots to each precinct in accordance with historical countywide turnout. So, if countywide turnout averaged 50%, a Republican precinct that averaged 70% turnout would only get enough ballots for 50% of its registered voters.

Meanwhile, a South Austin precinct that only averaged 30% turnout would have an abundance of excess ballots.

On election day, the TV stations would consistently report on Northwest Travis County precincts running out of ballots due to "unexpectedly" heavy turnout in those precincts. Those voters still in line would have to wait hours into the night until some more ballots arrived. A great many simply gave up and didn't vote.

Another technique that was employed to suppress Republican votes was to provide too few voting booths. I recall one time in the late '80s waiting hours in line to vote, because there were only four voting booths at my precinct. Watching the news that evening, a local TV journalist reported on light voter turnout while standing in front of a Democrat-leaning polling site with about a dozen voting booths in the background.

This Republican voter suppression was routinely discussed on at least one morning drive-time radio show at the time, and plenty of people wrote letters to the editor about it, but it persisted until early voting and electronic ballots came along, making it impossible to run out of ballots any longer.
If you vote before Election Day (preferably in person, where you never relinquish control of your ballot until it goes in the ballot box) your vote will count just as much as if you vote on Election Day. But if you wait until Election Day, you might get sick, you might give up after waiting for hours to vote, you might find that the precinct is out of ballots and you have an indefinite wait in front of you, you might find that the voting machine is inoperable, etc. And even if you will stick it out no matter what, a great many people won't. The lost votes of those who won't stick it out are lost unnecessarily.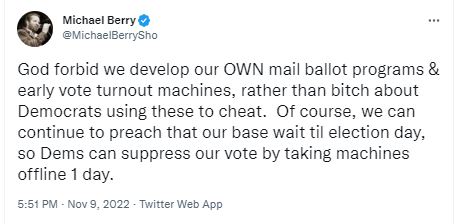 There is nothing principled about giving Democrats an opportunity to suppress your vote. Let's "beat the cheat" by making early voting a conservative counter-measure.
*****
Songs of the Season
It's Veteran's Day! Profound gratitude to all of you who have served.
Here's Dolly Parton performing "When Johnny Comes Marching Home" in front of an audience that includes wounded warriors from Walter Reed Hospital.
Have a blessed and appreciative Veteran's Day.
(buck.throckmorton at protonmail dot com)


posted by Buck Throckmorton at
11:00 AM
|
Access Comments