« The Morning Rant: Minimalist Edition
|
Main
|
Turnout Numbers for Democrats Indicate "Possible Worst Case Scenario for Democrats"?
"A Good Time for a Freak-Out?" "Armageddon?" »
November 08, 2022
Gestapo DOJ Sends Election Meddlers to 24 States; Ron DeSantis Tells Them They Are Forbidden to Enter State Polling Places
These tyrants must be made to pay.
Take their power away.
Take their funding away.
And in 2025, take their jobs away.
The Justice Department will send monitors to 24 states in an effort to ensure compliance with federal voting rights laws in Tuesday's elections.

The action, which occurs regularly on Election Day, comes as civil rights groups and the federal government have raised alarm over potential voter intimidation at some polling places and ballot boxes.

The 2022 election is playing out against the backdrop of persistent falsehoods made by former President Donald Trump and his Republican allies about losing the 2020 vote, a relentless campaign that will have implications as people cast their ballots.

Democrats, on the other hand, have expressed concerns over the potential for voter suppression.

The 64 jurisdictions where federal monitors -- typically lawyers with the department's civil rights division and U.S. attorney's offices across the United States -- are going include Maricopa County, Arizona, where there have been reports of people watching ballot boxes, sometimes armed or wearing ballistic vests.
Ballot boxes are not polling places, and ballistic vests are not weapons.
Brendon Leslie @BrendonLeslie

BREAKING: Florida Department of State sent a letter to Biden's DOJ telling them their federal election monitors are banned from going inside polling places

The Dept says it would be counter productive and undermine confidence in the election
Missouri's Secretary of State sent a similar letter.
Meanwhile, there are reports that Democrats are ejecting legal, credentialed poll watchers from polling places: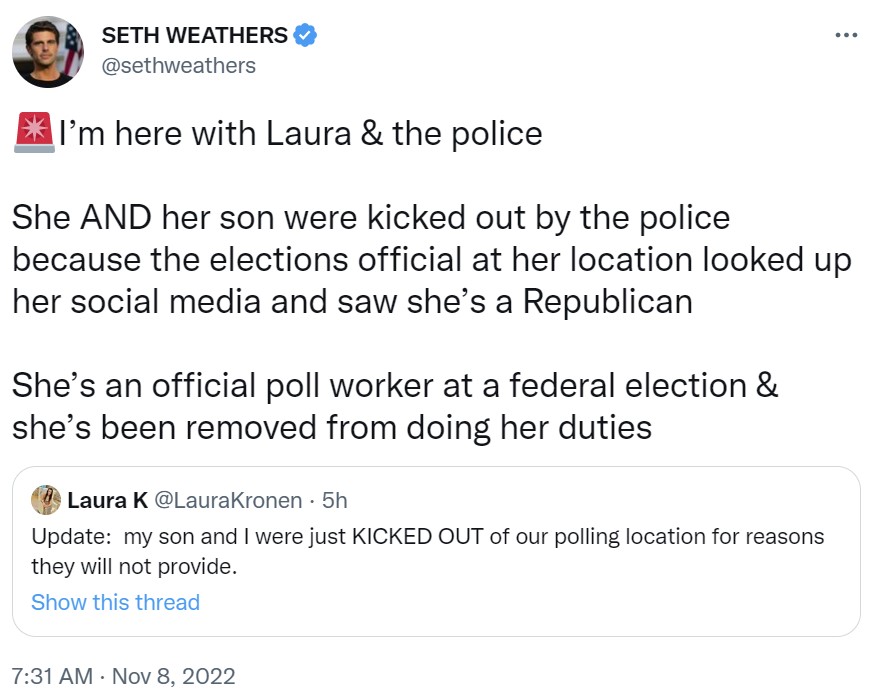 Is that on the level? Well, last month she tweeted out her certificates of graduation from a poll watching course, which credentialed her to be a poll watcher. Did she start a "hoax" a month ago? Is this The Long Con in action?
Seems unlikely.

posted by Ace at
12:02 PM
|
Access Comments