« Saturday Morning Coffee Break & Prayer Revival
|
Main
|
Saturday Gardening, Puttering and Adventure Thread, Nov. 12 »
November 12, 2022
Who gets to choose the experts?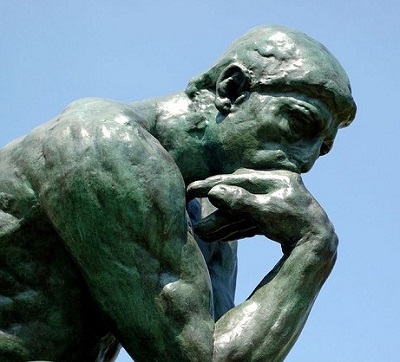 In January 2007, a bronze statue by Auguste Rodin (1840-1917), the Thinker, disappeared from the sculpture garden of the Singer Museum in Laren. Shortly after the theft, the bronze was retrieved, albeit heavily damaged.
More than 70 "Thinkers" were cast, in 3 different sizes. Maybe we need more thinkers today.
* * * * *
Experts in Health Care
When I was working in the pharmaceutical industry, many member states of the EU decided to cooperate in the drug approval process, to cut down on duplication of effort and expense. One of the features they set up was a list of "agreed-upon experts" (experts agréés). These were generally people with extensive academic backgrounds and many publications, though they also often had some real-world experience as well. Individuals could apply to become "agreed-upon experts". Often, a pharmaceutical company would help prepare an application for an expert they knew.
These people were relied upon when they wrote "expert opinions" which included evaluation of certain data (related to their areas of expertise) which was being submitted for approval of a pharmaceutical product.
I don't know if experts agréés are still a feature of pharmaceutical regulation in the EU. But I have some questions about how people in other fields become "agreed-upon experts"?
On a related note, has any responsible group publicly evaluated whether Anthony Fauci was the person most suited for his position during all the decades he has filled it? He gives opinions on pharmaceuticals to large populations, among other things. It's not like he has never flubbed up during his career. Could he have qualified as an expert agréé in the EU's pharmaceutical regulatory scheme midway through his career?
Glenn Reynolds reminded us in August that Fauci and other health 'experts' messed up the response to monkeypox just as they did the response to COVID, Ebola and AIDS.
Once, I believed that the world is run by experts who know what to do. I believed that the best answer to a crisis is to listen to the experts and do what they say because they know best and can be trusted to have our interests at heart.

Yeah, I was an idiot. In my defense, I was young. Now I know better. . .
And of course, the CDC's performance during the 1980s AIDS outbreak, when Fauci first became famous, was abysmal. Fauci in particular pushed the false notion that run-of-the-mill heterosexuals were at risk for AIDS in the same fashion as gays and intravenous-drug users, which wasn't true. It both spread unnecessary fear and diluted efforts to aid at-risk populations. There's not much of a learning curve here.

We'd like to live in a world where we can trust the experts, both to know what to do and to promote policies that will help us. But we don't live in that world. Maybe we need better experts. The ones we have don't seem especially expert at all.
There has been a lot of incompetence throughout the CDC, FDA, and related agencies, but it was Fauci who came to think that he represented "science" and became a bobblehead. Who let him come to think that way?
* * * * *
Experts in Education
Ed Morrissey rips up The New Yorker's mourning session over the success of parental activism in school board contests in the recent election. There are some real details about how long the fight against Critical Race Theory indoctrination has been going on.
This is a fundamental area where advances have been made and where it is crucial not to let up. And some parents may even want to consider home schooling.
I ran across a story this week that is even more fundamental: how children are being taught (or not being taught) to read. Some of the dismal educational outcomes we have had lately must be related to the failure of people to challenge "experts" who had already been refuted by science. I remember my mother telling me that educators had been working on removing teaching of phonics to young readers even when I was learning to read. She and my elementary school teachers knew this was dumb even back then:
There's an idea about how children learn to read that's held sway in schools for more than a generation -- even though it was proven wrong by cognitive scientists decades ago. Teaching methods based on this idea can make it harder for children to learn how to read. In this podcast, host Emily Hanford investigates the influential authors who promote this idea and the company that sells their work. It's an exposé of how educators came to believe in something that isn't true and are now reckoning with the consequences -- children harmed, money wasted, an education system upended.
One heartbreaking aspect of the podcast (I listened to a little of it) is that parents did not talk to administrators even after they had figured out what was wrong and had taken steps to help their own kids, because they didn't want to be "problem parents". This confuses "nice" with "kind".
And then there is this reaction:
* * * * *
Experts in Critical Social Justice
This week, as the US prepares for the midterm elections, the progressive left is going all out to bring home the message that this is a battle for the soul of the country. Former president Barack Obama implored voters to cast ballots for the Democratic Party because, according to him: "the only way to save democracy is if we fight for it." How exactly are the Democrats fighting for democracy?By inviting adult men who identify as little girls to town halls at the White House.

Being a girl is not a fetish. Yet you wouldn't know that, based on the rise of adult men who have gone one step further from identifying as women and have started to build careers by identifying into girlhood itself. Society has gotten used to girlhood being commodified through pornography, where "barely legal" remains a highly popular genre, and Halloween costumes sexualise the aesthetics of girlhood. Something that few could have anticipated has been that through the rise of "gender identity" policies, men who identify as girls would be celebrated by the highest spheres of political power. This is a dystopian step that shows how far removed left-wing political parties have become from reality.
On 24 October, US President Joe Biden sat down with social media influencer Dylan Mulvaney to discuss gender identity policies during a presidential forum, held by left-wing outlet NowThis. The purpose of the forum was to host "intimate conversations between Biden and young change-makers focused on finding solutions to some of the most critical issues facing their generation". The conversation between Biden and Mulvaney focused on the protection of "gender-affirming care", which consists of medical treatments and intervention to try to physically transform people into the opposite sex.
Dylan Mulvaney does not seem to be taking hormones, nor has he had "gender-affirming" surgery. Why was he chosen for this interview?
What exactly does it mean to "identify as a girl"? According to Mulvaney, being a girl is an exciting adventure through endless outfit changes, playing with make-up and bouncing up and down looking ridiculous. "Days of Girlhood" represents a pantomime of what men envision girlhood to be like.

Wearing baby pink glitter eyeshadow and a pink dress over a pink background, Mulvaney introduced the "Days of Girlhood" by summarising what girlhood meant to him: "Day 1 of being a girl and I have already cried 3 times. I wrote a scathing email that I did not send. I ordered dresses online that I couldn't afford. And then, when someone asked me how I was, I said 'I'm fine', when I wasn't fine. How did I do, ladies? Girlpower!" Mulvaney announced this in his TikTok video whilst nervously putting on lip gloss, playing on the trope that women are perpetually hungry for external validation.
Will "influencers" be our future experts?
Meanwhile, in the schools, can we refrain from suggesting that 12 year old girls who are uncertain if they are transgender should bunk with boys? Or do the experts say they must?
*
On the favorite Anti-capitalist Antiracist Expert of the billionaire class:
Glen Loury can't take much more of Ibram X. Kendi. John McWhorter reacts.
Then The Woke Temple reacts:
Of course, criticizing ANY scholarship in the Grievance Studies is tricky business. Is this how experts are chosen in these fields?
Experts in Economics
About 4 months ago, in connection with a survey, Hillsdale College wrote:
A recent Time magazine story featured the headline, "The Free Market is Dead: What Will Replace It?"

This is, of course, an exaggeration, but it makes clear the far-Left's goal -- nothing less than a transformation of the world economy based on a rejection of economist Adam Smith's "invisible hand."

As the author writes, "We are on the cusp of a new era of broad-based prosperity in which our leaders are poised to more actively manage the American market."

Today's advocates of a "managed market" may call it by a new name -- "The Great Reset" -- but it is premised on an old and harmful idea.
What utopian ideologies like this one have in common is a misplaced faith in the rule of so-called experts and a corresponding disregard for the people's right to rule themselves. Taken to their logical conclusion, such ideologies can end only in tyranny. . .
(Emphasis mine.)
Who gets to choose the economic experts? Who will choose the future experts?
How have the ones we now have been doing lately?
* * * * *
Weekend Irony
* * * * *
Music
In Thursday's Midnight Sonata for Elephant Cafe, Ace included not only Beethoven's Moonlight Sonata played for an old elephant, but also a tweet which included a link to a Fritz Kreisler arrangement of the Rachmaninoff: Preghiera (Piano Concerto No.2 2nd movement), for piano and violin. For some reason, I got a different performance at first, which was nice, even though not recorded in a studio. A different arrangement.
And then this trio came up. This is a piano trio version of Rachmaninov's/Kreisler's "Preghiera" by Ernst Ueckermann. Reminds me of the Kreisler trios I heard in our living room growing up. Fritz Kreisler did a lot of great arrangements for strings. And some compositions, too. My Mom played several of them.
Do you prefer the duet or the trio?
* * * * *
Hope you have something nice planned for this weekend.
This is the Thread before the Gardening Thread.
Serving your mid-day open thread needs
* * * * *
Last week's thread, the Thread before the Gardening Thread, November 5 - Flags, surveying, California news and history.
Comments are closed so you won't ban yourself by trying to comment on a week-old thread. But don't try it anyway.


posted by K.T. at
11:09 AM
|
Access Comments