« True Conservative Liz Cheney: Nancy Pelosi is a "Tremendous Leader;" A Republican House Would Give "Power and Authority to the Most Radical Members of the Caucus" Which Would be a "Bad Thing for the Country"
|
Main
|
Is This Something? »
November 03, 2022
Charlie Crist Is Conceding Humiliating, Cataclysmic Defeat and Now Only Looking Past the Election to His Next Grifting Opportunity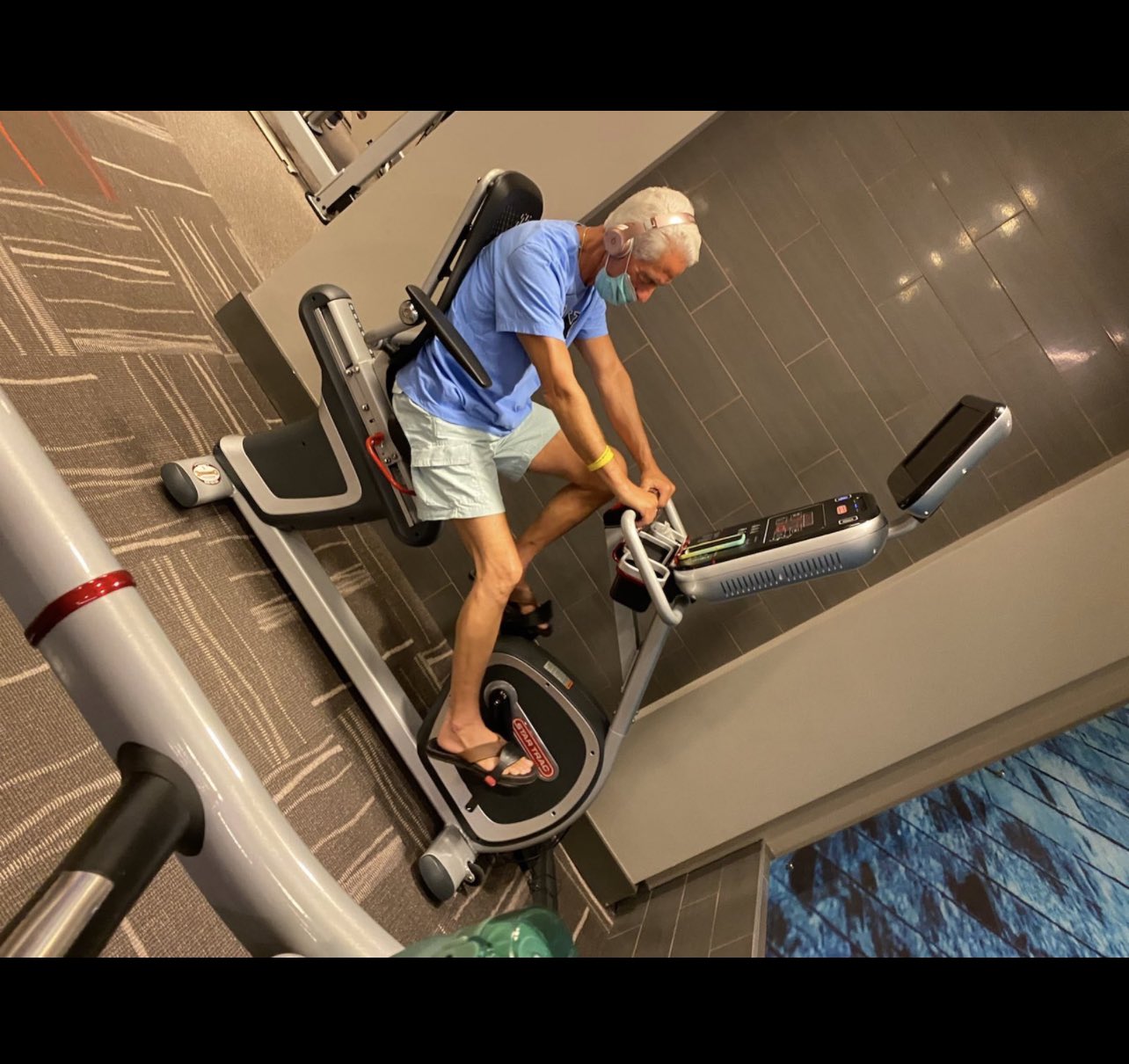 A sad and umber man alone in a gym wears a mask...
and yet he's wearing his mask "Democrat Style," with his nose out,
the way "The Science (TM)" teaches us is Peak Effectiveness
"Tree Hugging Sister" at Hot Air reports that Charlie Crist is talking up making children (and adults) wear masks again because of a scary new variant that's got Karen On Edge.
He also wants to impose vaccine mandates. The Science (TM) demands it!
So, the Democratic candidate for Florida governor -- the unctuous former governor and congressman Charlie Crist -- decided yesterday that picking a rabid teachers' union president as his running mate wasn't enough of a poison pill for his chances. Crist figured he'd throw in a little lockdown/masking/booster razzle-dazzle for the Karen crowd as well. Because, you know, SCIENCE (TM) and New Variant (TM).
Mandates for mask and vaccines -- while Charlie Crist goes maskless, in a room full of maskless supporters.
Boy that new variant must be *super* scary, but stealth scary.
Like a ninja. A ninja created in a Chinese bat-lab with funding from Anthony Fauci.
Christina Pushaw @ChristinaPushaw

Notice he says this unmasked to a room full of unmasked supporters. In Florida they're free to wear masks if they want, but Democrat politicians don't want to wear masks themselves. They just want to force service workers and school children to cover their faces.
So I can explain this, easily: He knows he's going to lose.
He's was already pitching himself as the out-and-proud candidate of endless masking, mandates, and lockdowns -- his running mate is a teachers union cow who wants people locked down forever, for crying out loud -- and now he's upping the ante even further.
Why?
Well, simple: For the grift. If you're vaguely acceptable to a lot of people, do you know what that gets you, in terms of donations?
Jack. Freakin'. Squat!
No, to get the grift, you need a group of people to really, really like you. It doesn't matter if you make a lot of people dislike you -- people can't not donate to you even harder than they were already planning to not donate to you, after all.
But you need at least 10,000 people, preferably 100,000, to regard you as an Orange Champion Unafraid to Say the Hard Truths. You want to be someone who grasps the central truth of the teachers' unions' endless demands to inflict positive harm on children:
Teachers hate children and want them to be masked & harassed forever.
And Charlie Crist is now setting himself up as the head of, I don't know, the "Science Is Good" SuperPAC.
He doesn't need everyone to like him. He just needs 10,000-100,000 Covid-Hardened Karens to really like him.
So he is narrowing his appeal because he's giving up the election and looking only to his post-election grift.
I'm not just making that up. I have a source -- noted Thinkfluencer and Coblogger Emiritus John Ekdahl of the noted John Ekdahl Press Office.
He's been compiling figures from the Florida's Secretary of State's website (I think), and he wrote me about the size of the usual Democrat advantage in early voting this year.
So how big is the usual Democrat advantage in early voting?
Not big at all.
Republicans now have the advantage in early voting, and always win in election-day voting, so this presents challenges for Pencil-Neck Thing.

GOP requested roughly 1.5 million ballots. Dems nearly 2 million. Half of Dems haven't returned their ballots. GOP has returned roughly 55%. That's just vote-by-mail.

In early voting, GOP is outvoting Dem by a nearly 2-to-1 margin. And there's still half a week to go.

And, of course, election day is even more Republican.

This is extinction-level event type stuff.

Republicans typically trail Democrats in early+mail ballots headed into election day.

In 2018, they trailed by 1%. In 2020, it was 1.5%. Today, with a few days still left of early voting, Republicans LEAD by 6%.

This is ballots returned by party, not actual vote tallies, remember. Still is a good indicator.
In other words, the people returning the ballots are identified by party, but no one has looked inside the ballots to see how they voted.
But we know for a fact that very few Republicans will be voting Democrat, meanwhile, a fair number of Democrats will be voting Republicans. Florida Democrat office-holders have broke from their party to endorse DeSantis, for example.
Over half of Dem vote-by-mail ballots haven't been returned, and that's where they put all their eggs.

That was yesterday's report.
Today's report is even better for the GOP.
With today's newest tally, the Republican early vote advantage has increased from 6% to 7.5%.

They're 7.5 points more republican than they were in 2020 for early votes, and they carried the state by 3.5 then. It's tracking to an 11 point victory right now, and there are still 3 days to go in early voting.

Also, we think Indys are going to break much more republican than they did in 2020, and we can't account for that right now.
His numbers are here, and I must warn you against questioning them: That would be pre-election denialism, and I won't stand for that.

Unless you're a Democrat, of course. Democrats are always allowed to challenge vote tallies, obviously.

Update:
Rich Baris "The People's Pundit" @Peoples_Pundit

18m

"This is not what we expected," said FL26 DEM candidate Christine Alexandria Olivio, said. "This is worse than what we expected. We're getting our butts kicked right now."
You had me at "this is worse than what we expected."
Thanks to That Prometheus Guy.

posted by Ace at
03:32 PM
|
Access Comments