« Saturday Morning Coffee Break & Prayer Revival
|
Main
|
Saturday Gardening, Puttering and Adventure Thread, November 5 »
November 05, 2022
Thread before the Gardening Thread, November 5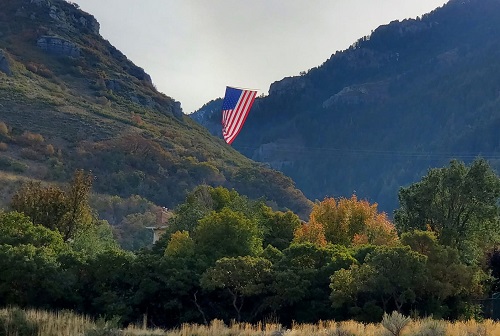 "The Major" is the largest free-flying flag and is hung each year in Coldwater Canyon in North Ogden for nearly two weeks at the beginning of November. It honors the late mayor of North Ogden who was killed while serving his country.

Hiking routes to this flag (and links to hiking routes to other flags flown over other canyons) are described at the link above. Looks like it has been a dry summer in the mountains.
There is still a little open land in the valley. This was not too many generations ago: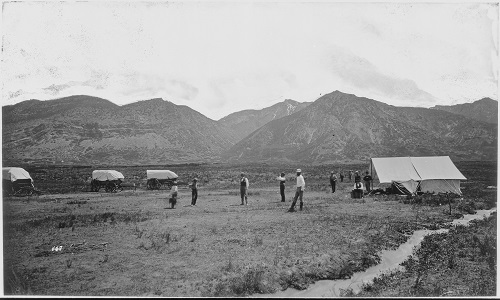 First Camp of the Survey of Ogden Utah 1874
National Archives
* * * * *
It appears that George Washington did not have a crew like the one above when he was surveying land.
In the Northern Neck of Virginia, the extensive region between the Rappahannock and Potomac Rivers, land matters were governed by the Proprietor, Lord Fairfax, and his Virginia representative and first cousin, William Fairfax, through the Northern Neck Proprietary Office. In 1649 King Charles II of England had deeded five million acres lying between the rivers to a group of loyal supporters, including the Fairfax family. Through death and marriage the land was consolidated under one man, Thomas, Lord Fairfax, who established his seat at Belvoir, approximately four miles upstream from Mount Vernon. Later, he moved west of the Blue Ridge Mountains to Greenway Court in Frederick (now Clarke) County, Virginia.

Prospective settlers in the Northern Neck were required to obtain a survey warrant from the Northern Neck Proprietary Office for a set amount of acreage in a specific location. . .
. . . Because they were responsible for laying out the land claims, surveyors had a unique role in Virginia society. Their appointments guaranteed a certain social prominence, since nearly all parties interested in gaining title to an area of land were required to deal with the surveyor. Surveyors were also among the best-educated Virginians and were often in the best position to purchase land for themselves. It was not unusual for surveyors to acquire large estates from the many opportunities they had to patent land in their own names. Additionally, their intimate knowledge of the land and official capacity as representatives of large land holders such as the Fairfaxes made their participation politically and practically essential to large land companies such as the Loyal Land Company of Virginia, the Ohio Company, and the Mississippi Land Company.

In July 1749, at seventeen years of age and largely through the Fairfax influence that he had cultivated, Washington secured an appointment as county surveyor for the newly created frontier county of Culpeper, where he served until November 1750. He then continued to work in the Northern Neck with the permission of the Fairfax family from November 1750 to November 1752. During his three years on the frontier he established a reputation for fairness, honesty, and dependability, while earning a very decent living. Philander Chase, the current editor of the Washington Papers at the University of Virginia, writes that frontier surveyors "could earn an annual cash income that was exceeded only by the colony's finest trial lawyers."
He was seventeen years old when he began surveying.
George Washington Memorial Parkway near Belle Haven
The French and Indian War

Washington's decisive involvement in the French and Indian War, in which he served as lieutenant colonel of the newly formed Virginia Regiment, was due in part to the backcountry knowledge and map-making skills he had gained from surveying. In 1753, one year before Lieutenant Governor Dinwiddie called for additional troops under Washington's command to defend Virginia's Ohio Valley frontier, Washington was chosen to deliver an ultimatum to the French at Fort Le Boeuf (site of present-day Waterford, Pennsylvania), insisting that they withdraw from the valley. When his report of this venture, The Journal of Major George Washington, was printed in Williamsburg and then reprinted in London, it catapulted him onto the world stage.

Although an engraved map was issued with the London edition of his journal, Washington prepared a sketch map of his journey to accompany the original publication. There are three known manuscript versions of this historically important map, two housed in the British Public Record Office and one in a private collection. Although older published maps were available to British colonial interests, this sketch map alone represents the state of geographical knowledge at the outbreak of the war. Together with Washington's report, the map dramatically illustrates the French threat in the Ohio Valley. It also contains one of the first references to the construction of a strategic fort at the junction of the Monongahela and Allegheny Rivers, the site of present-day Pittsburgh. Washington's role in beginning the French and Indian War seems to have been inescapable. He not only volunteered to deliver the message to the French authorities but produced a propaganda map highlighting the French threat and ambushed a French detachment in the war's first skirmish in 1754.
Keeping track of Gavin Newsom
Imagine a male Nancy Pelosi in the White House! As rumblings of discontent with Biden and Harris increase among Democrats and their favored press, who else is looking toward the White House in '24?
Since I am in California, I have sort of been trying to keep track of the new things Newsom has been doing as he prepares for a presidential run. This seems to be the latest. There are some other California news briefs at the link, too.
Gov. Gavin Newsom's surprise Thursday announcement -- that he's withholding $1 billion in state homelessness funding until local governments and service providers come up with more ambitious plans to reduce the number of people living on the streets -- seems to serve as an implicit reminder to Californians that he isn't the only one responsible for the state's ballooning homeless population, which grew by at least 22,500 during the pandemic.

Newsom said the local plans would reduce street homelessness by just 2% statewide by 2024 -- a figure that is "simply unacceptable." He also slammed some regions for estimating their homeless populations would grow by double digits in four years, and said he plans to meet with local leaders in mid-November to review the state's approach to homelessness and identify more effective strategies.
. . in an interview with the Los Angeles Times: "Deliver damn results. . . . It's a crisis. Act like it. Everybody step up. I'm not the mayor. You want me to come in? I'll do the job. I'll do it. Happily. I've been going into cities cleaning up encampments. Has anyone gotten the hint? If someone did that to me when I was mayor, I'd be like, 'OK, I got it.'" Having heard the hint loud and clear, many of the mayors of California's largest cities are pushing back. . .
Maybe the mayors should do what Newsom did when he was Mayor of San Francisco: give the homeless bus tickets out of the city!
That would be easier than dealing with problems like this:
The mayors also argued that their ability to address homelessness is constrained by a lack of ongoing state funding. Some have been calling on the state for years to create a multibillion-dollar permanent funding stream for homelessness, and have thrown their support behind Proposition 27 -- a ballot measure that would legalize online sports betting and direct a sizable portion of tax revenue to homelessness and mental health services -- for that reason. Newsom announced last week that he opposes Prop. 27.

Graham Knaus, executive director of the California State Association of Counties, also called on the state to create a permanent funding stream to address homelessness. California's 58 counties are tasked with implementing Newsom's ambitious and controversial plan to force more people with severe mental illness into housing and treatment -- even as questions abound as to whether the state has enough housing for the program to work.

. . . Liccardo told Manuela that California's big city mayors plan to ask the state for more land on which to build homeless housing, to streamline the construction process and protect projects from lawsuits, and exempt more developments from CEQA -- the state's marquee and much-bemoaned environmental review law.
Government creates problems, then it has to fix them with more government!
Weekend Story Time
This week, I ran across some actual adult people on social media who actually believe that if Republicans take over Congress in the upcoming election, the country is in dire danger of the rapid spread of authoritarian fascism.
So I thought it might be interesting to imagine invading fascist "Maga" Republicans in Congress leaving Establishment Republicans to occupy Blue States --- sort of like the island in the story below, governed by the world's only feudal lord, faced occupation by Nazi Germany. Some aristocrats were among the German officers, so they related to the ruler of the island on an aristocratic level. Luckily.
Some of the aristocratic establishment Republicans could certainly relate politely with the aristocratic governors of Blue States while maintaining firm control over them. Right?
Dame Sibyl Hathaway had 275 Nazi prisoners on her hands and knew exactly what she wanted to do with them.

It was May 1945. Five years earlier, Germany had invaded Hathaway's home in the British Channel Islands, a tiny isle of 400 called Sark. Despite having no modern defense network or fancy gun emplacements--it didn't even have electricity--Sark had proven itself to be uniquely prepared for its unwelcome visitors. The island had an advantage that the rest of Europe had discarded centuries earlier: feudalism.

The Isle of Sark was the western world's last fief. For 400 years, it had faithfully followed 16th century Norman law, and 61-year-old Dame Sibyl (as her subjects called her) served as their feudal overlord. She once defended the institution of feudalism by saying, "What is good enough for William the Conqueror is good enough for us."
Blue State residents should do fine under Maga occupation with no electricity, too. After all, they are staunch environmentalists!
Now, just one week after Hitler had killed himself, Dame Sibyl walked down a steep, dusty path toward Sark's main harbor to meet the British "liberation." Around her, the island's meadows appeared to bloom in celebration.

The Dame greeted a group of British soldiers and led them to the Nazi's island headquarters to discuss the terms of surrender. As Lieutenant Colonel K. Allen questioned the German Kommandant, Dame Sibyl translated everything into German. When Allen finished his interrogation, he turned to the Dame.

"I can't leave any troops here because so far only a token force has been landed in Guernsey," Allen explained, referring to the island seven miles west of Sark. He was hesitant to continue. "Would you mind being left for a few days, or would you prefer to go to Guernsey with me?"

Dame Sybil fought the urge to roll her eyes. She had been fending off the Nazis without any help from England since the war started. Why would she need help now? "As I have been left for nearly five years," she said, "I can stand a few more days."
With that, the liberation team departed and Dame Sybil regained control over not just her island, but a new legion of German vassals.

You could argue that she had been controlling them the whole time.
She put the German prisoners to work, clearing land mines and such! For more than just a few days. Interesting reading. A shrewd and tough woman. She lost a son in the war, and her husband was removed from the island partway through the occupation. Her island fared better than nearby islands.
Music
How to dance a minuet. From Mount Vernon. One couple dancing alone, while others watch.
The Virginia Reel is livelier.
* * * * *
Hope you have something nice planned for this weekend.
This is the Thread before the Gardening Thread.
Serving your mid-day open thread needs
* * * * *
Last week's thread, October 29, Training clinical psychologists to be social justice activists and kids to be paranoid wokesters
Comments are closed so you won't ban yourself by trying to comment on a week-old thread. But don't try it anyway.


posted by K.T. at
11:03 AM
|
Access Comments