« The Country Only Has 25 Days' Worth of Stored Diesel Fuel, the Lowest Level Since 2008
|
Main
|
Halloween Weekend Cafe »
October 28, 2022
Quick Hits
This is all just so incredibly delicious. Shitlibs having a cataclysmic psychotic meltdown because techno-messiah Elon Musk, the bringer of 30+ years of liberal dreams, got tired of their bullshit.
Posted by: CppThis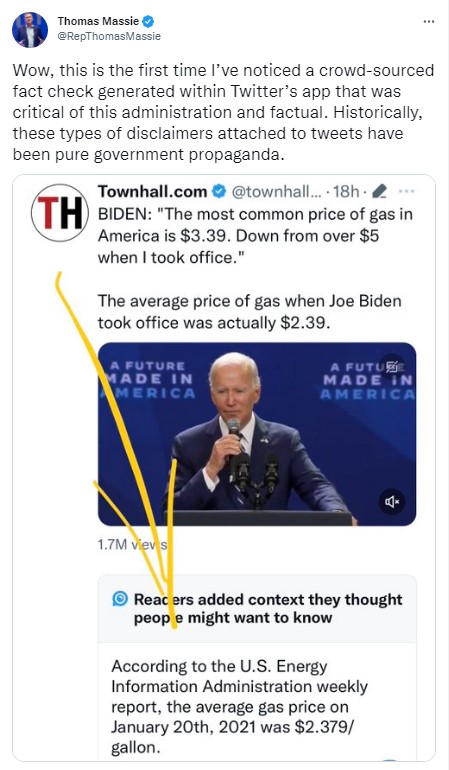 Pretty good so far. No wonder they're terrified.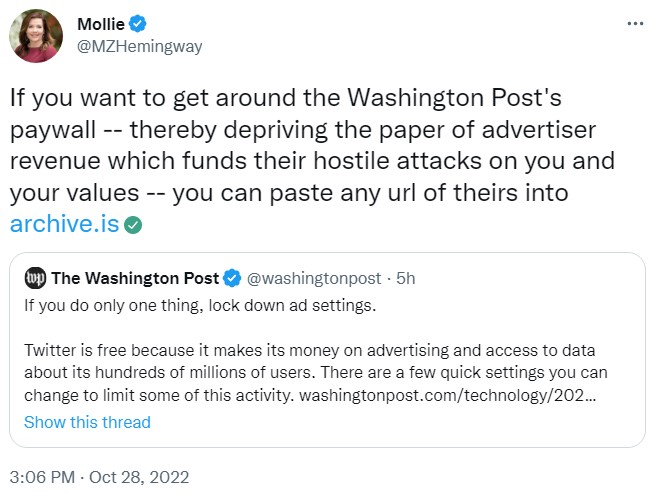 REDACTED Lizzy @StarChamberMaid

Also works for NYT articles, Atlantic, New Yorker and many others!

Scooter checks in to flack for Democrats because he's a Real Republican you guys: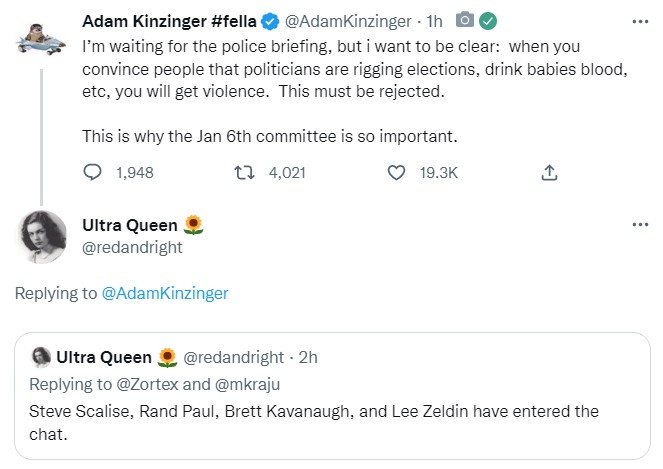 Democrats scramble to spend millions in ads in Washington state, to avoid "Senate shock" of Patty Murray loss.
Democrats are adding millions in television spending to boost Sen. Patty Murray, a sign that the party is employing a take-no-chances approach even in solidly blue Washington state.

The 30-year veteran of the Senate is facing a challenge from Republican Tiffany Smiley, a political newcomer whose campaign has seized on quality-of-life issues, from urban crime and homelessness to inflation, to tarnish Murray. In recent public polling, Smiley has closed a sizable gap since this summer, when Murray led by 18 percentage points in an 18-candidate, all-party primary.

A Seattle Times poll released last week showed Murray slipping slightly, from 51 percent in a July survey to 49 percent now, with Smiley's support increasing from 33 percent this summer to 41 percent now. The poll also finds that Smiley has improved with independents in the state, capturing 50 percent of their support to Murray's 34 percent.


The national political environment currently favors Republicans in the midterms, and the fact that Democrats are spending to shore up an incumbent in a solidly blue state is not a good sign for them.

Poll: GOP getting 40% of the Hispanic vote, 21% of the black vote.
Also, undecided voters are breaking heavily towards the GOP. From USAToday:
Democratic congressional candidates have held their support since the summer, ticking up 1 percentage point, but most of the 16% of voters who were undecided then have now made up their minds and moved to the GOP. As early voting is opening in many states, just 6% remain undecided.
To make matters worse for Democrats, it's not just that blacks are voting less for Democrats -- it's that they might not even vote in high numbers at all.
Politico:
Black voters form the backbone of the Democratic electorate, voting for Democrats at higher rates than any other racial group. But interviews with more than a dozen elected officials, strategists and activists in key swing states, most of them Black, suggest Democrats are increasingly concerned that Black turnout could sag this November -- and with it, Democrats' electoral chances.

If Black turnout were to fall this year, it would seriously complicate -- if not eviscerate -- Democrats' path to victory in hotly contested gubernatorial and Senate races across the country, including Georgia, Pennsylvania, North Carolina, Michigan and Wisconsin. In a poll by POLITICO-Morning Consult released last week, just 25 percent of Black registered voters described themselves as "extremely enthusiastic" about voting in this election, compared to about 37 percent of white voters and 35 percent of Hispanic voters.

Though they stressed that they have no doubt Black voters will continue to overwhelmingly support their party, Democratic strategists are worried in particular about a lack of enthusiasm this year among young Black people and Black men of all ages.
Idiot actor Tim Robbins does something amazing -- he admits not just that he was wrong on covid, but that he was morally wrong, acting like a sanctimonious bully.
Robbins admits he did as told at the start of the pandemic lockdowns. That included demonizing those who didn't follow the government narratives. In short, he was part of the problem, and he has no qualms about admitting it.

He later joined a BLM protest, mask over face, and later reflected on the hypocrisy of such "approved" mass protests.


...

Robbins worries for American culture, noting our increasingly tribal in-fighting and inability to connect with those who hold different political views. Even rock-ribbed liberals have morphed into something unrecognizable during, and after, the pandemic.

"You go from someone that is inclusive, altruistic, generous, empathetic, to a monster," he says. "Where you want to freeze people's bank accounts because they disagree with you. That's a dangerous thing. That's a dangerous world that we've created."

He blasted people like Jimmy Kimmel and Howard Stern who argued unvaccinated people didn't deserve medical treatment, noting how addicts and obese people similarly hurt their bodies but deserve our love and care.
More at the link.

Beege Welborn at Hot Air reports that Kathy Hochul has gone back into hiding after her poor debate showing with Lee Zeldin.
Her co-conspirator in coddling criminals, Eric Adams, reassured New Yorkers that there wasn't really a crime wave, just irrational fear about crime.
He offered this Akshually It's Just Your Stupid Brain Lying to You explanation to explain the latest stabbing on the subway.
Wow, Kathy Hochul's plan to Arrest All the Republican Guns is really not matching the actual weapons being used in crimes, is it?
Mayor Eric Adams downplayed the latest subway attack Wednesday by highlighting the overwhelming majority of riders who emerge unscathed -- and said anxious straphangers were just "feeling unsafe."

Adams called the stabbing of a good Samaritan who intervened in a fight on a southbound No. 6 train in Lower Manhattan a "horrific incident" before quickly pivoting to statistics that he said showed it was an outlier.

"We're going to deal with those crimes that take place and we're going to continue to work on those six felony crimes a day that we're witnessing," he said during an unrelated news conference at Manhattan's Pier 36.

"But I know that 3.5 million people use our system every day without any encounters."

Hizzoner continued: "That's the combination: those type of incidents are impacting people feeling unsafe."


...

Adams' comments followed a controversial TV interview last week in which he blamed the news media for creating "the perception of fear" by putting reports about violent subway crimes "on the front pages of your paper every day."
Right, it's just the right-wing New York Media convincing people that there are drug-abusing mentally-ill homeless people encamped on their sidewalks, masturbating as their young children walk by.
They're not really there. It's just people's Racist Eyes imagining them.
John Sexton notes that the New York Times reports the Democrats are panicking over the real possibility that Granny Kathy could lose:
With just 12 days until Election Day, Democrats and their allies are mounting a frenzied push to keep Ms. Hochul in office, pouring millions of dollars into last-minute ads and staging a whirlwind of campaign rallies to energize their base amid concerns that their typically reliable bedrock of Black and Latino voters might not turn out.

Labor unions have gone into overdrive, spending hundreds of thousands of dollars on television and radio ads to cajole those voters to turn up for Ms. Hochul. On the ground, Ms. Hochul is expected to campaign with Representative Hakeem Jeffries, a party power broker whose Brooklyn district provides crucial votes for the Democratic base, as well as in southeast Queens with Mayor Eric Adams over the weekend.

The Hochul campaign has even turned to its former adversaries for help, including progressive lawmakers who opposed her during the Democratic primary in June, and the left-leaning Working Families Party, which called for an "emergency all-hands-on-deck meeting" of its leadership earlier this week to mobilize in favor of Ms. Hochul...
Kathy Hochul, who can't stop talking about Election Denialism in a gubernatorial race that has nothing to do with January 6th, has a "secret" guest at an upcoming rally that she's already let everyone know about: The Queen of Election Denialism herself, Hillary Clinton.

In a conversation caught by microphones on the tarmac, Chuck Schumer admits to Biden that the Senate race in Georgia is Hershel Walker's to lose. He also claim the Fetterman debate didn't "hurt us too much" and claims they're "picking up steam in Nevada."

Greg Price
@greg_price11


BREAKING: Project Veritas just released this leak from the FBI.

It is a "cheat seat" of "election crimes" that includes "false or misleading information spread mistakenly or unintentionally."
Basically the FBI is assigned to Social Media Monitoring Duty.
Receipts about Joe Biden's claim that he played "starting full back for the University of Delaware: Joe Biden briefly played on the freshman team at UD, which is of course not the same as playing for "UD." UD plays other college teams, their real teams; the freshman team plays other freshman squads. He only played briefly because his grades were so terrible. There is no evidence he was the "starting anything" even on the freshman squad.
Surprising no one, including the NeverTrumpers who promote her and who are asking her to form a third party, Liz Cheney is now literally campaigning for Democrats. Elise Slotkin of Michigan, specifically, at the moment.
On the Barris and Barnes podcast, Barnes mentioned that this Slotnik was a longtime Deep Stater, whose job it was in Iraq to, get this, "win hearts and minds."
Well done, Slotnik. What a super job you've done. You have met all expectations for Government Service.
NeverTrump, is Liz Cheney still a True Conservative (TM)?
Can we skip ahead in the script a few pages and just get to the point where you declare that the Real True Conservatives (TM) are Democrats?
Actual conservatives are now demanding that "reporters" stop referring to the squat toadlike nepot hag Liz Cheney as a "Republican."
Editor of The Federalist Mollie Hemingway shared an Associated Press article labelling Cheney as belonging to the "GOP."

"People who have been removed by their state GOP from party rolls, been removed from GOP leadership, are hand selected by Dem leaders to run anti-GOP operations, been utterly renounced by GOP voters and support election of Democrats are many things," she wrote. "'GOP' is not one of them."


Podcaster Wayne DuPree congratulated the Democrats on their "newest member" while Fox News host Mark Levin retorted that "Democrat Liz Cheney failed."

"When you do this, you're not really conservative or Republican," said NewsBusters editor Tim Graham, in reference to Cheney's endorsement of Slotkin.

Chris Wallace's ratings plummet as Chris Licht memo warns CNN staff of layoffs and "unsettling changes."
Chris Wallace's new show on CNN isn't bringing in the viewership that network execs may hope for, RadarOnline.com has learned.

Sunday's show brought in the lowest ratings yet, according to Nielsen Media Research.

Furthermore, stats revealed that his show has also driven down the time slot for CNN over 20 percent in comparison to how Sunday nights were ranking before his start.

RadarOnline.com previously reported on the less than stellar debut of Who's Talking to Chris Wallace, which was only able to deliver 401,000 viewers in the 7 PM/ET hour.

The legendary broadcaster pulled in only 43,800 in the 25-54 age demo while Fox News garnered a massive 1.3 million viewers with Sunday Night In America With Trey Gowdy.
I doubt they can fire him, at least not in a way that hurts Wallace -- he has a contract. They can take him off the air, but they'd still have to pay him.
Still, it would be one last Go Retire Already You Worthless Piece of Soy-Dipped Shit humiliation.

posted by Ace at
06:15 PM
|
Access Comments