« Santa Zaz Will Be Bringing Layoffs to CNN Just In Time For Christmas
|
Main
|
Farting Horses Couldn't Drag Me Cafe »
October 27, 2022
Quick Hits
Elon Musk will close on his purchase of Twitter tomorrow. He reached out to advertisers today to reassure them that, despite making Twitter a haven for free-speech, he would not let it become "a free-for-all hellscape."
Musk seemingly tried to quell those concerns in a message to advertisers he posted Thursday, telling them Twitter "obviously cannot become a free-for-all hellscape, where anything can be said with no consequences."

"Fundamentally, Twitter aspires to be the most respected advertising platform in the world that strengthens your brand and grows your enterprise. To everyone who has partnered with us, I thank you. Let us build something extraordinary together," he wrote.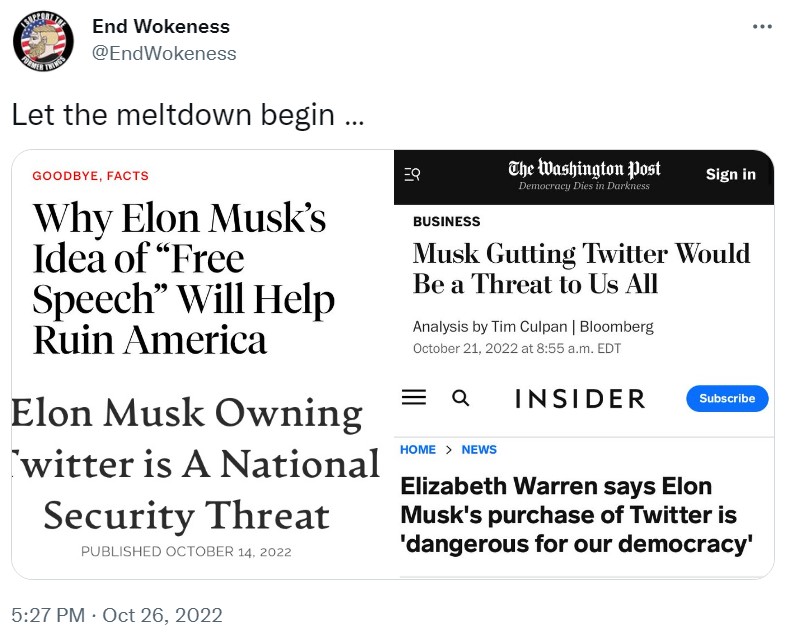 "Actual footage of Twitter HQ right now," says Libs of TikTok.
Musk had a great dunk on Gary Kasparov earlier this week. (Link fixed.) I'm so tired of this blowhard. We don't ask bridge masters or Monopoly tournament winners to opine on foreign policy. We don't ask bowling champions to tell us which wars with Russia we should fight next.
But we ask this puffed-up checkers champion about the upside of global nuclear war because he was the champ for a few years at a board game and still speaks with a Russian accent.
What the hell?
Hey, let's ask Chad "Ocho Cinqo" Johnson about the International Monetary Fund next, huh?
Supposedly the economy grew 2.6% in the third quarter, and the whole propaganda media is crowing that the recession is cancelled.
But the increase in third quarter GDP was driven almost entirely by a narrower trade deficit, which in turn was just caused by international trade slowing overall.
Gross domestic product (GDP) is expected to spike in the third quarter, but that isn't likely to help consumers in the long-term as they struggle with persistent inflation, economists told the Daily Caller News Foundation.

Trade generally propped up GDP in the third quarter, a trend unlikely to continue as a strong dollar makes foreigners less likely to purchase American goods.

"Consider the third quarter GDP to be last call at the bar," said Heritage Foundation economist E.J. Antoni. "The party is over."

Third quarter gross domestic product is likely to spike off the back of a narrowed trade deficit, but the result doesn't necessarily spell good news for consumers battling persistent inflation, economists told the Daily Caller News Foundation.

After falling in the first two quarters of 2022, prompting significant debate about whether the U.S. had entered a recession, GDP in the third quarter is predicted to grow at an inflation-adjusted rate of 2.3% annually, according to a Wall Street Journal survey of economists. However, two economists told the DCNF that this is unlikely to forecast major improvements in consumers' economic health, since the spike was mostly driven by trade trends that are unlikely to persist.

"Ordinarily, we think about increases in GDP as benefiting Americans, but that's not always the case," Heritage Foundation economist E.J. Antoni told the DCNF. "A rough metaphor [for the narrowing trade deficit] is a consumer being too poor to shop somewhere. It looks like international trade slowed down considerably in the third quarter, hardly a sign of prosperity."

This narrow deficit is unlikely to persist as a stronger dollar makes U.S. exports more expensive in foreign markets and foreign imports cheaper in American markets, Desmond Lachman, a senior fellow at the American Enterprise Institute and former deputy director of the International Monetary Fund's Policy Development and Review Department, told the DCNF. This means that U.S. consumers will likely purchase more foreign products, while foreigners purchase fewer American goods, widening the trade deficit, Lachman said.

Michelle Malkin ends her syndicated column after thirty years.
She has some parting shots.
Now the liberal media is dominated by endless supplies of smug, usually very pale-faced millennial J-school grads spouting about "diversity" while parroting the same worn set of views on whites as evil, America as oppressor, nuclear families as abnormal, and liberal democracy as sacrosanct.

"Conservative" media is not much better. It's dominated by snot-nosed D.C. libertarian elites from overpriced universities who slavishly promote "free-market capitalism" and cast "big government" as our greatest enemy, while private Silicon Valley corporations and their nonprofit allies crush nationalist dissent, handcuff free speech and deplatform free thinkers through censorship (hard and soft) and lawfare (systematic abuse of the courts to harm political critics).

Because of my peacefully expressed reporting, opinions, and speeches, my family has been punished and stigmatized, my reputation tarnished and my voice squelched. It's not "big government" that waged this war on my career. It's a constellation of vindictive wrong-think police in the private sector, from the Southern Poverty Law Center and Anti-Defamation League, to foreign newspapers and moneyed interests that have no business influencing American politics, to "conservative" swamp creatures and profiteers such as Bill Kristol, Jonah Goldberg, Mona Charen, and Ben Shapiro, and even to former colleagues at the Fox News Channel, which blacklisted me several years ago and told a friend of mine who was a guest on Tucker Carlson's show not to say my name after antifa rioters had attacked me and others on stage at a Back the Blue rally in Denver a few years ago. (My friend ignored the warning. God bless him.)

Grandpa Felonyfingers never stops lying, and never stops claiming he played football on a college level:
"Full diaper Joe" tells a lot of lies.
Via bonhomme.
Isn't it weird that the media stopped obsessively "fact" checking Administration statements once Grandpa Felonyfingers "fortified" the election?
She's done this before, hasn't she? Telling people to mask up and socially distance only for media pictures?

Meta (FaceBook) stock crash deepens as recession worsens.
But wait I thought there was no recession and even if one were to come it would be a "slight" one
Facebook parent Meta Platforms reported earnings Wednesday that fell short of expectations, pummeling the company's stock in after hours trading as the social media giant with metaverse ambitions scrambles to cut costs amid advertising headwinds spurred by concerns about the global economy.

Meta reported net income of $4.4 billion, or $1.64 per share, cratering 49% year over year and falling short of expectations for $1.89 per share; revenue of $27.7 billion fared slightly better than the $27.4 billion analysts were forecasting, but down 4% from one year ago.

The company also said its revenue this quarter would fall between $30 billion and $32.5 billion--toward the lower end of average analyst expectations.

Meta shares sank 11% to $115 immediately after the report, pushing losses to more than 61% this year alone--far worse than the tech-heavy Nasdaq's 30% decline.


In a pre-earnings note, Bank of America analyst Justin Post downgraded shares of Meta to a neutral rating, saying the firm's investment in the immersive virtual reality world known as the metaverse "will remain [an] overhang" on the stock, costing an estimated $10.7 billion next year even as economic concerns potentially intensify.

...

[In' the third quarter, the company's free cash flow, which measures cash left over after operating expenses, cratered to $173 million from $9.5 billion a year ago.
WHAT?
Let me put that in terms you might understand: It's like one year ago, they had 9.5 billion in free clams, but then this year, they only have 173 million in free clams.
That should help at least "The guy who only understands things in terms of clams."
Let's check in with the Sibyl of the Stock Market, the Nostrodamus of the Nasdaq, the Prophet of All Profits, Jim Cramer himself:
This blog purports to tell you how well you'd do if you followed Jim Cramer's investment advice -- vs. how well you'd do if you invested directly against his advice by shorting the stocks he tells you to buy. I'm not a financial guy so I make no representations about accuracy here.
But Jim Cramer is a bankruptcy farmer.
Meta was also hit with a record fine for campaign violations. Though this sounds like bureaucratic b*llshit to me:
A Washington state judge on Wednesday fined Facebook parent company Meta nearly $25 million for repeatedly and intentionally violating campaign finance disclosure law, in what is believed to be the largest campaign finance penalty in U.S. history.

The penalty issued by King County Superior Court Judge Douglass North was the maximum allowed for more than 800 violations of Washington's Fair Campaign Practices Act, passed by voters in 1972 and later strengthened by the Legislature. Washington Attorney General Bob Ferguson argued that the maximum was appropriate considering his office previously sued Facebook in 2018 for violating the same law.

Meta, based in Menlo Park, California, did not immediately respond to an email seeking comment.

Washington's transparency law requires ad sellers such as Meta to keep and make public the names and addresses of those who buy political ads, the target of such ads, how the ads were paid for and the total number of views of each ad. Ad sellers must provide the information to anyone who asks for it. Television stations and newspapers have complied with the law for decades.
Yeah but they're serving a couple of political ads per hour, and only during campaign season, not thousands and thousands per day, all of which are purchased through automated ad-buy systems.

posted by Ace at
06:42 PM
|
Access Comments