« NY Post's Twitter Feed Hacked
|
Main
|
Santa Zaz Will Be Bringing Layoffs to CNN Just In Time For Christmas »
October 27, 2022
Feral Criminal Viciously Pushes Unsuspecting 62-Year-Old Man Into Subway Tracks In "Knockout Game" Attack;
Is Then Dumbfounded Why He's Under Arrest
I don't blame him for being confused about why he's under arrest.
New York, both the city and the state under Kathy Hochul, have made it very clear that crime is now legal, particularly for Democrat client groups.
After all -- we owe St. George Floyd that much.
New York City is a Purge Sanctuary City.
We're only picking on this poor guy because it's political campaign season, and because of the optics.
The "problem kid" charged in a suspected knockout-game attack on a 62-year-old Bronx straphanger claimed the vicious assault was in self-defense, court papers show -- as he was ordered held on $20,000 bail.

Deshaun Smith, 21, is charged with assault, harassment and reckless endangerment for allegedly punching the unsuspecting victim and knocking him onto the tracks at the 149th Street station Sunday night, according to police.

...


"Why am I in trouble? Why are you doing this? I don't have a record," he said. "Am I getting booked for this? I did push him."
He claim the 62 year old man attacked him first and that he punched him and threw him on to the tracks "in self defense."
Prosecutors weren't buying it.

The victim's wife has told The Post that her husband was minding his own business on his way to work when he was struck in the unprovoked attack, which police sources said may have been part of the twisted online "knockout game" challenge targeting strangers.

"There are crazy people on the subway," she said Monday. "This is life now, the way the city's going. The subways are just crazy now.

"I have to say, whoever did this is a frickin' animal, in my mind," she railed. "He should be off the street. These people only attack someone they think can't fight back."

She said two good Samaritans helped her battered husband back onto the platform.

Smith, who lives in Williamsburg, was previously arrested Oct. 6 for allegedly snatching a 51-year-old woman's keys and injuring her hand, police said. Police described the incident as a domestic dispute, and he was released without bail in that case after being charged with harassment, criminal mischief and menacing.

I don't have video of that subway shoving attack, but will you accept this video of another subway shoving attack by a different feral animal that happened the day before?
Yes, that's a different random subway shoving attack attempted murderer. That's Lamale McCrae, a career criminal with more than 30 arrests, many for violent crimes including attempted murder, assault, and possession of a weapon.
And obviously, he was free on the streets to shove random citizens into the subway.
These attacks just keep happening.
Oh, and of course the random attacks on Jews wearing garb that identifies themselves as Jewish continue unabated.
A bicyclist randomly slugged a Jewish teen in Brooklyn -- and cops are investigating the incident as a hate crime, police said Tuesday.

The 18-year-old victim was wearing traditional religious garb as he walked at Penn Street and Lee Avenue in South Williamsburg around 1:40 a.m. Sunday when the cyclist rolled up behind him and punched him in the back of the head, police said.

The blow knocked the victim's religious hat and yarmulke to the ground.
It's the White Supremacists, again.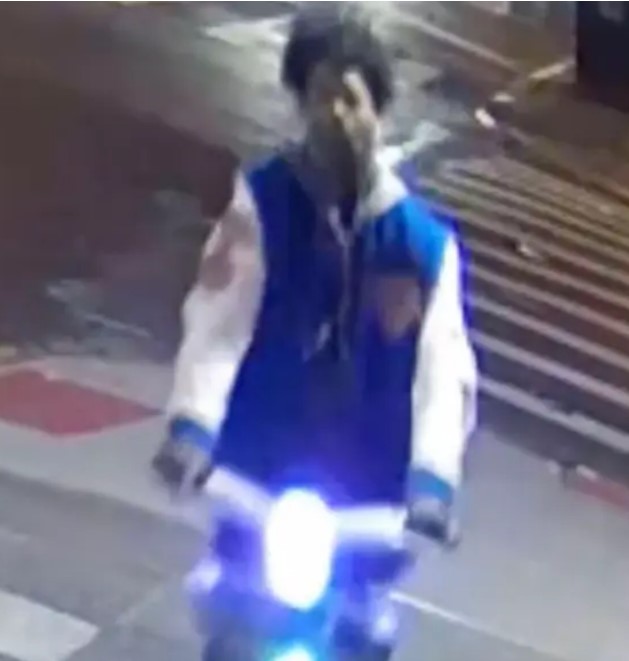 The suspected Trump voter and DailyWire.com subscriber
shouted "Facts don't care about your feelings, bitch!"
as he fled into the night
And Kathy Hochul has no answer for any of this. She will not re-impose bail. She will not remove Alvin Bragg from office.
She just wants to arrest guns. Not criminals -- just guns.
A New York Democrat, brother of a murdered New York City Councilman, crossed party lines to endorse Lee Zeldin.
Geoffrey Davis, long active in local Democratic Party politics, said Zeldin has made the more effective case that he's concerned about cracking down on violence and lawlessness.

"Lee Zeldin has been on the right side by campaigning every day vowing to address crime. Kathy Hochul, who I supported when she ran for lieutenant governor, has been a no-show when it comes to addressing violence and public safety," Davis said.

James Davis, a Brooklyn legislator and ex-cop, was shot and killed by a deranged rival in the Council chamber on July 23, 2003 -- an assassination that shocked the city. Other council members dodged bullets during the extraordinary assassination, with cops killing the shooter.

Geoffrey Davis runs the anti-violence group named in honor of his brother, the James E. Davis Foundation.

"Hate is up against Jewish citizens. Violence is being committed against senior citizens. Teenagers are shooting each other. The subway system is out of control with violence," said Davis.

"I'm going to let voters know that Kathy Hochul is a no-show."

Davis, who is black, said Hochul and other Democratic politicians are risking turning off Afro-Caribbean voters by ignoring or downplaying crime.

He rapped Hochul for downplaying the crime issue and instead focusing on abortion and Zeldin's ties to former President Donald Trump, until recently as the polls have tightened.
Lee Zeldin brought up the spate of subway attacks by career criminals who are repeatedly let out of jail to attack citizens again and again. He brought that up in particular to push back against Kathy Hochul's singular focus on arresting Republican Guns while allowing Democrat Criminals to roam free.
Democrat Criminals don't need Republican Guns to kill people, Zeldin pointed out. They're throwing people in front of subways by the handful.
Kathy Hochul kept babbling about "resources" for crime but she steadfastly refused to talk about actually jailing more criminals.
Zeldin kept asking her why she refused to talk about putting more criminals in jail.
She said she would say it, though she added, "I don't know why that's so important to you."
She doesn't know why locking up criminals is important to reducing crime?
Oh, and also: She did not actually then say she'd put more criminals in jail. She again refused to say it. She said that anyone who commits a crime "has consequences."
Like... being arrested, and then released.
She defended her insistence on keeping two-year-old babies masked in all public venues, while 66-year-old dowagers like herself gallavanted around town sans masque, claiming that keeping two-year-olds masked... kept kids in school.
New York voter: "She doesn't care about anything that's going on in New York, it's out of control."