« Daily Tech News 21 October 2022
|
Main
|
Mid-Morning Art Thread »
October 21, 2022
The Morning Report — 10/21/22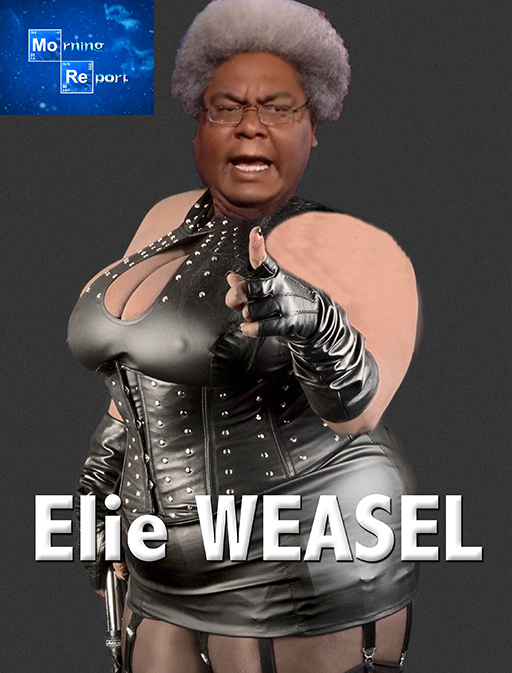 Good morning kids. Friday and with the midterms less than three weeks away now, the cognitive dissonance from the Left is coming fast and furious, no pun intended (sort of). On the one hand, with violent criminals running wild in the streets, and pissing off reliable Democrat voters since it's primarily in their streets, the Left is not only distancing itself at warp speed from the Defund the Police/decarceration mantra, but claiming it was the Republicans that let the criminals loose. That's just one example. Now, with the price of everything skyrocketing due to the intentional devaluation of our dollar, the price of a gallon of gas, a pretty reliable bellwether of the fortunes of the party in power, Ron Klain, the chief Kooky Klucking Klainsman from Kalorama is directing his demented meat puppet to drain the Strategic Petroleum Reserve in order to keep the price stable just past the midterms. But note the raging chutzpocrisy of this greasy fat bastard:
"Well, I'd say first of all, we had Republicans say, hey, he needs to do something about gas prices, and then we did something about gas prices, and they're, like, well, don't do that. So, it's hard for me to take the criticism very seriously. Look, we've had a policy this year of a historic release from the petroleum reserve, and it's worked to bring the price of gas down. Over the summer, it fell 98 days in a row, in part thanks to those releases. And by the way, not just us. The [so-called quote-unquote "president"] worked to get other countries to do the same thing. India did a SPRO release, Japan, South Korea. We brought the world together as part of this effort, again, to deal with the consequences of the Russian war in Ukraine. We brought the price of gas down all summer long, almost $1.50. And then, around this action with Saudi Arabia, it started to go back up a bit. So, the [so-called quote-unquote "president"], again, brought the same tools to the table. Part of that was the release from the reserve you mentioned, Joe, but also part of what he announced yesterday was setting a price to refill the reserve, which gives the U.S. oil industry incentives to continue to explore and to produce more. We're going to see record oil production in this country in 2023. We want to continue to responsibly increase that as we make the transition to clean energy in the long run. We think this country can have energy security and a clean energy future. That's the direction we're moving America in. And the [so-called quote-unquote "president's"] announcement yesterday was both about the price of gas in the short run and a more stable energy supply in the long run."
" . . .incentives to continue to explore and to produce more?!" Is this corpulent pole-smoker for real?! You're doing everything in your power to send us back to the fucking dark ages with this Green New Deal/Building-a-White-Sea-Canal-to-the-14th-Century madness disguised as the Inflation Reduction Act. The only thing that "act" reduces is our standard of living, our freedom and our lifespans. The psychos who flung a can of Campbell's at Van Gogh's "Sunflowers" picked the wrong target. And the wrong weapon. Ron Klain deserves a flaming sack of horseshit rammed down his pie-hole. Rhetorically speaking, of course.
So the only thing left for them to bitterly cling to is the belief that everyone hates the Dobbs decision and that millions of independents and Republicans will march in unison to the tune of "Roe, Roe, Roe your vote!" Not only is that not happening, but the alleged leader of the Democrat Party, President Sponge-Brain Shits-Pants himself just wiped out a multi-million dollar ad campaign with this pronouncement:
When asked Thursday whether there should be any restrictions on abortion, [so-called quote-unquote "president"] said. Biden said, "Yes, there should be," and he pointed to the 1973 U.S. Supreme Court decision legalizing abortion – Roe v. Wade.

Speaking to reporters prior to flying to Pittsburgh to deliver remarks on infrastructure, a reporter asked, "Should there be restrictions on abortion at all?  Any restrictions on abortion at all?"

"Yes. Yes, there should be," Biden said.

"What should they be?" the reporter asked.

"In Roe v. Wade. Read it, man. You'll get educated," the [so-called quote-unquote "president"] said.

Biden failed to clarify his remarks. He pledged on Tuesday that the first piece of legislation he will send to Capitol Hill next year is a bill to codify Roe v. Wade as "the law of the land."
I'm no legal eagle nor expert on Roe, but I don't think the ruling even goes into the nuts and bolts of what is and what is not restricted vis a vis fetal child murder. The salient point though is that the entire Democrat Party and media have been beating the drum of "no restrictions, no apologies" and here comes the Delaware Demento to throw a giant bucket of water on it. Well done, Joey.
Psaki-psircling back, on the plus side, no one is buying any of this. No one, except dead-ender true-believers. And their numbers are shrinking, especially as the temperature drops and their cupboards grow barer. Abortion is not moving the needle. The J6 bullshit even less than that. Whether or not this is a temporary effect for just one election cycle or, please God, the scales finally falling from eyes is yet to be determined. I feel it at least has the potential to be the latter since what we are suffering through is not just a typical swinging of the pendulum, or even a larger than usual one which only, as I stated, would last an election cycle or two at most. There is a titanic shift in the way our society is functioning that goes way beyond the limits of so-called "regular order" and what we have experienced since the end of World War Two. The coming of the Trump era exposed the Deep State and the Globalist/Leftist plot to take us down. And the greatest domestic and foreign policy successes since the end of that aforementioned war — especially the biggest economic successes in our history that were felt by ordinary people — now stand in sharp contrast with the forces that have wiped them out.
I say the Trump era because what he engendered goes far beyond just a presidential administration. Regardless of who is our standard-bearer in '24, Trump started a movement that I think is now unstoppable. Of course, if God forbid, we get another Pee-Air Defecto or Mike Pence foisted on us (up yours, Matt Continetti), the policies needed for restoration will not only not go forward but "bipartisanship" will move us back in the wrong direction, albeit at a slightly slower speed. But it will not deter the struggle and the yearning for freedom and independence. Friend and colleague Dave in FL's great essay yesterday is inspiring and gives one hope in that regard (Note: do not comment on old posts!).
But all of this comes with a warning, and that is exemplified by yet another example of the kind of rhetoric coming, not from some twerp making Molotov cocktails for Antifa in a Portland basement but from Leftists leadership in government and their house organ media:


MSNBC's ongoing and relentless Nazi-style dehumanization campaign against Trump supporters took an especially ugly (but not unexpected) turn this week when the far-left outlet compared Trump supporters to "the lice, the fleas, and the blood-sucking ticks."

This comes on top of what the Fox News Channel's Tucker Carlson aptly described as MSNBC's Rwanda-style race hate:

You don't want to live in Rwanda, but in MSNBC, they're already there. Now, you probably knew about Joy Reid, the race lady who's been fixated on race hate for years now, but MSNBC has a new host, someone called Tiffany Cross, who hosts a show called "The Cross Connection." Here's a selection:

TIFFANY CROSS: Many of us have seen the dangers when powerful White people decide they want something, they annex it and they've never had a problem replacing the people who stand in their way.

MICHAEL HARRIOT, THEROOT.COM: We see American White people are going crazy. They're going; they're resorting to violence.

ELIE MYSTAL: This is literally what conservative White folks do when they don't get their way; they turn violent.

CROSS: White people deputizing themselves and some position of authority to have jurisdiction over their life when they need to mind their blanking business. . .

. . . Of note is that the "lice, fleas, and blood-sucking ticks" remark did not come from the loons named by Carlson. No, it was former Republican National Committee Chair Michael Steel who made the comparison on Nicolle Wallace's MSNBC show.

. . . Kevin has decided to make his bed and is prepared to lie down with the lice, the fleas and the blood-sucking ticks. And whatever befalls him is going to come from that relationship — And unfortunately for the country, we're going to have to bear the brunt of it. [emphasis added]

I could launch a thousand words explaining how my Michael Steele analysis is beyond stupid and proves why he was such a failure as RNC chief. But that's for another day. Look at the language he is using to describe the GOP base — we're now lower than vermin. We're lice, fleas, and blood-sucking ticks. And naturally, the hideous Nicolle Wallace said nothing because that sort of Nazi-style dehumanization is not only acceptable at MSNBC, it is encouraged.

Keep in mind where this is headed.
I know where it's headed. It's heading right to the ramp in Birkenau, the killing fields outside of Phnom Penh, the pits at Babi Yar, or the frozen waste of Kolyma. The latter if we're lucky. Whether the disappearance of this author James Gordon Meek that I wrote about yesterday was done by the junta or not, we still have scores of political prisoners rotting away in the Garland Archipelago. One wonders what the reaction of all of the aforementioned commentators would be if they found out that all of the prisoners were taken out and summarily executed. Bad enough Biden legally defined them as "a clear and present danger" to the state. But now they are referred to as "lice" and "vermin." You do the math.
Shifting gears slightly, the midterms coming and elections are important – especially when there are enough real voters to overcome the Dao-Min Yen cheat factor (God how I hate that). But structurally and societally the citizenry of this nation is irreconcilably divided, and the other side still controls all the levers of power and influence. If indeed the Dems are wiped out in November and even again in '24, they are not going to suddenly accept that loss and engage in introspection. Especially after labeling us as essentially subhuman and cancer, and after the 2020 steal where rigging that election was seen as noble and just.
We are heading for a showdown. Have a good weekend.
ABOVE THE FOLD, BREAKING, NOTEWORTHY
Kurt Schlichter: "The minimum standard for any culture to survive."
Civilization Cannot Exist Without Righteous Retribution

". . . the lobbying push is powered by business groups that have many higher priorities than a "Dreamer" amnesty. Those higher priorities include an amendment in the House's must-pass defense authorization bill that would allow companies to dramatically escalate their extraction of white-collar workers from poor foreign countries. If approved, the new migrants will help shrink salaries paid to millions of indebted, family-raising American graduates." (Yay! Bipartisan! - jjs)
That amendment is matched by a Senate amendment that could be added to any moving bill, which is backed by Democrat Sen. Dick Durbin (D-Il), and Republican Mike Rounds (R-SD)."
Business Pushes for Lame-Duck Amnesty
CIVIL WAR 2.0: J-6 FBI FALSE FLAG "RIOT" & AFTERMATH, LEFTIST PERSECUTIONS, DEMOCRAT PUTSCH, AMERICAN DISSOLUTION
NOTE: The opinions expressed in the links may or may not reflect my own. I include them because of their relevance to the discussion of a particular issue.
ALSO: The Morning Report is cross-posted at CutJibNewsletter.com if you want to continue the conversation all day.
Follow us on Twitter: @CutJibNews
Follow us on Instagram: @Cutjibnewsletter

posted by J.J. Sefton at
07:53 AM
|
Access Comments