« Joe Biden Gaffes and Tells Fetterman's Wife That She'll Be a Welcome Addition to the Senate as a New Poll Shows a Tie;
Mastriano Closes In On Shapiro for Governor
|
Main
|
Katie Hobbs Last Week: I Don't Have to Debate Kari Lake, I Am Answering Reporters' Questions Instead
Katie Hobbs Now: I'm Also Now Refusing to Answer Reporters' Questions »
October 20, 2022
The CDC Has Recommended That Covid Shots Be Added to Routine Vaccination Schedules for All Adults -- and All Children
And that means that school districts, especially those in blue districts, will simply copy and paste the CDC's recommendations and mandate covid vaccinations for children who simply do not need them, and for whom, therefore, the vaccine represents nothing but risk of vaccine injury.
And they're recommending them for kids six months old or older.
The CDC's independent vaccine advisers voted 15-0 Thursday to add most Covid-19 vaccines offered in the U.S. to the childhood, adolescent and adult immunization schedules.

The immunization schedules, which are updated every fall before going into effect the following year, consolidate all of the CDC's vaccine recommendations in one document for states that use them as guidance for school entry requirements and busy physicians. The additions formalize recommendations the CDC has already made on Covid vaccination in individuals ages 6 months and older for shots that the FDA has approved or has authorized for emergency use.

This is despite the fact that Moderna's CEO -- and Moderna, of course, produces one of the three main vaccines available in the US -- just said that only vulnerable adults and children should get the vaccine booster, and that most people should not get it.

Quick, ban him for dangerous Russian Disinformation.
Not everyone needs to get an annual Covid booster, according to the head of pharma giant Moderna who also likened the virus to seasonal flu.

Stéphane Bancel said his company's shots should mainly be targeted at over-50s and people with underlying health conditions.

His comments seem to be at odds with the Centers for Disease Prevention and Control (CDC) which is urging everyone over the age of five to get boosted.
Seriously -- if you contradict the official Government Propaganda, you're spreading Disinformation.
Ban the maker of the vaccine for spreading dangerous disinformation about the necessity of his vaccine!
Covid is now predominantly only killing the most vulnerable because the US has built up strong immunity through high infection rates and repeated vaccine rollouts.

There are currently around 300 deaths from the virus across the country every day, compared to more than 1,000 this time last year.

Mr Bancel told a finance conference on Monday: 'I think it's going to be like the flu. If you're a 25-year-old, do you need an annual booster every year if you're healthy?

'You might want to... but I think it's going to be similar to flu where it's going to be people at high-risk, people above 50 years of age, people with comorbidities, people with cancer and other conditions, people with transplants.'

Mr Bancel's comments come amid a sluggish vaccine booster rollout that has seen just one in 20 eligible Americans taking up their Omicron-specific shot.

Despite there being little appetite for the new vaccines, the CDC last week approved Moderna and Pfizer's shot for children as young as five.

Pfizer recently joined forces with Marvel for a PR campaign that appeared to target children.

Marvel produced a comic book pushing the booster.
I'm not sure it targets kids.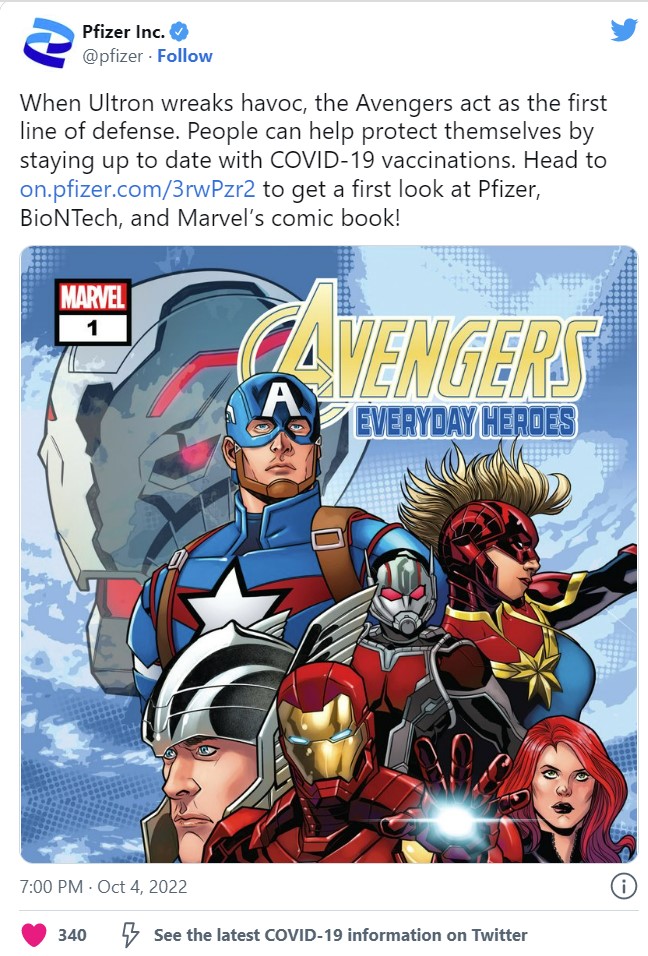 Below, Dan Bongino notes -- using a cut from Tucker Carlson -- that while the CDC denies they mandate vaccines for kids, they know damn well that every bubble-headed school district administrator will almost certainly just cut-and-paste these "recommendations" into their mandated vaccination schedules.
Twelve states make it the law that schools follow the CDC's current schedule for vaccinations for attendance for schools.
Plus many more school districts will follow it.
Thus, the CDC does in fact mandate vaccines.
And they just mandated them for almost the whole country -- except the parts of the country with governors like Ron DeSantis, who forbids vaccine mandates.
Skip to 7:00
Laura Ingraham spoke about it last night as well:
Washington, DC had planned to "postpone" its covid shot mandate -- which would have thrown thousands of kids out of school.
I imagine they'll reverse course now that the CDC says that kids should get the unnecessary vaccination, to protect their obese teachers.
Christina Pushaw
@ChristinaPushaw

Good news: DC planning to "postpone" covid shot mandate for kids, which would have denied thousands of public school students their right to education.

Key takeaway here is that if a high enough % of people refuse to comply with unscientific edicts, the mandates end up failing.

posted by Ace at
03:43 PM
|
Access Comments