« Daily Tech News 20 October 2022
|
Main
|
Mid-Morning Art Thread »
October 20, 2022
The Morning Report — 10/20/22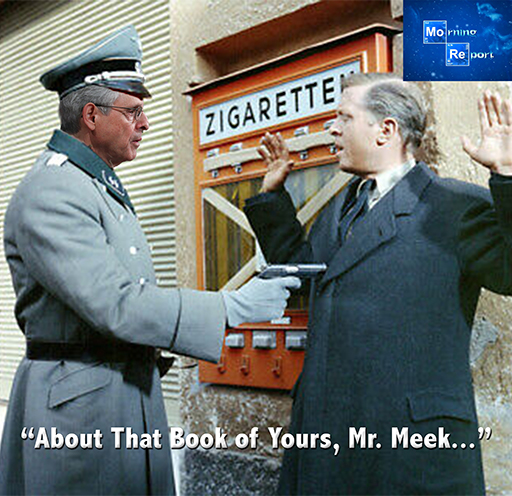 Good morning kids. This morning's report is sure to set your Godwin's Law-o-meter pinging off the charts. Hell, it sure did mine and I'm the one that's composing it. But it is what it is and I have to call it like I see it and let you all decide. Stacy Abrams, known around here as "Tank" and whose physiognomy describes the anti-golden age Lauren Hutton, had a "solution" of the "final" variety to the problem of Democrat economic policy wiping out everyone's bank account: murder your unborn child and save! I guess it is a case of supply and demand. Fewer kids means less demand for diapers. Or baby formula, which thanks to the ideologically driven incompetence and ineptitude more than aborted fetuses, is still in dangerously low supply.
But her pronouncement is so incredibly tone-deaf that it goes beyond true-believer status to quite literally evil:
Let's be clear. Having children is why you're worried about your price for gas. It's why you're concerned about how much food costs. For women this is not a reductive issue. You can't divorce being forced to carry an unwanted pregnancy from the economic realities of having a child.

Abrams, who is facing Gov. Brian Kemp (R) in a contentious gubernatorial rematch, then provided a nonspecific list of follow-up answers to the current high cost of living, which nearly 70 percent of respondents in a recent Atlanta Journal-Constitution poll said was an "extremely important" or "very important" consideration for how they would vote. . .

. . . The Susan B. Anthony List, a national pro-life organization that has endorsed Walker, paraphrased that "Abrams blames children" for rising costs of everyday goods. . .

. . . [Sen Rick Scott]: .@staceyabrams' comments are simply outrageous and barbaric.

The solution to the Democrats' inflation crisis is to abort more babies?

Absolutely disgusting.
Well, like I said, it is a solution, and one that is final. The real solution, of course, is to completely undo the 60-year sexual revolution and eradicate feminism which destroyed the family and morality. And it's not a coincidence that those two things are prime targets of socialism insofar as eradicating them is a "great leap forward" so to speak in the obtaining of absolute power. But I digress. Abrams is merely playing to her donor base, which is primarily located on the west coast and northeast corridor, not in Georgia.
While I was going to build today's column around this, and it is an issue of vital importance, in another part of the Schwarzwald, the nostalgia train keeps on rolling. Once again, it's made up of cattle cars.
An award-winning ABC News investigative reporter who was working on a book about [so-called quote-unquote "president"] Joe Biden's disastrous pullout from Afghanistan has not been seen in months after his apartment was raided by the FBI reportedly in connection with having classified material on his computer.

Rolling Stone broke the story about 52-year-old James Gordon Meek, an Emmy-winning journalist, on Tuesday. Meek was also former senior counterterrorism adviser and investigator for the House Homeland Security Committee.The FBI conducted a pre-dawn raid on his upscale apartment in Arlington, Virginia, back in April and he has not been seen since.

The publication claims that sources familiar with matter said that he was the target of a federal investigation and that the FBI allegedly found classified information on his laptop during the raid.

None of Meek's neighbors have seen him since the raid, the report said. "He fell off the face of the Earth," one neighbor said, noting that they've asked around, "but no one knew the answer. . ."

. . . Lt. Col. Scott Mann, who was co-authoring the book, said that he got a call from Meeks earlier this year indicating that something was going on.

"He contacted me in the spring, and was really distraught, and told me that he had some serious personal issues going on and that he needed to withdraw from the project," Mann said. "As a guy who's a combat veteran who has seen that kind of strain — I don't know what it was — I honored it. And he went on his way, and I continued on the project."

The report suggested that based on new Justice Department policy outlined by Attorney General Merrick Garland, in order to seize materials from a journalist, authorities would have to believe that the reporter was working for a hostile foreign power or terrorist organization or involved in situations like kidnappings or crimes against children.
Maybe it's just me but this Merrick Garland chap is coming across more and more as rather a dislikable fellow, nein?
It's bad enough when the FBI/DOJ at the behest of the Deep State sabotage an election (Miranda Devine's waiting for an apology is risible unless she's being sarcastic) then stage a Reichstag Fire (Godwin, drink!) phony "insurrection" to entrap innocent law-abiding protesters and hold them as political prisoners to preserve the illusion that 2020 was legitimate and anyone who says otherwise is on the verge of being labeled "a clear and present danger" to America.
We've now already seen that reliably leftist organizations like the National Association of School Boards colluded with the White House to have uppity parents identified by the DOJ as potential terrorists for objecting at school board meetings to the mental and physical abuse of their children and demanding change. We know that corrupt organizations like the ACLU and SPLC gin up phony stats (as if they had to) that perpetuate the myth of a vast white supremacist organization — comprised solely of millions of conservative and Republican voters — set to overthrow the government, which in turn the DOJ uses as a casus belli and political cover to oppress dissent.
So now, an investigative reporter who dares write a book that is critical if not an actual exposé of the Biden junta's disastrous Afghanistan bug-out debacle "vanished off the face of the earth" months ago, without a trace. Can you say "nacht und nebel?"
Mind you, this wasn't even someone like James O'Keefe, Lara Logan, Sheryl Atkisson or James Rosen (recall the latter two were under surveillance during the original Obama reign of error, now in its third term). Meek was working for ABC and, despite being a hideous rag, his disappearance was reported via Rolling Stone a 100% reliable leftist house organ.
If I were a betting man, I'd say if this story gains traction, Meek will be found dead, buck naked (except for a MAGA hat) in a seedy French hotel, surrounded by two dead catamites along with a suitcase full of documents linking him either to the Mossad or the Saudi intelligence services. The photos will resemble that of the aftermath of the Mar-a-Lago raid. The cherry on top will be abject criminal scumbags like Peter Strzok spouting the party line that Meek was trafficking in phony disinformation. A "dossier" if you will.
Considering he has the mental capacity of a sea slug with Down's Syndrome, to ask "What did Biden know and when did he know it?" only gets the answer 2+2 = 10% for the Big Guy, circa 1985. That said, the entire business in Ukraine vis a vis our rush to go to war with Russia is to cover his and his family's corrupt dealings with perhaps one of the most corrupt governments on the planet. As Dave in FL and CBD postulated on our last podcast, the tens of billions of dollars in advanced US military equipment abandoned when we split in the dead of night is not so much a gift to the dark age Islamos controlling the Afghan but a way to pass said equipment and their secrets to the Red Chinese. And that might very well have been the nub of Mr. Meek's book. If it wasn't then his findings would certainly make it easy to connect those dots. But I digress.
3AM raids, kangaroo courts to prosecute/persecute political enemies and exonerate actual political friends (as well as real criminals via the Soros DA boogaloo), censorship, election-rigging and phony power-grabs to engineer same, and now the grabbing of enemies in the middle of the night and "disappearing" them under the pretext of "national security."
If this does not scare the ever-loving living shit out of you, you're one of them.
CIVIL WAR 2.0: J-6 FBI FALSE FLAG "RIOT" & AFTERMATH, LEFTIST PERSECUTIONS, DEMOCRAT PUTSCH, AMERICAN DISSOLUTION
NOTE: The opinions expressed in the links may or may not reflect my own. I include them because of their relevance to the discussion of a particular issue.
ALSO: The Morning Report is cross-posted at CutJibNewsletter.com if you want to continue the conversation all day.
Follow us on Twitter: @CutJibNews
Follow us on Instagram: @Cutjibnewsletter

posted by J.J. Sefton at
07:49 AM
|
Access Comments