« Stacy Abrams: Worried About Inflation and Rising Gas Prices? The Answer Is Simple: Have Abortions!
|
Main
|
San Francisco Business Owner: I'm Closing My Store Because This Is a "City of Chaos" Where Productive People Are Made to Be the Slaves of the Violent, the Criminal, and the Insane
Updated: Why Don't You Just Pay for Social Services For the Homeless? »
October 19, 2022
Ulta Makeup Company Advertises the Beauty of Women by Featuring Two Biological Men Rapping About Their "Girlhood"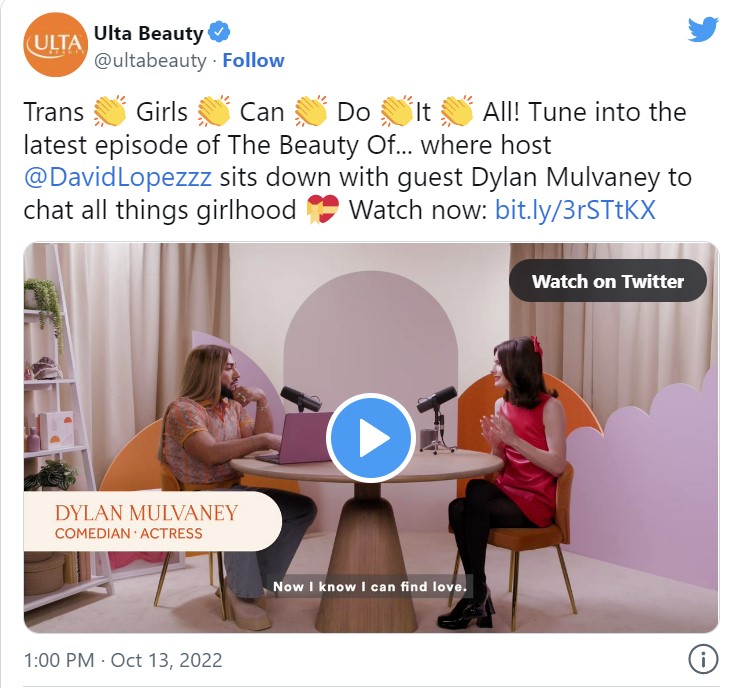 They're getting so much backlash from "Toxic Fans" -- that is, actual customers -- that they're deleting comments.
Hm, sounds familiar.
Ulta Beauty is working overtime to shut up their critics and standing by an offensive transgender video on "girlhood" and motherhood that triggered calls to boycott the makeup supply chain.

A company podcast episode, titled "The Beauty of Girlhood with Dylan Mulvaney," featured biologically male transgender influencer Dylan Mulvaney and host David Lopez, a "gender-fluid" hairdresser, speaking about female issues. When the content sparked an onslaught of backlash, Ulta turned off comments on its YouTube and Instagram accounts hosting the episode, and hid dozens of angry replies from its Twitter account.

"The premise of 'The Beauty Of...' [podcast] is to feature conversations that widen the lens surrounding traditional beauty standards," Ulta said in a statement further defending the episode. "We believe beauty is for everyone. And while we recognize some conversations we host will challenge perspectives and opinions, we believe constructive dialogue is one important way to move beauty forward."

...

Mulvaney claimed during the episode that being a mother was "absolutely" something the [biological male] influencer could achieve, adding that thinking otherwise is "transphobia."

"I know can find love, I know I can still be a performer, I know I can have a family -- I wanna be a mom one day, and I absolutely can," the actor said. "And that's why the narrative still has a long way to go, because when I was grieving 'Boy Dylan,' I didn't even know those things were accessible to me."
Where's the fetus going to gestate? In a box?
Women complained of the "womanface" on display -- two men offering up insulting caricatures of what sexist men apparently think women are.
They point out that no one allows blackface, especially when combined with a caricature of "what blacks act like."
So why is this permitted?
Dozens of now-hidden replies from upset females called out the beauty company for effectively mocking women.

"So you'd have a white man in blackface advertise your products then?" one person questioned. "Is that respecting everyone? Because it sure looks like a slap in the face to your primarily female customer base to have this insulting caricature of womanhood represent you. I won't shop with you again."

...

"[Two] adult men talking about their experiences with 'girlhood,'" someone wrote in a reply that is now hidden by Ulta. "Please explain the difference between womanface and blackface, because I can't see one."



Ulta also featured a show -- of course! -- about the evils of fatphobia. Representative quote: "No one says you have to be healthy."
True, but as Megyn Kelly points out below, that doesn't mean we should lie and claim that obesity is a healthy condition, which many fatfluencers do.
Also below, more evidence of the "womanface" charge, as "Dylan" talks about shopping and other stuff he thinks that bubble-headed, shallow, materialistic womangirls are obsessed with.
As has been pointed out a million times by now, the fundamental doctrine of feminism -- that there is no sex-specific personality trait inherent to femininity, and that girls can like trucks and science just as much as other girls might like dolls and helping professions -- is in direct contradiction with the claims of the Trans Girls Who Can Do Anything, which is that they "feel like a girl inside" because they have specific personality traits that are inherently "girly," like loving shopping and shoes and make-up and fashion.
This is why no one on the left could answer Matt Walsh's question, "What is a woman?" Because it's a key doctrine of the Sexual Left that there is no such thing as biological essentialism in gender behaviors. A woman is whatever she wants to be; whatever we think of as "womanly" is just so much social conditioning and coercive enforcement by the patriarchy.
But now here come the Transexuals to say, no, there is definitely something essentially "female," and it lives in us.
So none of the people Matt Walsh interviewed could say, "A woman is anyone who exhibits one of the characteristically female personality types or prefers female interests." Because the Sexual Left denies those exist!
For most purposes. For men who say they're women, they seem to permit a limited version of Magical Feminine Essentialism. Female Essentialism does not exist in women, but maybe it does exist... in men?!?!
What the genderbent hell?

The Sexual Left's response to questions about this serious fundamental contradiction continues to be, "Shut up bigot, do not question our dogmas, just repeat them."

posted by Ace at
01:19 PM
|
Access Comments