« San Francisco Business Owner: I'm Closing My Store Because This Is a "City of Chaos" Where Productive People Are Made to Be the Slaves of the Violent, the Criminal, and the Insane
Updated: Why Don't You Just Pay for Social Services For the Homeless?
|
Main
|
Biden Slurs His Way Through Pro-Abortion Speech, Announces That the First Casualty of Dobbs Was Jill Biden, and Concludes By... Apologizing to the Audience »
October 19, 2022
Biden: I'm Releasing 15 Million More Barrels of Oil from the Almost-Depleted Strategic Petroleum Reserve Just Before the Midterms... And It's Not Politically Motivated At all
A Ban on All American Petroleum Products?!!?
Just like his demand that the Saudis suspend their cut in oil production for one month only wasn't politically motivated.
He claims he's going to refill the SPR -- when? When does he contemplate his policies will ever result in a lower cost of oil, such that it would make it feasible to refill the reserve without bankrupting the country?
Also, filling up the Reserve will drive oil prices up, just as releasing oil from it drives them down. When does he believe that oil prices will be low enough that he can add to the price of them by having the US government enter the market and begin buying oil in bulk to put into the Reserve?
Never. He will never refill it. He will continue tapping it, for craven political reasons, until it is empty.
Note that Biden hopes to be able to refill the SPR when oil prices fall under $80, which they won't.
When Trump proposed topping off the SPR when oil was dirt-cheap at $24 per barrel -- $24 per barrel-- Democrats blocked him from doing so, claiming this was just a "bail-out" of the oil industry.
And now we have that much less in the Reserve.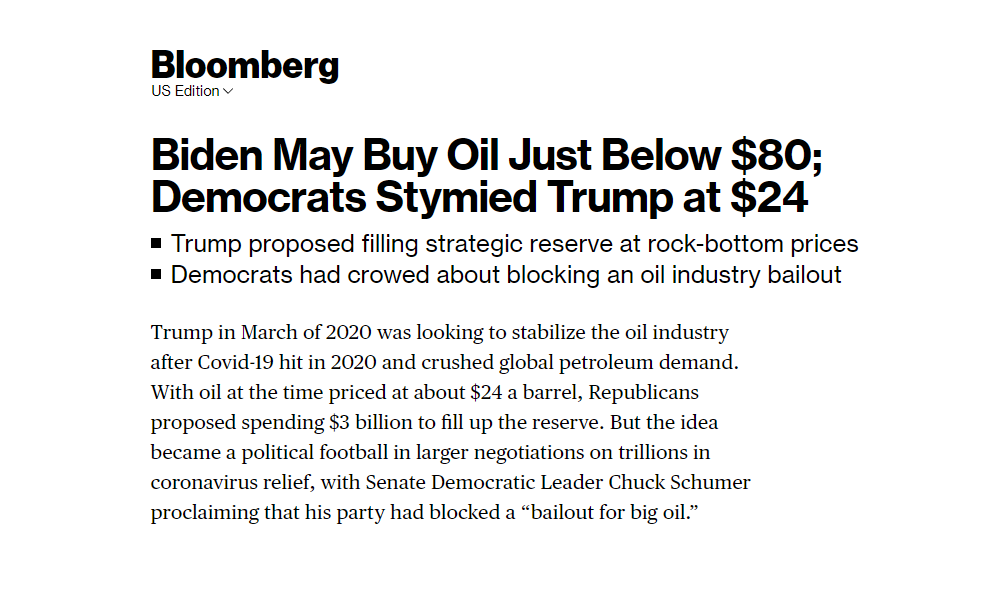 Update: What?!

posted by Ace at
03:29 PM
|
Access Comments