« Daily Tech News 19 October 2022
|
Main
|
Mid-Morning Art Thread »
October 19, 2022
The Morning Report — 10/19/22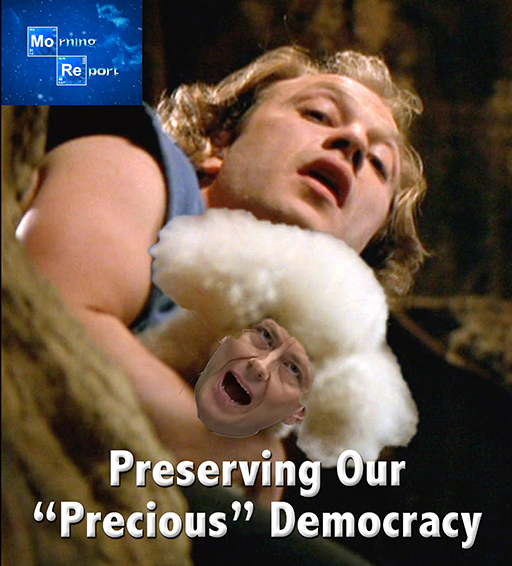 Good morning kids. Wednesday and so Igor Danchenko, another soldier in the Democrat/Clinton criminal enterprise that attempted to sabotage the 2016 election with a completely spurious myth about Trump colluding with Russia to rig that election, skated. Acquitted in a D.C. courtroom that no doubt had a jury pool, as well as a judge and maybe even the prosecutorial team itself that is completely in league with the aforementioned criminal enterprise.
So far, the few patsies, if you can even call them that, who were brought to "justice" either got ridiculously light wrist-slaps or like Danchenko, acquitted in courts as effectively marsupial in nature as the J6 congressional hearing. Some have gone on to have lucrative book deals, guest lecture speaking engagements and even political analyst gigs on State-run house organ agitprop media. This Peter Strzok cancer in particular is appalling and one sick MoFo. Look at his facial expressions, especially his grinning. He's also quite dangerous. In another time and place, someone just like him would be rounding people up and shooting them into mass graves. In point of fact, the rhetoric from the twisted maw of this hideous sociopath is quite revelatory in that regard.
I think if you look at the scale in terms of a threat to democracy, 9/11 was a tragedy. We lost thousands of lives in a horrific way. We still mourn to this day. But when you look at something that is an attack on democracy, something that could actually bring about a fundamental change to American governments, 9/11 is nothing to January 6th."

He added, "This is a far greater threat to our constitutional democracy than anything we've faced in the past 20 or more years. We need to be addressing it the same way. I suspect if they were, if we were, we might hear more about it, and I think that's the sort of thing that gives a lot of observers, those of us who have been in the FBI, a little bit of concern whether the same urgency and approach to the situation, whether that's on par with the nature of the threat we're facing right now."
About the only saving grace to this is that MSNBC has about as much of an audience as a 500 watt community college radio station somewhere in the middle of the Bering Strait. But this rhetoric cannot be dismissed out of hand. These people are out for blood. Billy Ayers once openly declared that at least 25 million Americans who will not or cannot be "re-educated" once he and his have overthrown the USA would have to be liquidated. Guess what; his political descendants have indeed overthrown the USA and now occupy positions of power both in and out of government.
Psaki-psircling back to Danchenko, yet another true-blue ham-and-egger gumshoe patriot has told the GOP to fuck off and die in a fire, but in the nicest possible way, mind you:
Former FBI agent Timothy Thibault refused last week to cooperate with House Republicans' probe into the bureau's handling of Hunter Biden's "Laptop from Hell" investigation.

"Concerning the request for an interview, because the subject matter pertains to sensitive law enforcement information and/or pending investigations, our client is not in a position to accept this invitation at this juncture," Thibault's attorney responded to the House Judiciary Committee on October 7 . . .

. . . "Thibault can refuse to cooperate now, but can't hide from a Congressional subpoena in the future," a person close to the Republican committee told the New York Post. House and Senate Republicans plan to aggressively investigate the Biden family if they retake the House and Senate in November.
"Not in a position to accept the invitation?" Pfft. Even if the GOP takes the House and Senate come the midterms and adds the White House in '24 to boot, what will change? If that were the Democrats he flipped the bird to, you can bet your ass that an armed goon squad would be at this guy's door at 3AM with a CNN crew covering it, to drag his ass out of bed and throw him into the back of a van, probably never to be seen nor heard from again. Seriously, the FBI is a Democrat-Leftist political hit squad and personal Gestapo. When a Republican is in charge, they — like the rest of the entire federal bureaucracy — will do nothing to advance the administration's agenda. When someone like Trump is in the Oval Office, you will have what amounts to mutiny at every level.
There is a war of political persecution being waged not just on direct political opponents of this regime but on what are now effectively prisoners of conscience:


"What we're talking about here is nonviolent pro-life activity," Geraghty told the DCNF. "This is something that people should care about because it's showing an abuse of power from the Biden administration targeting many peaceful pro-life activists," he said. "For me, the anti-abortion cause is not somethings that's religious. I'm an atheist. Its not necessarily a right wing opinion. I work with the Progressive Antiabortion Uprising. Many people believe abortion should be illegal and it should not be normalized to have this mass industrialized slaughter of unborn human beings."

Geraghty and eight others were accused of forcefully entering an abortion clinic and blocking two doors with furniture, chains, ropes and their bodies while a tenth defendant livestreamed the event. Each of them faces up to 11 years in prison, three years of supervised release and a fine of up to $260,000, according to the indictment.

This is the latest of a series of federal indictments related to anti-abortion protests and demonstrations under the Biden administration: at least 22 peaceful pro-life activists have been indicted under the FACE Act in 2022. . .

. . . Another pro-life activist, Mark Houck, was arrested by the FBI on Sept. 23 after a 2021 altercation between Houck and a volunteer outside an abortion clinic. Dozens of federal agents stormed his house, pointed guns at the parents and in the direction of their seven children as they began screaming and begging the officers not to take their father away, according to his wife.
While that certainly got our attention, here's something equally heinous that had nothing to do with abortion but flew under the radar, and all things considered is probably not an outlier either:


Frontline News first reported on this apparently politically motivated investigation. Now, Israeli Attorney Roman Brik has publicized his letter to the state CPS (Massachusetts Department of Children & Families (DCF)) identifying the pretext for the investigation: the decision of Rabbi and Mrs. Green to decline an unnecessary, high-risk surgery on one of their healthy children. . .

. . . What was once known as "getting a second opinion" has apparently been transformed by a weaponized CPS into grounds for removal of a child and potentially their siblings as well. . .

. . . Is it becoming CPS policy that getting a second opinion is not only not prudent parenting, it's actually neglect? At this very moment, the parents of ten-year-old Evelyn Young are fighting to get back custody of their child. The State took her from them when they tried to take her out of the hospital for a second opinion after doctors insisted on using an extremely powerful drug that shuts down DNA replication in order to suppress the immune system during an organ transplant. . .

. . . Why does only the hospital, acting with the force of CPS, get a pass? And what if Evelyn's parents did not happen to be religious home schoolers who do not vaccinate their children? Would they have been treated the same by CPS?

Without a whistleblower from within CPS or the hospital staff, we may never know. In the the Green's case as well, it would require an independent investigation to determine whether their case stemmed from government pressure due to Rabbi Green's activism as per his appeal of the harassment  posted on YouTube. But Brik maintains that there's quite a bit of evidence showing that this is not about neglect:

Rabbi and Rebbetzin Green routinely host dozens of guests in their synagogue and their house [for festive Sabbath and holiday meals]. Their twelve bright, incredibly intelligent, friendly and cheerful children are interacting and socializing with – and seen by – innumerous guests, day in and day out. To suggest that these kids are anything but loved and taken care of with the fullest devotion by their experienced and congregation-leading parents is not only preposterous – it is outrageous and revolting.
Now you understand not just why, beyond scores of innocent citizens rotting away in the Garland Archipelago for doing nothing more than being patsies in an FBI entrapment scam, Leftist brainwashers in school boards worked directly with the Junta to target uppity parents who objected to the taxpayer-funded mind-and in some cases body-fucking of their kids. Now you know why Gavin Newsom is passing edicts targeting doctors for spreading misinformation, i.e. the truth, about the Chinese COVID vaccines.
Politics now extends to every aspect of an individual's life. To object to something is to now go against the State. If it had a face, the contorted mien of Peter Strzok is it.
On a separate but not really unrelated note, given the players above and what their goals are, friend and friend of the blog Michael Walsh has just released what I consider a crucially important work.
What is the Great Reset and why should we care? What are its aspirations, prescriptions, and proscriptions, and how will it prospectively affect us? Why is the Swiss-based World Economic Forum (WEF) under Klaus Schwab advocating a complete "re-imagining" of the Western world's social, economic, and moral structures? And why now? What are its aspirations, prescriptions, and proscriptions, and how will it prospectively affect us?

Weighty historical issues are often best debated promptly, when something can yet be done about them; in the meantime, historians of the future can at least understand the issues as the participants themselves saw and experienced them. Whether the formerly free world of the Western democracies will succumb to the paternalistic totalitarianism of the oligarchical Resetters remains to be seen. But this is our attempt to stop it. . .

. . . The Great Reset is being sold as a bold innovation, a novel strategy employing a grab bag of emerging technologies called the Fourth Industrial Revolution. But it's not new. Strip away the Davos jargon, and the Great Reset is Plato's dream of a philosopher king society. Intellectuals have always yearned for a world run by intellectuals, and politicians have always found reasons to give themselves more power.

The pandemic panic was the worst example yet of a phenomenon I call the Crisis Crisis: the endless series of alarms fomented by a codependency of politicians, technocrats, activists, and journalists. This crisis industry is a long-standing problem—the ruling and chattering classes have always exploited crises, real or imagined—that has worsened exponentially with cable news and the web. These fearmongers don't need to worry about accuracy—or the damage when the panic leads to a cure that's typically worse than the disease. By the time they're proven wrong, their false alarms will be forgotten, and journalists will be seeking their wisdom on a new crisis... the tyranny of Covid should be a lesson in what not to do and whom not to trust.
Oh, in case you missed it, the handlers of Joey Sponge-Brain Shits-Pants have added another extension to the Chinese COVID "emergency," despite his declaration via brain-fart that the "crisis" was over. And the midterms are three weeks away.
Buy the book and fight the power!


ABOVE THE FOLD, BREAKING, NOTEWORTHY
CIVIL WAR 2.0: J-6 FBI FALSE FLAG "RIOT" & AFTERMATH, LEFTIST PERSECUTIONS, DEMOCRAT PUTSCH, AMERICAN DISSOLUTION
NOTE: The opinions expressed in the links may or may not reflect my own. I include them because of their relevance to the discussion of a particular issue.
ALSO: The Morning Report is cross-posted at CutJibNewsletter.com if you want to continue the conversation all day.
Follow us on Twitter: @CutJibNews
Follow us on Instagram: @Cutjibnewsletter

posted by J.J. Sefton at
07:47 AM
|
Access Comments