ę Regime-Approved Racist Charles Blow: Now That Hispanics Are Anti-Black Too, We're Seeing White Supremacy Becoming Lite Supremacy
|
Main
|
Videogame Channel G4TV Shuts Down, Again, This Time Due to Fatal Wokeness Ľ
October 18, 2022
Election News Round Up 1
GOP jumps out to biggest lead in RCP average in 8 months, just in time for election.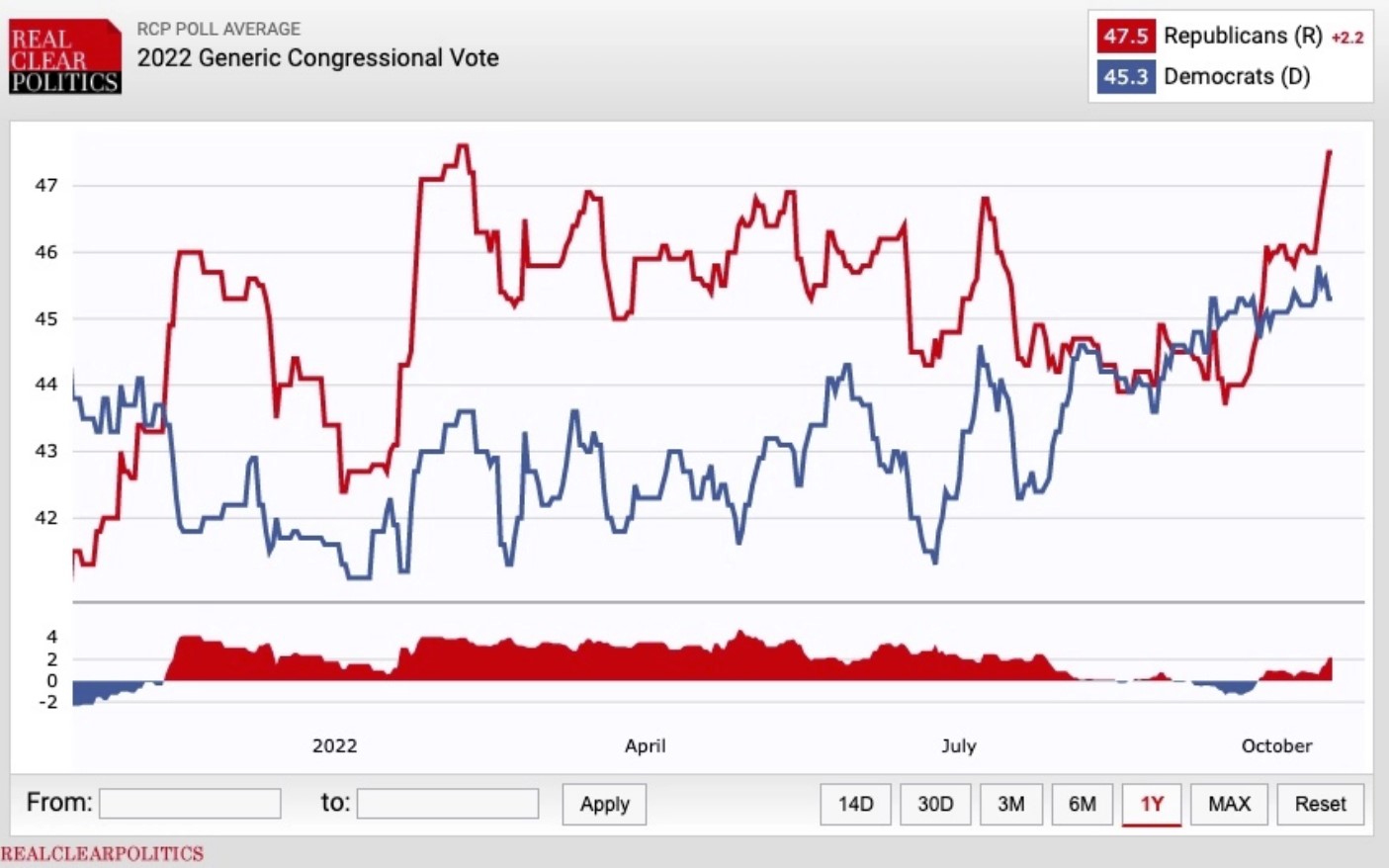 It's only a 2.2 point lead, but this is from pollsters who consistently undersample Republicans, and a national poll of congressional voter intent is biased in favor of Democrats, anyway: Democrats are crammed into safe, ultramarine Democrat districts, and less represented in the competitive swing districts actually in play.
So what does this mean? It portends a significant wave in House races, to be sure. Thanks to the structure of generic ballot polling, Democrats generally need to get to D+4 or D+5 to hold serve in an election. An R+2.2 -- if that's where it stays -- suggests a massive set of pickups, at least in a relative sense. Don't forget that Republicans already have 212 seats in the House, so a 30-seat pickup would give them a blowout majority and put them close to 2010 territory. If this lead widens any further, it may well also point to a wave that could lift marginal GOP candidates for Senate into office as well. That is what happened in 2014, for instance, an outcome that pollsters missed entirely.
Is Kathy Hochul in trouble? Could might be!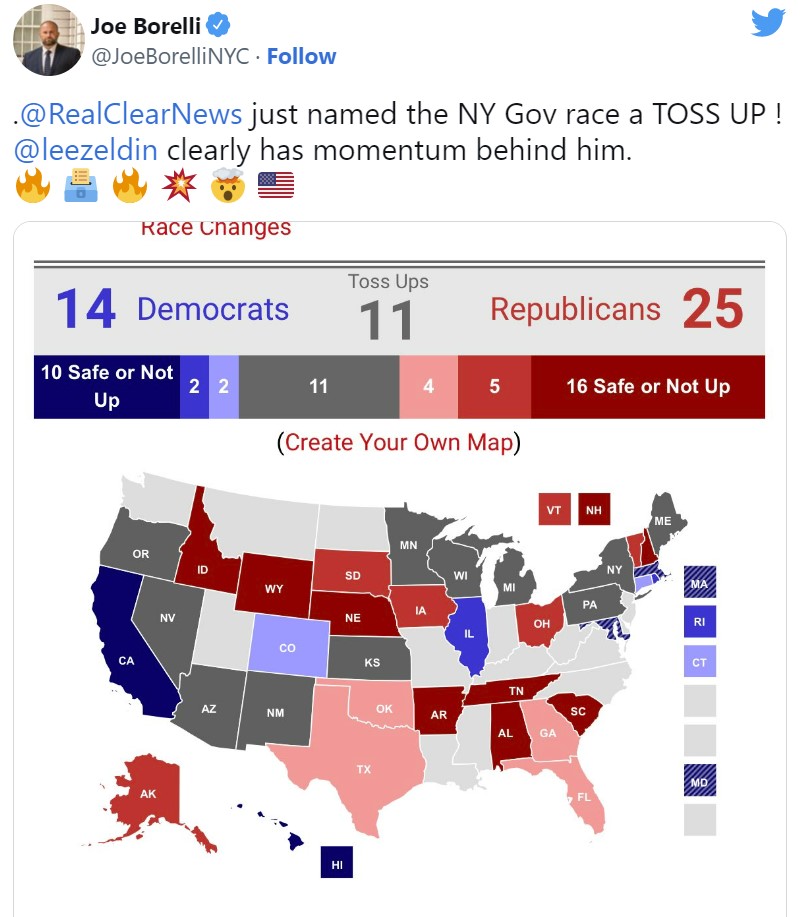 Hochul's down to a 6.2 point average lead, which should be very worrying for her given the Democrat skew in polls and Republican enthusiasm. That average is also blown the F*** out by a completely out-of-line report that just came in from the NYT/Siena poll, claiming an 11 point lead for Hochul.
Meanwhile, Quinippiac just put the race at 4.
And Trafalgar, the much-maligned "Republican-skewing" pollster that always seems to call these races correctly, puts it at a two point race, within the margin of error.
Crime is a top issue in the campaign.
"Whether I'm in a blue county or a red county or talking to Republicans, Democrats or independents, I hear about people who care about crime and public safety," Zeldin said in an interview. "They want to take back our streets."

Crime ranks among voters' top concerns nationwide heading into Election Day, and the issue is pronounced in the Empire State -- particularly in New York City, where daily headlines about violence have even Democrats at odds over how to best address it.

Polls in New York have shown crime as a major consideration in the governor's race, and ads by underdog Zeldin and the super PACs supporting his candidacy have derided Hochul for not doing more to address crime.

"It's a flood, and Kathy Hochul isn't up to the job of fighting crime," an ominous voice in an ad from the Safe Together NY committee, a PAC backing him, says.

Below, a Zeldin ad on crime. Note that it was impossible to find this ad through Google, YouTube, and Twitter searches -- they are deliberately hiding it. Searching "Lee Zeldin campaign ad" or "Lee Zeldin campaign ad crime" fails to turn the ad up.
To find it, I had to go to Lee Zeldin's twitter account, and then scroll down post by post.
Nurse Kathy should be worried. A single new video of a nasty street crime in New York state that is attributable to Hochul's support of cashless bail will probably tip this election to Zeldin.
I mean, another outrageous crime attributable to Hochul, besides this one that just happened. Disgusting.
New York's bail "reforms," which Hochul refuses to change, forbids judges from considering the danger posed by the criminal when granting or refusing bail.
So they let this guy out, who had repeatedly attacked his wife, and who was so predictably going to murder his wife that she was wearing a bullletproof vest when he murdered her.
A New York woman was allegedly shot dead by her estranged husband who was arrested on the previous day on the charges of domestic violence, police say. Keaira Hudson Bennefield, 40, who was also a mother of three, was fatally shot on Wednesday, October 5, as she sat inside her car outside her mother's home. The shooting was witnessed by two of her children who were in the back seat of the car. Police have issued an arrest warrant for Keaira's estranged husband, Adam Bennefield, in connection to the shooting.


Adam allegedly assaulted Keaira for which he was arrested but he was released from jail short after on the same day. According to People, on September 28, officers from the Cheektowaga Police Department responded to a domestic violence call at a home. Bennefield already fled the scene by the time police arrived. Keaira was advised by the officers to contact them if he returned.
Call us if he beats you again, so we can arrest him and keep him in custody for 2-3 hours before a judge sets him free.
Unless he just murders you this time.
Which he will.
Keaira posted a video of the assault on her Facebook page on the next day. Police officers arrested Bennefield and charged him with one count of third-degree assault, two counts of fourth-degree criminal mischief, one count of second-degree menacing, one count of second-degree unlawful imprisonment and one count of second-degree harassment after they saw the video on October 2. However, he was released on his own recognizance just hours after his arrest.
Hochul says your kids should wear masks at school, though.

Amazingly, "Danang Dick" Blumenthal of Connecticut, one of the most rotten of the nasty liberal Senators in a Senate full of the breed, might be in trouble as well.
Hard to believe, and this is just a single poll. Still. Worth at least noting.
Republican Senatorial candidate Leora Levy is closing the gap on Democratic Connecticut Sen. Richard Blumenthal just weeks before the midterms, according to a new Connecticut Examiner/Fabrizio and Lee & Associates poll.

Levy is just five points behind incumbent Sen. Blumenthal, with results showing 44% to 49% with a 2.8% margin of error, the poll reported. Serving as the Republican National Committeewoman for the State of Connecticut since 2016, Levy intends to replace career politician Blumenthal's "far-left policies" that undermine "freedom and security," her website says.

Maybe DeSantis, Abbot, and Ducey need to send some illegal aliens to Yale.

posted by Ace at
03:00 PM
|
Access Comments