ę DeSantis: I've Got a Feveh and the Only Cure Is More Planeloads of Illegal Aliens to Blue States
|
Main
|
Cuddly Baby Elephants Cafe Ľ
October 17, 2022
She-Hulk Actress and Showrunner: We Made The Show Just to Troll and Insult The MCU's Declining Number of Male Fans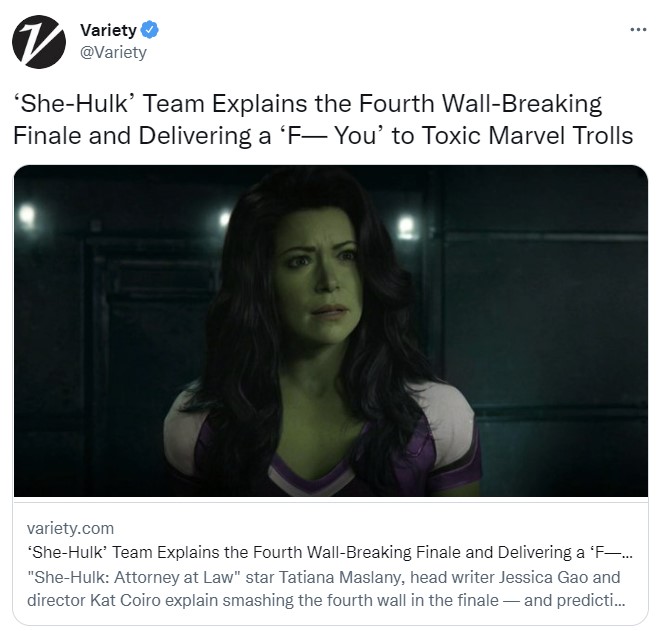 The world's longest, most expensive Twitter insult.
In the last episode of She-Hulk, She-Hulk exited the show to climb over Disney Plus' navigation screen, then crawled into a Behind-the-Scenes featurette to complain that a show about superheroes -- a genre marked by personal One V. One combats, with some team-up fights (much like Lucha Libre wrestling matches) -- should not have a big fight at the end because that is too cliched and instead should just have a family having a picnic at the end and talking about what they've learned.
Oh, and the villians turned out to be -- hold on to your seats -- Toxic Male Incels/Anti-Gamergate internet trolls.
The almost-all-female writers room is giving each other clumsy high fives over failing to complete the actual homework assignment, instead turning in an extremely preachy, abrasive, and misandrist feminist talking point babble-show.
And they just couldn't be more proud that they'd spited the audience and refused to give them what they want. Men! So demanding!
Throughout "She-Hulk: Attorney at Law," Jennifer Walters, aka She-Hulk (Tatiana Maslany), repeatedly breaks the fourth wall by not only directly addressing the camera, but acknowledging that she exists in a Marvel Studios superhero TV show. In the season finale -- pointedly titled "Whose Show Is This?" -- Jennifer smashes out of the show entirely, jumping through the Disney+ portal to confront the writers of the show about why the finale is so needlessly convoluted with extraneous, nonsensical plot lines, including one about a cabal of toxic fanboys who troll Jennifer online about being a female superhero who doesn't deserve her powers.
Those "plot lines" were the plot lines you ladies set up earlier in the season.
And now you're like "Oh these are stupid plot lines"?
Why didn't you write better plot lines, ladies?

Eventually, Jennifer confronts the one in charge -- no, not Marvel Studios chief Kevin Feige, but K.E.V.I.N. (or Knowledge Enhanced Visual Interconnectivity Nexus), a sentient robot armed with "the most advanced entertainment algorithm in the world."
Hilarz, ladies.
At the end She-Hulk pleaded her case to K.E.V.I.N. -- but he was a robot, not a man.
A Stronk Emkpowered Woman don't need nothin' from no man! A robot with an ambisexual voice, maybe. A man-- never!
As Maslany, creator and head writer Jessica Gao, and director and executive producer Kat Coiro explained to Variety, Feige was in on the gag from the start, and even helped to shape his A.I. avatar. They also talked about the satisfaction they felt in seeing real-life online trolls use the exact same criticisms of "She-Hulk," the show, that the fictional online trolls on the show used against She-Hulk, the character.
Ah, they didn't.
In addition to breaking the fourth wall, the finale tackles some of the exact same trolling comments that Marvel fans have been making. How did it feel to watch that happen as the show aired, knowing how the finale would turn out?

Tatiana Maslany: Jessica Gao is a genius and knows about the culture we're living in and her position in it when she's writing these stories about a woman superhero.
She-Hulk has been a popular Marvel character since the late 1970s. No one has complained that she's a woman in a "Male Superhero Space."
What was complained about was that you made her into a nasty, shrieky, endlessly-bitchy, endlessly-complaining Affluent White Liberal Female (AWFL) Karen and depicted every male on the show, except for Daredevil (who you weren't allowed to ruin, and who Kevin Feige probably sent in real writers to write for) weak, incompetent, corrupt, racist, sexist, creepy, stalkerish, and evil.
The only exception, of course, are the gay male character, who are just wonderful Besties to the AWFLs.
Literally no one complains about female superheroes. The complaint is that Current Year women writers always -- always -- take these spitefully misandrist shots at men, to "make up for" all the misogyny they're sure must be in the comic books.
But it's not. They wouldn't know that, because they haven't read any comic books. Even when asked to write comic books or a comic book show, they don't bother to read comic books to understand the Homework Assignment.
They just write Young Adult romcom unfunny non-comedies with "meta" jokes attacking the genre they're supposed to be writing in.
And no one ever corrects them or tells them to #DoBetter -- because they're so oppressed by the Patriarchy.
She knows what that response is going to be. As a cast, it was delightful sending each other these troll responses, like "Oh my god, give them a week and then they're going to literally see this pop up verbatim in the show and become the villains of the show." It was thrilling.
We're glad someone enjoyed it. If it was the feminist star of the show and the ten gals in the writers room, well that's only eleven people, but it's something to build on.
The show was written to serve as pre-emptive Twitter Nuclear Strike against trolls they imagined would attack the 50 year old female superhero She-Hulk for being a female superhero.
Were you expecting to face the trolls when you signed on for the show?

Reading the script, it was so true. There's so much resistance to a woman just existing in that space of superheroes.
Weird that She-Hulk never experienced that when John Byrne was writing her.
There's always going to be that. I sort of anticipated it. It's why I also feel it's important. There's such an entitlement to space held by certain people, and to even exist as She-Hulk is like a fuck-you, and I love that.
She means "the fans, current and former, of the MCU." The customers have such an "entitlement to space," and it was great to give the customers "a fuck-you."
The show was written as a fuck-you.
Literally, the whole show was written as a pre-emptive Twitter Snap-Back:
Did you have to dig deep for all of the Marvel criticism or just scroll through Twitter?

One thing I noticed is that at the beginning of the series, I was getting a lot of nasty, mean comments. As itís gone forward, that has stopped. I think it's because now they realize when they target us, they're playing directly into our hands. And we called it, which is pretty gratifying. It's so satisfying. Even negative commentary, I always interpret as engagement. If people are that angry, they are paying attention. I look at all of it as positive.
The head writer's previous drafts of Jen Walters' attack on the MCU and Kevin Feige for their formulaic stories -- and to male fans for enjoying them -- were so barbed and nasty that Kevin Feige winced and made her dial the venom and hatred back.
Did Marvel give you any suggestions for the hate comments they get online?

Jessica Gao: That conversation between Jen and K.E.V.I.N. is very much the relationship that I have with real-life Kevin and a lot of that is taken from conversations I've had with him. That scene was so much longer in the scripts. If they had let me, I probably would have written a 10-minute conversation of my avatar arguing with Kevin. This is probably the tightest version of what it could have been. There were a couple of jabs where Kevin was like, "OK, this is a little mean now."
Hey fat pig, if you don't like this kind of story, why are you insisting on taking up space in the writers room writing them?
As I've observed: Women do not like these forms of entertainment. They did not consume this entertainment as civilians, and they don't even bother to study up on the conventions of the genre as "professionals."
They are here solely out of spite, to take away things that the men these shrill hateful cows hate so much enjoy.
If I had to write a romcom, I wouldn't try to "subvert the audience's expectations. " I wouldn't make fun of cliches like the woman always falling and tripping when she first sees the guy she likes. I'd ask -- why is that cliche here? Is it here to represent, visually, how someone feels so terribly awkward when they first fall in like with someone? And I'd try to think of something else to show that, something not as cliched, but which serves the same emotional point.
I wouldn't have the male character look at the camera and wink and say, "Isn't it stupid that these romcoms always have the female character trip and fall when she sees the male love interest?! How stupid! Boy ladies, you sure are stupid for liking this low-intellect, cliched crap!"
But this is always women's attitude towards genres enjoyed by men.
And then they want to be thanked for "Making it Better" or for "educating men."
What do you hope to see from Jen and Matt Murdock's relationship?
The show's ratings have been poor. The main actress was asked if they're doing a She-Hulk season 2 and she responded that no one had told her they were doing one yet.
So... that's a no. People sign the major players quickly to do sequels if the first one's a hit.
If it's not.... they just let the question dangle for years, occasionally claiming that they've got a move or show "in development."
Meanwhile, We Had Rangz also had its season finale: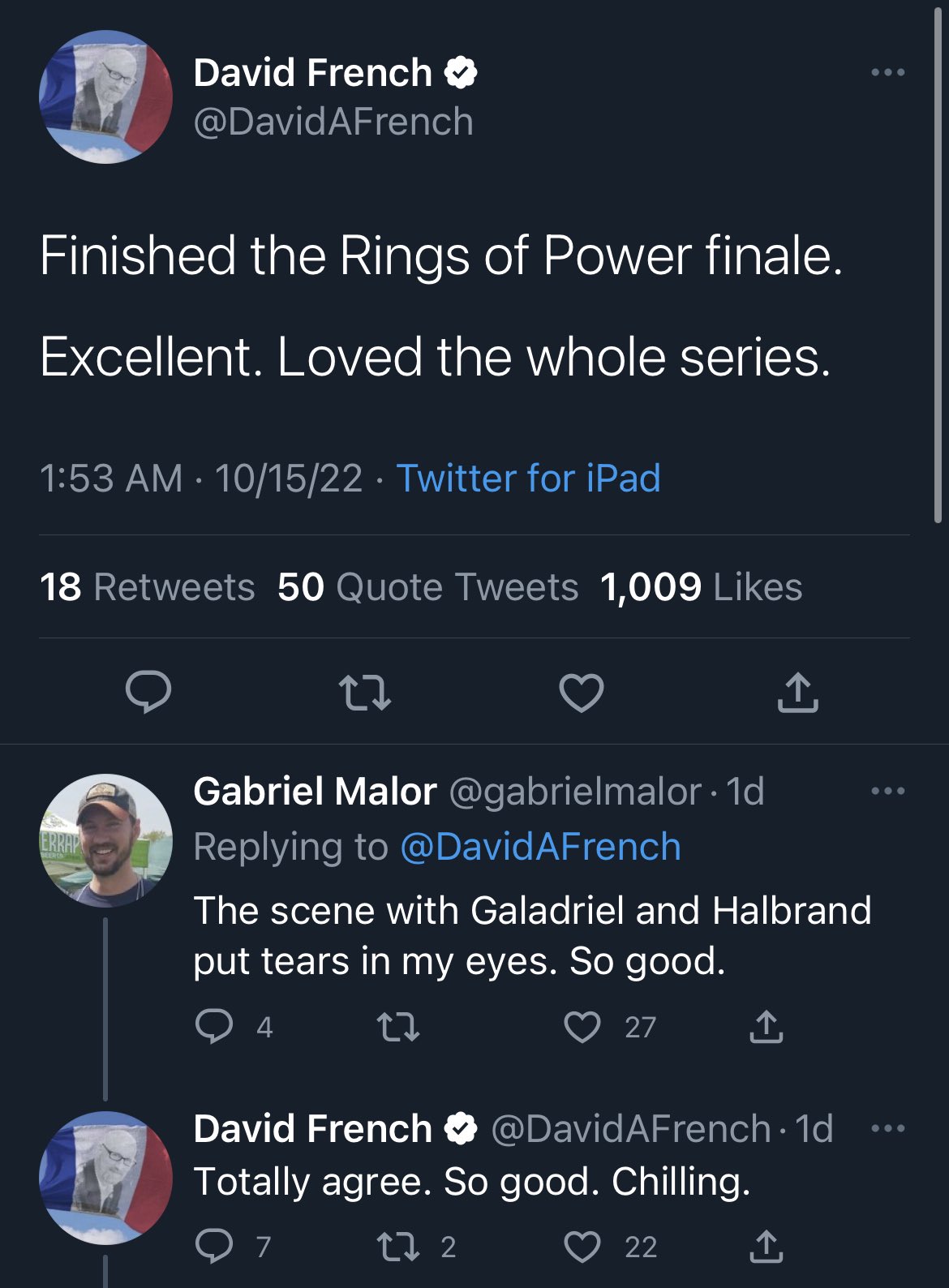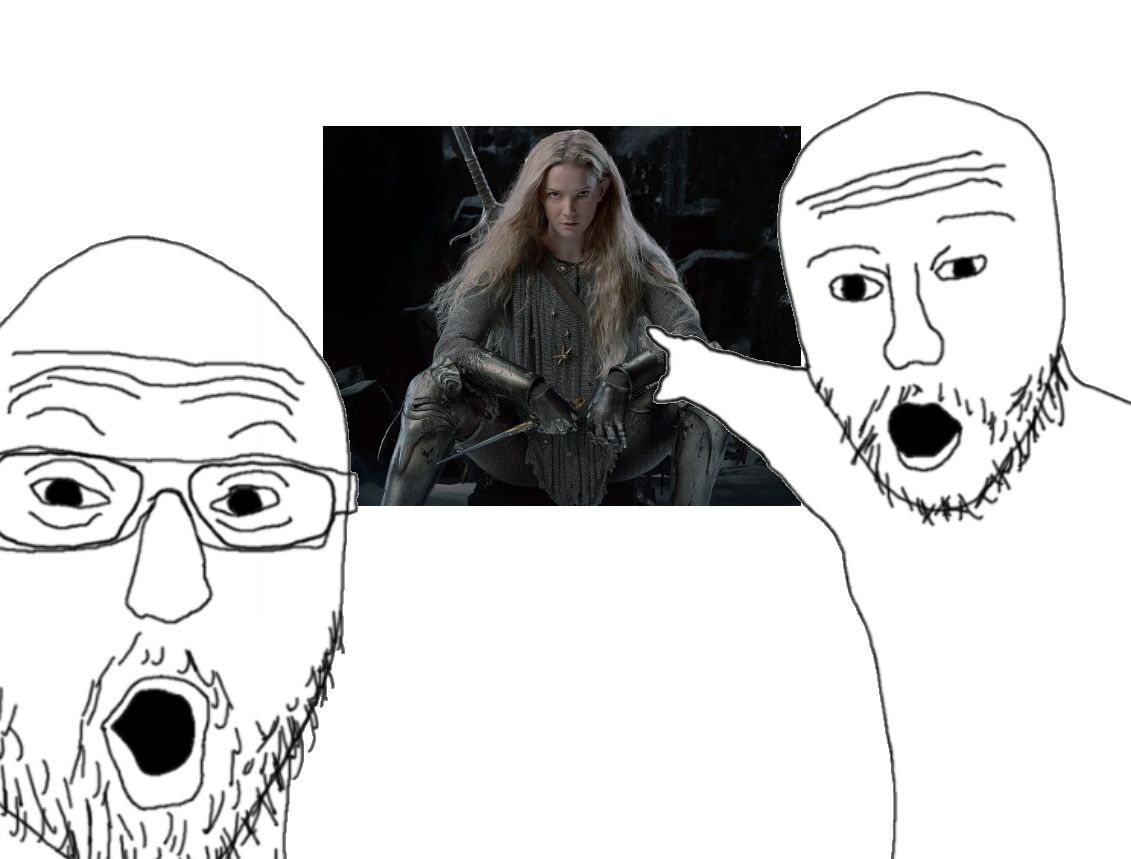 posted by Ace at
06:30 PM
|
Access Comments