« Saturday Morning Coffee Break
|
Main
|
Gardening, Puttering and Adventure Thread, Oct. 22 »
October 22, 2022
Why does gender theory lead away from civilization?
Microsoft:
Inspired by the public's response to our 2022 Pride flag, we're expanding our design to represent 40 LGBTQIA+ communities--and making it available for everyone to use and build on: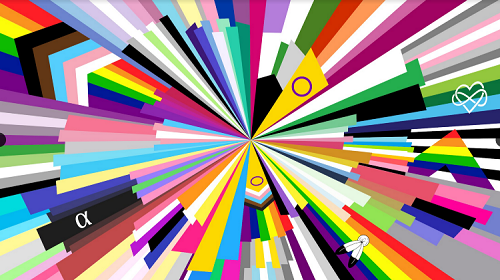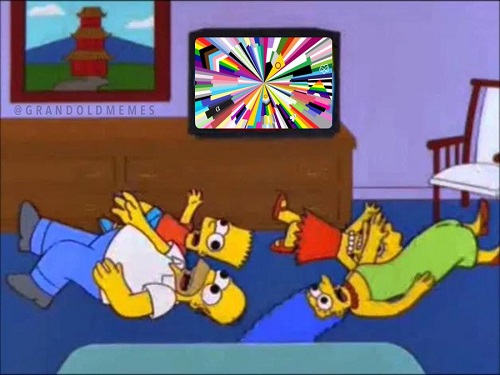 *
If you have academically-inclined visitors over the holidays, New Discourses may be able to help everyone sort out Microsoft's new Pride Flag above, to reduce casualties. This is really how people are taught to think on campus:
The concept of gender is extremely important in Critical Social Justice, and it is a ripe site for the ideology of Theory to assert itself because the issue of gender is genuinely complicated, relatively poorly understood, and a place where sociological issues are likely to be highly relevant. In the Theory of Critical Social Justice, gender is ultimately socially constructed and, following the queer Theory of Judith Butler, performative (see also, gender performativity).

That is, in Critical Social Justice thought, gender is something that is learned and done, not something that necessarily has anything to do with one's biological sex. Sex refers to features of the body for reproduction only and has nothing to do with who someone is; gender is the part that relates to who you are and who you experience yourself to be. Learning gender happens through socialization, which is roughly a kind of brainwashing society does to itself through which the dominant ideologies are produced, reproduced, maintained, and legitimated (see also, hegemony, internalized dominance, and internalized oppression). Here, those are about what it means to be masculine and feminine, what relationships those have with being male and female, and what injustices are perpetrated by social reproduction and enforcement of any norms around those issues (see also, hegemonic masculinity, hegemonic femininity, and violence of categorization). Men are believed to be socialized to be masculine, females are believed to be socialized to be feminine, and this is all quite oppressive.
Put more plainly, in Critical Social Justice Theory, gender is nothing more than a set of beliefs, attitudes, expectations, and practices that are culturally produced and culturally enforced that define (a) what it means to be masculine (a man) or feminine (a woman), (b) who is expected to conform with those beliefs, expectations, etc., and (c) how that production and enforcement takes place. That is, gender is something you do--or something that is done by you, perhaps more accurately--not something you are (and sex, usually, is something you are, except when that's Theorized to have been foisted upon you by society too, say by "being inscribed at birth" upon you by putting it on your birth certificate, which is yet another form of socialization). In a landmark paper on this topic from 1987, "Doing Gender" by Candace West and Don Zimmerman (cited over 13,000 times), gender is defined wholly socially in this way. The idea that biology has something to do with gender is not just considered wrong but also immoral because such views could potentially be used by sexists and other bigots to enforce their bigotries.
So, is that flag clear to you now, bigot? If not, click the link above and keep reading until you get it.
Here is some of the mythology of this tribe:
Since the dawn of humanity, TERF activists have colluded to socially condition all 8.7 million species on Earth to conform to specific behaviour patterns in order to reinforce the myth of biological sex. This project was initiated by JK Rowling using a time machine.
* * * * *
Today's Thought Piece
The falsehood at the heart of the trans movement
The new politics of marginalised identities, now marching across the West, frequently clashes with classical liberal values like freedom of speech and association. Nowhere, however, is this clash and its consequences for civic life more obvious - and dire - than when it comes to the trans movement.

What began as an informal social and economic pressure campaign has crossed over into a formal effort by coercive state agencies to restrict freedom of expression, assembly, and conscience. In Norway, a feminist organiser named Christina Ellingsen could face up to three years in prison for tweeting that males who identify as women cannot be lesbians or mothers, because this statement violates Norway's newly expanded hate crime laws. In Canada, a human rights tribunal entertained the complaints of a trans-identified male against religious-minority women who refused to provide intimate hair-removal services. Professors like Selina Todd and Kathleen Stock have needed security to accompany them on their own university campuses after voicing concerns about proposed reforms to the Gender Recognition Act. In England, police have investigated ordinary citizens for tweeting salty limericks or displaying 'transphobic' stickers.

In the United States, with its uniquely robust First Amendment protections, we are unlikely to see police sent to investigate violations of new identity doctrines. But here, as elsewhere, activists rely on aggressive use of private coercion to shut down dissent, targeting critics' reputations and livelihoods. In November 2020, a prominent lawyer for the American Civil Liberties Union tweeted that 'stopping the circulation of this book and these ideas is 100% a hill I will die on'--referring to a book that questioned the sudden spike in girls identifying as transgender. Feminist groups attempting to organise in-person meetings have faced bomb threats and cancellations by venues nervous about optics and security risks. Teachers have been suspended or fired for refusing to use students' preferred pronouns.
THIS IS SOME SERIOUS STUFF HERE.
Then there is the soft pressure campaign underway across the West, involving the expectation that good, progressive people will not exercise certain freedoms: that lesbians will not refer to themselves as same-sex attracted, that women's groups will make space for males, that everyone will engage in routine self-censorship, lest feelings be hurt or certain uncomfortable realities be drawn into the light. What is politically inconvenient becomes unfashionable, morally objectionable, even 'dangerous'. Civil liberties have become distinctly uncool, panned by young activists, and more than a few grown-ups who ought to know better, as tools of marginalisation and oppression. Advocate for the right to freely speak your mind and activists will accuse you of harbouring specific heresies. In an interview with the BBC in September 2021, Ed Davey, leader of the Liberal Democrats, defended his party's decision to cast out a female member for asserting that women are adult human females: 'Well, we absolutely believe in free speech but we also believe that we need to protect human rights and we believe in equality.'
THIS IS THE NOT SO SERIOUS STUFF?
Civil libertarians who have sat this conflict out so far may be startled to see free speech set up in opposition to human rights and equality. But when it comes to gender, an atmosphere of wartime censorship has set in. Trans activists claim these strictures save lives, but in reality it is the survival of the cause itself that requires such exceptional treatment.

So why do civil liberties violations and calls for further clampdowns follow trans activism wherever it goes?

The short answer is that the trans movement threatens civil liberties because the movement is not what it claims to be and thus is threatened by free and open enquiry. If a movement cannot withstand scrutiny, it will create and enforce taboos -- and undermine civil liberties in the process. . . .

To put the conflict in plain language: trans activism argues that gender identity should override sex in law and society.
Emphases mine. Read the whole thing. It's short. There are lots of links, too.
. . . If the trans movement insists on its current course--shutting down public debate, subverting open democratic processes, and punishing critics--the movement will create openings for opponents with much more objectionable agendas than recognising that sex matters and advocating caution on youth gender transition. As Jonathan Rauch warned in his 1993 book, The Kindly Inquisitors: The New Attacks on Free Thought:

'[No] social principle in the world is more foolish and dangerous than the rapidly rising notion that hurtful words and ideas are a form of violence or torture (e.g., "harassment") and that their perpetrators should be treated accordingly. That notion leads to the criminalization of criticism and the empowerment of authorities to regulate it. The new sensitivity is the old authoritarianism in disguise, and it is just as noxious.'
GREAT. What we need is for the tactics used in the trans movement to spread to OTHER leftist movements!!!!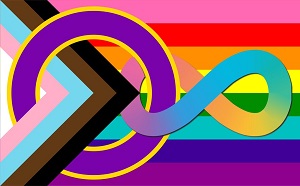 * * * * *
Recent Gender News
Ace wrote a great post yesterday on some recent gender news, originating both in the UK and here in the USA. You will understand some of the following content better if you have read Ace's post.
*
Saturday Intermission
This is a bit off-topic, but compare the writing in Ace's beautifully-organized post (that is, the writing both by Ace and those he quotes or links) with the writing in this "question" from an assignment from UVU Teacher College, a UN-affiliated school.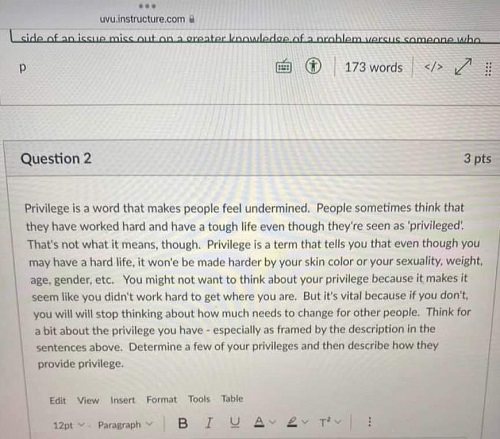 What are your thoughts about the quality of today's college education after reading the above? What might be some alternatives to education by UVU?
* * * * *
News you may understand better if you read Ace's post linked above
* * * * *
Quotes you may understand better if you read Ace's post linked above
At root, and with no hate, the real problem with gender ideology is that males can never be females - whatever labels people prefer.

This has massive implications for sport, sex, prison, war, just etc.

Biden is still making trans women register for the draft. Doesn't that tell you his regime doesn't believe the BS they spout?
*
Modern activism is often performative, rehearsed, and utterly out of touch with reality. Here, I make the bold claim that men and women are, on average, different heights. That appears to have been a bridge too far.
My son (Tavistock Wokington) was denied access to a rollercoaster based on his biological height. I explained that he identifies as 6ft 2 and finally he was allowed to ride. Tavistock did slip out and fall to his death, but I'm reassured knowing he felt safe when this happened.
*
"Having donned the invisibility cloak, Harry entered the women's bathroom, wand in hand, secure in the knowledge that he was immune from prosecution."
*
I don't think we should be so harsh on boomers. Keep in mind, that since gender affirming care wasn't available for kids back then, people of that generation will presumably have witnessed about 70% of their school friends kill themselves. Dark times.
*
By proving that schools aren't actually providing litter trays to children who identify as cats, John Oliver has demonstrated that it is morally acceptable to perform gender reassignment on a child.
* * * * *
Gender News hits the White House - Again
At the end of Ace's Quick Hits yesterday evening, we saw Dylan Mulvaney expressing, on "day 222 of being a girl", their(?) excitement over being invited to talk with Joe Biden! Because, of course, Joe Biden doesn't know enough about being a girl.
Think we will witness any hair-sniffing?
What happens when even Democrats figure out that this guy is a troll?
Wasn't "Day 1 of being a girl" a big enough tip-off? He is apparently not on hormones and has not undergone surgery. He gifted his interviewer in the "girlhood interview" with a signed sample of the patch he uses to tape down his magic wand when appearing in public.
*
What it takes to really be a girl:
Watching the Ulta interview on "girlhood" so you didn't have to.
Remarkable.
* * * * *
Drama
In honor of the Texas MoMe:
* * * * *
Hope you have something nice planned for this weekend.
This is the Thread before the Gardening Thread.
Serving your mid-day open thread needs
* * * * *
Last week's thread, October 15, You don't have to be in California government to create a disaster, but it helps
Comments are closed so you won't ban yourself by trying to comment on a week-old thread. But don't try it anyway.


posted by K.T. at
11:19 AM
|
Access Comments