« Biden: Look Fat, the Recession That We're Totally Not In Right Now Will be a "Slight Recession"
Another Inflation Gauge Shows Accelerating Inflation; Wages Fall
|
Main
|
The Great Pup-kin Cafe »
October 13, 2022
"Journalists" Attack a Reporter for Accurately Reporting the State of John Fetterman's Cognitive Health
"Journalists" are now officially anti-journalism. Just as "anti-fascists" are actually fascists, and "anti-disinformation" groups actively peddle disinformation.
Dasha Burns was the first reporter allowed to do a face-to-face (sort of!) interview with Kwato the Displeased's Travel Module, known as John Fetterman, since the latter's stroke in May. He's done all of his press via Zoom call, because he needs spoken questions transcribed into written ones. The part of his brain that interprets speech is broken; the part that parses written text is... well, he doesn't seem very sharp there, either, but it's better than the oral-speech comprehension part of his brain.
So reporters who "spoke" to him on Zoom spoke to him, essentially, through a text interpreter.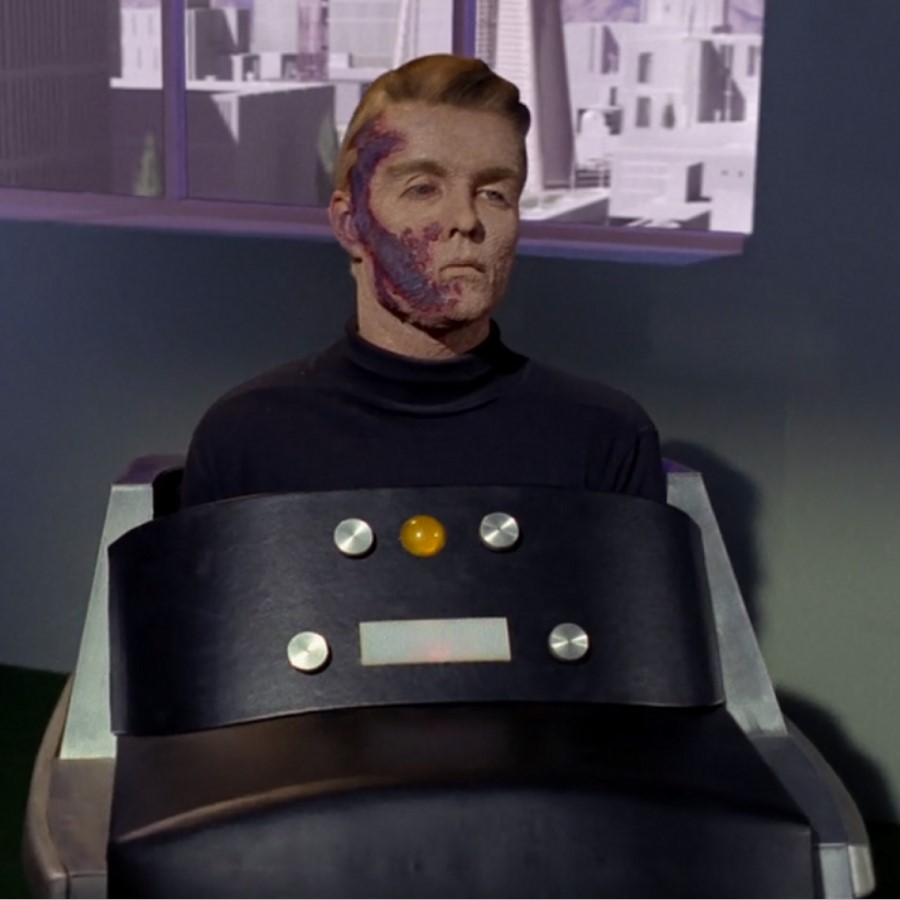 Artist's conception,
minus 150 pounds, minus streetrat hoodie
Dasha Burns spoke to him without that interpreter -- at least for the small-talk before the actual interview. During the interview, Fetterman insisted on having her spoken words transcribed into text he could read.
But she saw how he responded to purely spoken speech-- and he report was that he simply could not comprehend it.

Remember, she's the first reporter allowed to speak with him in this sort of situation, unmediated by a Zoom speech-to-text interpreter.
What did the rest of the Brave Firefighters do? Did they applaud her for landing this until-now ungettable interview?
No -- they attacked her for exposing the secret that a Democrat candidate was trying to conceal from the public. They attacked her for doing her job as a journalist instead of doing her real job as a Democrat spy who had infiltrated a news organization.
Some of this is collected at Twitchy:
Kara Swisher @karaswisher




Sorry to say but I talked to @JohnFetterman for over an hour without stop or any aides and this is just nonsense. Maybe this reporter is just bad at small talk.
Yes that's it, Lesbian Donald Trump. She's just "bad at small talk."
Or maybe you conducted your interview over Zoom or Google Meet.
One of the "reporters" claiming that Fetterman is in perfect cognitive health, The Pride of Vox, Rebecca Traister, forgot -- Oops! -- to mention that in her stalwart defense of Fetterman's cognitive abilities.
Is Swisher also, Oopsie!, forgetting to say she interviewed Fetterman over Zoom or Google Meet? I think she is, because she's not saying what Dasha Burns did, that this is "the first face-to-face interview" since his stroke. If Swisher landed that, you'd think she'd have said so.
So she's... lying. Shocker.
I also notice this at the end of Swisher's interview with Fetterman:
This interview has been edited for length and clarity.
Anyone want to bet that "clarity" is the Secret Superhero in that sentence?
Let me stress, Burns is the first journalist to speak to Fetterman without his Captain Pike Interface since his stroke. None of these other Democrat Spies have done that. They therefore had no basis upon which to dispute her account of what he's like without a speech-to-text transcription service -- except for the fact they are paid agents of the treasonous Democrat Party, and just reflexively claim that any story that hurts the Democrat Party is "disinformation" of one variety or another.

She's "just bad at small talk" was a popular cope: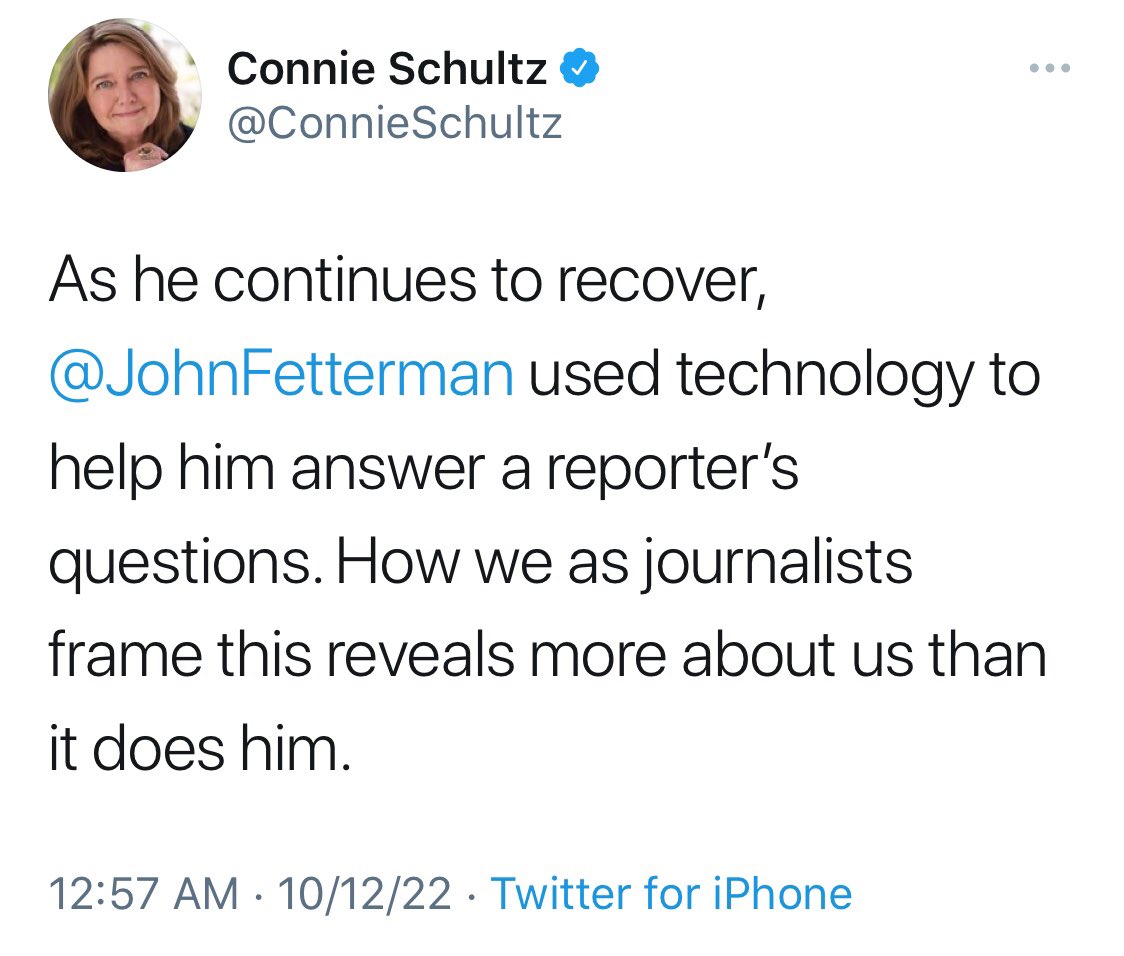 She didn't "frame it" in any particular way -- she did not say it was good, he did not say it was bad. She just said it, period. She reported a fact the left does not want reported at all. She just let out the secret, which is why you're all so angry with her.
Your preferred way of "framing it" would be to... hide it forever, which is what Fetterman had managed to do (probably with the media's connivance!) until this week.
"Journalists" do not exist to inform the public, but to conspire with the privileged to hide information from the public.
The Washington Post's lunatic partisan Greg Sargent claimed, based on nothing at all (WITHOUT EVIDENCE, Jake Tapper's snarky chyrons would say, if he ever criticized his beloved left wing) that Burns' reporting was "faulty" and led to "right-wing" propaganda:
Greg Sargent @ThePlumLineGS

Awful: Tucker Carlson is attacking Fetterman by amplifying the idea that NBC's Dasha Burns injected into the media bloodstream: That he had trouble "understanding" language.

This shows how faulty MSM reporting enables bad faith right wing propaganda.
Burns tried to remind them of the job they're pretending they do -- to no avail:
Dasha Burns @DashaBurns

We were happy to accommodate closed captioning. Our reporting did not and should not comment on fitness for office. This is for voters to decide. What we do push for as reporters is transparency. It's our job. Fetterman sat down and answered our questions. That's his job.
You're saying there's a distinction between the roles of a "journalist" and the Democrat politicians she conspires with...? What blasphemy is this!
More blasphemy here:
Via Twitchy, AP is now running media criticism as a story.
When has the AP ever attacked the media and called it a story? Must be the first time in a long, long time. Probably a few hit pieces on Fox I'm forgetting, but the reporter here worked for leftwing MSNBC.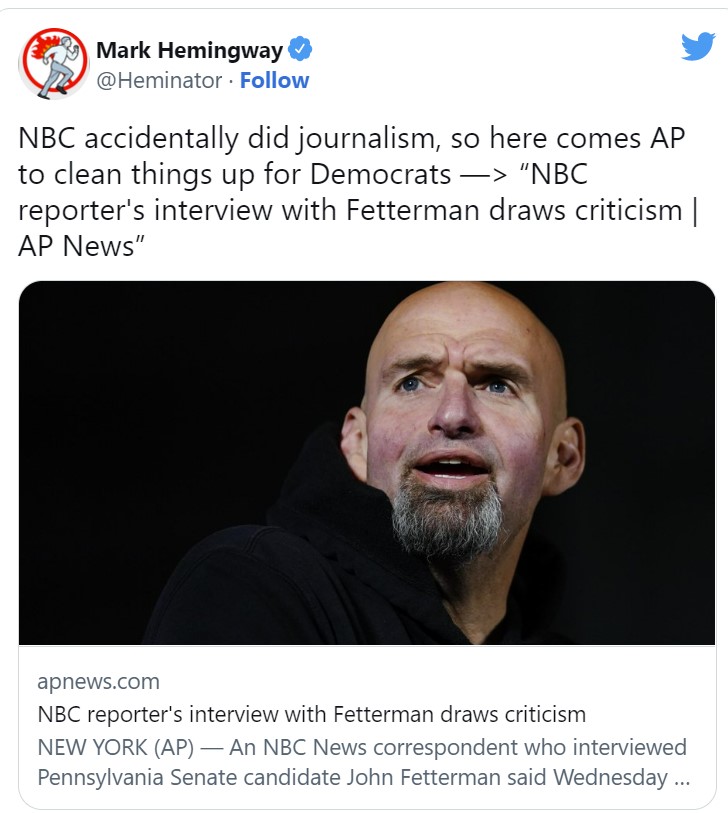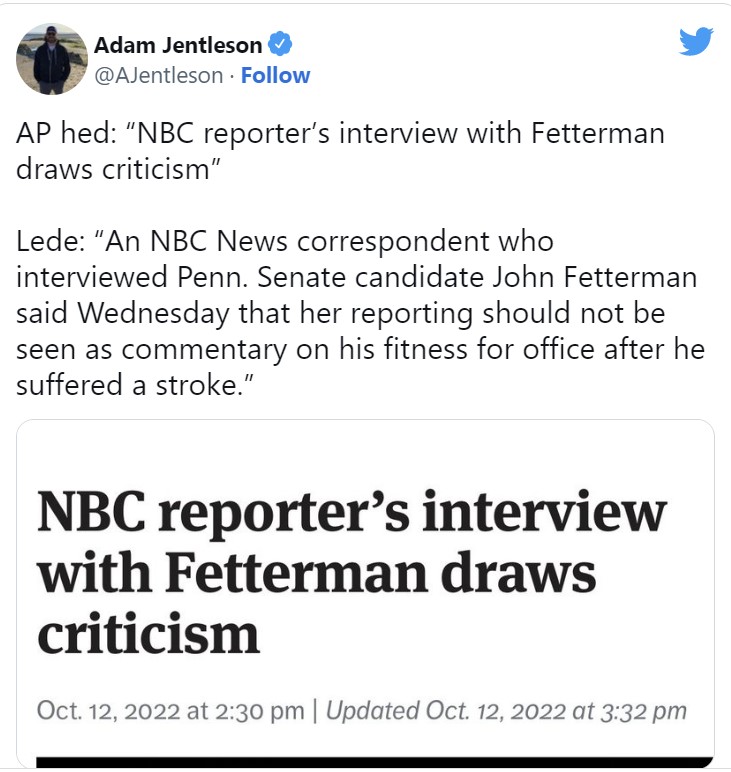 Note what they want you to take away from their own "framing" -- "the stroke doesn't matter, it doesn't impact his fitness."
The reporter didn't say that, of course. She said she was offering no commentary on that.
But AP is pushing you towards a certain conclusion.
After the media pile-on, the actual reporter here, Dasha Burns, had to explain that she was actually in the room with Fetterman, speaking to the subject, whereas the "journalists" attacking her were not.
Noted Anthony Weiner "Romantic" Partner Kirsten Powers says any questioning of Fetterman's mental capability is "ablist." And then she lies about the type of problem he has.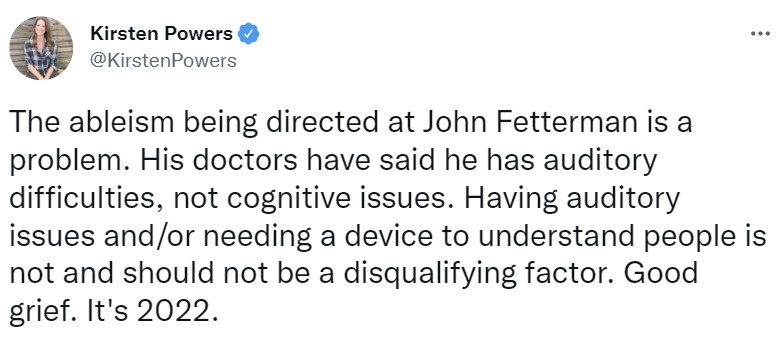 No, we're not going to have legitimate questions about the cognitive health of a man seeking high federal office shouted down again. We let that happen last time, and now the world's on the edge of a nuclear war.
Note how she lies and calls this an "auditory" problem -- auditory, meaning having to do with hearing or the ear itself.
Of course there's nothing wrong with this Walking Yam's hearing or years. The problem is that his brain is damaged and cannot interpret the speech he hears.
She probably knows that and is lying. But she's so f***ing stupid and useless, except maybe as a receptacle, who knows, maybe she really thinks he just needs a hearing aid.
PS no one, and no doctors, ever said he had "auditory issues" and not "neurological issues." Go ask Sanjay Gupta at your former employer CNN. He broke out a brain model to show why Fetterman was so f***ed up -- not a model of the ear.
But Buzzfeed really outdoes itself in claiming that scrutiny of a candidate's obvious and highly debilitating cognitive impairments is wrong because...
Take a guess.
Why do they always claim that we cannot bring up any of the issues that hurt Democrats?
Because it will increase violence against he disabled, of course!
Twitchy again:
Disability activist Charis Hill told BuzzFeed News they were so upset at Burns's questions and the editors' framing of Fetterman's responses -- leaving in moments of silence that showed Fetterman reading, for example -- that they couldn't finish watching the interview. Hill called on NBC to apologize for "the overt discrimination they just put on air."

"The way Burns handled that interview will only worsen attitudes and violence towards disabled people in a time when virtual accommodations are being removed left and right after they were implemented overnight in 2020," Hill said.
One more point: Speaking of "this may encourage violence," the media always launches into snarling attack dog mode against anyone on the right who dares to criticize a member of the media. Well, a member of the credentialed leftwing propaganda media.
Criticizing Jake Tapper, you know, might put him in danger! He's like a war correspondent, you know. His life is in nigh-constant danger, and he doesn't want you inciting any further danger against him with your proletarian insolence!
But now that a member of the leftwing media is being attacked by the left, Fake Jake and the other dogged defenders of Absolute Media Privilege are suddenly silent:
Karol Markowicz @karol

"You can't sit with us!"- leftist media to Dasha Burns.

Derek Hunter @derekahunter

@DashaBurns will be out of a job after the election.

@NBCNewscan't do it now, not yet, but they will do it. Until then, you likely won't see much of her. They go for the "quiet kill" to avoid the bad press.
Tell a lie, one more story from Spencer Brown at TownHall. The Washington Post speculates that Fetterman might be suffering from a couple of different types of aphasia, the mental dysfunction in the processing of speech. They can only speculate this because Fetterman, of course, refuses to release his medical records (though Kristen "Carlos Danger's F***Monkey" Powers seems to have the inside scoop on them).
The period of greatest recovery following the onset of the affliction is the first 12 months -- and we're at the six month mark. Obviously, Fetterman is not making very good progress towards recovery.
"Is what The Washington Post is reporting the reason why John Fetterman won't release his medical records?" asked Brittany Yanick, the communications director for Fetterman's GOP opponent Mehmet Oz. "If John Fetterman has aphasia and is lying about it to the voters, it would be part of a pattern of him lying about his medical history," Yanick continued. "He lied about having atrial fibrillation, he lied about how severe his stroke was, and he lied for months about his willingness to debate -- John Fetterman needs to stop lying to people once and for all."

Fetterman, when given the opportunity to come clean and disclose about any other conditions in his rocky interview with NBC News, did not necessarily dispel voters' concerns.

"To be clear, right now, are there any other symptoms or health conditions that you have not disclosed?" asked the interviewer.

"I'm sorry...no...in terms of the auditory processing?" Fetterman asked in reply, seemingly misunderstanding the question.

The NBC reporter clarified again, saying "in terms of any symptoms related to the stroke or conditions" while pointing out the fact that Fetterman "hadn't disclosed the a-fib you were diagnosed with 5 years ago," and inquired "is there anything else that is in your health record, any other conditions, or symptoms that you have no told voters about?"

Fetterman replied, "As far as I know, yeah," which is not really an answer to the question -- seemingly confirming that he knows, yeah, there are conditions or symptoms he hasn't told voters about.


Again throwing Fetterman a lifeline, the reporter sought more clarification: "As far as you know, there's nothing else?"

"Yeah, I think so," came Fetterman's uncertain and concerning reply.
Note that that interview was conducted, of course, with the aid of the speech-to-text transcription service, which supposedly allows Fetterman to understand speech fluidly.
Except, obviously, it doesn't. He plainly doesn't understand what she's asking, first saying "Yes" he has further undisclosed health problems, then agreeing "No" he doesn't have them after she attempts to help the ailing, stricken man to an answer helpful to him.
Or who knows, maybe he just has "a stutter."
Say, Pennsylvania is right next to Transylvania, right?

posted by Ace at
06:10 PM
|
Access Comments