« Howard Stern Leaves His House For the First Time In Two Years to Have Dinner With His Swanky Hollywood Friends -- and Then Complains He Was Afraid of Covid The Entire Time
|
Main
|
Quick Hits »
October 11, 2022
Tulsi Gabbard Leaves the Democrat Party, Calls for Others to Follow Her
Plus: Election News Round-Up
Tuxit. No wait, that doesn't sound good at all.
"I can no longer remain in today's Democratic Party that is now under the complete control of an elitist cabal of warmongers driven by cowardly wokeness, who divide us by racializing every issue & stoke anti-white racism, actively work to undermine our God-given freedoms, are hostile to people of faith & spirituality, demonize the police & protect criminals at the expense of law-abiding Americans, believe in open borders, weaponize the national security state to go after political opponents, and above all, dragging us ever closer to nuclear war," she said.

"I believe in a government that is of, by, and for the people. Unfortunately, today's Democratic Party does not. Instead, it stands for a government of, by, and for the powerful elite. I'm calling on my fellow common sense independent-minded Democrats to join me in leaving the Democratic Party," Gabbard added. "If you can no longer stomach the direction that so-called woke Democratic Party ideologues are taking our country, I invite you to join me."
Below, that video, plus other election news.
Meanwhile, just in time for the midterms, the national mood about the economy turns sharply worse: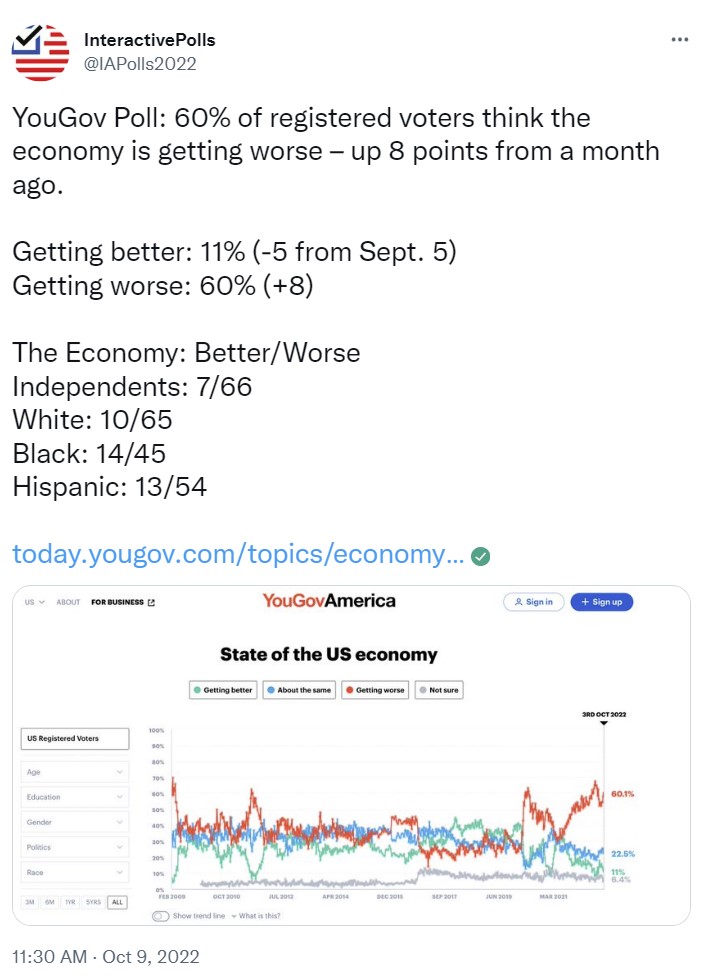 Last week, Katie Hobbs melted down when asked what she had learned from the Latino community. She said "family values and hard work." And also "un pochito espanol."
She also stammered and ummed and ahhed as if English was her third language, after Wokish and Cat-Lady.
She also endorsed partial birth abortion until the moment of crowning, but refused to say that. She just kept repeating that she opposed any limit in term of number of weeks that you could name.
Because this unqualified moron is scared to be in the same room with Kari Lake, she has refused any debates. The closest she will come is to be in the same building with Lake, where each will appear on stage, apart from one another, to be quizzed by Katie Hobbs' leftwing media allies.
Kari Lake went out into the audience in one of these canned events and attempted to have the debate that Hobbs is so desperate to avoid. They called security on her and ejected her from the room.
Last week, Blake Masters left stuffed shirt left-liberal Mark Kelly looking like the hapless neoliberal WEF talking points puppet that he is.
Mark Kelly attempted to portray himself as a "Maverick" who shows his political independence from Biden... by voting with him on every single vote. Masters didn't allow him to do that.
Bonchie points out that Mark Kelly only agreed to a single debate -- which will turn out to backfire on him.
Unfortunately for Kelly, he probably should have agreed to a few more debates, because if this is the performance he's going to leave hanging out there for voters, it's a bad one. I know it's cliche to suggest that one side decimated the other side, but Masters delivered a series of money lines that will now be going viral over the next few days, and that's really what a debate is about these days. Few people watch them live, but the narratives that get exposed to a much larger audience in the aftermath can linger.
The consensus among conservative viewers is that J.D. Vance really rocked Tim Ryan's wig back. Tim Ryan falsely claimed that J.D. Vance opposed abortion without any exceptions, even in cases the rape of young children, such as the famous ten year old who claimed she couldn't get an abortion in Ohio after being raped by her "neighbor."
Who, the media always omits to mention, is an illegal alien.
J.D. Vance disputed that point, and then went on to point out: If Tim Ryan hadn't ceaselessly voted against border security, that illegal alien never would have been in the US to rape the girl at all.
Vance also personally tied Ryan to the fentanyl overdose epidemic -- noting that one of Ryan's biggest donors is a big pharma opioid manufacturer.
Executives at that opioid manufacturer, it turns out, mocked the users of their drugs as "pillbillies" -- a play on "Hillbillies."
On the campaign trail, Rep. Tim Ryan, the Democratic Senate candidate in Ohio, likes to tell voters about his work as co-chair of the Congressional Addiction, Treatment, and Recovery Caucus and to attack pharmaceutical companies for profiting from "getting so many millions of Americans hooked on opiates." None of that stopped him from accepting money from a political action committee funded by an opioid distributor whose executives mocked addicts as "pillbillies," a Washington Free Beacon review of campaign finance documents found.

The $1,000 donation came from AmerisourceBergen PAC in November 2019. Emails revealed in 2021 during a lawsuit against the company for its alleged role in the opioid crisis showed AmerisourceBergen's executives expressing broad contempt for poor whites suffering from addiction, which at the time was largely fueled by pharmaceuticals such as OxyContin.


In one exchange, a senior AmerisourceBergen executive circulated a parody song containing references to "hillbilly heroin," "a bevy of Pillbillies" and a reference to Kentucky as "OxyContinville." Another email shared between executives joked about how crackdowns against so-called pill mills--doctors who illegally prescribe opioids to customers--in Florida will lead to a "max [sic] exodus of Pillbillies heading north."

The donation could prove to be a political liability for Ryan, a Democrat running in a state that has been inordinately impacted by the opioid crisis. The Associated Press reported earlier this month that opioid distributors donated at least $27,000 to Ryan's political campaigns since 2007.

At the same time, the AP found, Ryan voted against bills meant to increase funding for anti-opioid initiatives, such as spending packages for addiction treatment. In a statement to the AP, Ryan's campaign said one of the donors, Cardinal, is a large employer in Ohio.
Tim Ryan's big play was to repeatedly claim that J.D. Vance was "kissing the ass" of Donald Trump. This vulgarism is straight out of the National Man Boy Lincoln Association playbook, and you know how effective they are.
Ed Morrissey points out the problem with that plan: Trump carried Ohio, easily. Is Ryan running for Senator of Ohio, or of Morning Joe's green room?
All one has to do is look back at Trump's election results in the state two years ago, when he beat Biden by eight points, 53/45. Trump beat Hillary Clinton by slightly more four years before that, 52/43.

By contrast, not only did Biden lose by a wide margin to Trump in Ohio two years ago, he's even less popular now. A recent Marist poll giving Vance a single-point lead in this race also put Biden's job approval at 37/53. Even among those who voted for Biden two years ago, 11% disapprove of the job he's doing. This is precisely the comparison Ryan should have avoided, and yet he's reminding everyone that Vance is with the more popular of the two figures, at least in Ohio.
Even if you think Trump's lost popularity -- he hasn't lost as much as Brandon. Trump doesn't have people singing "Let's Go Brandon" songs about him (except, again, in the media precincts Tim Ryan thinks he's running in).
Rebecca Downs of Townhall blasts Ryan on the absurdity of this soulless apparatchik calling anyone else a party loyalist:
Towards the end of the debate, the candidates were asked what they thought the biggest threat to democracy was. While Vance's straightforward answer mentioned the influence Big Tech has, Ryan focused on "extremism," including "insurrectionists" and "election deniers," which he tried to tie Vance to. He then went on to warn against candidates who "don't have the guts to stand up to their own party," which Ryan also tried to claim applied to Vance. This is despite his own record.

The congressman was particularly hypocritical about candidates sucking up to party leadership, especially as he himself claimed he's supported former President Donald Trump on issues such as China and trade, while opposing House Speaker Nancy Pelosi (D-CA) and President Joe Biden on occasion.


As Vance brought up during the debate and has brought up extensively in the past, Ryan has voted with Pelosi and Biden 100 percent of the time. Even a particularly biased fact-check from PolitiFact acknowledged as much. While Ryan also made a big deal of how Vance has supposedly sucked up to Trump, he himself made remarks where Schumer was in attendance that "I want to make sure he's my future boss so I gotta suck up a little bit here."

Ryan didn't merely engage in fear-mongering and hypocrisy, but also doubled down on extreme positions and answers. Both Vance and the moderators brought up Ryan's comments last month for MSNBC's "Morning Joe" that we have to "kill and confront that movement" of so-called "extremist Republicans."
Finally, as regards Fetterman: Even NBC "News" is acknowledging he's basically a grotesque semi-humanoid Yam in a Big-N-Tall Hoodie.
Despite his claims that, in terms of cognitive health, the Eagles are better than... the Eagles, NBC "News" isn't vouching for that claim:
John Fetterman, the Democratic nominee in a crucial Pennsylvania Senate race, still struggles to understand what he hears and to speak clearly following a stroke in May.

posted by Ace at
05:27 PM
|
Access Comments