« Tulsi Gabbard Leaves the Democrat Party, Calls for Others to Follow Her
Plus: Election News Round-Up
|
Main
|
Cold Comfort Cafe »
October 11, 2022
Quick Hits
Yahoo " " " News: " " " America is facing a diaper crisis, and the anti-abortion movement is making it worse.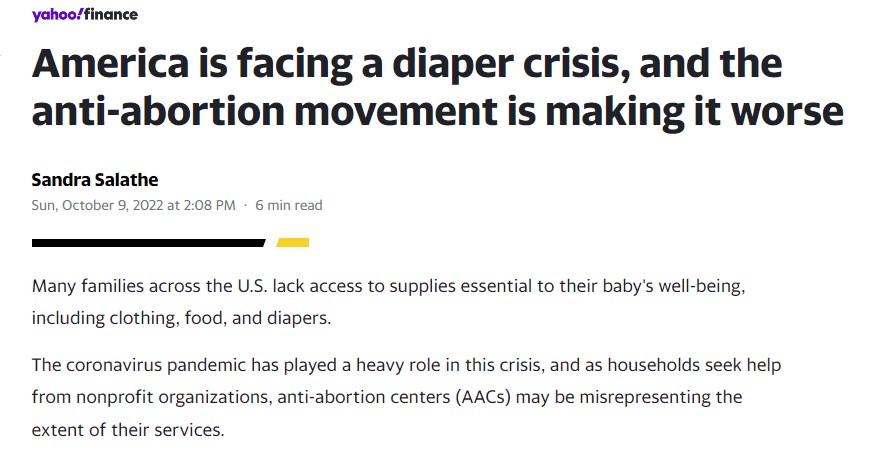 Too many live babies?
The actual claim is that pro-life groups -- or "anti-abortion" groups, as this Brain Surgeon calls them -- use some of the money they raise to buy diapers and other necessities for poor mothers. But the article claims that these groups -- apparently unlike any other charities -- spend a lot of their money on salaries for their staff, fundraising itself, and advertising for their actual cause (the pro-life cause).
Thus, they claim bizarrely... I don't even understand. They're... not giving away as many free diapers as they theoretically could, and this limits the number of diapers available to others... how?
In 2019, Heartbeat International, an AAC ["anti-abortion center"] giant, claimed to have provided 1.85 million individuals with free baby supplies, including more than 2 million baby clothing outfits, more than 19,000 strollers, and more than 1.2 million packs of diapers. However, data from Equity Forward, an accountability organization that produces investigative research related to gender equity and sexual and reproductive health, found inconsistencies with those numbers.

"Instead of providing direct material support to people, they're using this money for overhead costs to pay for staff salaries, to engage with SEO marketing professionals, to expand their outreach to promote themselves, and all sorts of things that are not providing services to people in need," Equity Forward Director Ashley Underwood told Yahoo Finance. "They solely exist to deter people from getting abortion care."
Yes well they are pro-life, which entails being against abortion. So you're outraged that most of the funds they collect to agitate for the pro-life position are in fact going to agitating for the pro-life position, and claiming this has some kind of Gnome Logic impact on the diaper shortage?
Ah well, this is just Yahoo Finance. I wouldn't expect them to understand how supply and demand work.
Since Yahoo Finance has not even attempted to explain how some groups not buying as many diapers as they could worsens the shortage of diapers -- not buying a good actually ameliorates a supply shortage; it's the buying of that good that worsens it -- it is left to the reader to guess at the real reason they have in mind, but refuse to speak out loud:
So let's speak it out loud: they're really just pissed off that their are too many living babies, who use more resources than the convenient corpses you prefer.
Yahoo "Finance"
Economics for Gurlz (TM).
Adam Schiff fundraised... in Paris. Not Paris, Texas, either.
Please Clap: An astroturf firm is paying people $2000 a pop to write nice things about Wisconsin misgovernor Tony Evers online. So far, they've paid 26 people for these fake Russian Disinformation posts.

A business called People First (formerly Main Street One) was hired by Tony Evers for Governor, which is Tony Evers' campaign, to go out and find online content creators to create paid support about him online.

So far, they have paid PeopleFirst $52K to find participants to post positive messages about Tony Evers for Governor.

The individual who reached out to us started their email with, "We are currently offering $2,000+ for a single social media post by qualified creators."
Wisconsinites are becoming more adamant about taking the state in a different direction as the November election approaches, with 56% of WI voters saying the badger state is headed down the wrong track.
Thanks to Christopher R. Taylor.
The State Department is pushing "gender transition care" for employees -- and their children, of course.
And you're paying for it. One of the first orders of business when we win it all in 2024 needs to be a Hyde Amendment type law forbidding any federal dollars from going to, ahem, "gender affirming care" for children.
The State Department says it will consider providing gender dysphoria and gender transition care for diplomats and their children stationed overseas, stoking concerns in Congress that taxpayers will be responsible for funding sex change surgeries.

The State Department will "assess resources for gender dysphoria and gender transition care at posts for employees and their dependents" in an effort to "increase support for Lesbian, Gay, Bisexual, Transgender, Queer, and Intersex (LGBTQI+) employees and family members," according to a recently released Diversity, Equity, Inclusion and Accessibility (DEIA) Strategic Plan. It is unclear at what phase the State Department's assessment stands. The State Department would not answer Washington Free Beacon requests for further information about the type of care and potential surgeries it would be considering.

...

Gina Abercrombie-Winstanly, the State Department's first chief diversity and inclusion officer, says in the report that the foreign service "can be a leader in demonstrating how DEIA can be advanced across the federal government." She also said that all State Department employees "must encourage the kind of structures and processes that concretely reward the groundswell of outstanding DEIA work already underway."
Second order of business: fire all DEI employees.
The January 6th Fake Committee is now holding its report until after the midterms, which means it did not find any proof of what it wanted to prove so it will instead just try to leave open the possibility that it found proof and let its partisans speculate about what proof it found.
This is an Adam Schiff Specialty, much like post-Taco-Bell analingus.
Ugh: Woke Asians are desperate to be Persecuted, despite being the richest racial group in America, the most educationally advantaged, the most sought-after as far as cross-racial dating and mating.
How many US nurse would agree with this?
In Case You Missed It (ICYMI): "The Wanderer."

posted by Ace at
06:28 PM
|
Access Comments