« Daily Tech News 7 October 2022
|
Main
|
Mid-Morning Art Thread »
October 07, 2022
The Morning Report — 10/7/22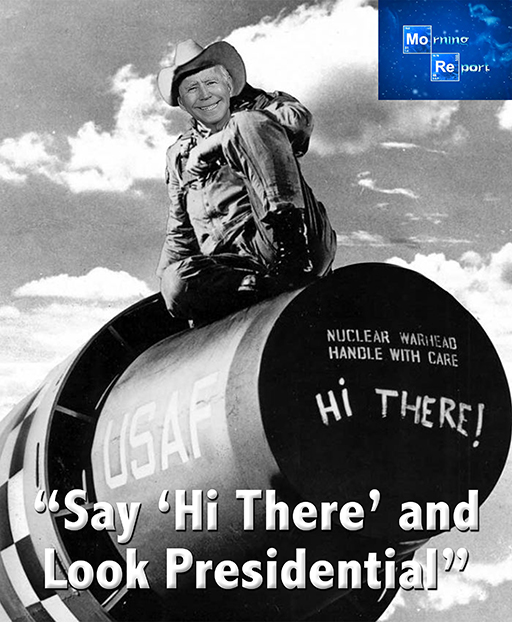 Good morning kids. The weekend is here and there are a number of links today that are giving me palpitations. I mean, it's a veritable Mason Reese "borgasmord" of insanity.
First up, the presidential brain trust — and considering they installed someone whose intellectual agility at this point makes the electrical impulses of a wilted rhubarb resemble that of Dr. Jakob Bronowski — actually saw fit to allow Sponge-Brain Shits-Pants to make another speech:


The [so-called quote-unquote "president"] compared his plight to that of former President John F. Kennedy and the Cuban Missile Crisis with the Soviet Union. . .

. . . "First time since the Cuban Missile Crisis we have a direct threat of the use of nuclear weapons if, in fact, things continue down the path they are going," he said.

Biden said he knew Putin "fairly well."

"He's not joking when he talks about potential use of tactical nuclear weapons or biological or chemical weapons because his military is, you might say, significantly underperforming," he said.

If Putin did decide to use a nuclear weapon, Biden predicted the worst.

"I don't think there's any such thing as the ability to easily [use] a tactical nuclear weapon and not end up with Armageddon."
Okay, seriously. How many of you actually had Ron Klain giving the "go-code" on their score cards? Or Valerie Jarrett, Susan Rice or Obama? There's wagging the dog and then there's taking the American Kennel Club, roasting it on a spit and having it with fava beans and a nice bottle of "kee-ANN-tee." Pun intended considering Obama's affinity for pulled pit bull.
I mean, Biden is for all intents and purposes non compos mentis. The only times where I believe he has flashes of rationality is when he is hurling invective and threats at his political enemies, which now constitute at least half of the citizenry of this country. That revolting display in front of Independence Hall was pitch perfect on his part. He didn't even need the Risperidone but they did give him an extra helping of Lomotil since he probably would shit his pants on national TV in his excited state. Note that I balked at using the term "America" or "United States" since it is painfully obvious that that nation as we had known it or at least perceived it no longer exists.
Vladimir Putin did not invade Ukraine at the behest of the Kalorama Klown Komintern. He did it because he knew the vegetable-in-chief at 1600 Pennsylvania Avenue would do nothing but blame Donald Trump, like he did when he, Biden, unilaterally bugged out of Afghanistan and turned that dark age pile of rubble into a giant, Islamic fortress 100 times deadlier than it was on 9/11/01 thanks to the billions of dollars of brand new American weapons we effectively armed them with when we fled. You can also thank Bill Clinton (remember him?) for strong-arming the Ukies into giving up the nuclear weapons it gained when the Soviet Union collapsed in exchange for security guarantees. Oh yes, the best and the brightest, the wizards of smart at the Kennedy School of International Relations, Johns Hopkins, the Brookings Institution that populate Foggy Bottom just knew all the answers, and scoffed at peons like us for doubting their genius.
And yet, here we are. Did Vladdy sabotage the Nordstream Pipeline or did it blow up due to famed Russian incompetence and perpetually deferred infrastructure maintenance? Worse, did Kalorama have the SEALs do it? Whether it's Elon Musk, Trump or any one of a number of sane, rational people who know that there must be an end to this war before shit gets out of hand, the rabid response by the Junta and the usual suspects in the propaganda house organs and elsewhere is telling. Whatever one thinks of the Russian army's effectiveness at this point, the only thing that is giving that crook Zelensky the courage to flip the bird at Vlad and reject a peace deal is his belief that we're in his back pocket. And right now, Vlad appears to be a cornered rat. A cornered rat with nukes the size of a suitcase all the way up to MIRVed ICBMs.
Maybe the prospect of getting our "hair mussed" is preferable to what Dr. Naomi Wolf is warning us about:


The spike protein haunts some of the good "dissident doctors" and honest scientists. The mRNA fragments, for their part, profoundly disturb others; and all for good reasons.

But it is the lipid nanoparticles (LNPs) in the mRNA injections that keep me up nights, feeling that the dystopia on earth has now fully arrived. And the reasons for that includes questions that border on the metaphysical; as the LNPs, it seems to me, are able to negatively affect the very essence of our humanity. . .

. . . I walked into restaurants and hotels, and the formerly beautiful young women tasked with greeting visitors, looked like dancers in a scene out of a 19th-century Dance Macabre. They were uniformly pale, or yellowish, or had a grey cast to their complexions; they had circles under their eyes. The glow of good circulation, the radiance of health and sexual energy, all of which have been considered attractive for as long as humans have been courting — was gone.

Crowds themselves were altered. Young adults were limping, at scale. Men and women in their forties and fifties, who looked as if they had been recently healthy, were now moving like eighty year olds. People in vast numbers, of all ages, walked as if it was hurting them to move. Even teenagers and older children moved like zombies or robots — drifting, with seemingly no energy to spare. Smaller children did not squirm or race around. They sat vacantly on park benches or in restaurants. Or they drifted like little wraiths beside their parents, focussed on nothing.

What happened? What happened to humanity?

Many have described their loved ones being altered in some indefinable ways, after they have been injected with mRNA vaccinations.

Many have described their loved ones being altered in some indefinable ways, after they have been injected with mRNA vaccinations.

People have spoken to me in distress about how they can't seem to feel the physical presence of their loved ones, post-vaccination.

It looks like the same person, they say with grief, if a bit paler, a bit more fatigued and ethereal.

But it doesn't feel like the same person. . .

. . . The lipid nanoparticles cross every membrane. Brain. Heart. Testes. Ovaries.

Thoughts. Love. Desire. Conception. Dreams. Imagination. Inspiration. Perhaps even the sense of God.

So meanwhile, until we know more — consider:

Could these results — damaged hearts, lowered sexual desire and potency, lessened human bonding, the various forms of male and female sterilization on which we have reported earlier, the rigidified thinking due to industrial fats accumulating in the brain, not to mentioned the physical dangers of industrial fats and carcinogens zooming through the bloodstreams of the citizens of the West — with each booster adding to the body's burden of lipid nanoparticles -- all be — possibly — features of this bioweapon?
Well, I guess what three generations of brainwashing in the schools couldn't "cure" Dr. Fauci's magic bullet will. And for those of us who still refuse to get our minds right when it comes to accepting our new position as serfs to the Davos-Brussels-Beijing Axis, well, what the late Larry Grathwohl revealed as Billy Ayers masterplan when he and his cronies overthrew the US for us "deplorable" "bitter clingers" is certainly a distinct possibility. Oh, wait a second. The political allies and fellow travelers of Billy Ayers DID overthrow the country! And they are in every governmental bureaucracy in DC and many statehouses across the country. Especially the DOJ and FBI:
It appears the Department of Justice (DOJ) is combing through old pro-life protests and looking for opportunities to apply the Freedom of Access to Clinic Entrances (FACE) Act. Last week, they raided the home of pro-life activist and author Mark Houck with guns drawn, terrifying his wife and seven children. Now Live Action is reporting that the FBI raided the home of 73-year-old pro-life activist Chester Gallagher. . .

. . . The charges stem from a rescue event in March 2021. During rescue events, pro-life activists reach out to women seeking an abortion and attempt to persuade them to change their minds. The DOJ is charging Gallagher and six other pro-life activists who joined in the rescue event at a Carafem abortion facility in Mt. Juliet, Tenn., with "conspiracy against rights secured by the FACE Act, and committing FACE Act violations."  The DOJ is charging four other participants with other violations under the Act. . .

. . . And finally, it is time to stop giving a pass to local FBI agents who participate in these raids. There comes a point where choosing not to stand is to make a stand. FBI field agents stood by while the Biden DOJ dropped cases against criminals who rioted, set fires, looted, and assaulted officers during the nationwide tantrum after the death of St. George Floyd. They remain silent as the administration takes no action to find members of Jane's Revenge, the group claiming to attack pregnancy centers, or the criminals destroying churches.

Yet they don their gear and roll up to the houses of nonviolent pro-life activists with guns drawn. Field agents are no longer passive actors simply taking orders. They are active participants in helping the Biden DOJ enforce two standards of justice. When Republicans take control of Congress next year, both agencies need radical reforms from the leadership suite in D.C. to the offices in the field.
When the GOP takes control of congress — if they take control of it — they'll be sure to give Trey Gowdy that Don Johnson stubble, pomade and Wayfarers while firing off an angry letter to The NY Times. One that Maggie Haberman will edit, no doubt.
Have a good weekend.
ABOVE THE FOLD, BREAKING, NOTEWORTHY
CIVIL WAR 2.0: J-6 FBI FALSE FLAG "RIOT" & AFTERMATH, LEFTIST PERSECUTIONS, DEMOCRAT PUTSCH, AMERICAN DISSOLUTION
NOTE: The opinions expressed in the links may or may not reflect my own. I include them because of their relevance to the discussion of a particular issue.
ALSO: The Morning Report is cross-posted at CutJibNewsletter.com if you want to continue the conversation all day.
Follow us on Twitter: @CutJibNews
Follow us on Instagram: @Cutjibnewsletter

posted by J.J. Sefton at
07:39 AM
|
Access Comments