« Useless Gasbag Self-Promoting Half-Democrat Ben Sasse Resigning From The Senate Seat He Was Just Re-Elected To in 2020
|
Main
|
Quick Hits »
October 06, 2022
Polls: Zeldin Statistically Tied with Hochul, Tiffany Smiley Statistically Tied with Absolute Cretin Patty Murray for Washington Senator
Three views of the election, from Real Clear Politics. Thanks to Jeanne Bodine. I meant to link this then totally forgot about it.
RealClearPolitics says Republicans are positioned (as of October 4) to have 47 Senate seats and Democrats 46, with seven toss-ups seats in play. If other races go as expected, whichever party can win four of RCP's seven toss-up contests will control the chamber. In its Senate projections, RCP predicts that Republicans will win five of the seven toss-ups, giving them 52 seats (and a Romney-proof majority).
The Cook Political Report doesn't rate the GOP's chances as highly, though it still finds them as being slightly favored to win the Senate.
Control of the Senate, then, could come down to whether Republicans can win at least one race from among Arizona, Georgia, and Pennsylvania, or whether Democrats can sweep those three races.
AmGreatness trashes Nate Silver for making absolutely no allowance for the fact that polls continue to overstate Democrat support.
From last week: Indies breaking towards Republicans. And remember, conservative leaning people still don't want to admit this to pollsters.
SP&R @SusquehannaPR

In our new nat'l poll out today, Ind's lean Republican on generic ballot (by 7 pts.) and as the proverbial saying goes "as Independents go, so goes the nation". Visit http://realclearpolitics.com for details.
A Trafalgar poll, which is a Republican outfit but that probably means they're closer to the mark than the leftwing pollsters, puts challenger Lee Zeldin within two points of Kathy Hochul for New York Governor.
Gov. Kathy Hochul leads Republican rival Rep. Lee Zeldin of Suffolk County by just under two points -- 44.5% to 42.6% -- according to a new poll released Thursday.

Libertarian write-in candidate Larry Sharp trails with 3.3% support, with an additional 9.7% undecided in the poll of 1,087 likely voters, which shows the race as far tighter than other recent surveys showing Hochul ahead by double digits.

"On Nov. 8, we are going to win this race for governor," Zeldin said of the new results from the Trafalgar Group poll.

The poll comes as the incumbent Democrat -- seeking election to the seat for the first time -- faces sharp criticism over rising crime in New York as well as alleged pay-to-play schemes with campaign donors and of her use of government aircraft to get around.

Trafalgar is also flashing warning signs for Democrats in another key race, with state Attorney General Letitia James trailing GOP challenger Michael Henry 45.5% to 44.4% with a 2.9% margin of error.

...

Zeldin and Henry have seized on friendly polling in recent weeks while assailing their opponents over rising crime and unmet debate challenges.

Zeldin has previously accepted offers by CBS-2 and PIX-11 to debate Hochul on TV. But Hochul's campaign has not accepted those offers and said the governor instead would only agree to a single one-hour debate, just before Election Day, hosted by NY1. Zeldin has rejected that offer given Hochul's rejection of the other two.
A Trafalgar poll taken over September 21 to 24
shows Republican Tiffany Smiley behind idiot Marxist Robot Patty Murray by only two points: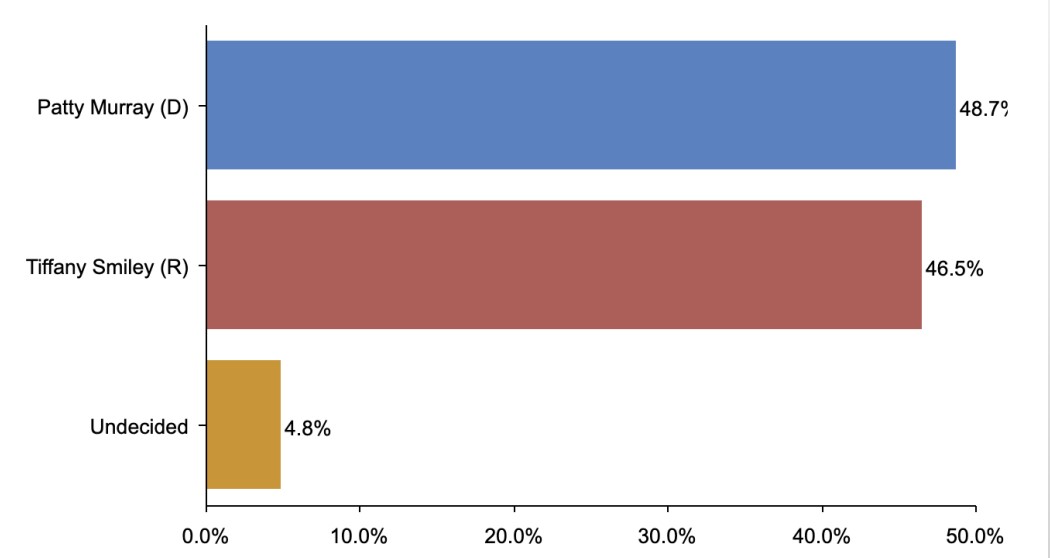 Trafalgar discusses his polling method -- and the leftwing pollsters' broken models, owing to their difficulty contacting conservatives and then their ignoring of that problem -- and also points out that Patty Murray only won by four points in her last election. He thinks she has a real shot to win:
He also notes that it's Patty Murray who has the real extremist position on abortion-- abortion until the moment of crowning, and maybe even ten or fifteen minutes after the birth, if the abortionist is in a frisky, adventurous mood -- even for Washington state.
Diogenes mentions this ad that Patty Murray is running, which she believes is a real win for her.
Thanks to Kindltot and Comrade Flounder for tracking that down. The Tech Lords must disagree that that ad is helpful to Patty Murray, because they sure made it hard to find.

Dana Loesch on Herschel Walker's latest troubles:
NeverTrump "Republican" -- a "Republican" who works exclusively for liberal employers -- Matt Lewis says this means that "Character doesn't count in today's GOP."
Let's be honest. Character doesn't matter. Today's Christian conservatives and the Republican Party have concluded that we are in a war with the left. And in wars, we do not have any room for niceties like policing our own side--or being concerned with silly things like character. Warriors have to do gruesome and immoral things sometimes.

This explanation can (and has) been used to cover a multitude of sins. Let's be clear. If I lived in Georgia, I would not vote for Raphael Warnock, whose policies--if he had his way--would take my taxes to fund the very thing Herschel Walker paid for.

Likewise, I could not vote for Herschel Walker, someone who personally represents all of the bacchanalian libertine values that conservatives ostensibly oppose.

But here's the thing: Raphael Warnock cannot undermine the integrity of Christian conservatives or the Republican Party. He cannot tarnish our reputation or cause us to sacrifice our values for the sake of winning. Herschel Walker already has. And by sticking with him, many ostensibly anti-abortion rights groups and the Republican Party, including the National Republican Senatorial Committee (NRSC), are saying that there is literally nothing a Republican can do that would forfeit their support.

Several points here:
You are not policing your own side, Matt. Republicans and conservatives are not "your side." Liberals are your side.
If I'm being generous, I'll just say that NeverTrump fake conservatives are your side.
Did you police your own side when your side made excuses for Joe Biden -- you know, when he was credibly accused by an employee, who made contemporaneous allegations at the time of the attack, that he r@ped her by forcible digital pentration?
You know, like your old pal David French? David French, the Apostle of the New Democrat Version of the Bible, blew off the allegations and claimed, based on nothing, that they just didn't fit what we knew about Joe Biden -- despite Joe Biden's 40 year history of sniffing, groping, grabbing, nuzzling, and generally molesting women and very young girls.
In "A Shaky Case Against Joe Biden," The Grand Moralist David French decides "Eh, a r4pe charge isn't such a big deal, really, compared to a joke about 'they let you grab their pussies' by the Great Evil Donald Trump."
When you apply the factors above to many of the sexual assault and sexual harassment claims against Donald Trump, one reaches a different outcome. Many of the claims are supported by contemporaneous corroboration, they fit a specific pattern, and Trump himself has openly bragged about grabbing women by the genitals. While not every claim is credible, enough are that I feel quite comfortable arguing that it is more likely than not that Donald Trump is guilty of sexual harassment at best and sexual assault at worst.

What does this mean for former Biden staffer Tara Reade's claims against him? After days of Twitter talk and a number of articles in progressive publications, the Washington Post and New York Times finally published lengthy, detailed reports of Reade's claims. The reports were careful and comprehensive, and they revealed a case that--on the merits--is stronger than the case against Kavanaugh but not strong enough (in my view) to make her accusation likely true.
Did you police your own side then, Matt?
Did you call out the man you were voting for, Matt?
So spare me this bullshit. You hucksters have one move-- you attempt to convince Republicans not to vote for Republicans. You never attempt to convince Democrats not to vote for Democrats.
You guys do know that Democrats also claim to be moral and to have ethics? And that many Democrats also tend to be believing Christians who follow Christian morality? And also attack others for hypocritically suspending their morality for petty political advantage?
What do you think the dominant religion is among Democrats is, Matt? Well, it's probably neck-and-neck with atheism, but the dominant religion is, in fact, Christianity.
To hold Democrats account for their own moral spottiness and failure to adhere to Christian moral standards would be "policing your own side."
Because you are Democrats.
Who signs your checks, Matt?
So it's all well and good that you would advise Republicans to just sit out the election, Matt. Gee -- which party would that help?
Would that be the same party you have been assiduously politicking for since at least 2016 by always telling Republicans to "follow their consciences" and sit out elections, allowing Democrats to win every election?
How convenient that the party whose interests your advice always ends up serving just happens to be the same party paying you money, you cheap mercenary grifter.
Good luck in your continued "transition," Matt. I hope that you will be more psychologically stable in your final form.
So as to Herschel Walker, I'm not going to agree with Dana Loesch that I have to support Walker even though he may have done bad things.
I'm just going to straight-up deny he did bad things.
I'm going to follow the example of The Grand Moralist David French and say that, while there is some evidence adduced by the various leftwing newspapers, that evidence is "not strong enough (in my view) to make [these accusations] likely true."
If this works for The Grand Moralist David French, then surely it must also work for we lesser beings, we students learning at his spotless knees, as well.

posted by Ace at
05:24 PM
|
Access Comments