« Polls: Zeldin Statistically Tied with Hochul, Tiffany Smiley Statistically Tied with Absolute Cretin Patty Murray for Washington Senator
|
Main
|
True Conservative Warrior Cafe »
October 06, 2022
Quick Hits
Idiot Biden brought a podium with the Presidential seal on its front and allowed DeSantis to speak from it.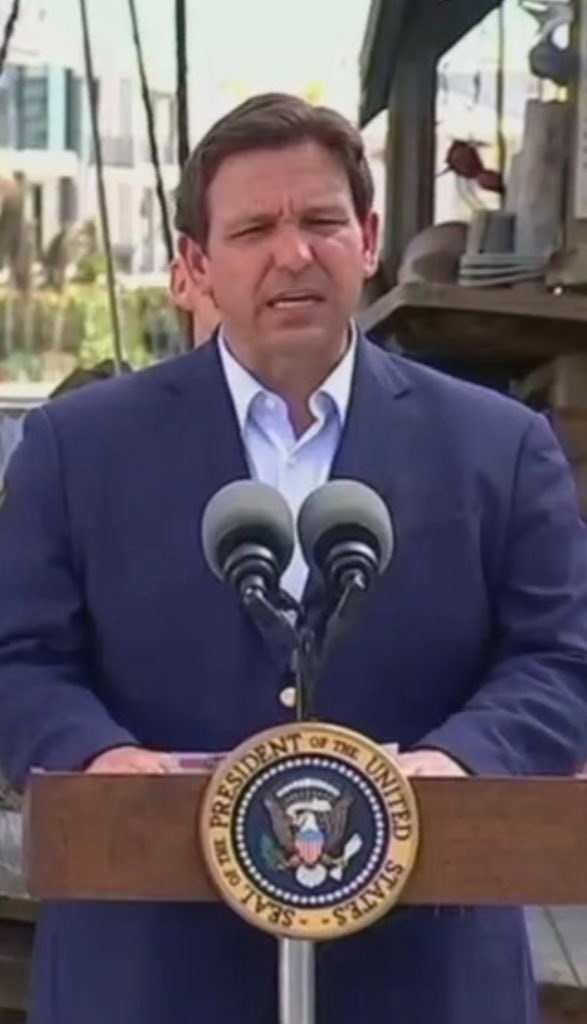 Crackerjack job, guys.
No one f***s with a Biden, you know.
Tucker Carlson laughs at Joe Biden for saying that "no one f***s with a Biden." That just gets creepier and creepier every time I hear it. He says it without any context.
Democrat Crime Wave:
Mass Stabbing Attack in Las Vegas -- two dead, eight wounded. Why not? No one is prosecuting crimes.
The California family that was seen by closed-circuit video being kidnapped has been found, all murdered. The victims included a mother and a baby.
The killer, Jesus Manuel Salgado, had previously been in prison for an armed home invasion. But they let him out.
According to the Merced County District Attorney's Office, there was a similar incident in December 2005. That landed Salgado in prison for charges of home invasion robbery with a gun, witness intimidation and attempted false imprisonment. The victims weren't hurt. He was released in June 2015.
Illinois is letting out thousands of violent offenders through its Orwellian "SAFE-T" Act, which will deliver nothing but murder and chaos and r@pe for citizens:
State attorneys desperately sue Gov Pritzker amid fears already spiraling crime will soar

Thousands of prisoners are set to be released across Illinois as it becomes the first state to do away with cash bail

The SAFE-T Act allows criminals back on the streets under the presumption of innocence guaranteed by the US Constitution

Criminals accused of certain crimes -- like forcible felonies, stalking and domestic abuse -- will be exempt from pretrial release

Seventeen different state attorneys from different counties in Illinois are desperately suing Gov. JB Pritzker to prevent the law from going into effect

They say it will increase already rising crime, and will cost taxpayers more
Pritzker has repeatedly defended the new law

...

Thousands of prisoners are set to be released across Illinois as it becomes the first state to completely do away with cash bail under a new law that goes into effect in January.

The Safety, Accountability, Fairness and Equity-Today Act (SAFE-T Act) completely abolishes the cash bail system, which critics say disproportionately impacts black and brown communities and other underrepresented or impoverished groups.

Under the law, anyone who is arrested may be released back on to the streets based on the assumption of innocence guarantee under the United States Constitution, though criminals accused of certain crimes -- like forcible felonies, stalking and domestic abuse -- will be exempt from pretrial release.

t was first proposed by the Illinois Black Caucus in response to the May 2020 killing of George Floyd, and was signed into law by Gov JB Pritzker on February 22, 2021.

As a result, Illinois became the first state to completely abolish cash bail, though other states, like New York, New Jersey, New Mexico, Kentucky and California have created reforms to their bail laws over the past few years.

But ever since it was signed into law, Illinois law enforcement officials have warned that the SAFE-T Act will embolden criminals and make it harder to keep offenders off the streets, as crime rates are already spiraling out of control in Chicago.

Critics have compared it to The Purge, a movie in which the U.S. decriminalizes all crime for 24-hours.

And in just one county, officials report that 400 prisoners there will be released once the law goes into effect.
It's all part of the plan. Let them out, let them out, let them all out.
Let the criminals out, lock the citizens in their homes.
Meanwhile, the lunatic Lori Lightfoot posts atrocious videos of herself dancing on TikTok.
New York City and Los Angeles have simply refused to provide their crime statistics to the FBI this year. I guess because those cities have done such a great job cracking down on crime, huh?
"What's striking, just going through it, is that some of the states that have the most comprehensive reporting systems in place are those that have the lowest participation in the NIBRS program, states like California, New York, New Jersey," he added.

In New York, where gun violence has plagued the Big Apple and other metro areas, 1 in 5 police departments -- 469 of 593 -- failed to report any crime data.

That includes the largest department in the country, the NYPD, which is often held up as the trendsetter for US law enforcement.

A spokesperson said the NYPD was in the process of transitioning to the new reporting system, but did not answer questions about its timeline or if it accepted any federal grants to get the system up and running.

Over in New Jersey, 177 of its 578 departments handed in their crime stats. Pennsylvania had a worse report card, with only 40 of its 1,504 submitting info on crimes.
It might not be the cops' fault -- they say the FBI switched to a new, single reporting system, and they just haven't had time to switch over to that system yet.
Especially not with the rampant crime wave, and the defund-the-police staffing problems, I guess.
The ultimate proof that Gen X kids were allowed raised feral, on TikTok. I've been told that TikTok videos posted on the internet, that is, not on their actual app, do not have the spy problems that are present on the app, but that is just what I've been told. As you know, my understanding of tech is near-zero. It's a good video, though.

Real-life Tony Stark introduces Iron Legion prototype:
The Tesla Bot, a robot codenamed Optimus and formally introduced by Tesla CEO Elon Musk, could go on sale by 2027, the company says.

At Tesla AI Day on Friday in Palo Alto, Calif., the robot walked across the stage, made a few hand motions and a swaying dance move. Video that was shown at the event later showed it picking up a box and other objects in a factory.

The target price for the robot is under $20,000 according to Musk.

"Our goal is to make a useful humanoid robot as quickly as possible," he told reporters, predicting sales would begin "probably within three years and not more than five years."

Optimus is 5-feet-8-inches tall, weighs 125 pounds, has a top speed of 5 mph and is capable of lifting 150 pounds, Musk said.

posted by Ace at
06:30 PM
|
Access Comments