« Daily Tech News 5 October 2022
|
Main
|
Mid-Morning Art Thread »
October 05, 2022
The Morning Report — 10/5/22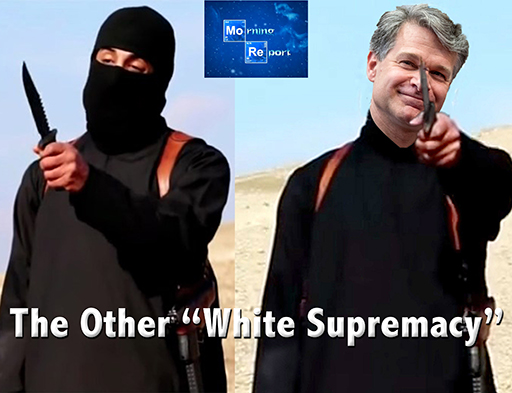 Good morning kids. Wednesday and while the proverb about "people in glass houses" is all well and good, it rarely if ever applies to a Democrat. For sure not a colored Democrat of color. Except I think this time in the wake of the October non-surprise (and as of yet completely unsubstantiated) accusations against Georgia GOP Senate candidate Herschel Walker, who happens to be black except in the eyes of Leftists like Fat Albert Speer Whoopi who view him not as "black-black," his blacker than black-black Democrat opponent is having all kinds of horrendous revelations about his past coming to the fore.
It remains unclear what impact the allegations against Walker will have on the race, but national Republicans are sticking by him, and his fundraising is reportedly surging.
If that is the case then out-fucking-standing! I've given this garbage way more real estate than it deserves, but let me conclude by saying, when the party rallies around a candidate being slimed, especially a party like the GOP and when it's a Trump-endorsed candidate the RINOs would love to see go down, and the voters open their wallets even as the Sponge-Brain Shits-Pants economy robs them blind, then that is very encouraging news. Hopefully, the mantra on our side is stand by Walker no matter what. So, let's beat the wife-beater and give Pennsylvania Lumpy his lumps and take Congress.
On to more important things. For some, the revelations and continued actions of the FBI and its parent organization the DOJ are shocking and surprising. For the rest of us, given those agencies' histories it's neither. Since they are operating with absolute impunity and with either the approval of or, likely, at the behest of the nation's chief executive by way of the Kalorama Kompound, they're still at it. Like they did in targeting uppity parents at school board meetings who loudly and justifiably protested the rape of their children, body, mind and soul, we now have the American Medical Association, the A.M.A!, petitioning Garland to literally "investigate and prosecute" any and all critics of child transexual mutilation.
When I say "investigate" I mean manufacture evidence out of whole cloth that slimes the accusers as the pedophiles, child pornographers and child-endangerers so they can be railroaded by a rigged DC jury and sent to prison for decades, while their children and their genitals are served up to these beasts on a silver platter. Bet your bottom dollar that that is for sure being cooked up as we speak in the prolapsed bowels of the Hoover Building.
Yet, while the FBI and DOJ busy themselves with that, real terrorists and criminals execute plans that kill and maim hundreds of innocent citizens. And in the wake of these attacks, somehow the killers were painted as "lone wolves" who flew under the radar, or when that excuse won't fly, the Feds claim they were "on their radar" but were somehow beyond their authority to arrest and detain them without depriving them of their Constitutional rights. Okay, Paul Manafort, Donald Trump and Pastor Houck. You can all stop laughing now.
Let's set the Wayback Machine for exactly five years ago, where another "lone wolf nut job" was flying under the radar. Or was he?


It has been five years since Stephen Paddock stashed an arsenal of weapons in his Las Vegas hotel room and began spraying outdoor concertgoers with more than a thousand rounds of rifle fire, killing 58 people and wounding 869. Since the Oct. 1, 2017, massacre, there's been neither an official nor satisfactory explanation for why Paddock took his assorted rifles and shot those country music fans. But now, an FBI whistleblower believes he has the motive.

Las Vegas Police issued a 138-page report on the shooting yet kicked over to the FBI and their experts the job of coming up with the motive. . .

. . .We've learned all too well in the Trump-Russian collusion farce that the 7th Floor at FBI HQ is more than willing to lie, conspire, and frame with near-impunity. Why not against this white guy, Stephen Paddock? Why no theories for why he was the avatar of evil? Why not indulge The Intercept in its fervent fever dreams about him fitting "the profile of a far-right political extremist bent on sowing violence in society?" . . .

. . . Sure, Paddock was objectively out of his mind. But no one thought so when he was alive. They just thought he was a self-centered, eccentric jerk who always thought he was the smartest person in the room. . .

. . . Why did Stephen Paddock commit these unspeakable crimes against humanity?

Nearly 16 months before the Las Vegas mass shooting, Omar Mateen took his arsenal to Orlando's Pulse nightclub and committed the worst mass shooting in U.S. history — until Las Vegas. Theories abounded about the motive for that shooting. At the time, it was seen as a hate crime against gays enjoying themselves at one of their favorite spots. . .

. . . Former FBI special agent John Guandolo told Turning Point USA in a recorded interview (below) that there's a 90% certainty that the Las Vegas attack was a jihadi operation and Stephen Paddock was the conduit through which the terrorist organization attacked America.

. . . The FBI both in Washington, LA, and Las Vegas that participated in that investigation can't even begin to think of it as a jihadi attack, because number one, they still don't understand what that actually means." He continued, "they don't understand what actually happens and they have no desire to understand what happened. So their knee-jerk reaction in these cases is always to dismiss that and point in a different direction, because they've been conditioned to do so." He concludes, "I mean, it only points to an ISIS attack. It does not point anywhere else. ISIS claimed responsibility for the attack five times. They said that guy, he's our guy. We hail him, he's a martyr. . ."

. . . Guandolo concludes, "Right now there's no other option on the table. All the evidence points to that. That's all we're saying. We're saying, the fact the FBI hasn't investigated it is unprofessional."
I think at this point, the word "unprofessional" has no real meaning in describing the way the FBI operates, at least from an outsider's point of view. From their point of view, they are acting with absolute professionalism as a de facto Gestapo-like political hit squad and secret police of the Deep State in general and this junta in DC in particular. They certainly handled whistleblower Steven Friend professionally in moving to drum him out of the Bureau for exposing its agenda to proclaim a national security threat from "white supremacists" as the pretext to outlaw and punish political opposition.
It goes hand in hand with the FBI/DOJ's complete and abject failure in stopping the real threat from Islamic supremacism and the terrorism it employs to achieve its totalitarian goals. Any time anyone speaks out against what is an actual existential threat to our existence, they are slimed as "Islamophobic" and silenced. Just ask Robert Spencer, Raymond Ibrahim, Ayaan Hirsi Ali or Pamela Geller just to name a few.
Recall the lucky near miss in Times Square in 2010 when a massive car bomb was discovered in the nick of time, and before the perp was caught, then Mayor Michelito Lo-Lo Bloomberg matter-of-factly declared that it was probably a right-wing nutjob angry about Obamacare. But when Faisal Shahzad was caught and his motivations were, as you might imagine, not related to anger over Obamacare, Doomberg admonished the public not to jump to conclusions about Islam and jihad.
I fully expect these revelations about Paddock to not only not be covered in the house organs of the junta, but to be completely embargoed. As they have been for the past five years.
"White Supremacy" is one hell of a drug, right?
ABOVE THE FOLD, BREAKING, NOTEWORTHY
CIVIL WAR 2.0: J-6 FBI FALSE FLAG "RIOT" & AFTERMATH, LEFTIST PERSECUTIONS, DEMOCRAT PUTSCH, AMERICAN DISSOLUTION
NOTE: The opinions expressed in the links may or may not reflect my own. I include them because of their relevance to the discussion of a particular issue.
ALSO: The Morning Report is cross-posted at CutJibNewsletter.com if you want to continue the conversation all day.
Follow us on Twitter: @CutJibNews
Follow us on Instagram: @Cutjibnewsletter

posted by J.J. Sefton at
07:46 AM
|
Access Comments